Four architecture students from Xi'an Jiaotong-Liverpool University have received praise at an international competition calling for design solutions that strengthen the connection between humans and nature, to improve mental health and quality of life in modern societies.
Many urban residents today are unable to interact regularly with the natural environment, which studies show is contributing to increasing levels of stress, anxiety and depression.
The Yearning to Breathe competition organised by Archiol, an online platform that aims to inspire innovation in architecture and design, addresses the issue by inviting professionals and students to design an urban home based on the concept of biophilia, the idea that humans have an innate tendency to seek connections with other living things.
This year's competition received 216 submissions from around the world to be judged by a panel of leading international architects, designers and academics.
Announcing the results, the jury highlighted entries from four XJTLU undergraduates: Congruo Guan, who received the competition's only special mention; Zhurong Zhang, who received one of three honourable mentions; and Yu Li and Guoer Tang, whose designs were among 11 that were shortlisted. All four are Year Three students in the Department of Architecture and their submissions were core studio projects for the ARC205 module "Design and Building Typology" in the fall semester.
Guan and Zhang both worked on Venice as their project site and source of inspiration following the module requirements. The shrinking living space in this Italian city, caused by population growth and rising sea levels, requires novel design ideas that allow residents to live in harmony with nature.
Marine Symbiotic Community, Guan's project, proposes a community where animals and people live side-by-side through the use of various types of walls.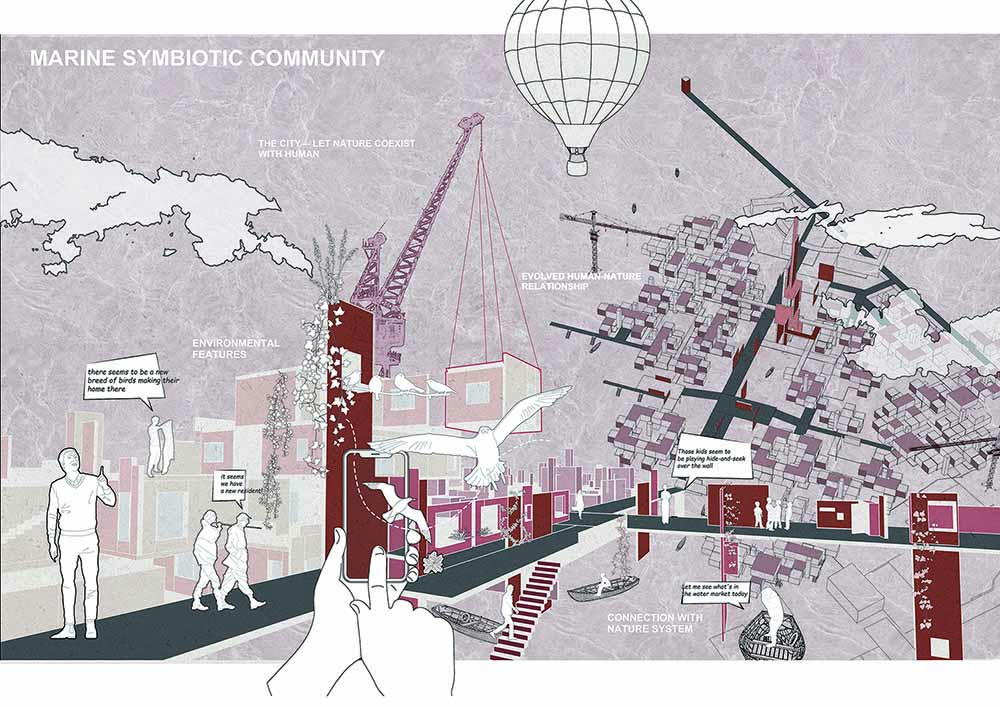 Marine Symbiotic Community, Congruo Guan (Special Mention)
"There are mainly two forms of wall in my design: immovable walls that can be used as a shelter for animals and plants, or as an interactive screen for people to play with virtual animals or read information about nature; and movable walls that can be folded and unfolded to change the space layout according to people's needs," Guan explains.
"In line with the theme of Yearning to Breathe, such a scalable design allows humans and animals to live together for longer periods of time, thus truly breathing free."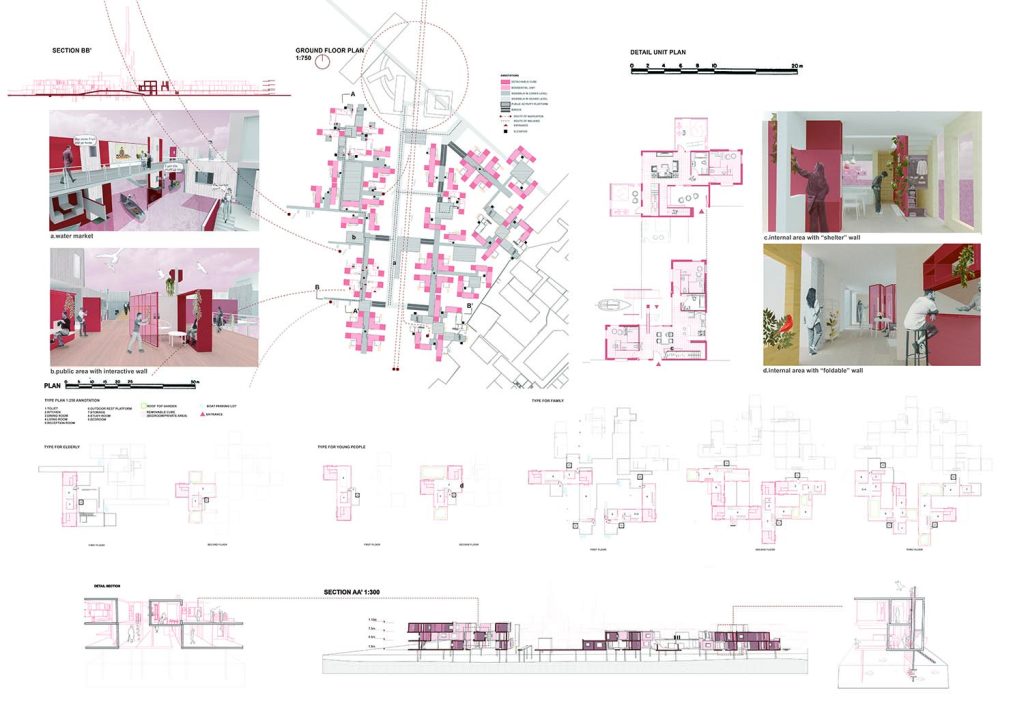 Marine Symbiotic Community, Congruo Guan (Special Mention)
Zhang focused on another common typology in Venice, the surround-shape building, which in her design is divided, rotated and extended vertically, presenting an open form that enhances the connection between residents and the natural environment outside.
Ecological Regeneration Community, Zhurong Zhang (Honourable Mention)
"I found that there's a lack of public space and greenery in Venice due to high population density and urban congestion, which has led to a shortage of public areas for residents to have social activities. I wanted to design a new type of community that improves the residents' life quality and increases interpersonal communication," Zhang says.
"I created a coastal public space along the shoreline to connect the old community to the new community typology in my design. The space provides residents with various functional buildings and public facilities, such as a seaside library and a skate park."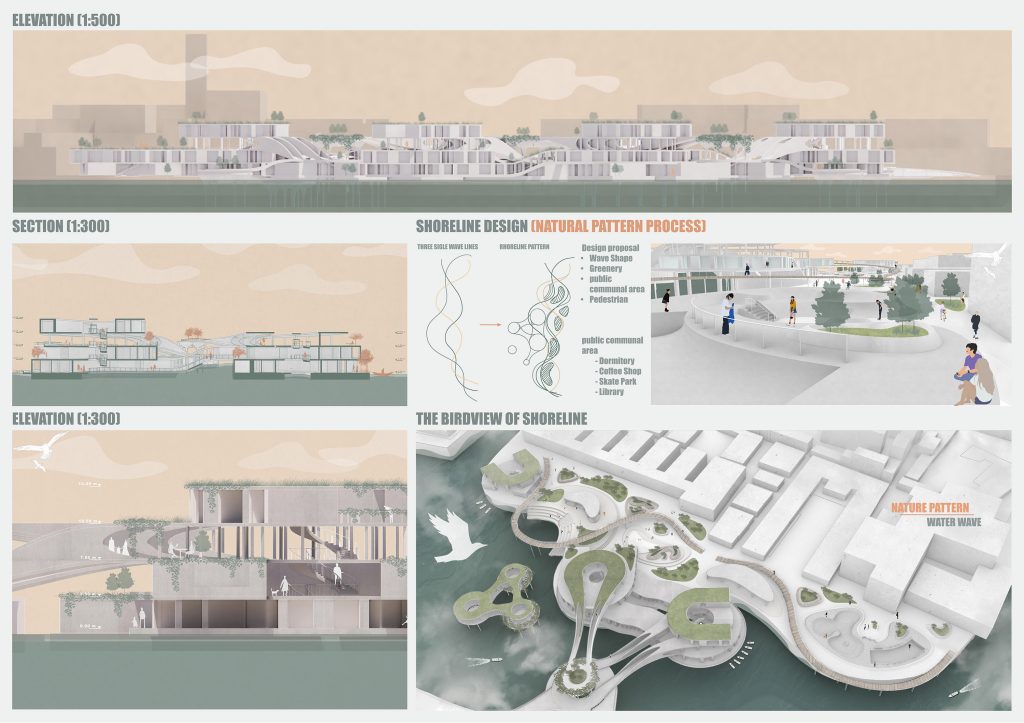 Ecological Regeneration Community, Zhurong Zhang (Honourable Mention)
Guan says that the competition offered her a new perspective in thinking about the relationship between humans and the environment.
"Architecture should not only take care of people, it should consider the relationship between humans, animals, plants, and even the whole ecosystem. In this way, architecture can create long-term, safe living environments for people," she says.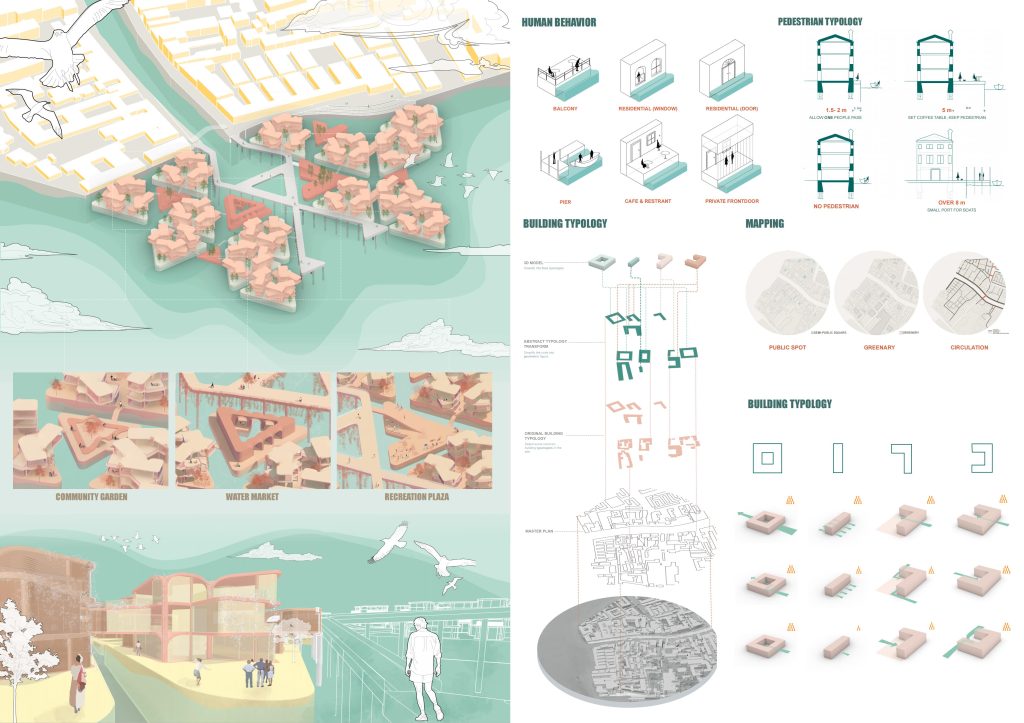 Biophilic New Venice, Yu Li (Shortlisted)
Gergely Csikvari, module leader for ARC205, says that the Department of Architecture has growing reason to increase exposure of collective works beyond the academic sphere.
"The success of these students proves this to be a gainful path, as it brings them experience and visibility while also generating attention for the department's work through more diverse international forums," he says.
XJTLU's participation in the competition was coordinated by Silvia Albano, assistant professor in the Department of Architecture, who also tutored the students along with Dr Eric Farr, senior associate professor.
By Yi Qian
Photos courtesy of the Department of Architecture