The 2023 Xi'an Jiaotong-Liverpool University Association's Interdisciplinary Social Innovation Course was held in Xi'an from 6 to 7 May. The event consisted of a student project competition and exhibition, and then a curriculum development seminar.
The Association brings together 23 universities, and this event provided a platform for interdisciplinary collaboration among students with a passion for social change and a flair for innovation.
At the event, students from all partner institutions showcased their innovative projects. These projects exemplified their commitment to tackling pressing social issues, covering a wide range of subjects such as environmental sustainability, traffic safety, tourism planning, cultural exchange, and education.
Two projects from XJTLU, "To be yourself" and "Book resource allocation", were awarded first prize.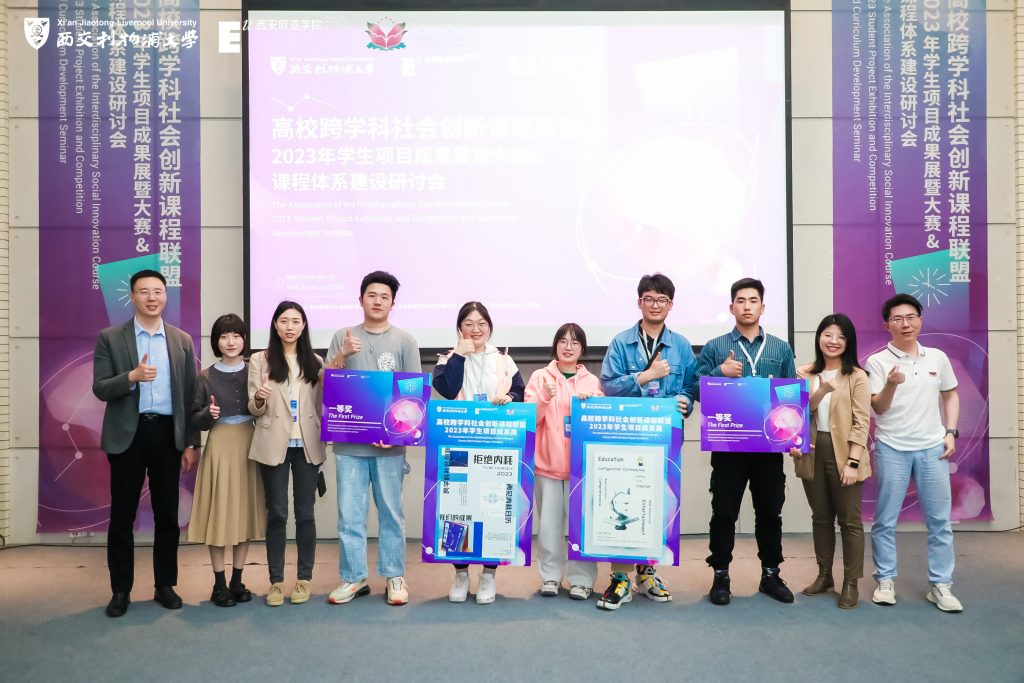 XJTLU's "To be yourself" team and "Book resource allocation" team
Be well and be yourself
"To be yourself" is an interactive calendar which aims to help students reduce the negative impacts of nèi hào. This word can be roughly translated as "inner conflict" – often caused by stress and overthinking and will lead to mental exhaustion.
Shaoxiang Wang, a Year Two student in BEng Electronic Science and Technology and the project team leader, says: "The calendar can help students explore their inner world. With its guidance and interactive games, students can identify the sources of their emotional exhaustion, solve them by participating in different activities, and, ultimately, improve their mental well-being.
"We divided our calendar into 12 parts accordingly to the potential stressors students from different academic years might face during their studies, including 10 'topic months' and two 'summary months'. Each 'topic month' features a potential inner conflict, and 'summary months' are used for reflection."
Yushu Yin, a Year Three BA English and Communication Studies student and a member of the team, says: "The increasingly competitive society has put a lot of young people under great pressure. University students, in particular, often struggle with severe inner conflicts related to their academic performance and interpersonal relationships.
"Our calendar is designed to find wellness and reduce inner conflicts."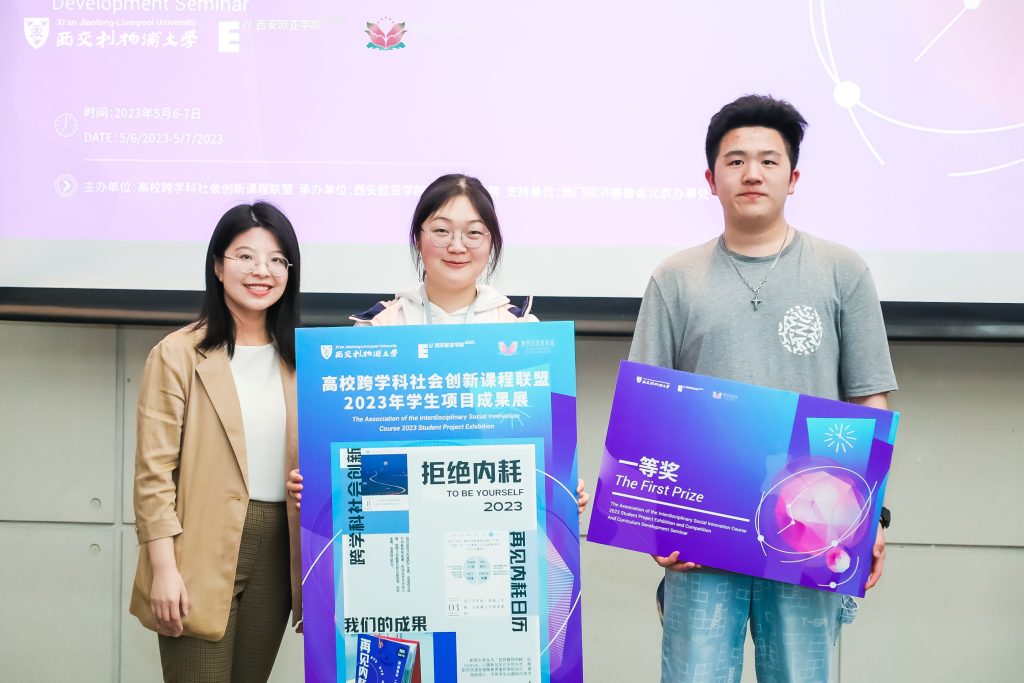 Yushu Yin (middle) and Shaoxiang Wang (right) with their project and prize
Sharing books and sparking ideas
"Book resource allocation" is a WeChat Mini Program where students and staff at XJTLU and XJTLU Entrepreneur College (Taicang) can interact and communicate, for example, share book recommendations, and offer reading guidance. The mini program features online reading communities and a borrowing procedure that resembles online shopping, making it more convenient and enjoyable for students to find and borrow books.
Yuxuan Du, a Year Three student in BSc Intelligent Supply Chain with Contemporary Entrepreneurialism and a member of the team, said they conducted a study on the borrowing patterns at XJTLU's libraries and found the paperbacks in the library of XJTLU Entrepreneur College (Taicang) were being borrowed less frequently on the Suzhou Industrial Park campus. They hope the mini program will help optimise the allocation of the book resources to better meet students' reading needs.
Hao Si, a Year Two BSc Intelligent Supply Chain with Contemporary Entrepreneurialism student and a team member, says: "In an age of data fragmentation, we want to help people rediscover the value of reading and gain insights from books.
"When working on the project, I realised for the first time how much the existing system for book borrowing across locations has helped us. I also spotted some issues which could be tackled to improve the readers' experience.
"Our project is designed to improve the existing book borrowing system and reignite students' interest in reading."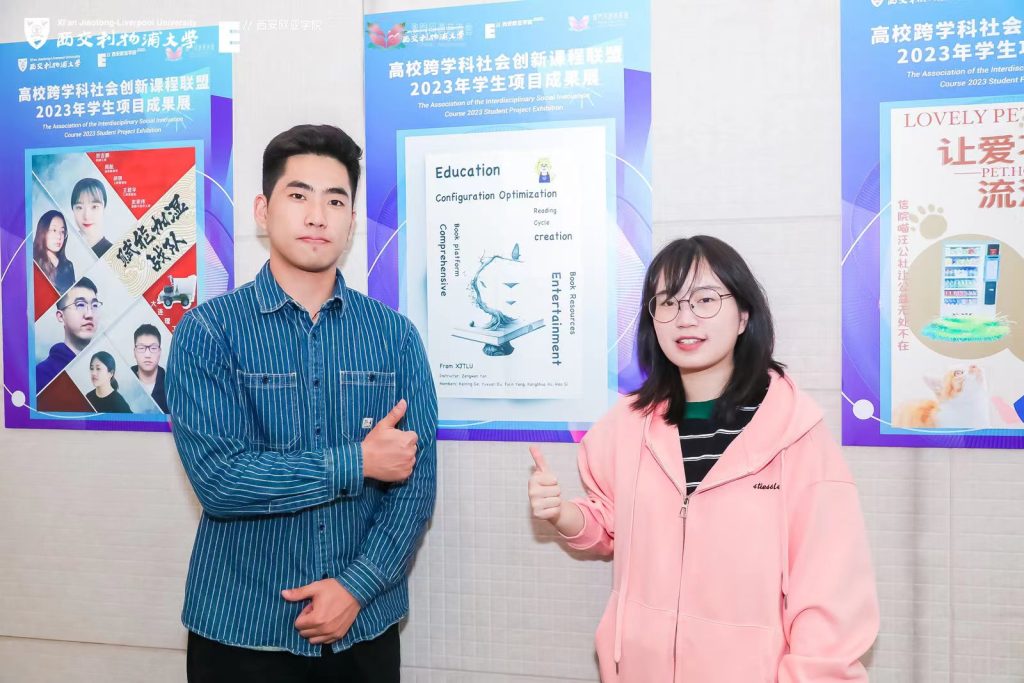 Hao Si (left) and Yuxuan Du (right) with their project "Book resource allocation"
Dr Juming Shen, Head of Learning Institute for Future Excellence at XJTLU's Academy of Future Education, says: "The event serves as a stage where students can showcase their creativity and competence while promoting exchange and cooperation among universities. Participating in interdisciplinary projects like these can broaden students' horizons, improve their innovative thinking and operational skills, and better prepare them for their future careers."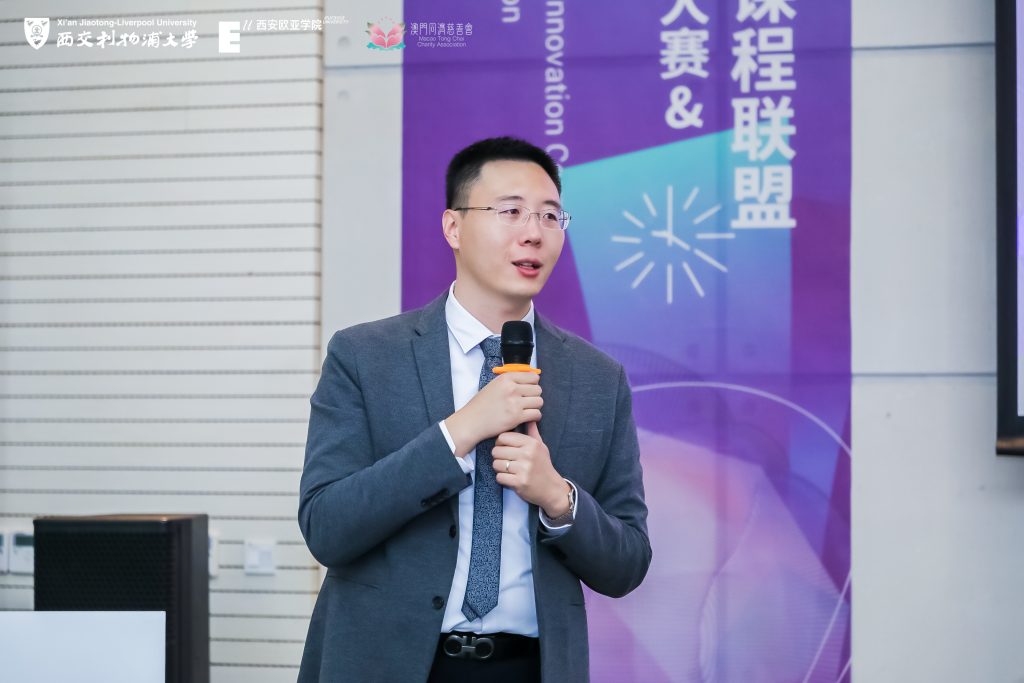 Dr Juming Shen
In the curriculum development seminar that followed the exhibition, the representatives from the Association of the Interdisciplinary Social Innovation Course summarised their previous achievements and presented their plans for the next year.
The Association encourages academics, student representatives, and experts in social innovation from various universities and organisations to come together, improve cooperation and exchange among disciplines, and make the existing social innovation course system more effective and sustainable.
Dr Xiaojun Zhang, Executive Dean of XJTLU's Academy of Future Education, says: "The Association is a platform for students and staff from different universities to communicate and share resources for teaching and research-oriented learning. Together, we aim to develop an interdisciplinary and innovative education system that goes beyond traditional academic boundaries.
"We also want to help our students become more innovative and socially responsible by providing support, giving them access to high-quality online resources, and encouraging them to publish their academic achievements. We hope that our students' efforts will lead to more innovative solutions to social problems."
The event was hosted by Xi'an Jiaotong-Liverpool University, co-organised by Xi'an Eurasia University, and supported by Macao Tong Chai Charity Association (Beijing office).
By Xiaoyan Jin
Translated by Xueqi Wang
Edited by Xinmin Han and Catherine Diamond
Photo provided by Learning Institute for Future Excellence
Editorial support by Meiting Shu Ye