International Business School Suzhou (IBSS) at Xi'an Jiaotong-Liverpool University (XJTLU) kicked off its 10th anniversary year with an alumni reunion on 9 September.
More than 300 alumni, academic staff and industry leaders gathered to celebrate the school's successes. These include rising to be the largest English-language business school in China and earning the "Triple Crown" of accreditations (AACSB, EQUIS and AMBA) that only 1% of business schools worldwide have achieved.
IBSS was founded 25 October 2013.
Exceptional graduates
An award ceremony recognised three alumni who have made exceptional contributions to business, society and academia:
Shaanxi province entrepreneur and investor Boyue Xing, who earned a BA in Business Administration in 2018, was named 2023 IBSS Alumni of the Year for his business leadership and achievements.
HR leader Sirena Bai, who earned an International MBA (IMBA) in 2021, received the IBSS Alumni Outstanding Contribution Award for promoting collaborations between IBSS and AstraZeneca.
Lenda Huo of Amoy Diagnostics, who earned an International MBA in 2018, received the IMBA Best Ambassador Award for professionally mentoring current IMBA students and supporting the programme's recruitment efforts.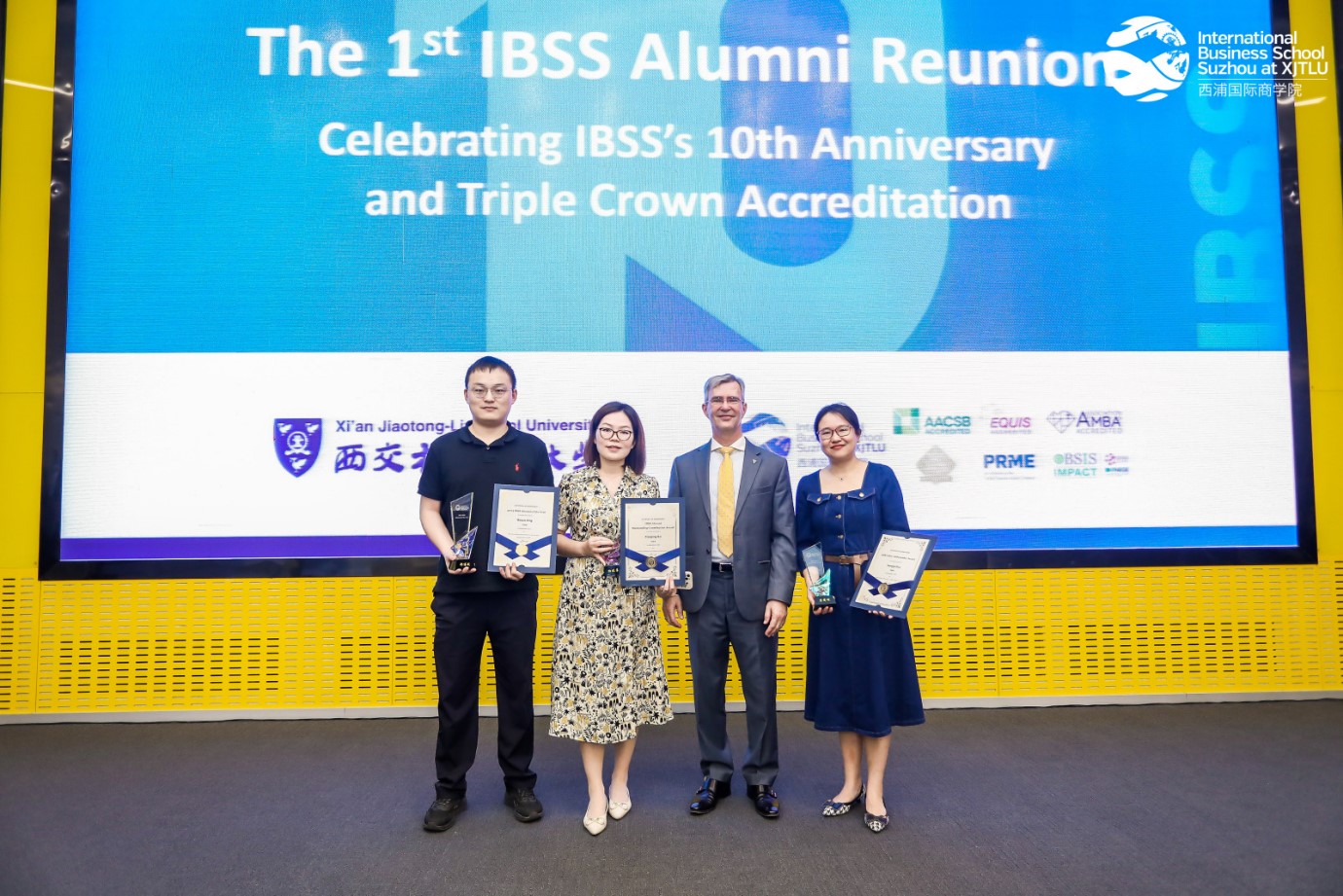 Left to right: Boyue Xing; Sirena Bai; Professor Jorg Bley, Dean of IBSS; and Lenda Huo
The event included discussions led by panels of business and academic experts on digital business transformation, advancing gender diversity on corporate boards and in leadership, Generation Z in the workplace, and adapting and thriving in a global economy.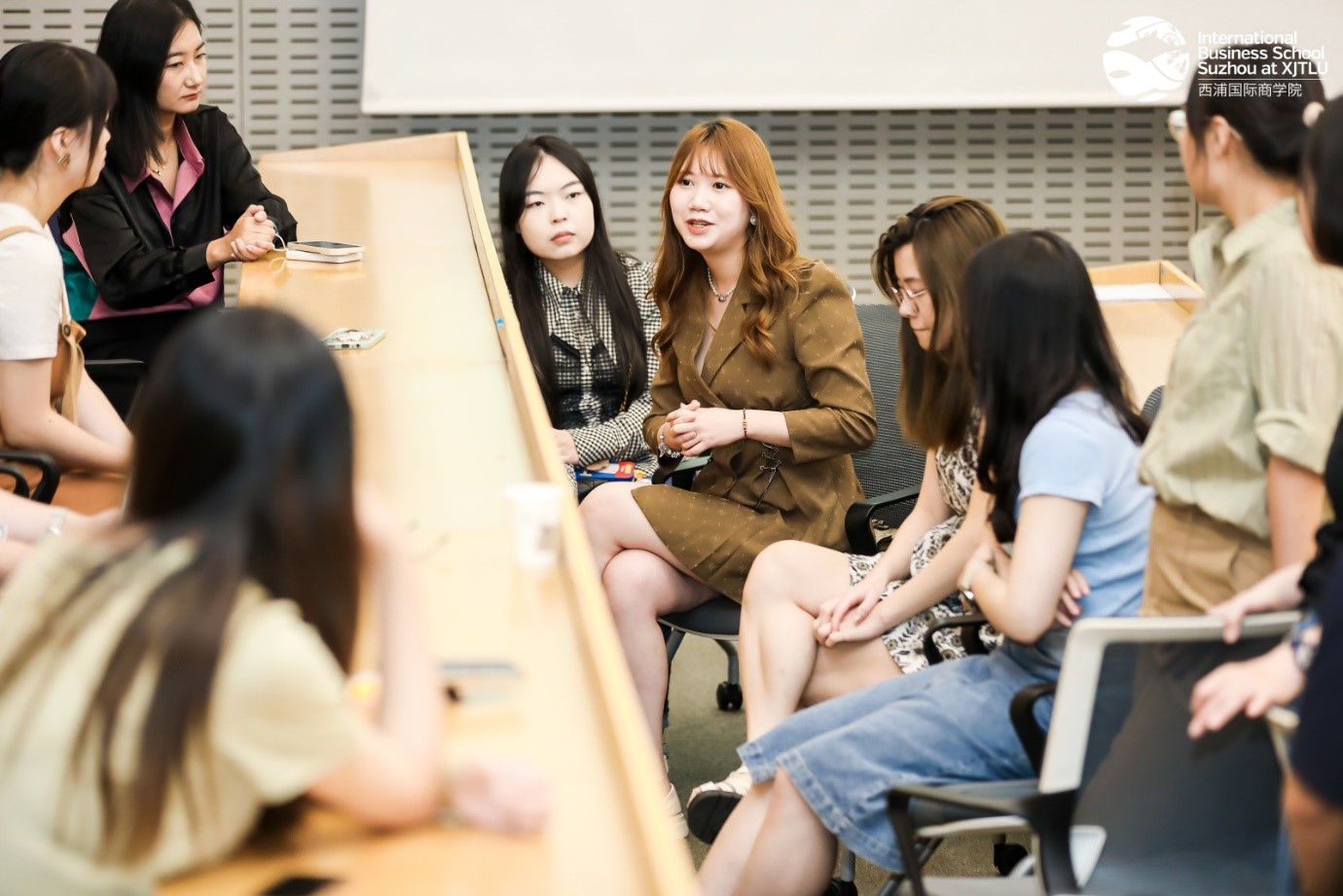 IBSS alumni and experts discuss current business topics
Exploring 'smart working'
One panel discussed the concept of "smart working", which uses technology to connect workers and focuses on efficient results achievement instead of on where and when people work.
Panelist Yidan Liu, Transferable Skills Training Specialist at IBSS, said that – according to research – senior managers believe creative thinking and self-leadership will be key in smart workplaces over the next five years.
Other panelists discussed the pros and cons of conducting business online, which can be part of smart working.
Pieter Bakker, CEO and consultant at FSMT Cable, said an advantage of smart working is the ability to draw leading experts from multiple countries into a team rather than relying only on local experts.
Leon Irfan, an International Business with a Language programme graduate from the Class of 2019 and now a Huawei Indonesia Account Manager, said connections with customers may suffer if meetings with them are only online.
"Online communication can affect customer relationship maintenance and limit their communication," he said.
Instead, some businesses hold some meetings online to save time but continue to hold some offline to meet customer needs, he said.
Kirsten Johnston, CEO of brand-design firm JWDK and an alumna of the International MBA programme, said that in the design industry, working onsite is better for communication and efficiency.
Industry trends
Also as part of the event, industry executives and leaders discussed trends in finance, entrepreneurship, manufacturing, healthcare, sustainability, and cross-industry exchange.
Keynote speaker Ewa Maqdosi, Vice President of AstraZeneca in Wuxi, shared insights into the smart working strategies the company has made in response to rapid changes in society, industry and technology.
At AstraZeneca, growing and developing talents is key to smart working, she said.
"When you think about digital innovation and solutions, 90% is depending on our people," she said.
"It's about talent as our competitive advantage, driving an inclusive, diverse, performance-focused team, and accelerating workforce readiness to meet digital transformation ambitions."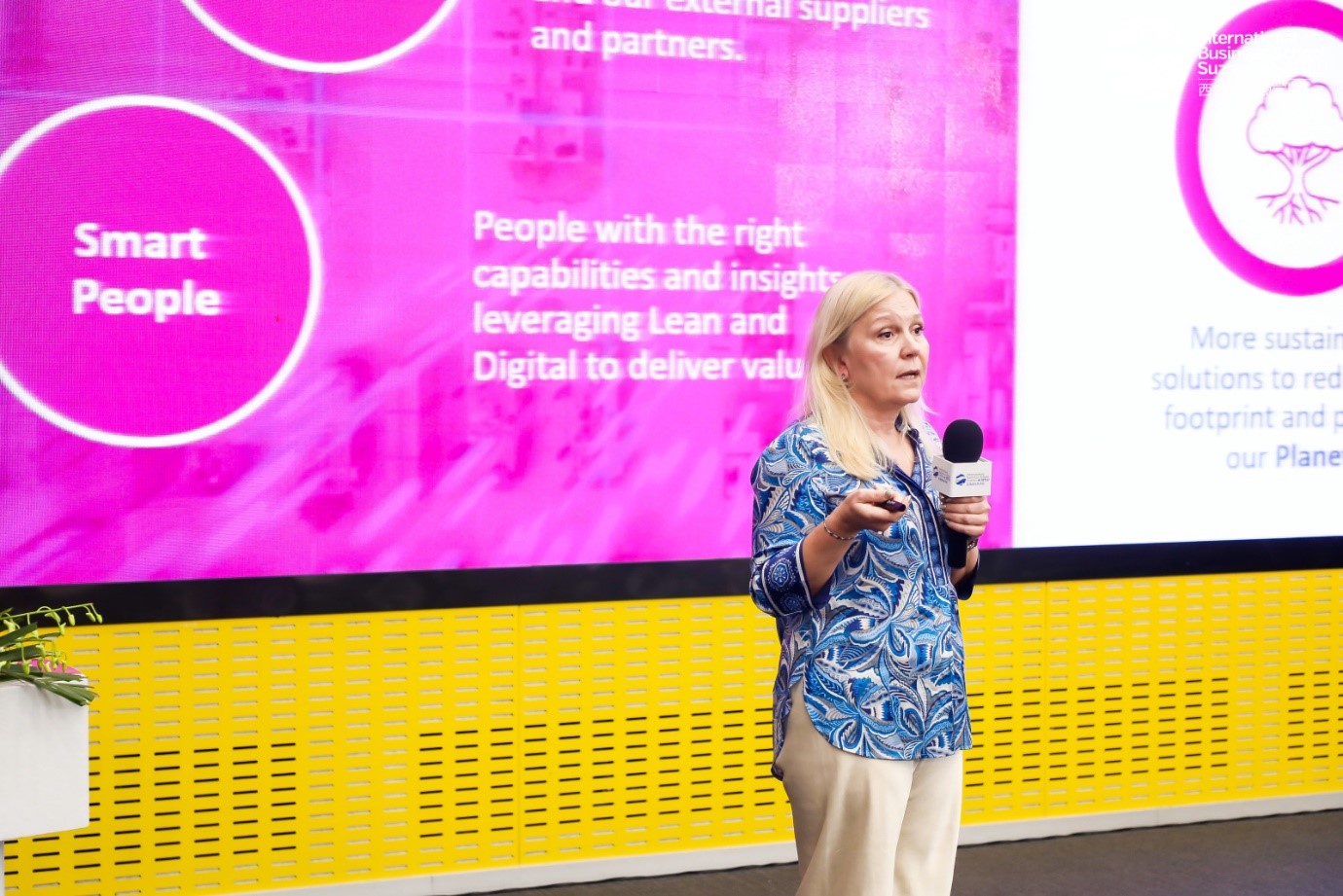 Keynote speaker Ewa Maqdosi, Vice President of AstraZeneca in Wuxi
Personal and business benefits
Alumni who attended the event described how studying at IBSS benefitted their careers and companies.
Johnston started JWDK in London and expanded it to Shanghai and Hong Kong.
In addition to boosting her accounting and finance control skills, IBSS gave her insights, she said: "As a foreigner, it was important to me to learn more about business in China and the cultural differences to how we do things in the UK."
IBSS Alumni of the Year Award-winner Xing said that an entrepreneurship module left a deep impression on him.
"It taught us that as entrepreneurs, we have a responsibility to society and should consider how our businesses can contribute beyond just pursuing profits," he said.
"Having an entrepreneurial spirit is vital in business, and investing in social welfare can yield unexpected benefits for the company."
Professor Jorg Bley, Dean of IBSS, thanked the audience for their contributions to IBSS's successes and encouraged alumni to continue making a positive difference.
"Your experiences, insights, and professional knowledge hold immeasurable value, and I urge each and every one of you to make a contribution as mentors, philanthropists, or pioneers in groundbreaking initiatives using your positions and influence," he said.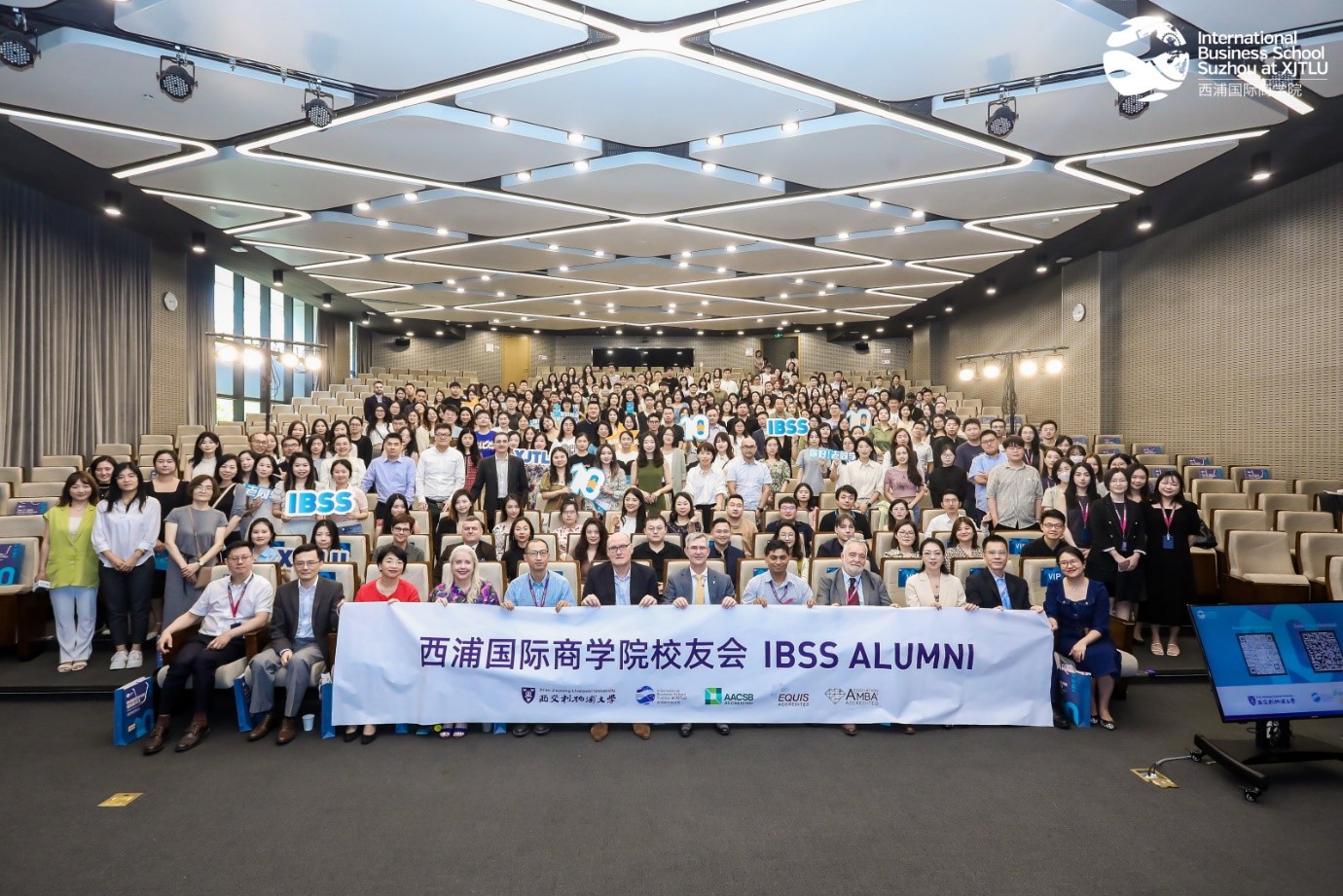 By Linlin Xie
Edited by Tamara Kaup
Photos courtesy of IBSS