Looking ahead and climbing up
Dear Teachers, Colleagues, Students and Friends,
Suzhou recently had its first snow of the winter. While there was only a thin layer of snow on the ground, the powdery ground in the Old Town brought a rare vibrance to Suzhou.
Snow is symbolic in Chinese culture. As the Chinese saying goes, "The lucky snow signals a prosperous year." I would like to take this opportunity, with this first snow at the end of 2018, to express my hope for an auspicious year in 2019!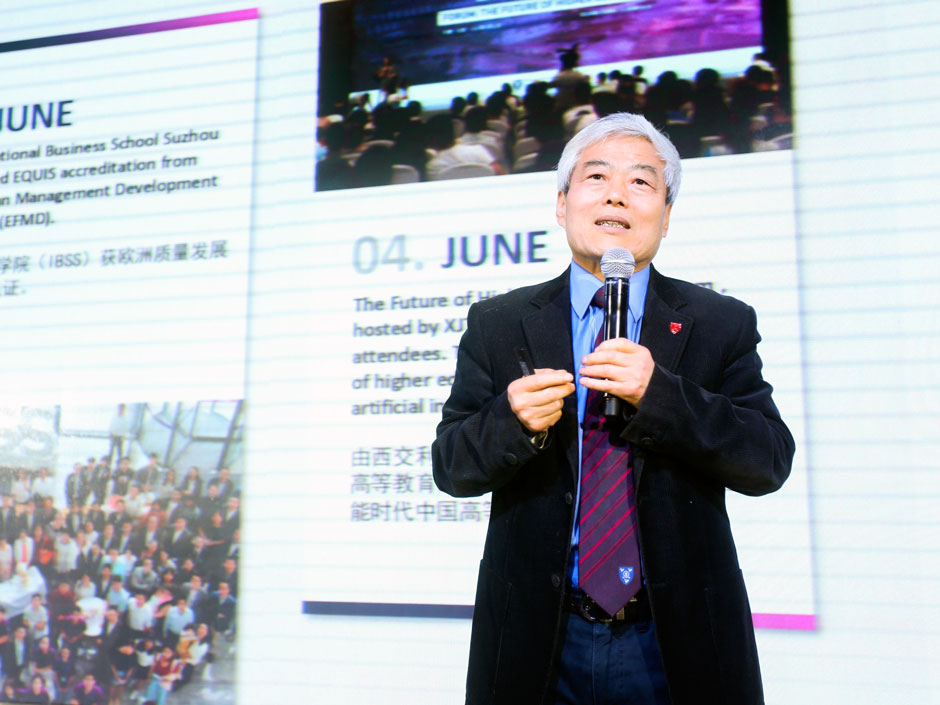 A lot has happened at XJTLU in 2018.
In February, International Business School Suzhou at XJTLU's new landmark building on the South Campus was completed.
In March, XJTLU signed a cooperative framework agreement with the Taicang municipal government on the establishment of the Entrepreneur College, taking a major step forward in the advancement of the groundbreaking new model of Syntegrative Education.
In May, XJTLU signed a cooperative agreement with the China Development Bank and the municipal government of Suzhou on the establishment of the XJTLU New Era Development Research Institute, which, in keeping with XJTLU's think-tank approach, focuses on four research areas, namely: politics and international relations; international innovation ecosystems; technology and future social governance; and transformation of regional economy and society.
The New Era Development Research Institute has also signed cooperative agreements with the Wujiang District Government in Suzhou and the Xi'an Municipal Government to explore the establishment of an international innovation ecosystem, and plans to sign agreements with additional cities and regions.
In June, International Business School Suzhou at XJTLU, once again received accreditation under the European quality development system EQUIS after the accreditation under the Association to Advance Collegiate Schools of Business (AACSB) in 2016. It is the youngest institution in the world to receive both accreditations.
Also in June, XJTLU held a Dialogue Forum on the Future of Higher Education in Beijing, which focused on the current state and future of higher education in China in the era of artificial intelligence.
In July, nearly 2,000 students graduated from XJTLU, dispersing to the far corners of the Earth to pursue their dreams. The Gate of the Orient—one of Suzhou's most iconic buildings—kept lights lit for three days to commemorate and encourage those graduates.
In August, XJTLU held a ceremony for the planned Entrepreneur College in Taicang, signing agreements with nearly 20 multinationals aimed at breaking new horizons in higher education.
In September more than 3,500 undergraduate students, over 500 postgraduate students and over 600 international students joined the XJTLU community, adding to a total of 15,000 registered students in the history of our University.
Also in September, representatives from more than 40 institutions of higher education came to XJTLU to launch an alliance of the higher education teacher's development centers with XJTLU as its base, focused on teacher training and growth.
In October, news stories about XJTLU research were shared by Reuters, Xinhua and other Chinese and international media. The achievements of XJTLU scholars in exploring new areas of knowledge, advancing new technologies and improving the human environment were recognized by society at large.
Finally, most recently in November, XJTLU held an Autumn Symposium on Chinese Higher Education in the Context of 40 Years of Reform and Opening Up, which was attended by over 40 reporters from around China and focused on exploring the top 10 tips for building an international university.
Behind XJTLU's growth as an institution are a multitude of stories. The ones I listed above are just a few from the past year. I am certain there are many other success stories that have not been mentioned, which are the result of tireless efforts of every member of the XJTLU community.
In coming to the close of the year, I am certain that I am not the only one with these feelings. Moreover, I doubt I am the only one eagerly awaiting what the coming year will bring. Over the past 12 years, XJTLU has achieved many firsts in China and even the world in its 1.0 stage. Many of our new staff may feel like you have missed out, but Version 2.0 is a new opportunity. Let's continue to move forward!
XJTLU Version 2.0 is a continuation and perfection of XJTLU's unique Internationalized Model for Specialized Elite Training.
Second, it is also seeking to innovate a unique model for higher education: Syntegrative Education (SE), which seeks to explore and cultivate a new crop of industry elites and leaders able to respond to the new challenges of the internet era, artificial intelligence and automation.
Third, XJTLU Version 2.0 seeks also to disrupt tradition with the establishment of an Entrepreneur College in Taicang, offering new concepts of university and shapes to the campus in future.
Fourth, it will launch a new social experiment, building on the already open and interactive relationship between the University and society, through a university-spearheaded, government-supported, industry-allied and market-operated model. The model will take aim at strategic issues such as the common fate of mankind, the international innovation ecosystem, modern technology and social governance, as well as the transformation and upgrading of the modern economy and society. More centers, similar to The Entrepreneur College (Taicang), distributed in different part of the world, will be developed in future for lifelong learning and thematic study, innovation and business excellence.
As Ren Zhengfei, founder and president of Huawei, has said, "Leadership is not the same as being ahead…. Being ahead is a matter of technology, business models, quality and service costs… Leadership, on the other hand, is establishing rules, and setting the standard for common victory."
In other words, while you only see the streets and tall buildings, he sees everything in between. While you are just driving your car, he is thinking about how to turn the car into an amphibious vehicle. As innovators in the field of education, XJTLU is not satisfied to simply be ahead; we want to be leaders. This is what we want to do with Version 2.0 or even 3.0.
We often say that XJTLU exists to innovate. I am very happy when people call XJTLU an entrepreneurial university, because people at XJTLU simply want to innovate. Recently, XJTLU has upgraded from Version 1.0 to Version 2.0, and are currently considering our next upgrade to Version 3.0. In doing this, we seek to continue XJTLU's tradition of innovation, turning our plans for Version 2.0 into reality.
The year 2019 is set to begin in the face of uncertainties in the world. However, XJTLU's faculty and student body dream of changing China and the world and fear no challenge in the pursuit of truth and knowledge!
I wish you all a Merry Christmas and Happy New Year!