The first International Business School Suzhou at Xi'an Jiaotong-Liverpool University (XJTLU) and University of Liverpool Management School (IBSS-ULMS) Marketing Research Workshop was held on 17-18 June. The aim of the workshop was to foster knowledge exchange, research collaboration and PhD co-supervision between ULMS and IBSS at XJTLU.
The workshop was planned and organized by IBSS Associate Professor of Marketing and Innovation, Florian Kohlbacher. Two faculty members Dr Chris Raddats and Dr Philippa Hunter-Jones and two postgraduate research students from ULMS, Ms Rachel Spence and Mr Morteza Abolhasani attended the workshop. IBSS Deputy Dean Ewout van der Schaft welcomed the participants and highlighted the importance of knowledge exchange between ULMS and IBSS and the great potential for collaboration and joint value creation.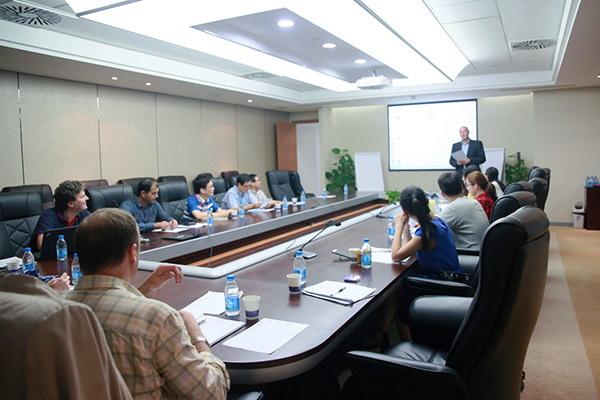 In the first part of the workshop, postgraduate research students from the MRes Management and PhD programmes from ULMS and IBSS presented their ongoing research projects. ULMS' Ms Rachel Spence gave an outline of her project "Enhancing the health service experience: Understanding 'value' for patients, and the role of operant resources", followed by IBSS' Ms Mona (Meng) Wang who presented on "The Construction of Social Identities through Symbolic Consumption: The Case of the DAMA Ladies in China", a recently started project that has won her an award at the XJTLU Poster Day 2015 and allowed her to publish a practitioner article in the China Economic Review. Her supervisors are Dr Florian Kohlbacher (IBSS), Dr Philippa Hunter-Jones (ULMS) and Dr Lynn Sudbury-Riley (ULMS).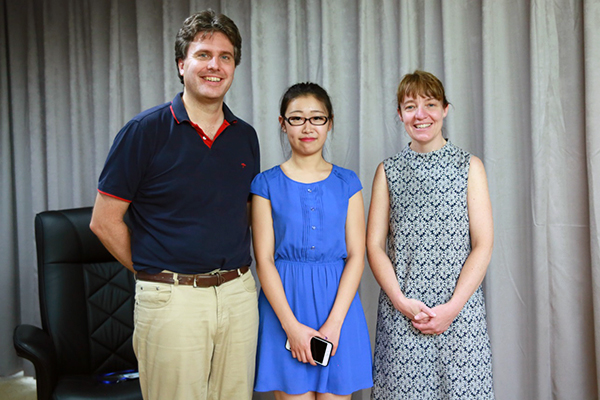 ULMS PhD student Mr Morteza Abolhasani, supervised by Dr Steve Oakes (ULMS) presented findings from his study "A mixed methods approach to investigating the influence of background music in Higher Education Advertising", while IBSS' Mr Steed (Zhuang) Ma talked about "Successful service offshoring for manufacturing companies" based on a recently started project for which he also won an award at the XJTLU Poster Day 2015. His supervisors are Dr Woonkian Chong, Dr Lixian Qian (IBSS) and Dr Chris Raddats (ULMS).
Mr Abolhasani was impressed with the informative workshop and said, "I thought there was a good mix of different topics and it was fascinating to learn about the cutting edge marketing research in China. I presented a paper and received invaluable feedback for which I am truly grateful. Thanks to everyone involved for the great job."
Rachel echoed these comments remarking, "It was a great opportunity to attend the IBSS-ULMS workshop in Suzhou, and to both present my research as well as hear about exciting research by other enthusiastic students. I enjoyed receiving questions and feedback about my topic and the very insightful and helpful comments. Both staff and students were also very friendly and welcoming and it was fun to have dinner and learn more about XJTLU as well as try some new Chinese cuisine."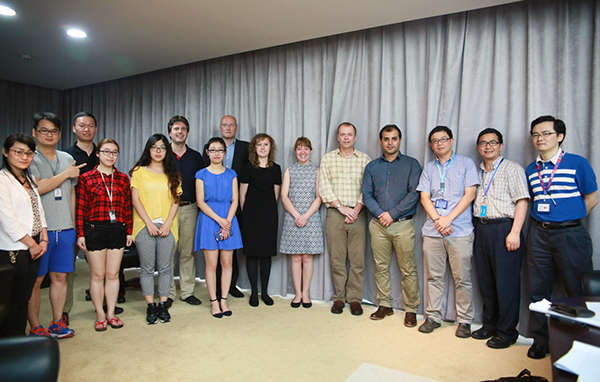 In the second part of the workshop, ULMS and IBSS faculty members presented findings from recent research projects. Ms Philippa Hunter-Jones (ULMS) presented: "An empirical study of youth culture and globalization. Generation Y perceived risks and online purchase behavior", which is an ongoing RDF research project in collaboration with Yan Sun (IBSS). IBSS marketing lecturers, Ms Juelin Yin and Mr Lixian Qian shared findings from a SURF project they supervised in 2014: "Sharing Sustainability: How Values and Ethics Matter in Consumers' Adoption of Public Bicycle Sharing Scheme".
ULMS' Dr Chris Raddats then presented his co-authored paper "Radical and incremental service innovation in manufacturers: The impact of customer involvement" and organizer Florian Kohlbacher concluded the workshop with "The emergence of the fair trade market in China: a sociology of markets perspective", a co-authored paper with recent IBSS MSc Management graduate Ms Chengmin Wang.
Dr Chris Raddats said of the workshop, "I found the workshop a really interesting way to share ideas and think of new ones. For example, the offshoring of manufacturing to Vietnam from China was very interesting and reinforced my view that the 'servitization of manufacturing' is going to be a key issue in China as well as Western countries."
IBSS Associate Professor of Marketing Mark (Guohua) Wu said: "Thanks so much for organizing such a fantastic workshop for faculty and students of both ULMS and XJTLU-IBSS. It's small, informal and more interactive. Personally I have learned a lot from it and made more contacts for future potential research collaboration. Congratulations to the successful launching of this workshop programme".
ULMS Senior Lecturer Philippa Hunter-Jones concluded at the end of the workshop, "It was a delight to attend the first IBSS-ULMS Marketing Research Workshop hosted at XJTLU. It provided us with a fantastic opportunity to meet with colleagues, share experiences and gain insights into the range of research activity underway. We packed a lot in to a very short amount of time and I came away feeling excited about the multiple opportunities which exist for future collaboration".
Plans for follow-up workshops in Liverpool and Suzhou in 2016 will be announced soon.