Professor Qin Zhou from Soochow University was invited to Xi'an Jiaotong-Liverpool University to give a speech about Kunqu Opera, as part of the fourth lecture in XJTLU Museum's cultural series.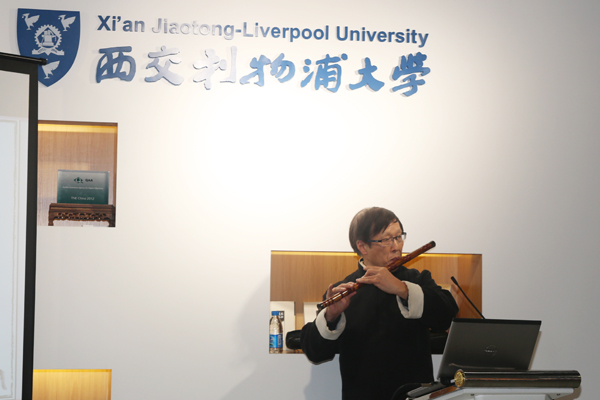 Professor Zhou spoke about about The Peony Pavilion, a classic work of Kunqu Opera, which is one of the oldest existing forms of Chinese opera and has greatly influenced the rest of Chinese theatre. It has been on UNESCO's list of the Masterpieces of the Oral and Intangible Heritage of Humanity since 2001.
Professor Zhou is an expert in the artform and has been recognised as an eminent researcher of Kunqu Opera by the National Ministry of Culture.
The Peony Pavilion was written by Tang Xianzu, the great 16th century Chinese dramatist. Professor Zhou performed part of The Peony Pavilion in order to help XJTLU teachers and students gain a better understanding of Suzhou's characteristic culture as well as Chinese traditional culture.
Students asked Professor Zhou various questions about where and how to learn Kunqu Opera, and about the current status of the art form. Other students were inspired by the lecture to ask how to integrate Kunqu elements into modern life.
Wang Shuqing, a third-year applied mathematics student, expressed her interest in Kunqu Opera: "Through the first year module 'Introduction to Literature and Media Culture' and especially the topic comparing Tang Xianzu and Shakespeare I gained a new understanding of Tang Xianzu and Shakespeare. Mr. Zhou's talk was fantastic and helped me to learn more about Chinese classical art," she said.
The audience included international students and academic staff, and part of the lecture's English translation was done by the student Translation and Interpreting Club (TIC).
Run Tiantian, a fourth-year English and finance student and President of the TIC, said: "We have cooperated with the XJTLU Museum for a long time. Before we translate, we first study the materials of the lecture and then search for more information online in order to prepare well."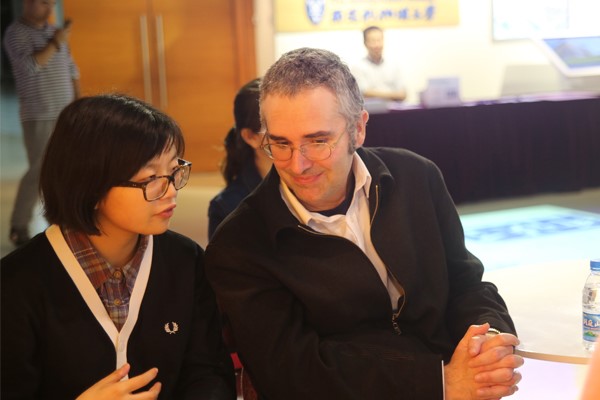 Richard Carciofo, a teacher in the Language Centre at XJTLU and who lived in Beijing for seven years before coming to Suzhou, said, "When I was in Beijing, I learned a bit about Peking Opera. I was interested in this lecture when I saw the information about it on the XJTLU official website."
With translation from TIC members he was able to appreciate and enjoy the lecture: "The student who translated this lecture for me was really good. She helped me to know more about The Peony Pavilion. I would like to attend more events like this if possible," he said.