Mankind is responsible for temperature rises on Earth but it also the key to finding a solution to climate change.
That was the overwhelming message of a climate change and health symposium that was held at Xi'an Jiaotong-Liverpool University.
Prominent scientists took part in the event, which was intended to contribute to the global debate and discussion on climate change, ahead of COP 21, the UN Climate Change Conference, being held in Paris from today.
As part of the event, which was hosted by the departments of Public Health and Environmental Science at XJTLU, speakers addressed the issue of climate change from various perspectives, provoking a "vibrant" exchange of ideas between speakers and the XJTLU students and researchers in the audience.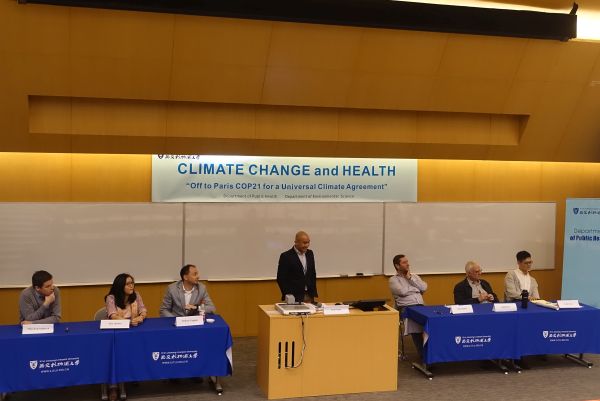 In addition to discussions on how to deal with climate change, there was general consensus that humans are responsible for the rises in temperature that are contributing to climate change and impacting on the lives of people living in affected regions.
It was stressed, however, that humans are also crucial to finding an answer to climate change.
Dr Don Prisno, from the Department of Public Health and one of the co-convenors of the symposium, said: "Apart from making immediate changes in our energy consumption, we have to prepare for the results of climate change, which will affect the livelihood and health of populations. Attention must now also focus on adaptation - climate change will impact society in many ways and we must be prepared for this."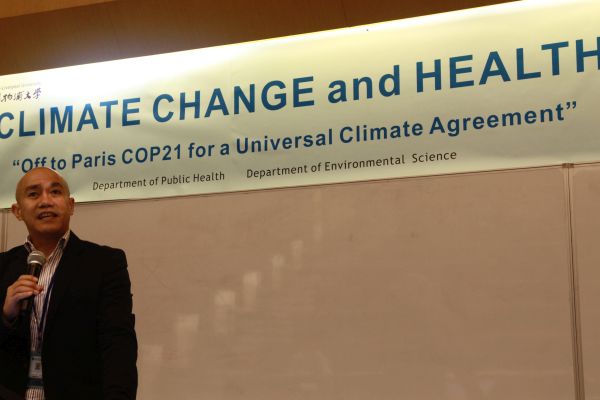 During the event's panel discussion, there was consensus among speakers that climate change is a reality, that it is a result of human activity, and that it needs to be addressed immediately.
"The clock is ticking; the atmospheric carbon dioxide level is now the highest of the last 600,000 years, and this increase occurred during the last one hundred years only," added Dr Prisno.
The panel emphasised that greenhouse gases form a "blanket" around the Earth that keeps us warm and that without these, the Earth's oceans would all be frozen. They warned, however, that too many greenhouse gases result in the global warming and other aspects of climate change that we are currently experiencing.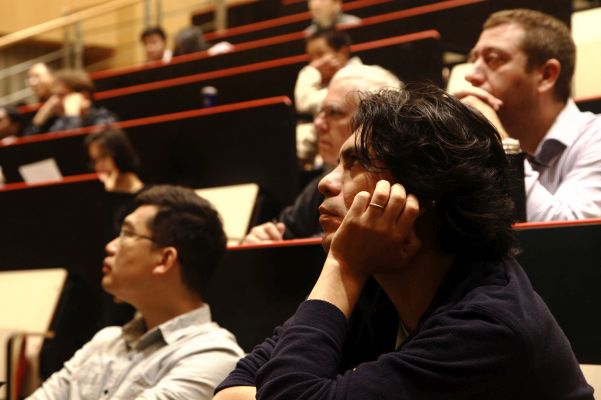 Dr Phil Staddon, from the Department of Environmental Science, highlighted that climate change is not just about temperature but also about precipitation change and extreme weather events. He showed research from 120 years ago demonstrating that rising CO2 will cause climate warming – this causal link has been known for over a century, he said, yet due to vested interests by fossil fuel and automotive companies, limited mitigation action has been taken.
He warned that the consequences of climate change to human health will be "far reaching" including impacts on food and water security, communicable diseases such as malaria and dengue fever, and direct impacts via heatwaves, flooding and other extreme events.
The symposium was being held prior to the COP 21, the 21st annual session of the Conference of the Parties to the 1992 United Nations Framework Convention on Climate Change (UNFCCC), which seeks to set global agreements on climate change reduction activities.
"Mitigating climate change is something that is long past due, and we can only hope that COP21 is a success," said Dr Prisno.
Among the invited speakers were global health expert Professor Keith Dear of Duke Kunshan University and Duke University, astrophysicist Professor Thijs Kouwenhoven of Peking University and Professor William Goggins of the Chinese University of Hong Kong, whose research observes the health impact of meteorological conditions in sub-tropical climates.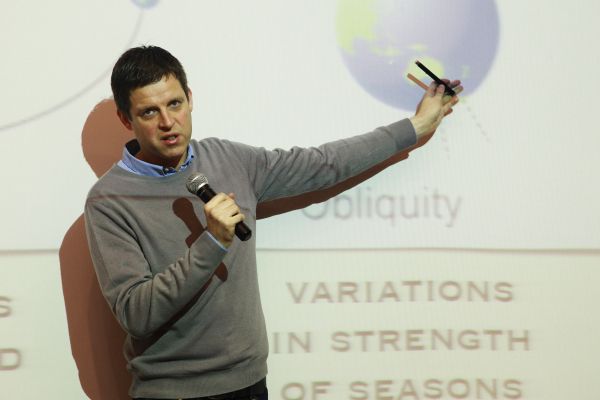 At the event, Dr Don Prisno stressed the role that academic institutes play in this global issue: "XJTLU not only provides a good learning experience to students but also strives to contribute to playing a major role in addressing pressing global issues such as climate change, capitalising on the research and expertise of its academic staff."
Dr Elmer Villanueva, who heads the departments of Public Health and Environmental Science, hailed the collaborative nature of the symposium and said he took pride in the dynamic interactions of the University with other educational institutions, as well as among academic staff and students.
XJTLU aims to position itself as a distinct university that contributes to addressing social issues through degree programme such as the BSc Environmental Science and BSc (Hons) Public Health.