Prospective postgraduate students attended an information day at Xi'an Jiaotong-Liverpool University on Saturday 28 November, and praised the "international" environment of the University.
The event provided tailored information about masters study to both new visitors and current students, while offering them the chance to visit the campus.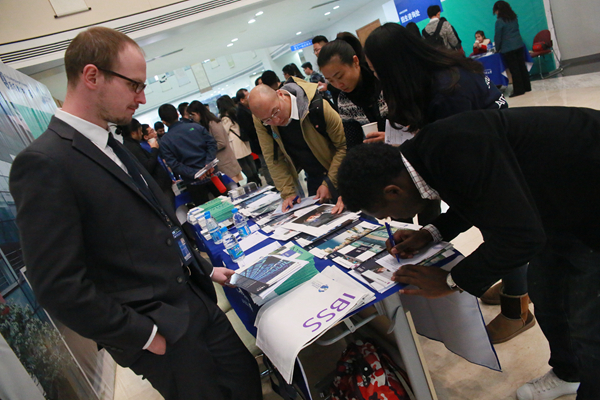 Husband and wife Zhiqiang Gao and Linqi Zhang came to the information day because after six years of working in Suzhou, they felt they wanted a change of professional direction and postgraduate study would help them achieve that.
They had thought they would need to go abroad to access high-quality English-language education, but realised that XJTLU's international environment could offer them what they wanted.
Zhang Linqi said: "I thought we might have to go abroad for graduate school, but XJTLU's fully English teaching environment and international team of teachers, coupled with the high costs of of studying overseas, makes it a good choice."
Current XJTLU undergraduate student Xintong Ren joined many other undergraduate students who were interested in finding out more about masters courses at the University.
Now in her final year of Applied English, Xintong was interested in finding out more about the masters programmes offered by her department: "I am familiar with the University and have adapted to the XJTLU education system. Also the University offers undergraduate students a merit-based scholarship for 20 percent off tuition fees, which is appealing," she said.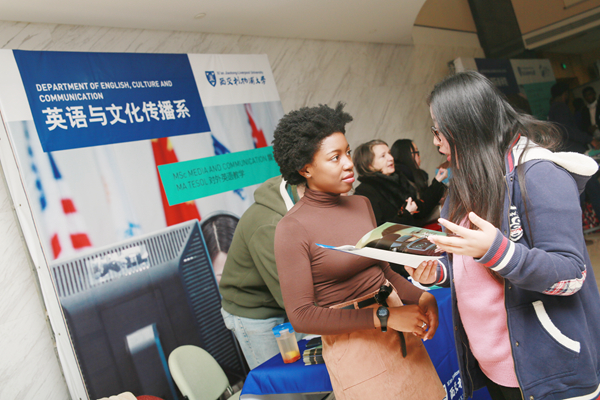 The event was also a chance for prospective new postgraduate students to hear from and meet students currently studying on masters programmes at the University.
Melvin Metzger, from Germany, decided to study a computer science masters at XJTLU after carefully comparing a number of universities in Germany, Canada and Hong Kong. Having been at XJTLU for three months he is happy with his experience so far: "Beautiful campus environment, warm-hearted professors and serious responses to students' feedback have greatly impressed me," he said.
Melvin added that he hopes to work in the computer science industry in Germany, Canada or the United States when he graduates.
Sheng Sheng, a current XJTLU postgraduate financial mathematics student, already has an undergraduate degree from Oxford Brookes University. He came to XJTLU because his undergraduate degree subject limited his options of masters programmes he could apply to at overseas institutions. He has found studying at XJTLU challenging but said he had enjoyed the experience: "Through this three months' study, I have found studying at XJTLU relatively tougher than at an overseas university. Despite the difficulties of some modules, however, I have still enjoyed the study process," he said.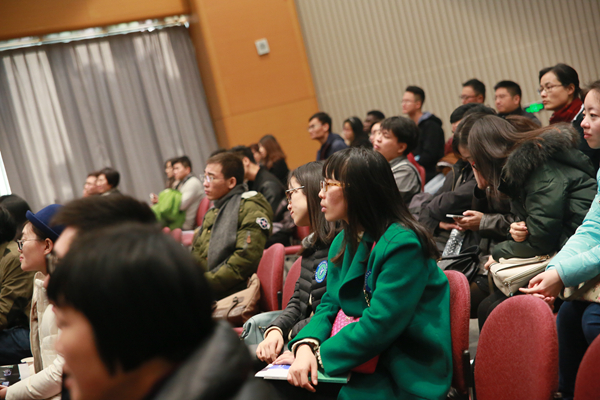 Other sessions during the day included academic staff and students sharing their suggestions on how to apply for postgraduate study at XJTLU, including the key 'ingredients' needed for good personal statements and scholarship letters, and tips for preparing for IELTs tests.
Samantha Ng, an IELTs test examiner, gave attendees strategic tips to help students prepare for exams. She suggested that students develop the habit of reading English texts on a daily basis.
XJTLU executive president Professor Xi gave an address to event attendees on the importance of postgraduate study and why XJTLU is a good choice for prospective students: "In a globalised world, XJTLU trains students to be global citizens in order to survive the future. To be a global citizens, cross-cultural leadership is a key skill that should be fostered and which you will develop at XJTLU."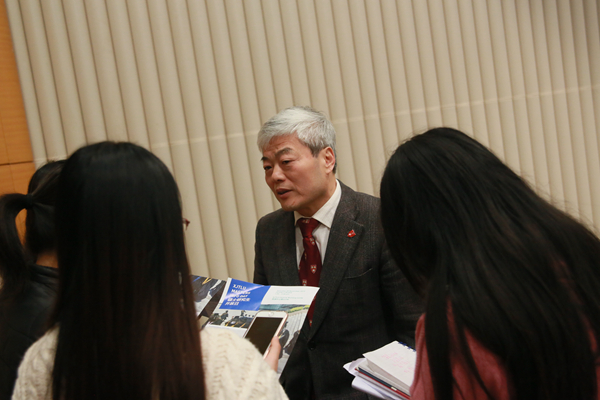 In his speech, Professor André Brown, vice president of XJTLU, compared XJTLU's style of teaching with the more traditional teaching of Chinese universities, highlighting the importance of active learning and innovative teaching: "We deliver an innovative and temporary education through a number of ways such as collecting students' feedback, building an academic enhancement centre and engaging in seminar activities."