A 10-year-old-girl approaches the bridge with a look of excitement and trepidation, while Xi'an Jiaotong-Liverpool University students look on encouragingly, coaxing her to take her first step. Suddenly, she runs across and reaches the other side in a few steps. She toddles off, and a spikey-haired boy appears, all clenched fists and determination. He takes one leap and lands right in the centre of the bridge, which collapses in a heap. The XJTLU students erupt with laughter and mock dismay, the boy grinning, obviously pleased with himself.
It's the afternoon on Wednesday 21 October at the Suzhou SIP Foreign Language School gym and third-year XJTLU architecture students are testing prototype cardboard bridges for a design project set by Dr Christiane M. Herr, an associate professor in the Department of Architecture at XJTLU.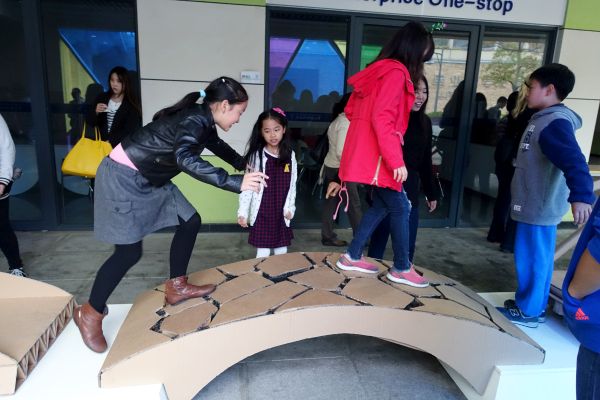 The challenge is to build a structure that can bridge a gap of 1.5 meters, can bear a load of 40kg (the weight of an average 10-year-old), and besides additional joint materials such as screws, glue and string must be made entirely of cardboard. Students work in teams of four or five, and collaborate on all stages of the design.
The project is run in cooperation with Suzhou SIP Foreign Language School and their primary-level students are the eager test subjects. At first, half-scale prototypes of the bridges are presented to the children for testing.
"The project has taught us to learn more about users' needs and interests, and it will affect how we approach our work as architects," says architecture student Zhaohui Yang. "We've come to fully understand, for the first time, that in our future careers what our clients really need will be a frequently asked question."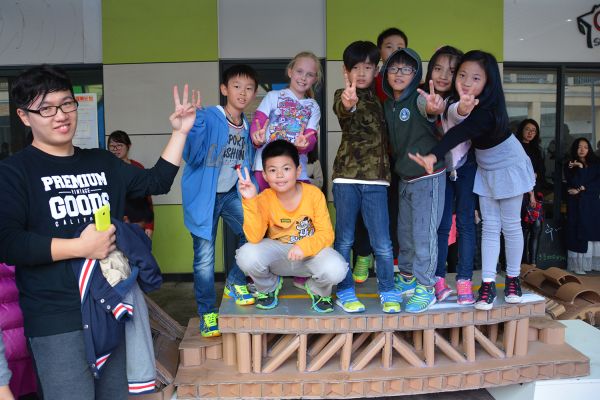 Dr Herr believes architecture students commonly lack hands-on experience with construction projects in the early stages of their studies and overlook the importance of the people who will ultimately interact with their creations. It's these issues that she is seeking to address with the project.
"The students who do this project each year relish the opportunity for teamwork, and for many it's the first chance they've had to actually make something with their hands," says Dr Herr.
"Children make interesting test subjects because they interact with the designs in unexpected ways. Instead of walking, they run and jump, and some even dive under the bridges or pick them up. It's a good way to see structural principles in action. By carefully considering which design elements need reworking and where possible improvements can be made, students learn much more effectively compared to theoretical lectures."
On 4 November the architecture students reconvene to present their final bridge designs, this time at the Student Enterprise Park on XJTLU's campus. It's a grey, rainy day, but the students set up their bridges under the sheltered shopping arcade and the children arrive looking just as gleeful and mischievous as before. This time the bridges are arranged in a line of about 50 metres and the children react with enthusiasm.
Most of the bridges are at this stage able to withstand the weight of a child, but not all are equally fun to look at or interact with, and the children vote for their favourites by attaching stickers.
"The children's vote will not form a part of the students' assessment," explains Dr Herr, "but it will lead to an award given to the winning team. Students are motivated much more by their design achievements than by grades. From an architectural perspective the best bridges are those that integrate structural design, concern for the user and aesthetics well. Incidentally, the bridges winning most children's' votes always belong to this type of bridge."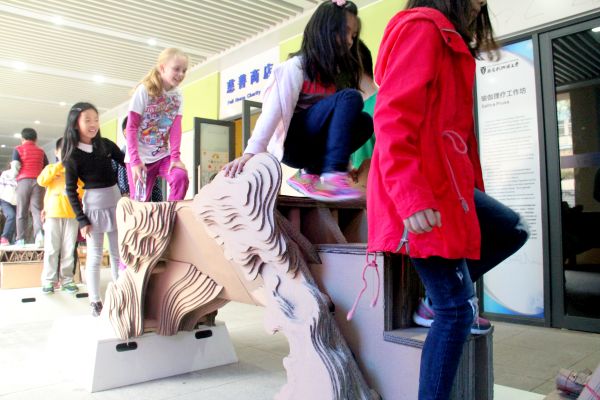 The project is now in its fifth year and Dr Herr is considering to expand it with more involvement with the children at an earlier stage in the design process - the students would first present the children with drawings and plans to see which designs are popular before taking them to the prototype stage.
A selection of cardboard bridges is on exhibition in the first floor of the Built Environment (EB) Building until the end of the semester.