University Marketing and Communication, representing Xi'an Jiaotong-Liverpool University, has been awarded a prize for media relations work and their efforts in promoting the University and its surrounding area through the media.
The team was presented with the 'Media Promotion Coverage Award' along with an outstanding contribution award by the Dushu Lake Science and Education Innovation District (SEID), at a specially-organised event.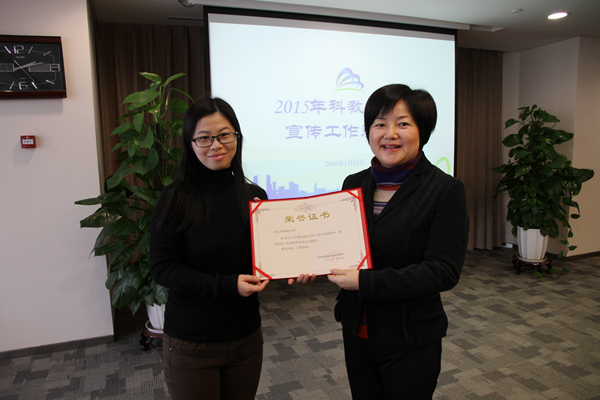 SEID is a core programme of transformation development within Suzhou Industrial Park (SIP) and covers an area of some 25 square kilometres that includes high-quality Chinese and international higher education institutions, including XJTLU, national-level research institutes, training institutions and advanced technology enterprises, among others.
Each year, the SEID management committee recognises organisations that have worked successfully with the media. Through the work of University Marketing and Communications, more than 4,000 articles about XJTLU featured in national, provincial and municipal media during 2015, according to media monitoring system Meltwater, helping to promote both the University and SEID.
Media reporting covered many topics such as higher education and teaching reform, breaking news from campus, talent development and student activities.
XJTLU also maintained timely communication with major national and provincial mainstream media, such as Xinhua News Agency, CCTV, Guangming Daily, China Youth Daily, Southern Weekend and China Education, which covered stories about the hot topics in society and education, and produced special reports that featured XJTLU.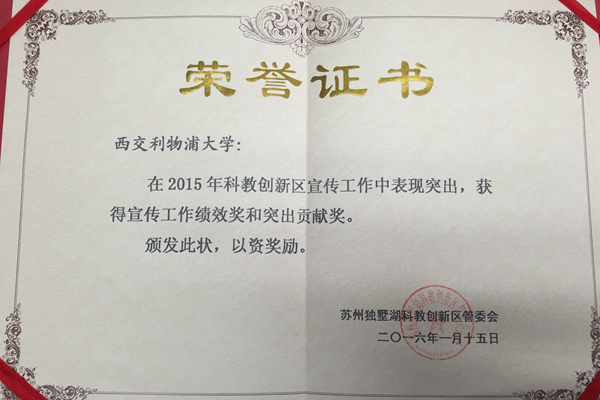 In particular, during Chinese President Xi Jingping's visit to Britain, Xinhua News Agency published a special report about XJTLU, focussing on the cooperation between British and Chinese universities. The report, "Sino-British university teachers and students look forward to building the new future of education", was reprinted by many domestic and international media as well as websites, which positively enhanced both the reputation of higher education in Jiangsu Province and SEID.
In addition to traditional print and broadcast media attention, social media also covered XJTLU. In particular, stories about XJTLU students, its top-quality international academic staff, and high-quality career prospects for graduates were shared widely. Local Suzhou social lifestyle media Depth Suzhou, for example, used their WeChat channel, which has 400,000 subscribers, to publish an introduction to XJTLU, which was widely reposted by readers and reached 10 million hits within a month.
The event, at which a University Marketing and Communications representative picked up the award (pictured above), was held to build cooperation between the organisations based in SEID in order to strengthen the reputation and brand of SEID.