The first-ever international transport symposium in Suzhou was held at Xi'an Jiaotong-Liverpool University on 16 July 2016.
The symposium focused on critical issues and challenges related to transport and urban sustainability, addressing topics that most Chinese cities are facing and exploring new approaches to tackling.
The event was organised by the Department of Urban Planning and Design at XJTLU and sponsored by Suzhou SND Tram Limited.
Professor David O'Connor, dean of research and graduate studies at XJTLU, welcomed participants with an inspiring opening speech, saying: "Meeting the urban transportation demands effectively while simultaneously cutting down on carbon emissions is clearly a difficult but important challenge. However, it was heartening to find so many fresh ideas being brought to bear on the problem at the symposium."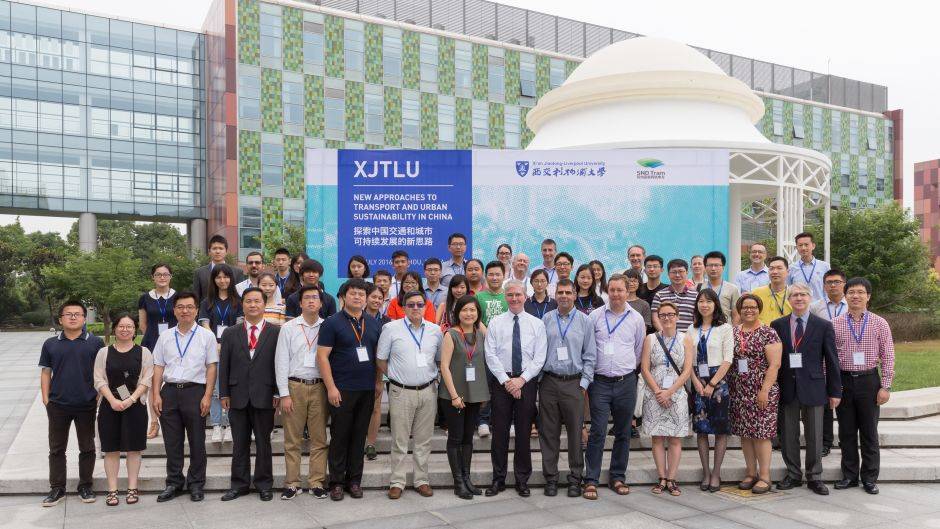 More than 60 people from across the world attended the symposium, including highly regarded scholars, young researchers, leading local practitioners, and a number of delegates from different sectors nationwide.
Across the day-long programme, seventeen speakers from various transport and urban planning departments and institutes presented latest research around four the major themes of global and local perspectives on sustainable transport policy and planning, transport and integrated development, travel and governance, and transport and smart technology at the cutting edge of big data.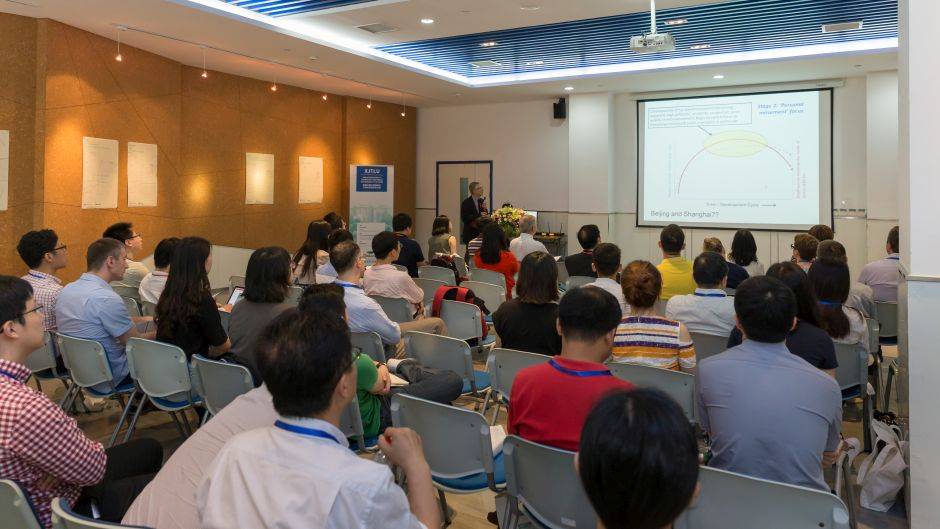 A wide range of interesting topics and case studies were presented including the concept of moving from car-based to people-based cities, adaptive planning of transport infrastructure, effects of suburban transit proximity on greenhouse gas emission in greater Shanghai, the integrated transport hub in Shanghai Hongqiao, the impacts of rail transit on urban regeneration in Chongqing, a comparative analysis of railway station squares, high-speed rail and the spatial-economic impacts on the Yangtze River Delta and Suzhou region, discourse on urban travel and transport and social equity in London, potential volunteered geographic information on future transport systems, traffic modelling on the freeway network in Jiangsu province, big data and transport planning in Hangzhou, and public bike usage in Suzhou.
The high-quality presentations sparked animated discussions among participants who took the opportunity to enthusiastically share experiences and viewpoints.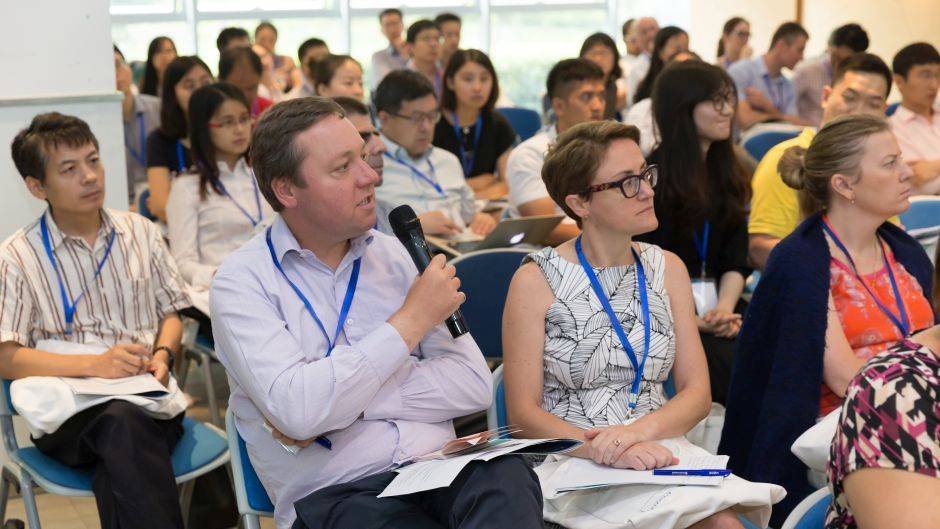 Yuanqiu Bao, a chief practitioner at CCDI Suzhou, a leading planning company, shared information on her company's work and approaches to transport planning practice in China: "This kind of event is very rare in Suzhou. This symposium significantly broadened the horizons of domestic practitioners. With such inspiring exchanges and learning experiences, new ideas can be stimulated," she said.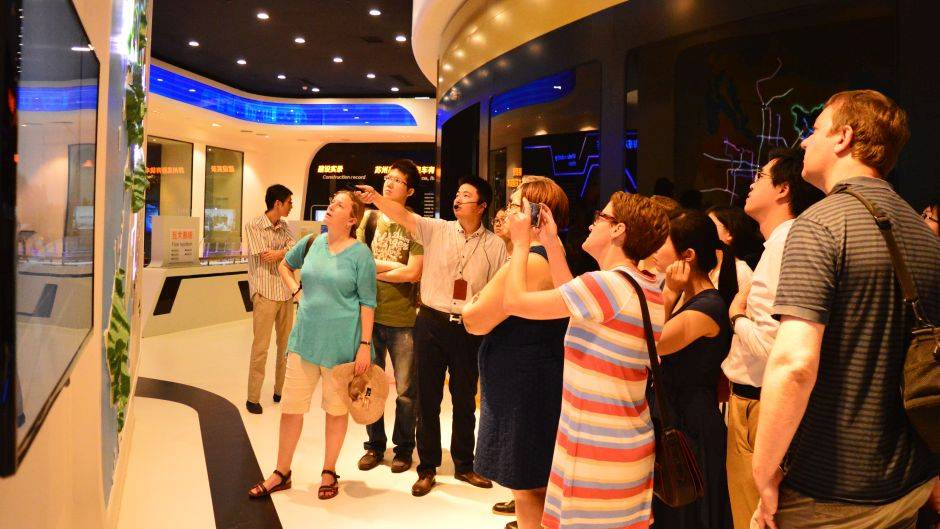 On the morning of Sunday 17 July, a special tour to the Suzhou New District Tram headquarters was hosted by sponsor, SND Tram Limited. Delegates were impressed by the city's vision to create a high-quality tram system, demonstrated through interactive videos and models. They also experienced the driver training facilities.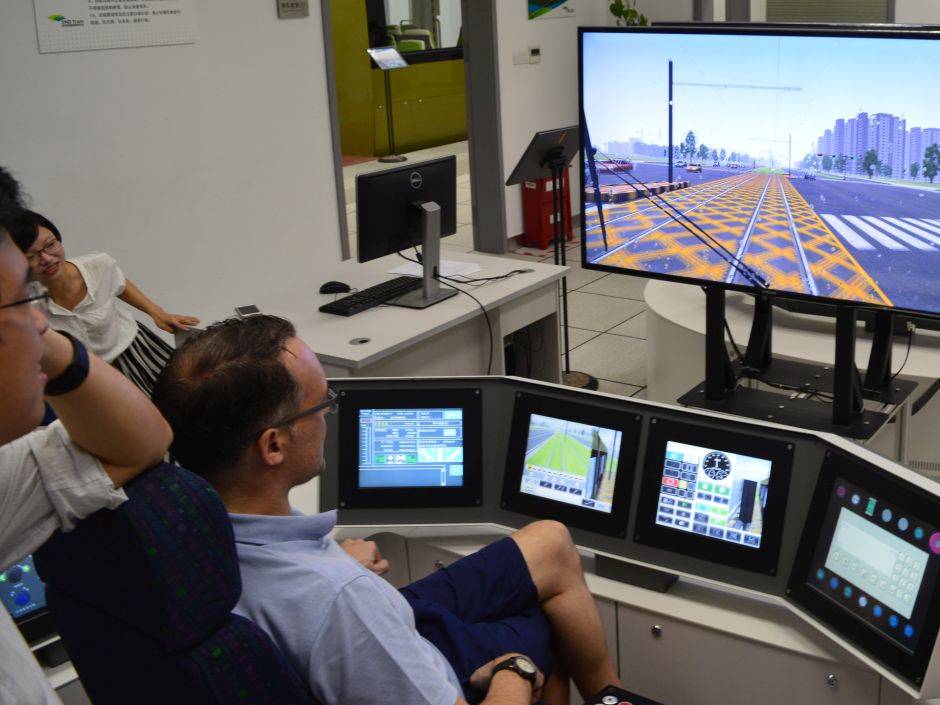 Participants then went on a tram ride to a newly created public transport interchange hub, where the SND tram connects to line one of Suzhou metro and integrates with several other transport modes such as bus and regional coaches including airport coaches. A tour of the classic Suzhou Garden, the Lingering Garden, concluded the event.
Professor Haixiao Pan, from the Department of Urban Planning at Tongji University, had just successfully hosted the 14th World Conference on Transport Research in Shanghai. He said: "We need to explore new approaches to understanding the complexity in transport and sustainability. I'm very glad to attend the conference and the tramway tour to know the rich contents."
Dr Robin Hickman, from the Bartlett School of Planning at University College London, enjoyed his first visit to XJTLU and Suzhou: "The venue was great, we had very high-quality speakers from across the world and it was great to see the innovative transport projects, including the LRT and high-speed rail in Suzhou. The conference programme, banners and catering were all excellent. Very well done," he said.
Participants were also impressed by the active involvement of urban planning and design students who acted as event assistants and engaged in discussions, raising good questions. Dr Moshe Givoni from Tel Aviv University expressed interest in setting up student exchange programmes between Tel Aviv University and XJTLU.
Year Three urban planning and design student Jordan Liu, from Myanmar, was among the students who attended and enjoyed the symposium: "I'm glad and proud that the symposium was held at XJTLU. It's such a great opportunity to have been a part of what just happened today. I'm looking forward to more of events like this in the future."
"I'm happy and proud to be an assistant of such a great conference. The participants were all so nice," added Year Four student Yi Zhu.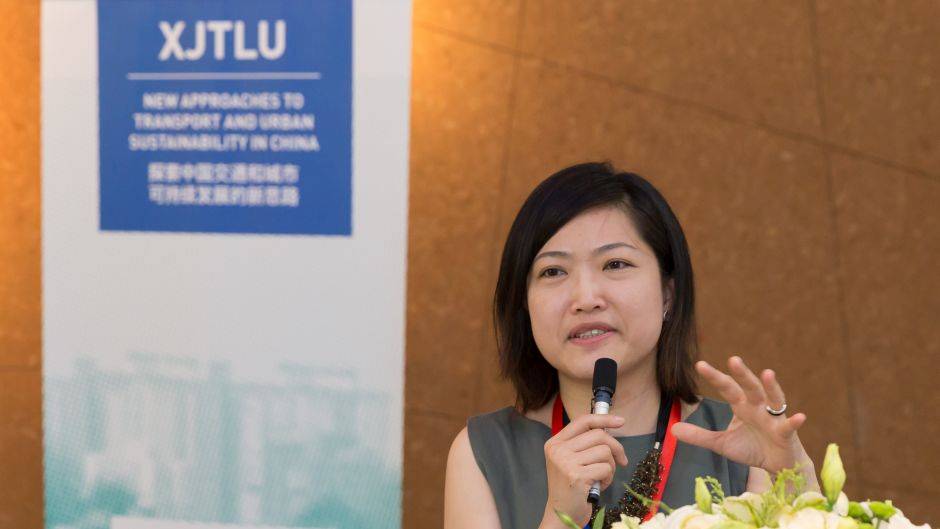 Dr Chia-Lin Chen (pictured above), chief organiser of the symposium and a lecturer in the Department of Urban Planning and Design at XJTLU, said: "In Chinese, 'jiaotong' literally means 'transport'. This first transport symposium held in Xi'an Jiaotong-Liverpool University is particularly meaningful. It provides an exceptional chance to exchange ideas in a global-local nexus and an excellent platform for international visibility. It is great to see the event open up opportunities for future research collaborations both locally and globally."
Speakers at the event represented:
Bartlett School of Planning and Transport Institute, University College London
Transport Research Unit, Tel Aviv University
Institute for Climate Change and Sustainable Development, University of Malta
Urban studies and planning programme, Virginia Commonwealth University
Department of Urban Planning, Tongji University
School of Urban Rail Transportation, Soochow University
Department of Urban Planning and Design, XJTLU
Transport unit at Suzhou Planning and Design Research Institute Co., Ltd.
Institute of Traffic Planning and Design, CCDI Suzhou.