The University of Liverpool has awarded the president of Xi'an Jiaotong University an honorary degree, at a ceremony held at the campus of their joint venture, Xi'an Jiaotong-Liverpool University.
Professor Shuguo Wang was presented the honour in recognition of the support he has given to XJTLU through its first period of growth. The award coincides with XJTLU's 10th anniversary celebrations, which took place the day before.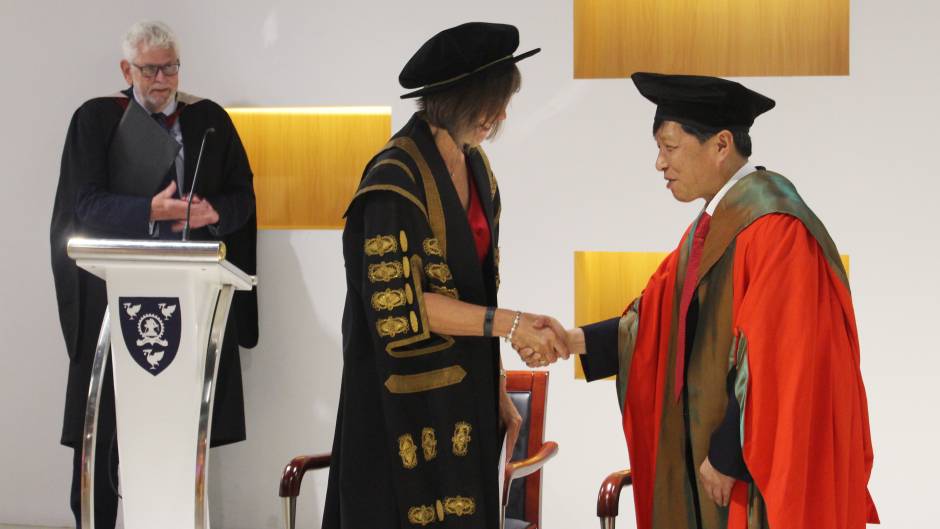 Professor Wang is a respected academic in the fields of robot autonomous control theory, robot sensor technology, space robot technology, medical equipment and instrumentation, biomedical image processing, and computer-aided medical technology.
His ground-breaking work, in areas crucial to human progress and well-being, has led to numerous major state-funded projects. President Wang has been granted 15 National Invention Patents and holds several concurrent posts at leading academic societies, such as the Academic Degrees Committee of the State Council, Vice-Chairman of the Chinese Society of Astronauts, and Vice Director of the Scientific Application Expert Committee of the Lunar Exploration Project.
Over the past decade, he has led his team in pioneering a new field of Chinese biomedical engineering, including the development of the world's first bionic hand for trauma recovery, the first electronic map of human brain anatomy in China and the first robot system in China for minimally invasive interventional surgery in the abdominal cavity.
In 2006, President Wang was granted a medal by the Institute National de la Recherche Agronomique (INRA) in France for his contribution to promoting China-France agricultural cooperation. This is the highest honour in French agricultural science and technology. In the same year, he was granted membership of the Légion d'honneur.
At the degree awarding ceremony, which was held in XJTLU's Museum, the University of Liverpool's vice-chancellor Professor Janet Beer praised Professor Wang's academic work and his ongoing support for the joint venture.
"The University of Liverpool's strong relationship with Xi'an Jiaotong has been incredibly important to the success of Xi'an Jiaotong-Liverpool University. The talent and dedication of individuals such as Professor Wang will ensure that XJTLU continues to grow and thrive in the future," she said.
She spoke of her pride in XJTLU and her desire to see it continue to provide global opportunities for "everyone with the ability and motivation to study at university".
"Our partnership with XJTU exemplifies the very best of what can be achieved when two forward-thinking institutions come together. I am confident that our universities will continue to collaborate for many years to come in terms of both research and the innovative learning opportunities we are able to offer students," she added.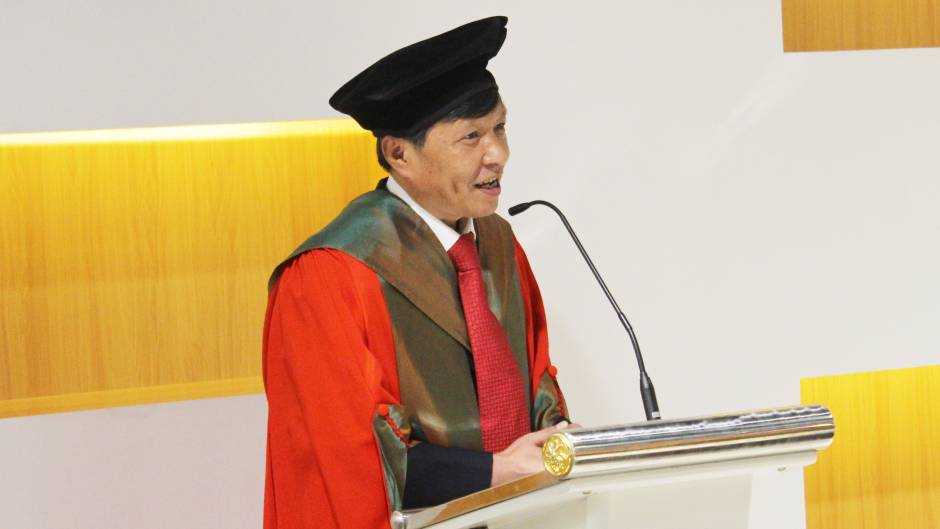 Calling the award an honour, Professor Wang spoke about his hopes for XJTLU's continued success and development, as well as his aspiration for not only Liverpool and Xi'an Jiaotong to continue working together, but also Britain and China.
"Today I am an alumni of Liverpool University! I am so honoured to join together to establish a new university, XJTLU. I look forward to the future and XJTLU developing faster and faster to become a global university and famous in the world," he said.