A team of Xi'an Jiaotong-Liverpool University students won a silver prize at an international synthetic biology competition in Boston, USA, adding to the University's success last year in the same event.
The team, comprised of 18 Year Three and Year Four students from the Departments of Biological Sciences and Mathematical Sciences, won the prize at the 2016 International Genetically Engineered Machine (iGEM) competition, competing against 270 other teams from top universities worldwide.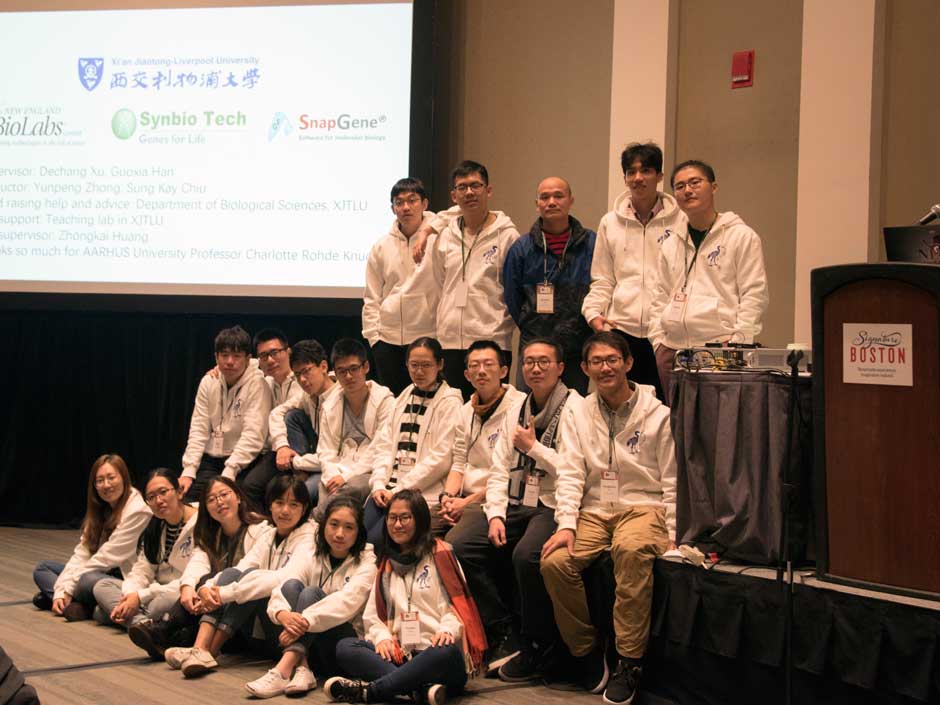 Their project aimed to develop a novel method to construct a library of DNA mutagenesis, the process by which the genetic information of an organism is changed in a stable manner, resulting in a mutation. Mutagenesis in the laboratory is an important technique whereby DNA mutations are deliberately engineered to produce mutant genes, proteins, or strains of organisms.
"The method we have developed can be widely used in the research and development of vaccines and other drugs, and is cheap and easy to operate compared with traditional methods," said Wenbo Xu, a Year Four student studying BSc Biological Sciences and leader of the student team.
"It took our team almost 10 months to finish the project and I am impressed by team members' hardworking and persistence."
The team was supervised by Dr Guoxia Han from the Department of Biological Sciences, Dr Dechang Xu, head of XJTLU's Research Office, external mentor Yunpeng Zhong, and Zhongkai Huang, a technician in the University's biological science laboratories.
In addition, professors from Osaka University in Japan gave the team instructions on experiment design, while associate professor Charlotte Rohde Knudsen, from the Department of Molecular Biology and Genetics at Aarhus University, Denmark, provided the team with a whole genome for experimental purposes.
Zhiming Mao, one of the team members and a Year Three student studying BSc Biological Sciences, said: "It was a great opportunity for us as undergraduate students to improve our practical skills in the lab. We designed the project ourselves and researched and explored a discipline we are interested in.
"I now have a deeper understanding of synthetic biology and it has made me thinking deeply about what contributions I can make to human life and society in the future."
iGEM is an annual, worldwide international competition for students interested in the field of synthetic biology, launched by the Massachusetts Institute of Technology in 2003.
Synthetic biology is an interdisciplinary branch of biology, combining disciplines such as biotechnology, evolutionary biology, molecular biology, systems biology, biophysics, computer engineering, and genetic engineering.