Local government in Suzhou have approved the construction of a new 'key laboratory' at Xi'an Jiaotong-Liverpool University.
The Suzhou Municipal Key Laboratory of Cognitive Computation and Applied Technology (C-CAT) will be led by Dr Kaizhu Huang from the Department of Electrical and Electronic Engineering at XJTLU.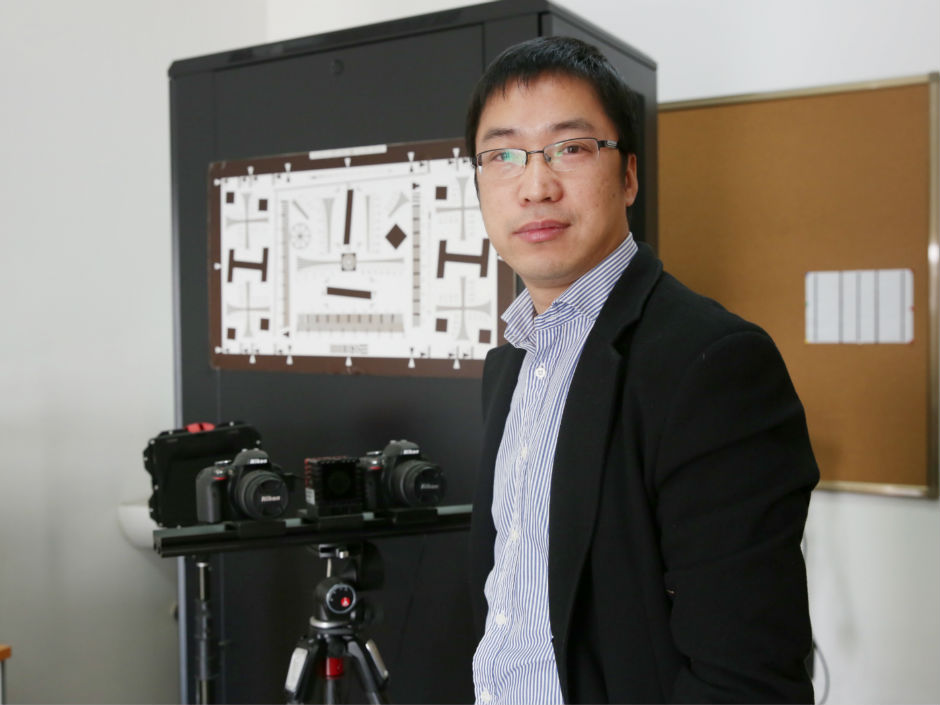 It was approved for construction by the Suzhou Science and Technology Bureau. Key laboratories are cooperative projects part funded by the University and the local government to foster and enhance the research and development of next-generation technologies that can benefit the economy of Suzhou city.
This year, only three key laboratories were approved across the whole city, while C-CAT is XJTLU's third Suzhou key laboratory since 2008 and the second to be developed by XJTLU's Department of Electrical and Electronic Engineering.
Dr Huang said: "The establishment of the lab will benefit cross-disciplinary research and talent training at XJTLU. Masters and PhD students in the discipline will have more opportunities to participate in cutting-edge technology and application research and get more practical and internship opportunities."
The laboratory's work will centre on cognitive-inspired computing in particular next-generation machine learning, which involves trying to understand data by simulating human learning and thinking abilities to make the right decision. It has application potential in the areas of information analysis, natural language processing and machine learning. It is also inseparable from frontier science and technology, including cloud computing, big data technology and artificial intelligence.
"We produce a remarkable amount of data every day not only through computer processes, but also photos, notes, recordings, videos, social media posts, even patients' X-ray plates or court judgement documents are data. This 'unstructured' data accounts for 80 percent the world's data," said Dr Huang.
"However, current IT systems cannot understand nor deal with this data. Cognitive computing technology is trying to bridge the gap between data and insight, and discover the value of the resources to be used."
Dr Huang said that the laboratory will focus on key technologies, such as intelligent computing, bio-inspired machine learning and in particular deep learning, massive multimedia information processing and healthcare. It is also aiming to lead research in field in Jiangsu province and even across China, creating technical support for the industrial transformation and upgrade of Suzhou.
Researchers from XJTLU's Departments of Electrical and Electronic Engineering, Computer Science and Software Engineering and Mathematical Sciences will conduct joint projects. Well-known scholars and experts from both China and overseas, including from the Chinese Academy of Sciences, the University of Stirling, Chinese University of Hong Kong and the Asian Pacific Neural Network Assembly, will form an academic committee to facilitate international collaboration.
In addition, in order to strengthen applied research, a technical committee will be set up with the Fujitsu R&D centre, Microsoft, Ctrip and senior management teams from Suzhou's high-tech companies. The committee will provide consultation, develop potential cooperation projects and promote the industrial transformation of technology.
"There is an urgent need to develop technology using intelligent computing and machine learning to improve people's lives and increase security through the intelligent, fast and efficient processing of information
The current social service areas have urgent demands for how to provide people's life with convenience and security by using intelligent computing and machine learning technology for intelligent, high-speed and high-efficient massive information processing," said Dr Huang.
He added that complex video text recognition had huge application potential. The technique uses cognitive computing technology to allow computers and smart phones to recognise, in the way humans do, images and text in multimedia data, such as video.
He gave the example of developing technology to help non-Chinese speakers travel in China by allowing them to take photos of street signs that can then be translated through text recognition.
"This technology will greatly help its users and has great potential for digital mobile services, network content monitoring, social public security and information retrieval," he said. "It is a focus of academic and industrial development in China and overseas."
Dr Huang has published approximately 40 research papers in international academic journals, as well as an book in English, written independently, and five books written in collaboration with other academics, all published by Springer, one of the world's foremost scientific, technical and medical publishers.
He owns eight national patents and serves as vice chair or associate editor for international academic journals, including 'Springer Cognitive Computation', 'Springer Nature Big Data Analytics' and 'Neurocomputing'.