More than 100 Year Four electrical and electronic engineering students presented their final year projects at a poster session at Xi'an Jiaotong-Liverpool University.
The research projects, which formed part of the final year project module in the Department of Electrical and Electronic Engineering, were presented by all students from the department.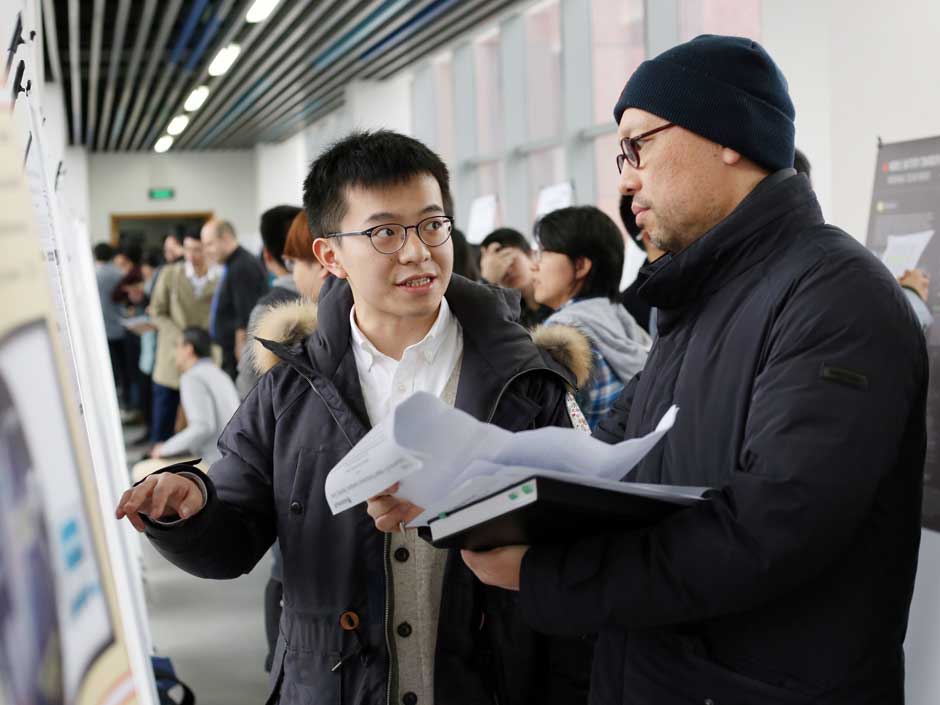 Dr Yujia Zhai, final year project coordinator, said: "We want not only to teach students knowledge related to their programmes, but we also want to teach them how to learn by themselves.
"Some of the projects were done through teamwork, helping students improve their communication and teamwork skills, which are important for their future study and careers."
For the first time, this year's poster event was co-organised and partially sponsored by the Institute of Engineering and Technology in the United Kingdom.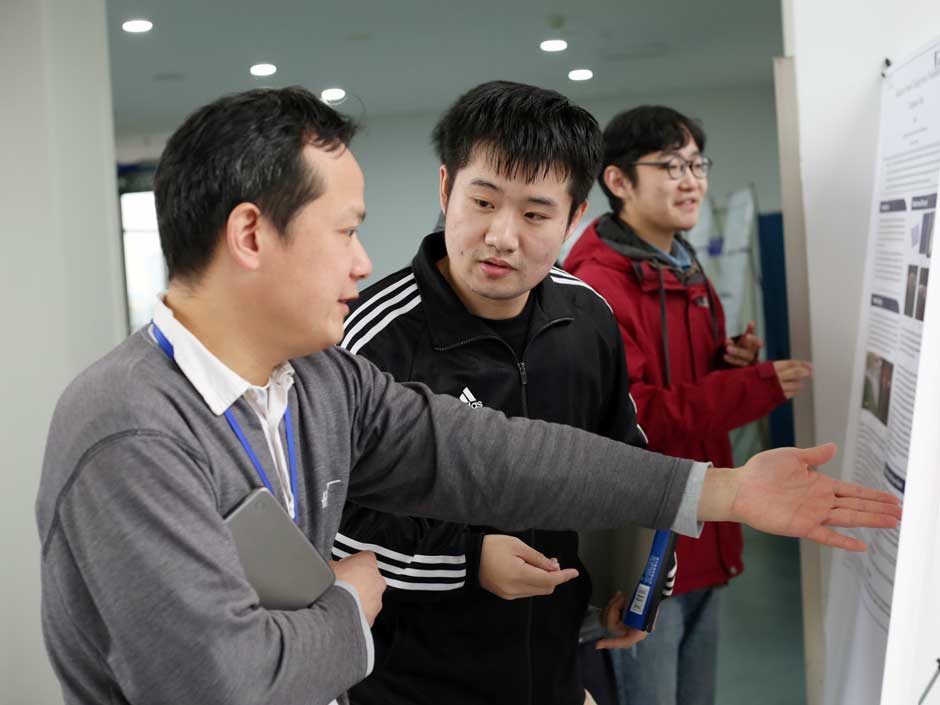 Dr Kaizhu Huang, head of the Department of Electrical and Electronic Engineering, said that this was in recognition of EEE students' impressive work: "Having their achievements recognised by a premier international professional body will certainly benefit them in their future career development," he said.
Xiaoyang Chen (pictured below), who studies BEng Electrical Engineering, was awarded the IET Best Poster Prize, which was voted for by staff from the department.
His project, 'Forecasting based power ramp-rate control for photovoltaic systems without energy storage', proposed a power ramp-rate control method to solve the problem of unstable output power caused by the intermittency of solar photovoltaic power generation.
Xiaoyang said: "Renewable energy power generation is advocated internationally because the use of traditional fossil fuels has caused too much environmental pollution. However, the challenge with renewable energy power generation is its unstable output, which means the generated electricity cannot reliably be used as a power source."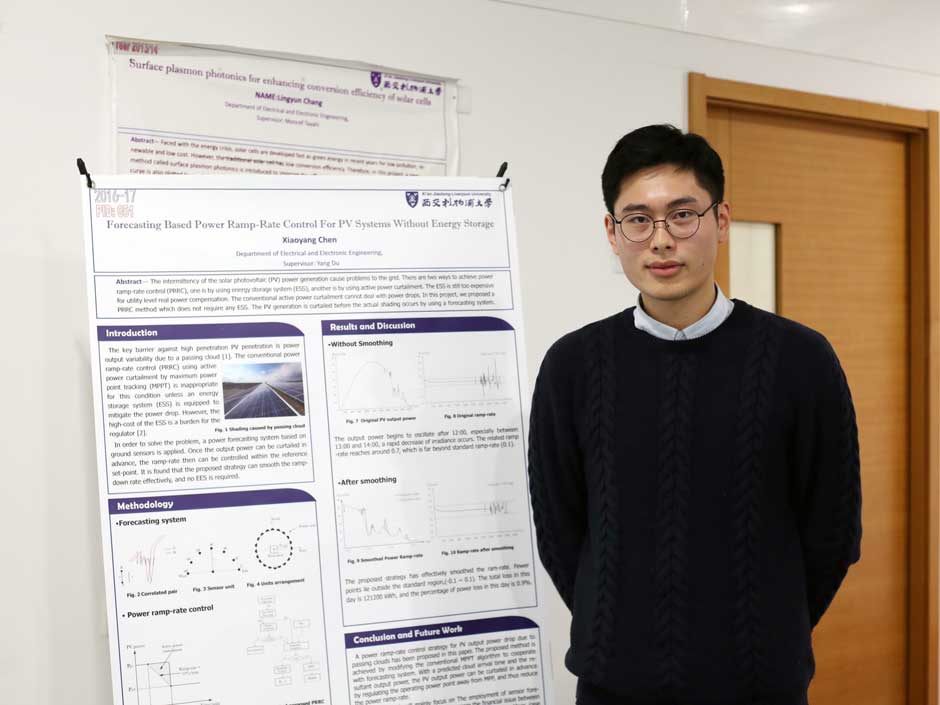 He explained that there were currently two ways to achieve power ramp-rate control, either through using an energy storage system, which can be prohibitively expensive, or through conventional active power curtailment, but which cannot deal with the issue of power drops.
"The solar photovoltaic output power will drop suddenly when the solar panels are sheltered by a passing cloud and this will cause the output power to be unstable," he said. "In my research project, we adopted a forecasting system to ensure the output power drops slowly to avoid big ramp-rate fluctuations."
Dr Zhai said the power ramp-rate control approach proposed in Xiaoyang's project could enable solar photovoltaic power generation to be widely adopted by China's electric utility company, State Grid.
Jiacheng Liu (pictured below), who studies BEng Digital Media Technology, investigated methods for content-based image retrieval by colour and texture for her final year project.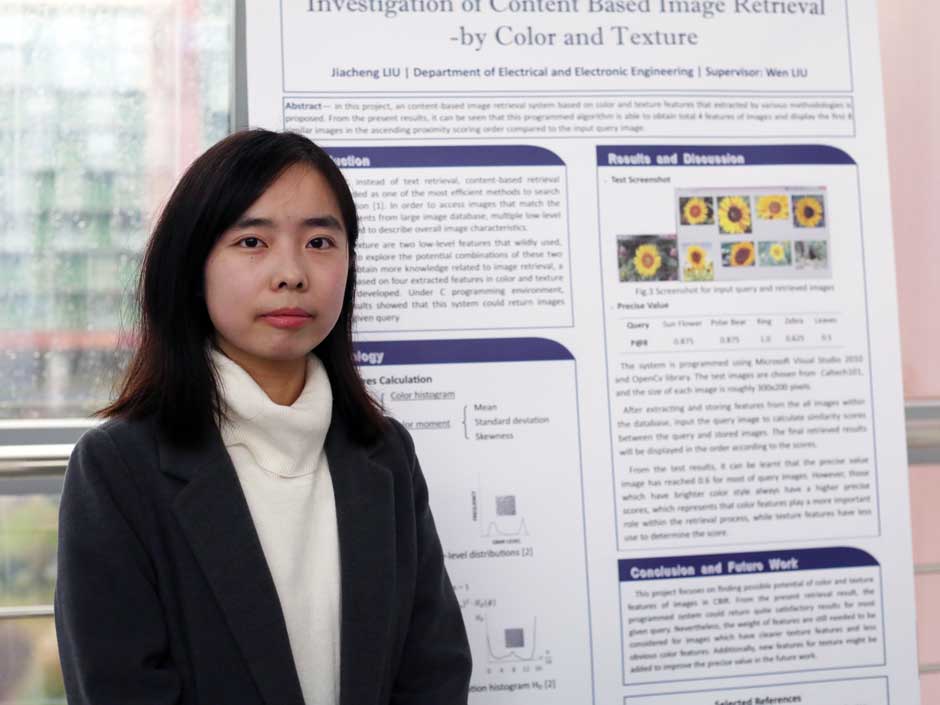 She said that traditional image retrieval is based on text with computers being able to retrieve keywords, subject headings, captions and natural language text in an image. However, she said the approach was not always accurate.
"Content-based image retrieval (CBIR), which is the application of computer vision techniques to image retrieval, is regarded as one of the most efficient methods to search for visual information in images," she said. "It is much more accurate and precise than text-based retrieval."
She explained that CBIR analyses the content of image, including colours, shapes, textures, as well as any other information that can be derived from the image itself, rather than the metadata such as keywords, tags, or descriptions associated with the image.
"This technique can be widely used in medicine, for example, allowing doctors to search relevant pathological images and their treatment information," she added.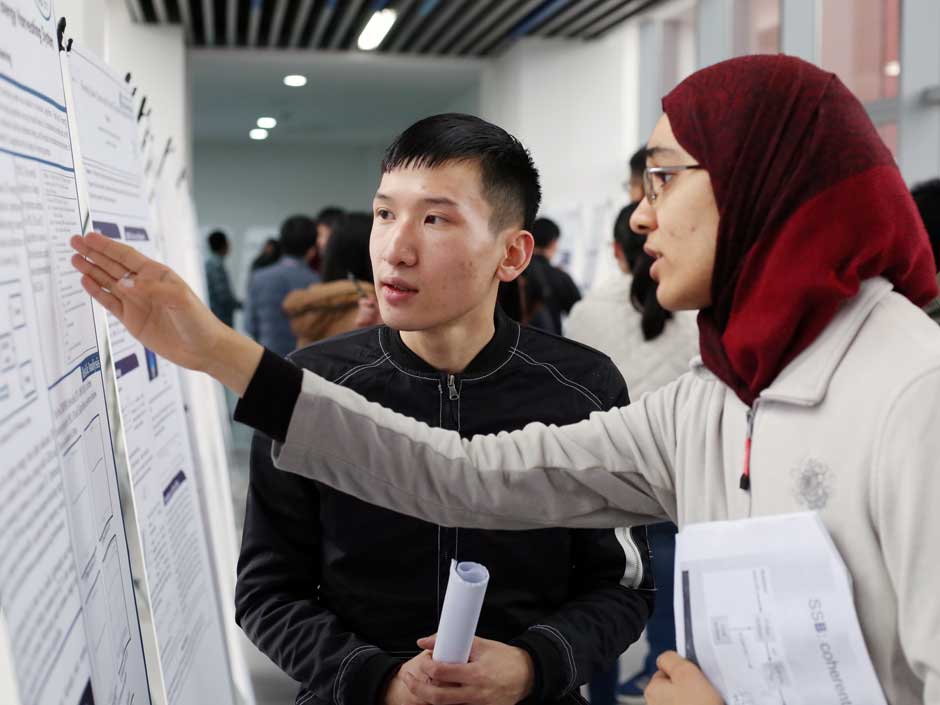 For his project, Menglong He (pictured above, left), who studies electrical engineering, opitimised a radio frequency energy harvesting device to enable wireless charging.
He said: "Through its receiving antenna, this device can absorb and capture electromagnetic energy generated by radio frequency and transform it into electric power that can be used for to charge electronic devices.
"My optimisation will improve the energy absorption efficiency and capacity of the radio frequency energy harvesting device."
Professor Eng Gee Lim (pictured below, left) from the department praised the students' performances, saying: "I think the students have done extremely well this year, I am impressed with the results. They have done a lot of literature reviews, which is very important for their future, and they can begin to make plans for the next stage of their educations and careers."
He also praised the method of using posters to present research, saying: "Staff have chance to look at all the projects, raise questions and give suggestions to students. Both students and staff gain a lot from poster sessions."