Staff and students of the Department of Environmental Science at Xi'an Jiaotong-Liverpool University held a grand opening event for their new location in the Emerging & Interdisciplinary Science Building, South Campus.
There was a presentation of student photography related to environmental issues, tours of the new facilities, demonstrations of new equipment, and interactive demonstrations of environmental science research techniques.
John Edwards, British consul general in Shanghai, was invited to join members of XJTLU's senior management to cut the ribbon inaugurating the Department's new location, and to deliver a speech on climate change and Sino-British collaboration.
Professor Youmin Xi (pictured below), executive president of XJTLU, spoke at the event expressing his hopes for the future of environmental science at the University:
"China is facing serious environmental challenges, and I hope our University can play a positive role in finding solutions," he said.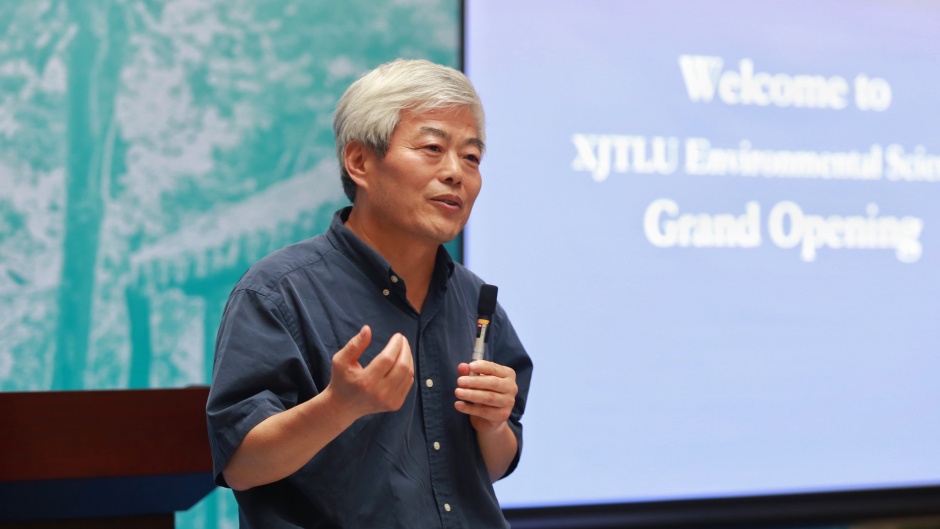 Gustave Williamson, a PhD student studying electron transfer among inorganic minerals and living organisms, enthused about the new facilities and equipment:
"I'm super excited about the new facilities. Our new lab is equipped with everything you could think of, and it's all the latest technology of its type."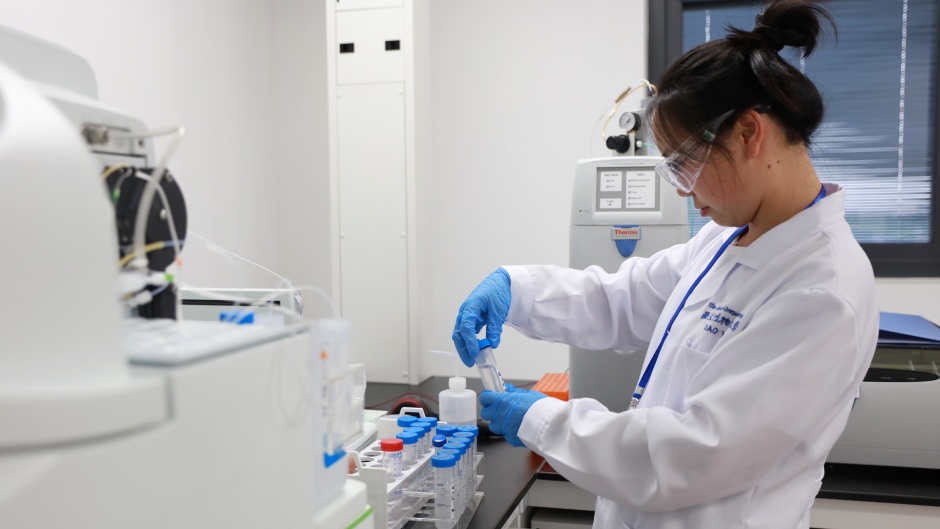 Dr Zheng Chen, lecturer in the Department of Environmental Science at XJTLU, explained about their new ICP-MS machine (pictured above) that cost over a million RMB.
"The machine tests for concentrations of heavy metals that are toxic for human health even at very low levels," he said.
"In China, there have been cases of cadmium in rice and mercury in fish. These metals weren't added by humans – the plants and animals 'uptake' the metals that were released into the environment by human's industrial activity. The ICP-MS machine is able to detect these trace metals in samples," he explained.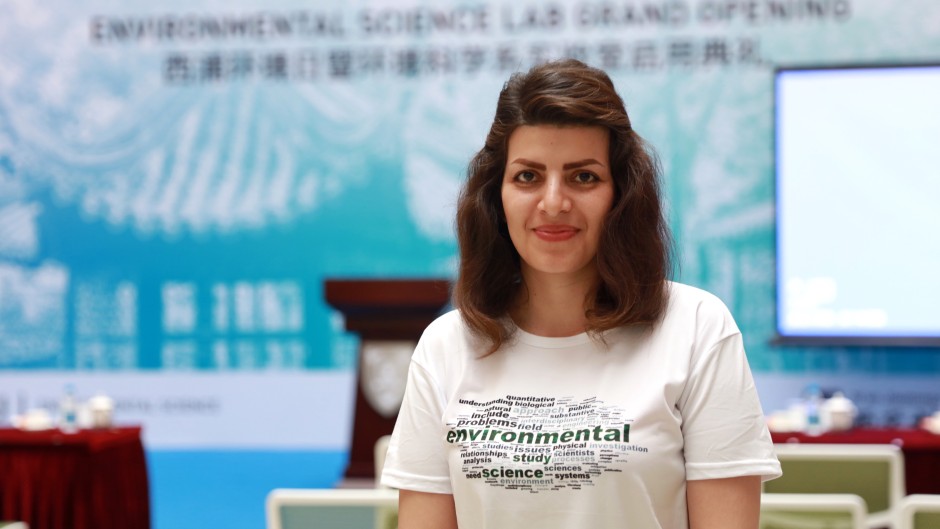 Maede Faghihinia (pictured above), a PhD student from Iran, is researching the relationship between climate change, soil science, and plant biology. She explained a little about her project and how the new facilities and equipment will benefit her:
"As we know, the main cause of climate change is an increased concentration of carbon dioxide in the atmosphere. Plants uptake carbon dioxide from the air by photosynthesis, and then carbon goes through the plant root systems. We want to follow the fate of carbon when it goes through this system.
"My study requires a lot of expensive equipment and materials, and thankfully, all of these have been provided. I now have the freedom to choose the best methods for measuring materials, and can expand my project."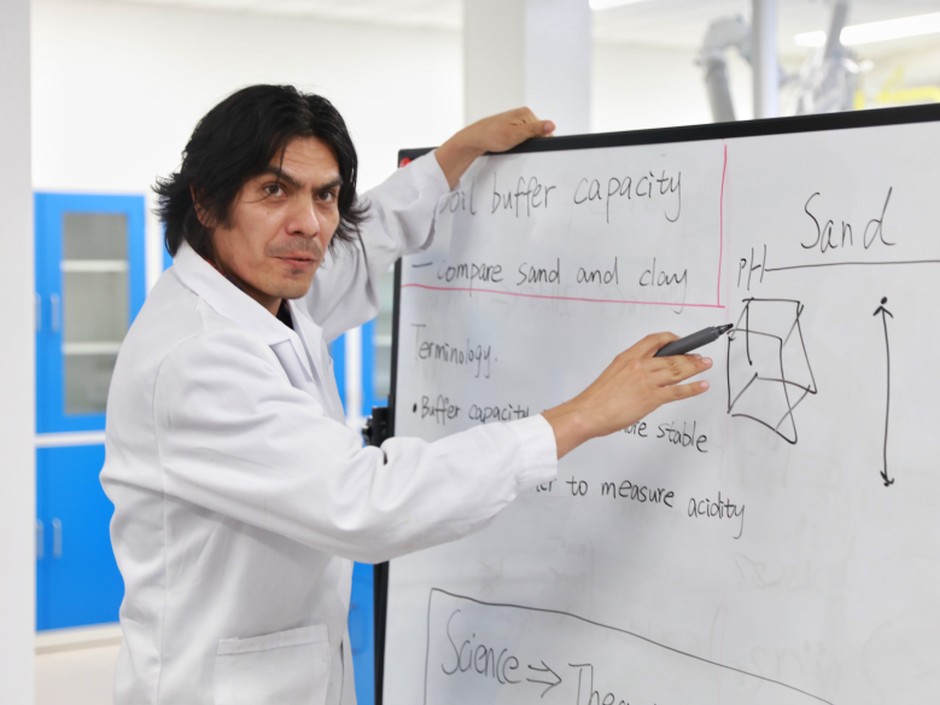 Yi Rui Zhang, a Year Two student on the BSc Environmental Science programme, said that she made up her mind to study environmental science when she was in high school:
"I want to study environmental policy, so I'll need to understand about all different aspects of environmental problems. We need to solve these issues for the sake of our future," she said.
John Edwards, British consul general in Shanghai, gave a detailed presentation of various scientific studies proving the existence of climate change, and explained ways in which the UK and China are working together to find solutions.
"I was recently asked which side of the 'climate change debate' I am on," said John. "I replied that I thought the debate had been over for some time: climate change is happening."
He stated that education is the strongest part of the relationship between the UK and China, and encouraged XJTLU students and academics to work together with their fellows in the UK to find solutions to reduce global warming.
He also applauded China for 'taking over global leadership on climate change that has sadly been given away by the U.S.', and highlighted some of the achievements of Chinese science and industry, such as the reduction of the cost of solar panels by 80% making solar energy price-competitive with coal.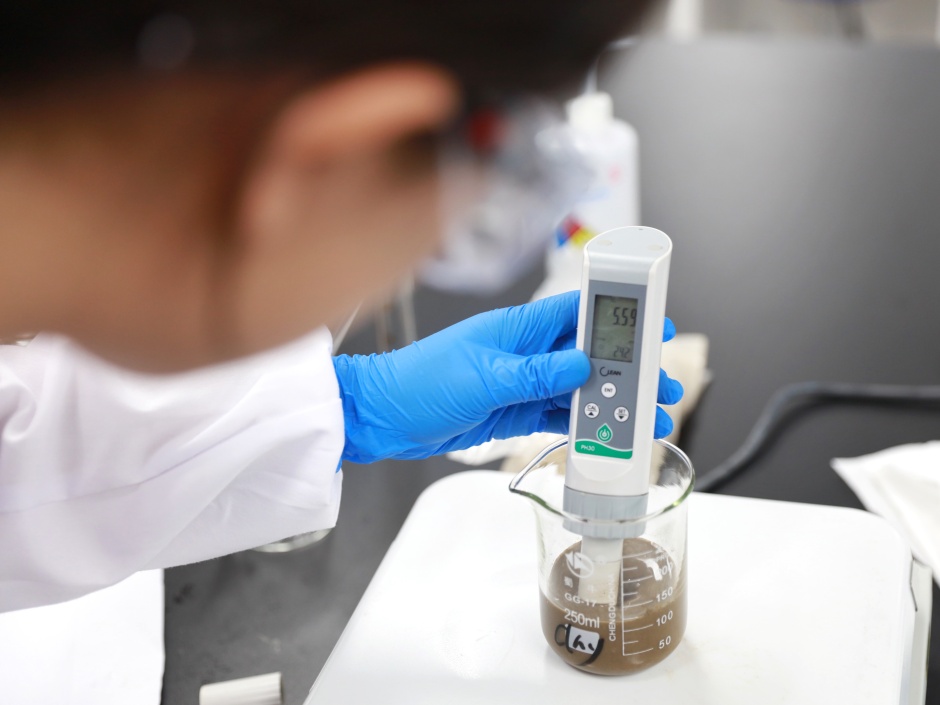 Mona Wells, acting head of the Department of Environmental Science, gave more details about the new equipment and facilities, and how they will benefit staff and students:
"We established two analytical labs, for inorganic and organic pollutants, respectively," she said. "Cutting-edge instruments, such as inductive coupled plasma-mass spectrometry, gas chromatography, and scanning electrochemical microscopy, have been installed and are ready to use."
Mona is also deputy director of the Institute for Sustainable Materials and the Environment at XJTLU that builds on the interdisciplinary work performed by the Department of Environmental Sciences, facilitating collaborative research projects with the Departments of Civil Engineering, Chemistry, and Industrial Design, and developing applications to industry-related problems.

Dr Robert Lynch, associate professor at the Department of Public Health at XJTLU, also attended the opening to look for possibilities for collaboration with the Department of Environmental Science.
"There's the potential for some significant environmental health studies here in China, and the University is highly supportive of interdepartmental collaboration," he said.