Celebration of the eighth graduation at Xian Jiaotong-Liverpool University began today, with more than 2,000 undergraduate, 196 postgraduate and five doctoral students receiving their degree certificates.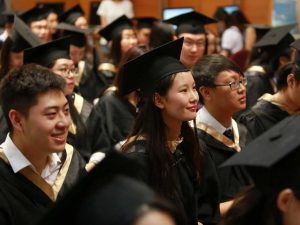 More than 27 percent of all undergraduate students attained a first class honours – the highest possible classification for an undergraduate degree.
According to the latest figures, around 80 percent of XJTLU undergraduates plan to continue their education with postgraduate study at famous universities all over the world.
More than 1,120 students have been accepted onto postgraduate courses at top 100 worldwide universities, according to the Times Higher Education World University Rankings 2016-2017, including the Universities of Oxford, Cambridge, Pennsylvania, Michigan and Hong Kong, as well as Stanford University, Duke University, Columbia University, University of Michigan, the Swiss Federal Institute of Technology Zurich and the National University of Singapore.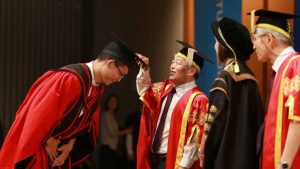 In his speech to the graduates during the event, Professor Youmin Xi, executive president of XJTLU, spoke of uncertainties graduates will face, reminding them that whether they like uncertainty or not, it will be the 'new normal' in the future and it all depends on how graduates look at it as to whether it brings stress and hardship or new opportunities.
"I believe firmly that after being 'baptised' as 'young adults' and 'global citizens' at XJTLU, you have been cultivated with a go-getter attitude that welcomes uncertainty, said Professor Xi.
Through an international, east-meets-west education experience, you have the skills for lifelong learning to tackle the uncertainty of the world.
XJTLU has already given you a competitive advantage. You have an awareness of being a world citizen, you have a seasoned professional capacity in Chinese and English, you have a complexity mindset that incorporates western efficiency with eastern holistic thinking, you have cross-cultural leadership capacity that accommodates multiple environments and cultures, and comprehensive training that you received at XJTLU. You will all be like ducks to water as you go into the world", he added.
Professor Xi extended his wishes to all the graduates, saying: "Young people, even though you may be inexperienced, I can still see your potential. I hope you are full of courage to face the times you are in. You should boldly embrace uncertainty. Go out into the world, and pursue your dream of becoming 'Global Players'".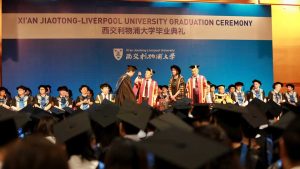 Professor Janet Beer, vice-chancellor of the University of Liverpool and member of XJTLU's board of directors addressed the audience stating, "This is a great day of celebration and one of life's most significant milestones. It is the pinnacle of your academic career to date and so, as we congratulate you on your achievements, it is also only right that we pause to reflect on the hard work and dedication that have resulted in your arrival here today.
The world into which you are graduating will be increasingly multi-cultural, multi-national and multi-ethnic, and your studies at XJTLU, crowned by today's award, mean you are well placed to become global citizens. You have benefited from an international curriculum and educational environment that will lead to opportunities in the global marketplace and that is a very enviable position," she added.
As is usual, graduates were called one-by-one onto the stage to receive their degrees and, following a Liverpool tradition, have the tassel on their graduation cap straightened by Professor Xi, Professor Janet Beer and Professor Wenquan Tao, president of XJTLU, congratulated each new graduate with a handshake.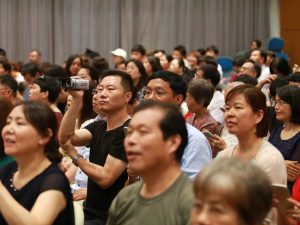 During the ceremony, Yuewei Xu, a student from the Department of Biological Sciences, and Yingda Sui, a student from the Department of Architecture, presented on behalf of their departments, classmates and peers.
Yuewei Xu spoke of the support he had received during his studies and his thoughts for the future.
"As a graduate from the Department of Biological Sciences, I am quite uncertain about my future. I hesitate in devoting myself into science because I am worried that I cannot become a good researcher," he said.
"It is not easy to solve my confusion, especially when the world is changing so fast. Although I do not have a direct answer, there might be a feasible strategy: stick to the path and do our best. We are still young enough to make mistakes."
Yingda Sui shared his understanding about the relationship between personal label and university, "The university shouldn't be a label. Contrarily among the first 10 cohorts of alumni, somehow we will be the label of our university. Many or most of us will become the first XJTLU graduate our future advisor ever meets, the first XJTLU graduate our employer ever hires, and the first XJTLU partner our colleague ever cooperates with. They may hesitate at first. But in the end I believe they will praise how excellent and interesting XJTLU alumni are.
I hope all of us could be bold to introduce our first university degree because we are sure of ourselves and we are not afraid of being mistaken and because this degree should be and will be a proud achievement," said Yingda
Professor Wenquan Tao concluded the morning's celebration with a closing address for the audience of graduates, parents, friends and colleagues. "The University recognises how much all of you have grown both academically and individually in the past four years.
I hope you can continue to maintain justice, integrity, courtesy, modesty, and a magnanimous mind. Please continue to be responsible in the future by keeping the motherland in mind and being mindful of the common people."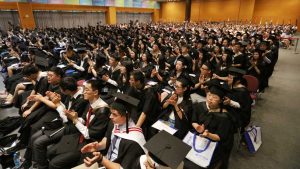 The remaining ceremonies of this year's graduation are being held this week.
(reporter: Guojuan Wang, editor: Jacqueline Bánki, photos by Zhuang Fang)