A seminar for discussing the development trends in open access and its influence and challenges to different groups was held at Xi'an Jiaotong-Liverpool University.
The "Open Access Trends: Opportunities and Challenges" conference, as a part of the International Open Access Week, was co-organised by XJTLU, International Publishers Copyright Protection Coalition (IPCC) and Taylor & Francis Group and was attended by over 100 librarians, publishers, researchers, students and staff.
Dr Xin Bi, deputy director of the Centre for Knowledge and Information and university librarian at XJTLU, said: "XJTLU's Library had held this open access seminar for a second year in a row. The purpose of this conference was to promote the recognition of open access in academia and society and promote the sharing of knowledge and research achievements."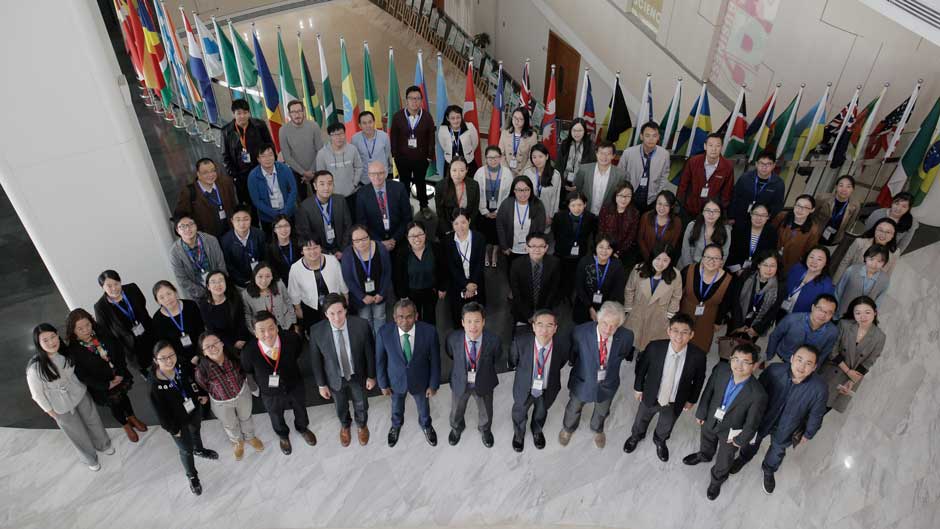 According to the Budapest Open Access Initiative (BOAI), open access is a publishing system where all content is freely available without charge to the user or his/her institution. Users are allowed to read, download, copy, distribute, print, search, or link to the full texts of the articles, or use them for any other lawful purpose, without asking prior permission from the publisher or the author.
Professor Jingli Chu, director of Research and Training Centre at the National Science Library of Chinese Academy of Sciences, is one of the earliest scholars who studied open access in China and he has published papers about open access since August 2004.
During this conference, Professor Chu (pictured below) presented the origin and milestone of open access in China. He also analysed and discussed the obstacles and future developments in this field of open access in China.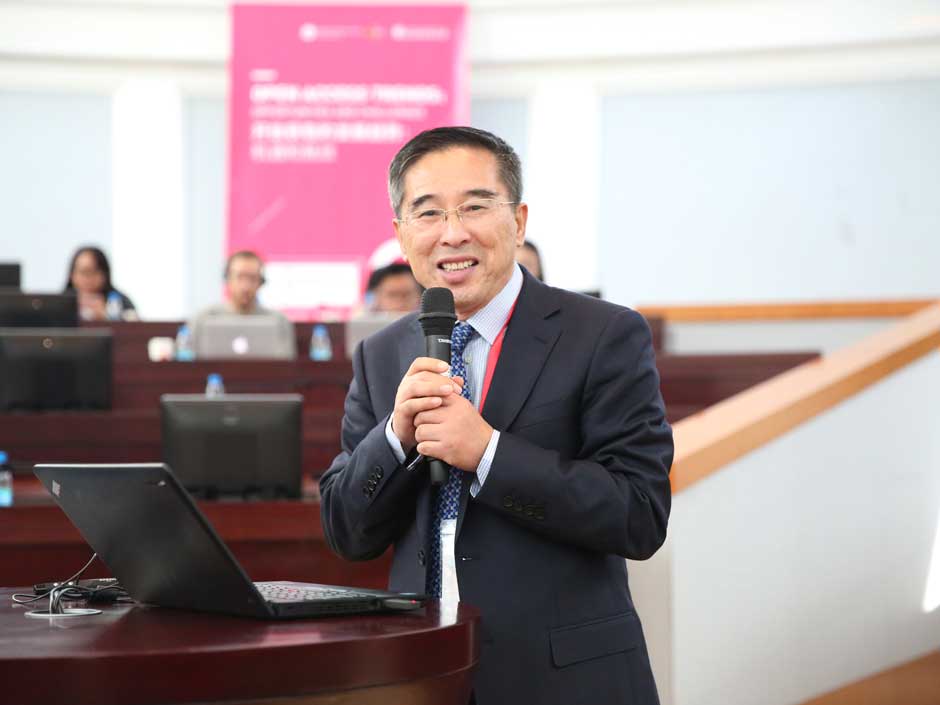 "Open access is the power to promote social development. Authors, readers, librarians and government must work together to let each other realise the significance and value of open access," said Professor Chu.
"The responsibility of academia is not only to study problems on an operational level, but also on policy level and finally to influence decision-makers to make open access part of the national policy," he added.
From a librarian's perspective, Dr Bi shared new challenges for librararies brought about by the globalisation of open access and how to conduct effective assessment and selection based on the quality of the open access journals.
Reflecting on the changing responsibilities of libraries, Dr Bi (pictured below) said: "The value of a library is to serve the needs of teaching, learning and research and to create more academic achievements. Information technology has brought a fundamental turning point of society. Librararies need to teach students how to search, use, think about and assess [resources from the internet] and helping staff and students to better understand and use open access is becoming increasingly more important."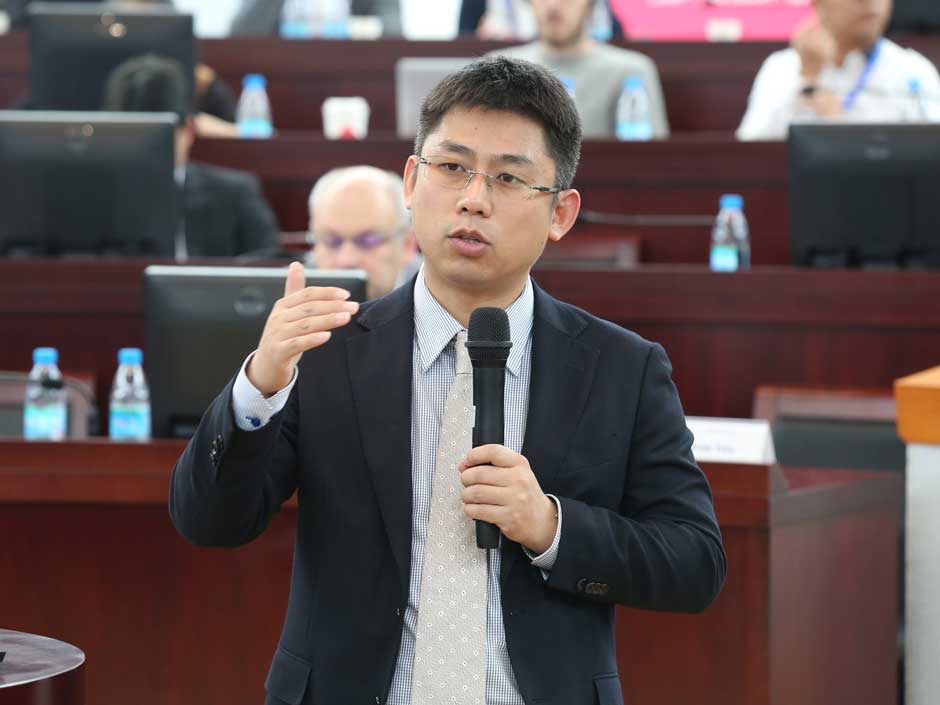 President of IPCC Yuguo Zhang said: "Whether for libraries or publishers, we are all in supporting roles. Our main task is to support research and only by providing value for society can we survive."
Max Gabriel, chief technology officer of international publisher Taylor & Francis Group, gave a speech about the open knowledge economy.
He explained that from a publisher's perspective their roles and business models now need to change in response to these new trends. Open access facilitates open knowledge, and open knowledge accelerates the impact of research as well as transcending many boundaries.
In addition, Max Gabriel presented a new product from Taylor & Francis, wizdom.ai, a platform powered by big data analytics and artificial intelligence.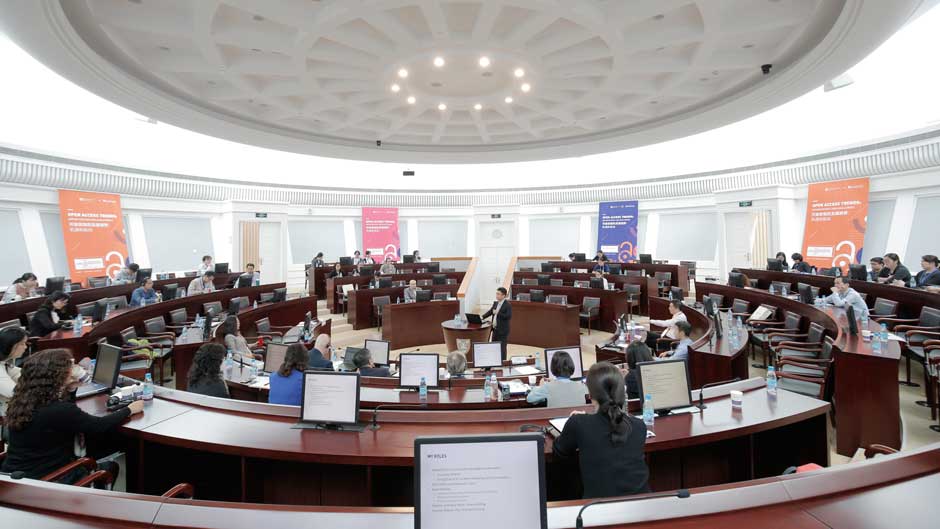 Springer Group, Elsevier, John Wiley & Sons, Inc., Taylor & Francis Group all attended this conference and delivered speeches related to open access. Guest speakers included Charles Greenberg, the university librarian of Wenzhou-Kean University and Tom Olijhoek, editor-in-chief of Directory of Open Access Journals. Zhiqin Yang from XJTLU Library confirmed that about 1,000 people participates in the online broadcast of the conference.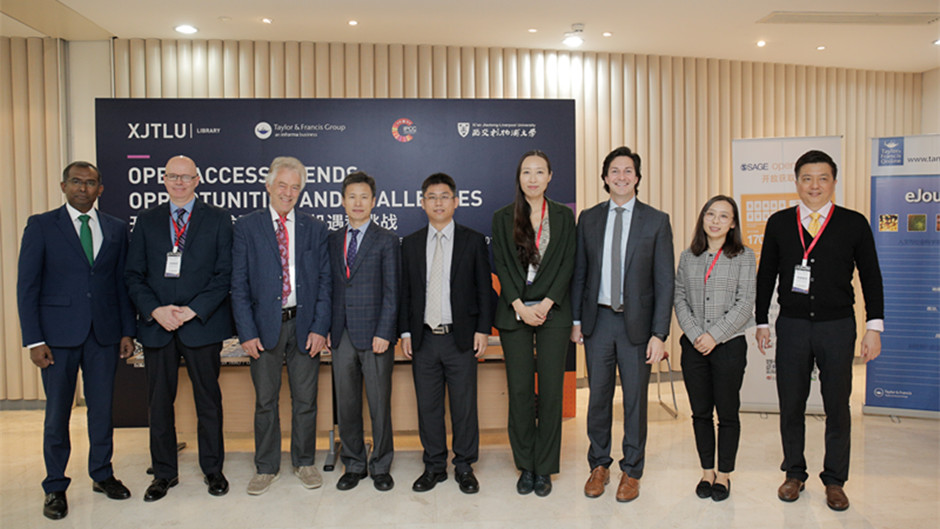 Year one student Dequn Teng from the Industrial Technology cluster, interacted with the guest speakers and said that he will participate in an interdisciplinary project in winter.
"I gained general understanding of sharing economy and knowledge sharing from this conference," said Dequn.
By Luyun Shi, translation by Yanzi Wu, edited by Guojuan Wang & Jacqueline Bánki, photos by Weiqian Zhang & Liping Tian