For the first time, Xi'an Jiaotong-Liverpool University participated in Climathon - a 24 hour hackathon to find solutions to local and global climate challenges.
"Suzhou was the only city in mainland China that took part in Climathon 2017," said Climathon Suzhou 2017 organiser Dr Barbara Wong, lecturer in the Department of Industrial Design at XJTLU.
"Fifty students from different disciplines participated to develop innovative solutions to fight climate change. They focused on solving problems in Waste Management and Cultural Heritage," added Dr Wong.
Organised by Climate-KIC, Climathon brought together the challenges of the world's cities with those who have the passion and ability to solve them. The 2017 edition of the global 24-hour climate change hackathon took place simultaneously in major cities around the world and was the biggest event of its kind in history.
The Challenge - Waste Management & Cultural Heritage

Dr Wong explained, Suzhou is one of the most beautiful cities in China, however, while facing rapid economic growth it is also encountering many environmental problems. For instance, the popularity of online shopping, food delivery and sharing bicycles make life easier and more convenient but they also create a lot of environmental problems including wastage of food and materials, and the creation of a lot of garbage."
Suzhou also has a history of traditional architecture that is under threat by urban development so finding solutions to preserve cultural heritage to meet the needs of modern times is also a challenge.
Climathon Suzhou 2017 focused on developing innovative solutions to tackle these issues. Adopting the concept of Circular Economy, the participants created and developed new and innovative concepts to solve environmental problems and achieve the sustainable development of Suzhou.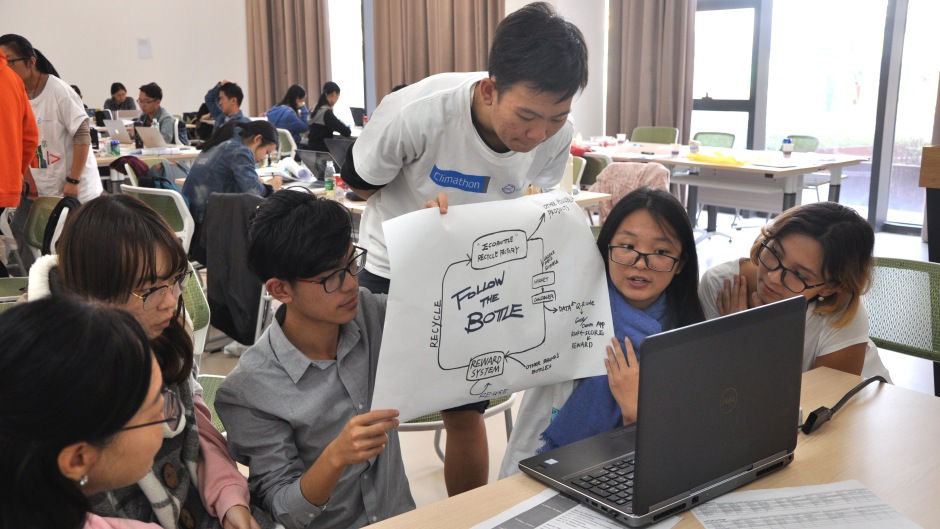 "After 24 intense hours of collaboration, excitement and solution-finding, all teams developed creative ideas," said Barbara. "The winning ideas were: Shadow Play for first prize, Medicine Vending Machine for second prize and Suzhou Dialogue for third prize."
Shadow Play, one of the traditional folk arts in China, promoted environmental action to younger generations by using dubbing, animation and mobile online games. The student team was: Yue Che Mingyang Wang, Xiayu Zhao, Yuxin Xing and Chen Wang.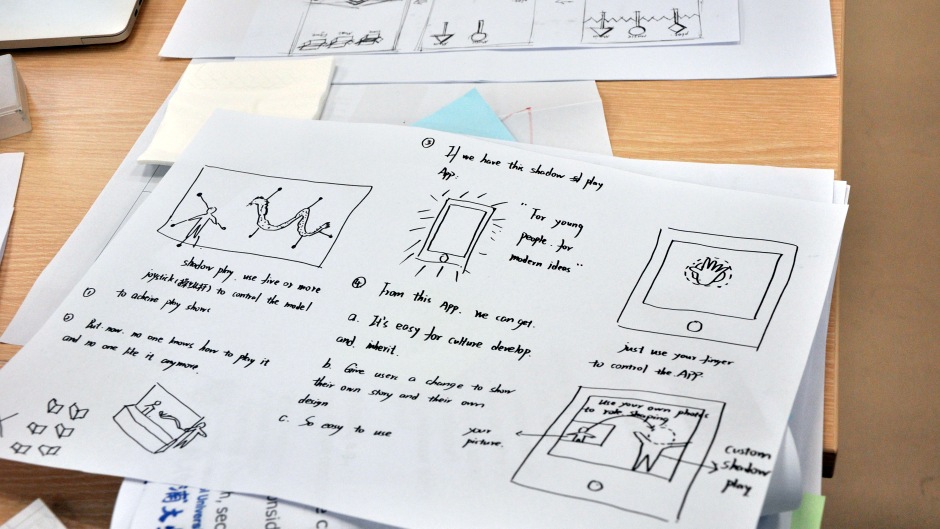 Medicine Machine focused on waste management of unused medicines through a digital trading platform via a mobile application and physical machines. The student team was: Ziyi Feng, Yu Gu, Chenyu Song, Yizhen Hong and Liufei Ren.

Preserve Suzhou Dialogue used online and offline platforms so as to bridge the gap between the older and younger generations. The student team was: Xue Qi, Cheng Runhao, Song Yufeng, Li Yanke and Wu Yining.
"This experience helped students to gain deeper understanding of environmental challenges and will definitely bring positive changes in the future," added Barbara. "We would like to thank all the guests, advisers, jury, and student helpers for their contributions in this event."
"Dr Paola Pellegrini from the Department of Urban Planning and Design, Dr Ellen Touchstone from International Business School Suzhou at XJTLU together with other guests and myself acted as advisors and gave guidance to the students," said Dr Wong.
The three best ideas were selected by the jury of: Dr Derrick Tate, head of the Department of Industrial Design, Caterina Tiazzoldi and Dr Marco Cimillo from the Department of Architecture.
Now in its third year of operation, the Climathon movement has grown tremendously over the past two years, encouraging more innovators across the globe to drive climate action. Climathon has grown from 19 to 59 cities in the space of a year, operating across 6 continents, creating over 2330 ideas and reaching 16.8 million people worldwide in 2016.
Climate-KIC
Climate-KIC is the EU's largest public private partnership addressing climate change through innovation to build a zero carbon economy. They address climate change across four priority themes: urban areas, land use, production systems, decision metrics and finance. Education is at the heart of these themes to inspire and empower the next generation of climate leaders.

Climate-KIC is supported by the European Institute of Innovation and Technology (EIT), a body of the European Union.
by Dr Barbara Wong; edited by Jacqueline Bánki; video by Linzhi He and Xiaolin Liu