Xuechun Mao, a student from the Department of English on the BA Applied English programme, held a book called 'Constructed Women', saying that the book is one of the bibliographical sources for her Final Year Project.
Having received offers from University of Oxford, University of Edinburgh, The London School of Economics and Political Science, University College London, she has decided to go to the University of Oxford for her postgraduate major in Women's Studies this autumn.
Although research and writing essays are difficult, Xuechan has been motivated by her interests and she always finds herself passionately devoted during the process of study. It is these efforts that bring her more rewards.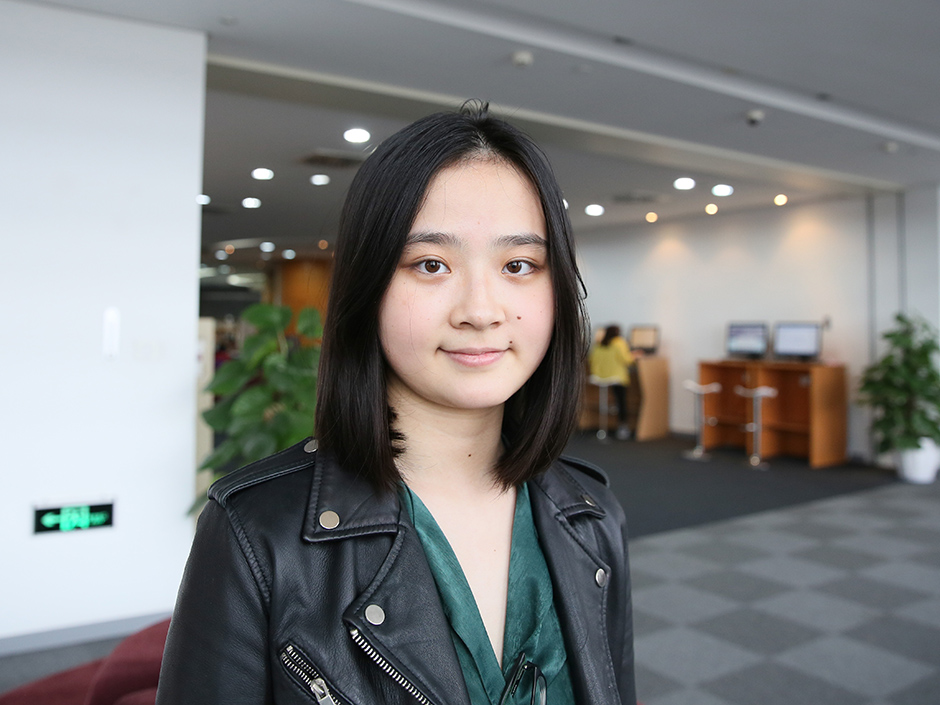 Interest is the first step of study

Xuechun recalled that when she started at XJTLU, she was enlightened by a course called Literature and Film. She was fond of feminist literature before that and felt that a gate of a new world opened in her mind after reading British and American feminist literature.
What impressed her most were Charlotte Perkins Gilman's 'The Yellow Wallpaper' and Angela Carter's 'The Bloody Chamber'. That was the first time she had experienced a spark coming from the collision of her interest and such concepts as feminism and patriarchy.
The module introduced students to a range of poetry, film, prose, and drama, inviting them to take an analytical and reflective approach to the texts.
"The spark was an exciting result of the course, and the teachers did not introduce the complicated concepts at the beginning as we were not so proficient in English then," said Xuechun.
"The teachers were really awesome! They attracted our attention and aroused our interests with their ways to explain profound theories in simple terms."
Xuechun added: "The teachers would ask about our feelings after reading texts and whether we could empathise with the characters. Then they would explain such empathy with a certain theory and we would have feelings of epiphany and sudden enlightenment.
By doing this, the teachers helped us understand both theory and text better."
From 'outsider' to 'insider'
Xuechun still maintains the passion for literature and women's studies that she developed as a freshman. However, she is more confident and mature now, as she has learned to view her interests from a professional perspective.
For example, when she read postmodern and innovative literature that she liked in the past, she used to judge a work from the aesthetic perspective. Now she is able to combine the social background behind the work and the author's personal experience with the text in order to have more critical thoughts about it.
This improvement is not achieved in just a day but gradually acquired through the four years of study at XJTLU.
For her Final Year Project, she focused on female bonding in 20th century Chinese literature. She found that in previous studies, some authors defined intimate female bonding as "narcissism", "feminist alliance" or "disappointment in the male or heterosexual system".
"From my own research, these women didn't make their decisions robotically under external pressure. Their independent and autonomous voice should not be submerged by the grand narratives. "
Xuechun's interest in this topic goes beyond her academic studies. In her time at the University, she has engaged with gender issues in society, including those faced by women who are marginalised by their sexual orientation. She has been an advocate for gender equality and has been involved in various anti-bullying campaigns.
Xuechun detailed the influence of taking the course of Language and Society in her third year, "We need to re-examine and develop the theories based on diverse realities rather than presupposing a unified theoretical framework for all societies."
"Gradually, I learned to respect different cultural and social realities, and realised the importance of critical thinking."
In the past four years, Xuechun has also exercised her ability via various research.
In the summer vacation of her third year, she took part in the Summer Undergraduate Research Fellowship (SURF) and finished the academic project 'Illness Metaphors in Old English' with two other students under the guidance of Dr Penelope Scott.
The SURF scheme gives students the opportunity to carry out supervised research over the summer period, culminating in a university-wide poster presentation session.
Xuechun is also engaging her research skills through her Final Year Project 'Female Bonding in 20th Century Chinese Literature'.
Her progress also made Dr Scott pleased and proud, saying: "One of the pleasures of teaching is that I have the opportunity to see the students progress and develop."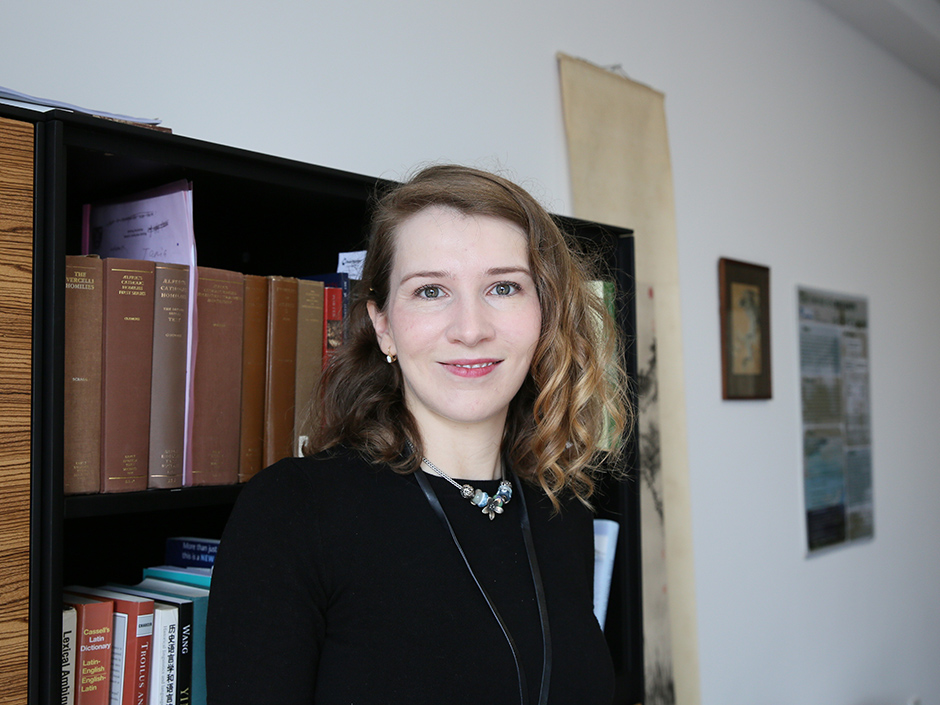 Dr Scott believes that when Xuechun is doing academic research, she is not only finishing the projects and having her ability utilised, but also contributing to the fields of linguistics and literature. Xuechun's work even fills some gaps of previous studies.
"Xuechun and many other students impressed me a lot with their creativity and critical minds."
A good environment makes success within easier reach
"The Department of English is just like a big family and all the teachers are just so nice." Xuechun repeated this sentence a lot during our conversation.
"You can feel that you are fully respected when you talk with the teachers."
She still remembers the course Introduction to close reading: Approaches to literary study in her sophomore year, in which students had a heated discussion over the topic "What is the meaning of text?"
"At that time our English level was only good enough to explain the theories and discuss them in a simple way, but the teacher was very patient and never ceased to encourage us to express our ideas."
Dr Scott reflected on her experience of teaching the students at XJTLU: "When teaching linguistics modules, it is excellent to see students critically apply what they are learning to their existing language knowledge. I have seen some truly excellent cross-linguistic projects."
"They also have a diverse range of interests and backgrounds, which enriches the learning environment and enhances their cross-cultural understanding and communication skills."
Students on the Applied English programme take a range of optional modules in linguistics, literature, and translation and interpreting.
"These parts of the programme enrich and complement one another, and through integrating the skills and knowledge they gain from these areas, students are able to produce very creative work," added Dr Scott.
It is the incessant encouragement and trust from the teachers during the four years that helped a group of students who had just come to the university build their confidence and increase their knowledge in the environment of another language and culture.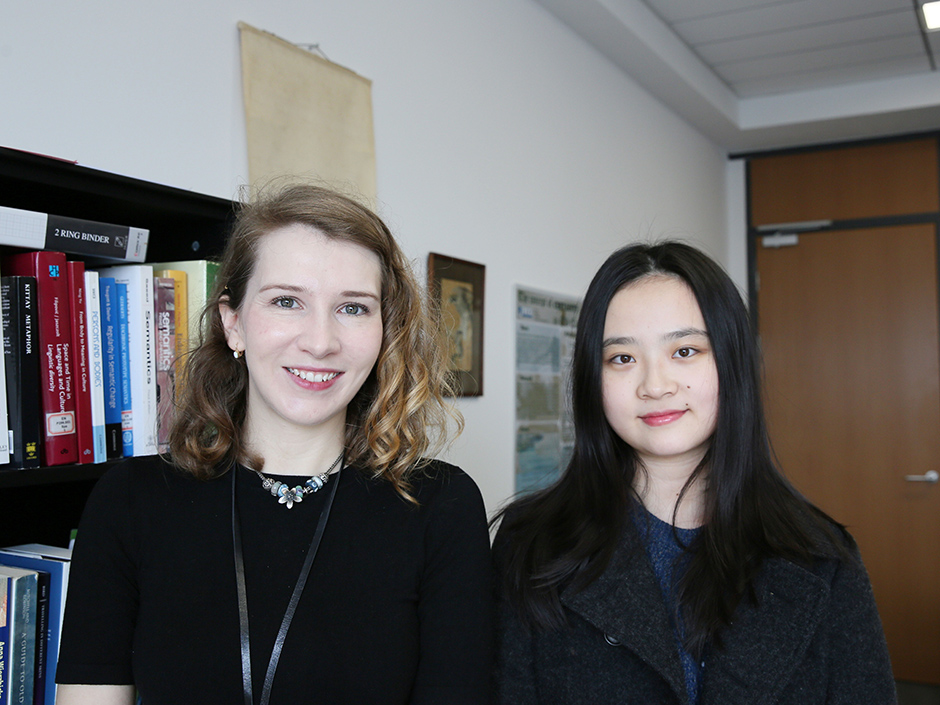 When Xuechun was preparing to apply for a Masters degree, she did not initially consider the University of Oxford, however, her teachers encouraged and supported her to apply for Oxford and Cambridge.
"Multi-disciplinary Gender Studies in Cambridge puts more stress on social sciences while Women's Studies in Oxford focuses on humanities, which is what I am more interested in.
To look back, if it weren't for the encouragement and help of my teachers, I would have missed Oxford," Xuechun said.
"I really appreciate Dr Penelope Scott, Dr Thomas Duggett, Dr John Heaney and Dr Graham Matthews for their support during my Oxford application, and all the teachers who have helped me in the past."
Xuechun concluded: "I am more devoted to the things that I am interested in. Literature, XJTLU, women's studies, Oxford and the unpredictable future - I think I am guided along the path by by my interest and passion."
Story by Qiuchen Hu and Bo Kou, translation by Boqiang Xiao
Edited by Jacqueline Banki, photos by Liping Tian