Xi'an Jiaotong-Liverpool University's home city of Suzhou is prized as a tourist destination for its well-preserved classical gardens, picturesque canals and long history of arts and culture.
An event held at XJTLU this month gave the University community a chance to get greater insight into the classical gardens of this 2,500-year-old city.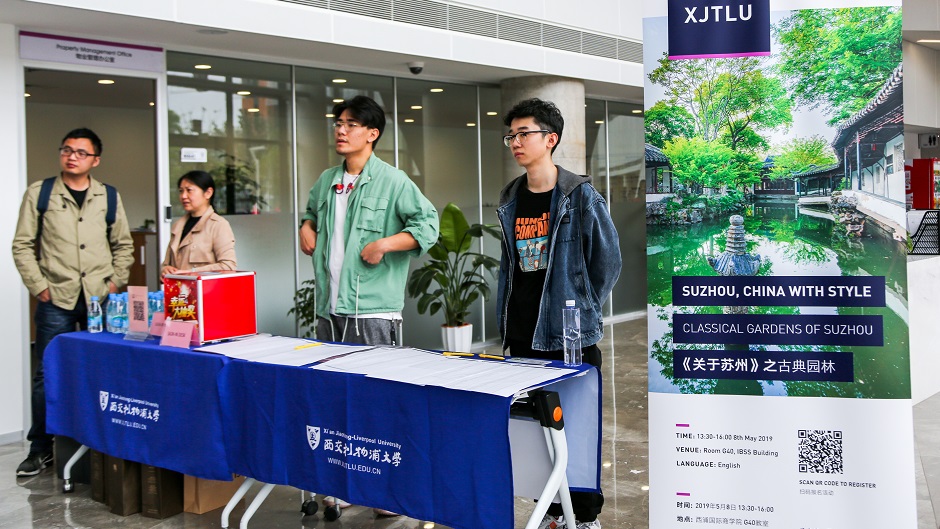 The classical gardens contain deep traditional artistic and cultural elements, according to Dr Rudong Wang, the director of the International Marketing Department at the Suzhou Bureau of Culture, Broadcasting and Tourism.
"UNESCO listed nine Suzhou gardens as World Heritage sites – I think they are Suzhou's priceless treasure," Dr Wang said.
He explained that the gardens were built from the 11th-19th centuries, mainly by former government officials as their private residences, so they could enjoy nature without leaving home. Besides the buildings, the gardens contain water, rockery and plants.
"We have notable gardens from the Song, Ming and Qing dynasties. Scholars who resigned or retired from their positions as officials and returned to Suzhou were usually those who built the gardens.
"In the classical gardens, we always see water and rockery. The rockery represents mountains. Trees and plants represent the seasons in the gardens. Different trees produce different colours and fruits in different seasons.
"The gardens were built for their family's use and for their dream lifestyle. They wanted to pursue the harmony between the human being and the natural," he said.
According to Dr Wang (pictured below), the number of scholars from Suzhou, its natural resources, and its resident artisans are reasons so many gardens were built in Suzhou.
"Why are there so many classical gardens in Suzhou? The main reason is that in the Ming and Qing dynasties, almost one-fifth of China's top scholars were from Suzhou.
"Second, if someone wanted to build a garden, what type of materials did they need? They needed plants, water and rockery. Suzhou is called the land of milk and honey – it is rich in natural resources. It was easy to get the materials for gardens.
"Third, who could make it happen? The famous artisans of Suzhou," he said.
In 2018 the local government recognized 108 classical gardens in Suzhou.
According to Dr Yiping Dong of XJTLU's Department of Architecture, Suzhou's gardens are rooted in ancient Chinese cultural history.
"China has a long history of appreciating nature, especially landscapes with mountains and water. Famous literati in the Period of Disunity sought an ideal life in a reclusive countryside area. This kind of appreciation is vividly depicted by landscape painters," she said.
Literati painters from Suzhou played a role in the gardens' designs, she added.
"Starting in the Yuan Dynasty, some intellectuals who were skilled at landscape painting became known as literati painters. In the Ming Dynasty, literati painting reached its peak and flourished in Suzhou in particular. Four of Suzhou's famous literati painters from the 15th-16th century also contributed to private garden design," she said.
Dr Dong (pictured below) noted that Suzhou's classical gardens continue to have influence.
"The gardens have influenced important contemporary architects like Wang Shu, winner of the prestigious Pritzker Architecture prize – which is like a Nobel Prize for architecture – in 2012. His understanding of gardens is that even without plants, we can create gardens with architectural elements."
Antonella Moretti, author of two novels about foreigners' life experiences in China, also spoke at the 'Suzhou, China with Style' event. She discussed how Suzhou might have appeared to a foreigner in the early 20th century.
By Tamara Kaup, photos by Yang Hang