The novel coronavirus outbreak has affected everyone's lives this spring. Do you feel overwhelmed by the sheer volume of information related to the outbreak?
How should I spend a meaningful "extra-long" holiday? How can I learn online? How is the XJTLU campus preparing to welcome students and staff safely?
This is the first XJTLU Coronavirus Outbreak Prevention Guide. It summarizes the important information and notices recently released by the University. Please review it and follow the links for more detailed information.
We wish every XJTLU staff member and student good health, now and when you return to campus.
Professor Youmin Xi, XJTLU Executive President, recently wrote a letter to XJTLU students, staff and alumni.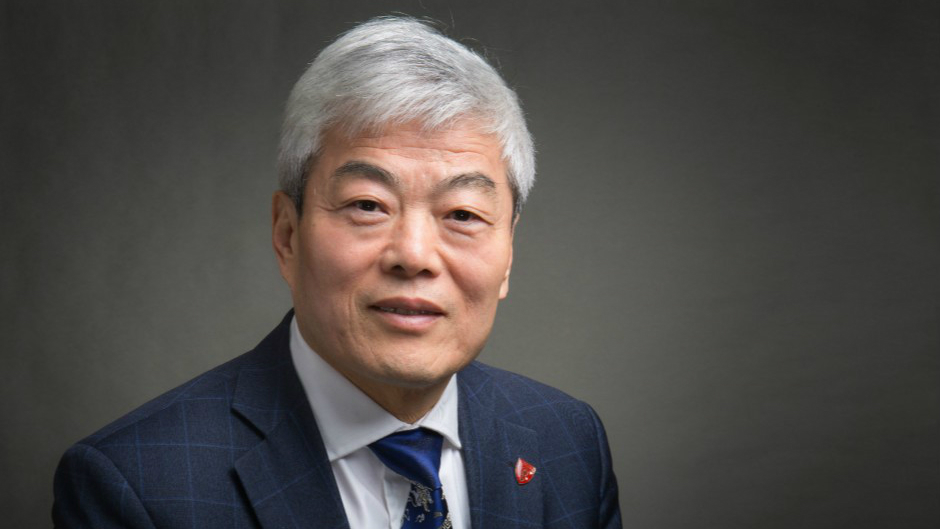 "We are going through a period of constant risk, with elements of uncertainty. The epidemic poses threats to human health and adversely affects related industries. It has altered the usual Spring Festival atmosphere that everyone is accustomed to and is profoundly transforming lifestyles.
During this epidemic, feelings of fear, anxiety and worry are inevitable. But what is more frightening is panic, which puts us in a disadvantaged position, fighting a virus with vulnerable bodies, fragile minds and flawed strategies.
In fact, when facing the virus, keeping calm and taking wise actions promote stronger and more successful outcomes.
At present, scientists are stepping up research of the novel coronavirus and analysis of its pathogenic mechanisms and prevention methods. Governments and organisations at all levels have been taking the most rigorous and strict prevention and control measures. Under such circumstances, protecting ourselves and taking responsibility for ourselves is our greatest contribution to help combat the virus.
Crises are often opportunities to foster innovation and make the impossible possible. Therefore, in the face of crises and new situations, individuals and organisations are presented with valuable opportunities to boldly innovate and plan for future transformations. Many new ways of life and business are emerging in the wake of the coronavirus outbreak. I firmly believe that after the epidemic, some industries may usher in unprecedented new developments related to online education, remote work, unmanned retail, autonomous delivery, intelligent healthcare and elderly care."
1. XJTLU launches 'Updates on the Novel Coronavirus Information Page'
The Updates on the Novel Coronavirus Information Page was created on Xi'an Jiaotong-Liverpool University's official website under the deployment of the XJTLU Working Group for Novel Coronavirus Prevention and in accordance with the latest requests on the prevention and control of the novel coronavirus published by the Ministry of Education of China, Jiangsu Education Department and Suzhou Municipal Government. This page provides information about University Communications and announcements, the government's policies and official documents for the public, frequently asked questions and answers, as well as useful tips and reminders. Answers to many of your questions can be found here.
In addition, don't forget to check your XJTLU email regularly. Important XJTLU information and updates will be sent to you through University Communications emails.
The University is closely following the latest information regarding the novel coronavirus outbreak. With the XJTLU Working Group for Novel Coronavirus Prevention playing a leading role, joint efforts and plans are in place to ensure the University is a safe and secure place. The Working Group created an information collection survey in order to provide timely and effective support and to respond to related information requests by authorities tasked with novel coronavirus prevention.
2. Return dates for XJTLU students and staff
In accordance with related national, provincial and municipal notices on the prevention and control of the novel coronavirus, and based on the latest evaluation of the current conditions by the XJTLU Working Group for Novel Coronavirus Prevention:
You may receive further notices as the University receives updates on the novel coronavirus outbreak situation. Please regularly check University Communications notices.
3. Frequently Asked Questions
Q1: The start of teaching has been postponed. Is there any change in the next semester's teaching schedule?
A: Teaching plans for the upcoming semester are under reconsideration by Registry in order to ensure the Learning and Teaching activities are carried out in an orderly manner. Timetables will be adjusted and released following the confirmation of the new teaching plans. Please pay close attention to the XJTLU official news and notification emails sent from University Communications.
Q2: Will the academic calendar be adjusted according to the change to the start of teaching weeks in Semester 2?
A:Yes, the updated Academic Calendar will be published before the start of Semester 2.
Q3:When can I check my timetable for Semester 2?
A:The timetable will be released to you on e-Bridge during the week commencing 17th February. Email notice will be sent to you from timetables@xjtlu.edu.cn once it's ready.
Q4. Can I return to the university during the University Closed Period?
A:You are not allowed to return to campus during the University Closed Period. If there are special circumstances, please send an email requesting application for access to hsc@xjtlu.edu.cn. Wait for advance approval and instructions before entering the campus.
Q5:Have the dorm areas been disinfected?
A: Yes. Every day the Property Management Office disinfects the public dorm area and takes the temperatures of students staying at the dorms.
Q6: Are there any students diagnosed with novel coronavirus infection at XJTLU?
A:At the moment, there have been no confirmed cases of XJTLU students or staff being infected with the novel coronavirus. We ask everyone to be careful and follow our advice to ensure no XJTLU staff and or student becomes infected.
Q7: What measures will the University take related to students returning from or passing through Wuhan?
A:At present, part of urban traffic in Hubei Province is closed and the return date for students from that province is undetermined. The XJTLU Working Group for Novel Coronavirus Prevention will discuss the matter with Dushu Lake Science and Education Innovation District (SEID) and will provide notification later. Please wait patiently.
Q8:What impact does the postponement of teaching have on PHD student?
A: Arrangements have been made to postpone the PhD defense and external examiner visits originally scheduled in February. During the University Closed days, all Graduate School public email accounts will be monitored by designated staff members. Student and staff enquiries regarding the coronavirus will be responded to as soon as possible.
Q9:How is XJTLU helping international students through this special period?
A:XJTLU has set up a working team to deal with issues relating to international students, including government affairs, student communications, visa application support for international students in Suzhou, student enquiries, handling of emergencies, etc.
The temperatures of students living in higher education town accommodations where international students live are measured as they pass through the reception areas. These temperatures are reported to the University working team (since 30th January 2020).
The public areas of the international student accommodations are disinfected daily.
Staff have been appointed to follow up with students who might have symptoms for a variety of reasons and to provide them with necessary support for safety purposes.
Q10:Will the epidemic affect graduation dispatch?
A:In accordance with the related provincial notice on the prevention and control of the novel coronavirus, and based on the XJTLU Working Group for Novel Coronavirus Prevention's evaluation of current conditions, the Career Centre will stop offline graduation dispatch temporarily, but the online service will remain available.
Read more: click here
Q11:Is there any traffic control in XJTLU?
A:Yes. Temporary measures will be in place for campus vehicle traffic control, in accordance with the related provincial notice on the prevention and control of the novel coronavirus, and based on the XJTLU Working Group for Novel Coronavirus Prevention's evaluation of current conditions. For details,click here
Q12:Will XJTLU public areas be open?
A:The library, museum, X-bar, and all the computer labs and classrooms will be temporarily closed.
Q13:What if I feel ill during this time or need to see a doctor for other routine medical matters?
A:Hospitals and clinics are operating as normal. Some hospitals are designated to deal with illnesses which may be caused by the coronavirus. These hospitals have a well-managed system to assess symptoms and quickly determine if a patient is infected with the new coronavirus or just a similar condition such as regular flu or the common cold. Some hospitals are listed below. Be aware that many seasonal conditions have similar symptoms to the coronavirus, so don't panic if you have a symptom similar to having a cold; please get timely medical treatment. Meanwhile, you're also welcomed to contact the XJTLU campus
health and security committee, email: hsc@xjtlu.edu.cn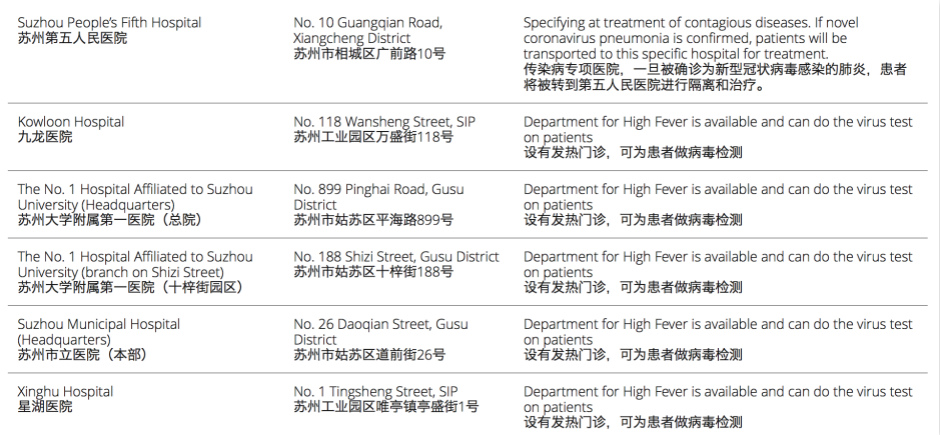 Q14: Although I can't enter campus right now, I still need to work. What should I do?
A:In order to support academic and administrative staff during this period, XJTLU is providing online video conference technology. MITS has set up 'Zoom' video conference tool training for all the staffs.
Q15:What if I have other questions?
A:Please check your email regularly. Important notices will be sent to you through University Communications. Both student and staff FAQs are sent to via University Communications emails. If you need more advice and support, please do not
hesitate to contact us. We will address your concern as soon as possible. Specific contact information is as follows:
4. Online study guide
There are many online learning resources for you to use at XJTLU. Let's have a look at them together.
(1) Online module on "Global Citizenship"
While the University has postponed the start of the new semester to prevent and control the spread of the novel coronavirus, we take this as an opportunity to help you develop your ability to cope with such crises and improve your awareness of global citizenship. Therefore, the University is offering a two-week optional online module on "Global Citizenship" and which will be delivered via ILEAD.
All UG students are welcome to enroll on a voluntary basis in this module as individuals or in groups. You are also encouraged to invite your parents or family members as team members to join you for this project.
The basic rationales in the design of this module include:
Higher educational studies in the era of artificial intelligence is much more than focussing on a particular discipline; more importantly, it involves the development of comprehensive abilities and literacies such as digital literacy, awareness of
sustainable development, and innovative mindsets.
In the future learning society, learning should take place not only in the classroom but everywhere, from work to life. Thus, development of lifelong learning skills is essential.
Book-centred memorisation is no longer a feasible way to learn about society's realities; instead our learning should be research-led. That is, learning should start with real social phenomena and questions, develop by analysing and grasping the essence behind phenomena, incorporate the collection and integration of information for generating new ideas, and explore via working with learners from different backgrounds to develop solutions to specific problems and evaluate the strengths, weaknesses, and applicability of the solution.
This outbreak of the coronavirus-related epidemic is a serious challenge for humanity, but also a rare and valuable opportunity for you to learn how to solve a real social problem. Teachers and students should take this chance to join in this battle against the epidemic, using it as a tool for research, student training, social services, and keeping active in this crisis!
Learn more:Click here
(2) Check out library services as an online student
Even though the new semester has been postponed, there is no reason to stop learning and conducting research.
XJTLU Digital Library provides you seamless access to academic materials and research assistance. Through XJTLU VPN or proxy service, you can access all the online journals and databases the library provides.
Click here to learn more
5. Information on preventing and controlling the epidemic
If you need our advice and support, please do not hesitate to contact us. We will address your concern as soon as possible - specific contact information as follows:
You may receive further notices as we receive updates on the novel coronavirus scenario. Please regularly check notices from University Communications.
We look forward to greeting you all in the warm and beautiful spring of Suzhou.