As you enter a darkened room wearing a fitness band, you hear an electronic beat start up, a thread of electronic music playing in time in the background; blue neon tubes blink to the same beat. When another person enters, a separate pattern of rhythmic sound and light is added to yours, creating a multisensory, composite experience.

This is just one of the innovative works a visitor saw at Xi'an Jiaotong-Liverpool University's contribution to the Zijin Award (Nanjing) University Design Exhibition last semester.
That spirit of innovation, along with curiosity-inspiring design and bold use of emerging technology led to a first-place prize for the University, said the XJTLU exhibition organisers.
One-hundred and twenty-six universities displayed more than 12,000 works at this inaugural China-wide University Design Exhibition and Competition. Approximately 1,000 people visited the exhibition on each of the three days it was held.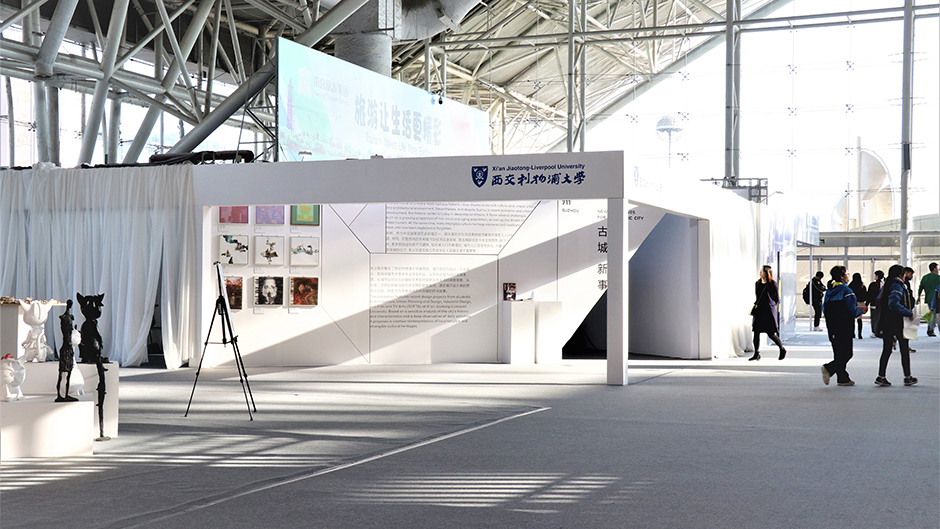 "We believe our exhibition was a success due to the combination of works in the overall arrangement and interdisciplinary representation," said Richard Hay, associate professor and exhibition curator in the Department of Architecture and Design.
"All of the ingredients came together to create a whole impression.
"The key to success of the exhibition was the collaborative factor – we were an innovative collaborative team from Architecture, Industrial Design, Urban Planning and Design, and the School of Film and TV Arts. This resulted in our being one of three first-prize winners in the Best Exhibition Award category."
According to Hay, another factor that set the XJTLU's exhibition apart was its approach.
"In comparison to the pavilions by other design schools, the XJTLU pavilion was unorthodox in appearance, in that within the square cubic form, it had twisted geometry and white minimalistic appearance, with a dark floor and ceiling resulting in an understated appearance," he said.
This minimalism gave way and acted as a backdrop for various engaging components that attracted and engaged visitors as they looked further into the exhibition space, he said.
"The first thing one saw was a set-back wall from the edge of the entrance – it invited people in. There were also digital paintings created by students using artificial technology, which was not easy to realise," Hay said. The set-back wall was framed by the adjacent walls on the left and right by full-height folded white fabric.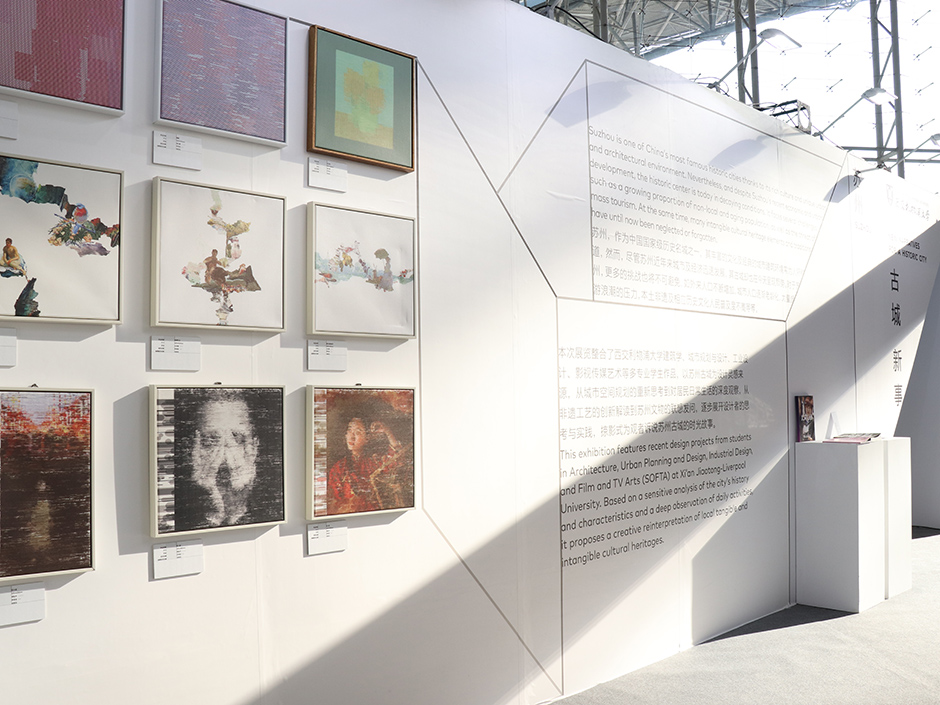 "Once visitors walked inside the XJTLU exhibition space, they saw the main theme of the exhibition was a rejuvenated 'One City Seven Identities' exhibition, a collaborative experimental exhibition for the regeneration of Suzhou Old Town formed by seven viewing boxes raised two-meter high," he said.
Each box contained a miniature model of how XJTLU students imagined one of seven different scenarios themed for each of the seven different sites in Suzhou's Old Town. The sites varied from the canal edge, public and private courtyards, water, gardens or compact residential areas streets and lanes. Led by a collaborative teaching staff from Architecture, Urban Planning and Design and SoFTA, the boxes were visions of how these complex areas could be reinterpreted to bring back vitality yet retain cultural heritage.
After negotiations with the on-site team, Hay requested that the boxes be rejuvenated and resurfaced on-site; the now anonymous white boxes created a contrast with the openings and slots set back behind the surface.
"When people walked into the space, they saw sentinel-like cubes elevated off the floor, with blank surfaces and intriguing three-dimensional illuminated cut-outs which revealed the secret compositions inside the box," Hay said.
"Human curiosity being what it is, visitors were drawn to see what was inside. The boxes became an instant draw for visitors.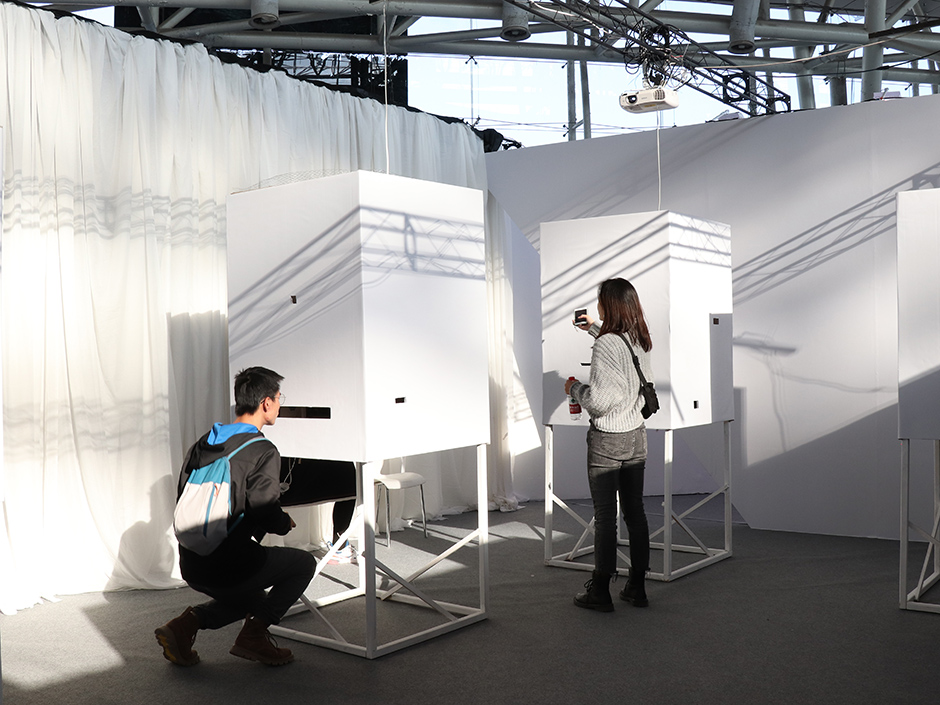 "On looking inside the boxes the visitor would look through specifically framed views to be drawn into a dialogue of moments that hint of new architectural possibilities from ways of living, a commentary on existing conditions and abstract artistic representations and theatrical compositions."
The "One City, Seven Identities" study, of which this project was an extension, was displayed initially on the XJTLU campus and then later at the second Suzhou Design Week.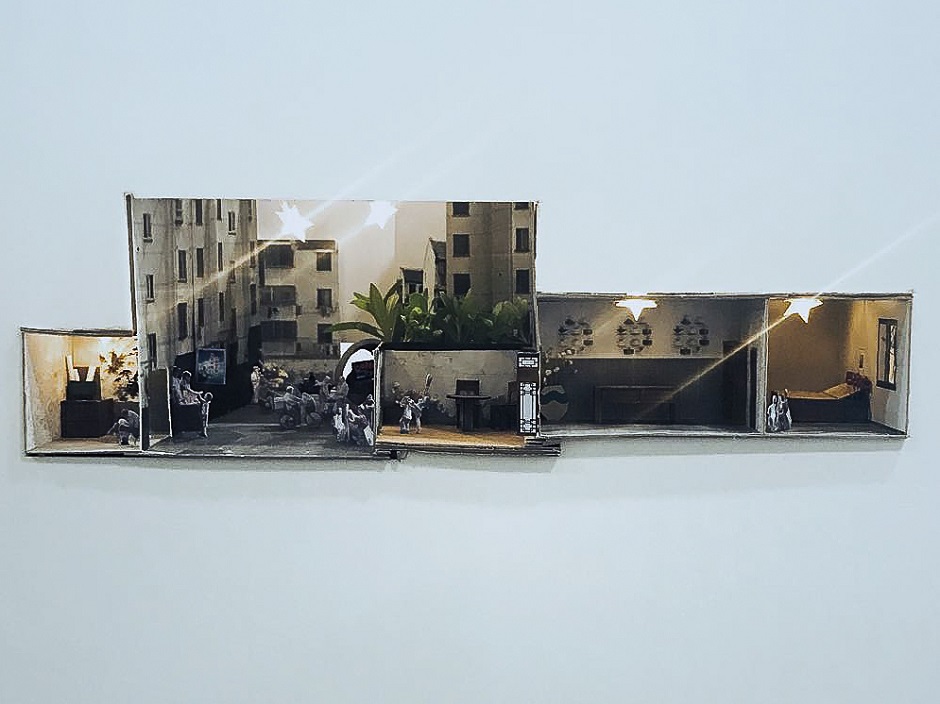 The exhibition also included a large wall-mounted scaled 3D model of Suzhou Old Town. This model was used to give the scale of the project and as a base for 3D mapping projections and the location and relationship of the seven themes.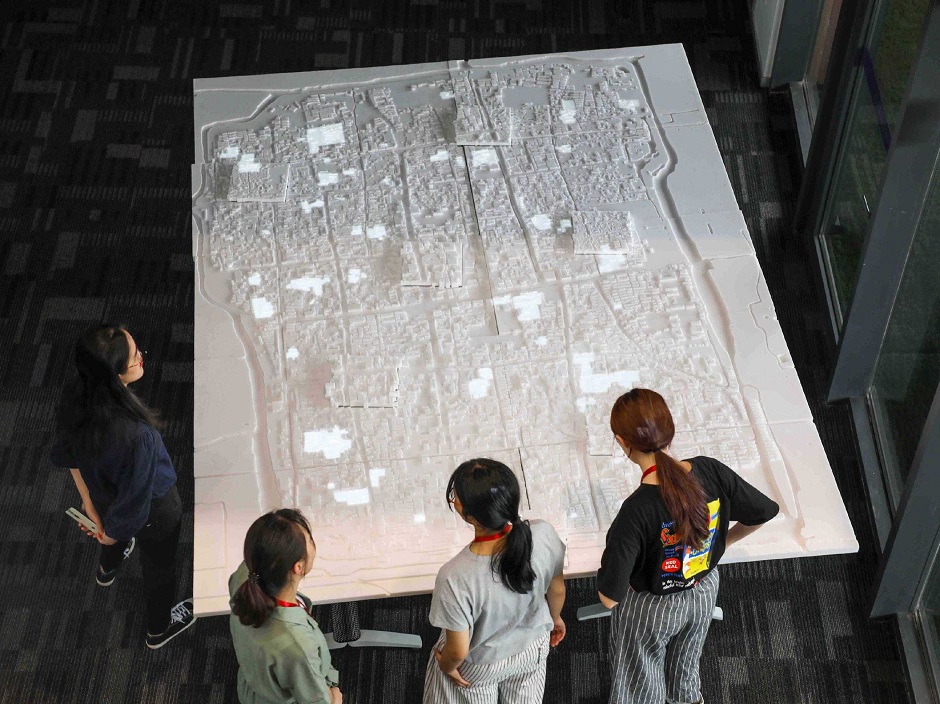 There were also images and video projections accompanied by music representing XJTLU, and in the background, sound created by a series of overlapping beats orchestrated to create a rhythm and then music. "This formed a unique sound and visual surprises that created a special moment upon each view," Hay said.
The background sound was generated by XJTLU Industrial Design student-designed fitness bands that picked up the wearers' heartbeats as they entered into the specifically darkened room. There, the feedback from the wrist-band wearers' heartbeats was fed via WiFi to a computer that generated the enhanced electronic sound and suspended neon light patterns for up to three people simultaneously.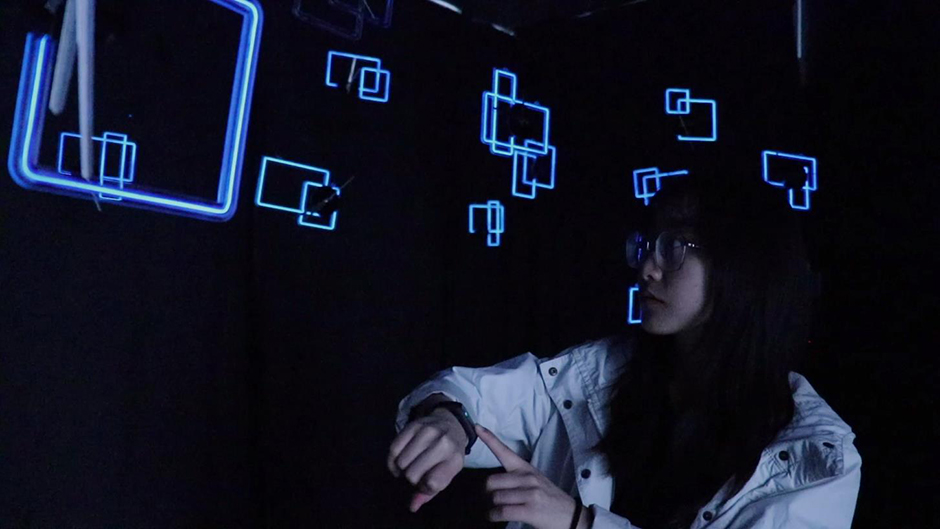 "A mass of people enthusiastically waited to enter the dark room which would be illuminated with neon hanging lights designed by industrial design students," Hay said.
"The visitors thought the experience was quite interesting," said Yunpeng Xiang, lab manager in the Architecture and Design Department and coordinator of XJTLU's exhibition. "When two or three friends came together, it seemed their heartbeats could talk together through the lights," she said.
Hay added: "You might have gone into the room with people you didn't know, but then a deeply personal connective thing happened, because strangers could combine to make experimental music.
"The work can be seen as representing the heartbeat, the rhythm of Suzhou, a city full of life, industry and creativity."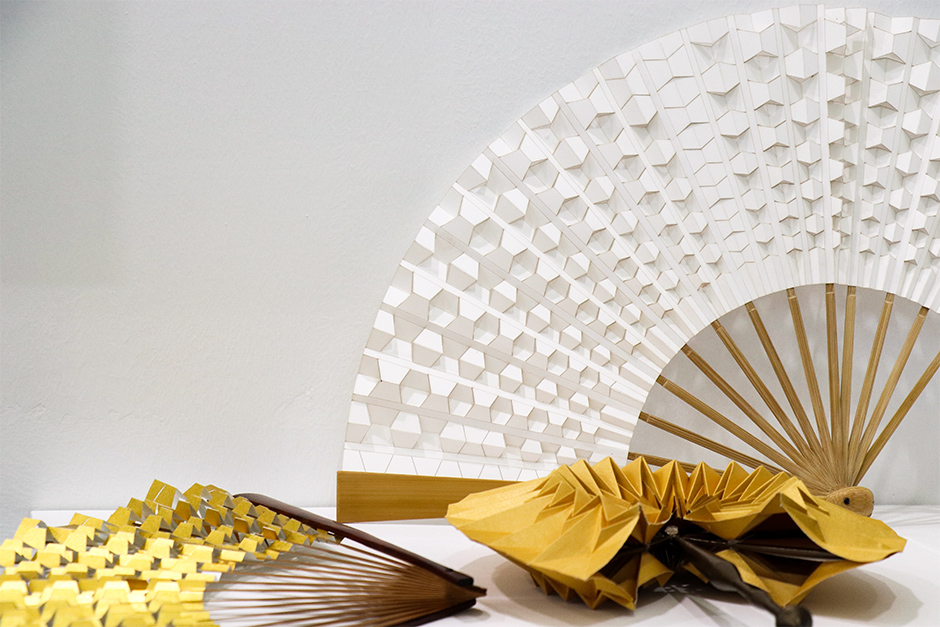 In another part of XJTLU's exhibition, visitors took pictures with modern, innovative designs for traditional Chinese fans, an important part of Suzhou's cultural heritage, while children used an interlocking puzzle to experiment with geometric patterns. These XJTLU student-designed fans, typically involving strong use of graphics as folds, cutouts or colour, had previously been on display at the Louvre museum in Paris. Handles for the fans were printed using 3D technology, while the fans themselves were made by hand, Hay said.
"This fact is a very poignant symbolic of future potential," he said. "Technology was used to create a specific interface to integrate something created by machine with something that was crafted by and for the human hand."
The fan design project won an Excellence Award in the Most Popular Design Project Awards category. Further, out of the thousands of designs at the exhibition, the fans were one of eight product designs chosen for the exhibition collection book's product design section.
Dr Cheng-Hung Lo of SoFTA gave multi-faceted guidance to students from Industrial Design and SoFTA on the fans and installation projects; at the Exhibition, he was awarded Outstanding Advisor.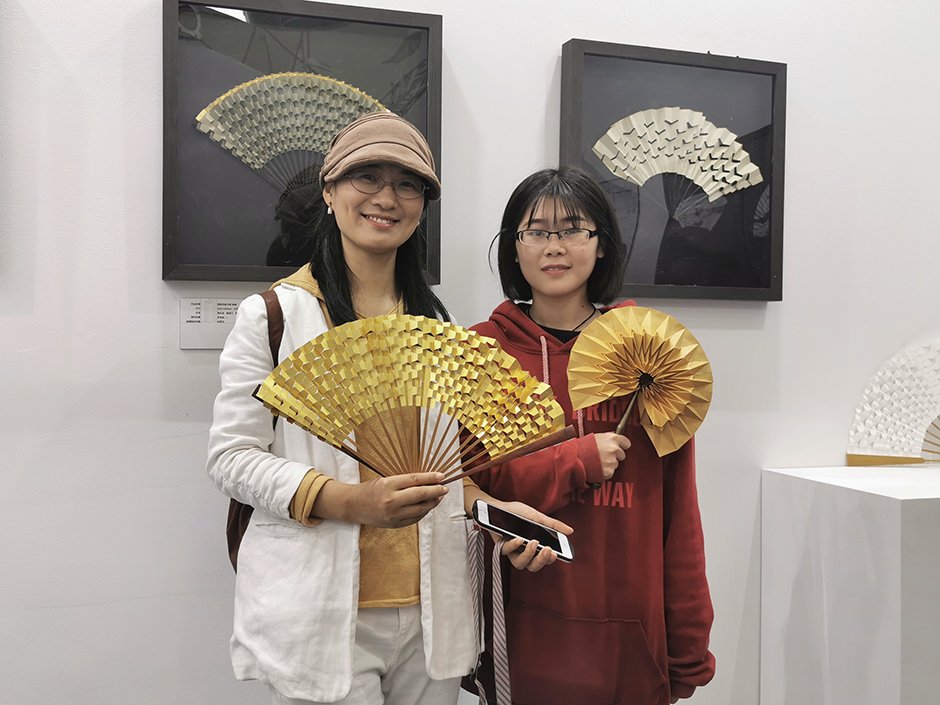 Besides XJTLU's participation in the exhibition and contest, Hay represented XJTLU in a round-table discussion with other universities about different ways to teach design.
"The discussion was a collaborative visionary experience – how we can share, how we can learn, how we can push students to do better," he said.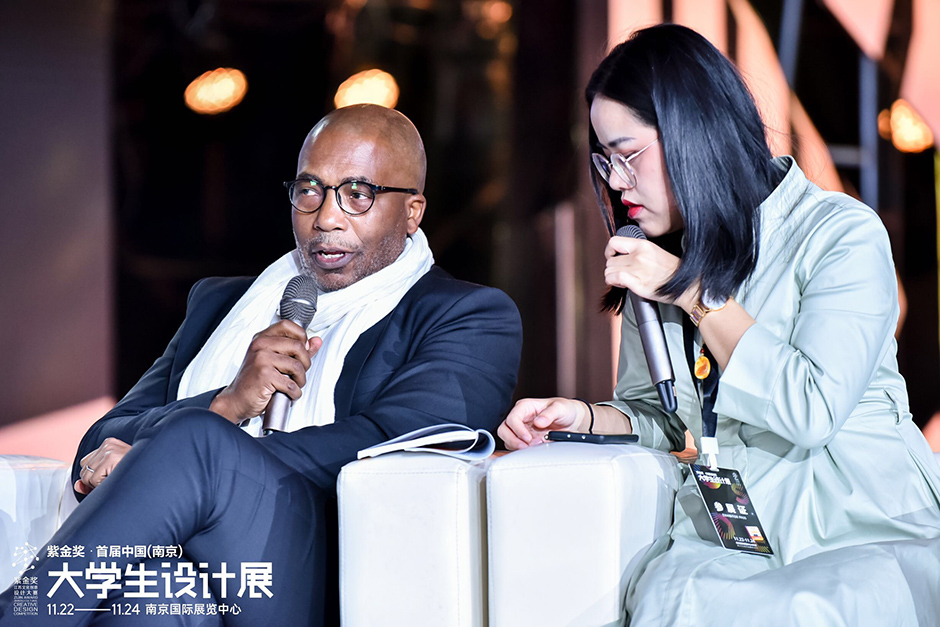 Both Hay and Xiang said they were pleased with XJTLU's participation in the exhibition and its outcome.
"We thought that XJTLU would do a good job. But actually, even though there were several key details that couldn't be implemented because of site constraints, what was achieved created an outstanding design and cross-cultural success," Hay said.
By Tamara Kaup
Photos and videos courtesy of XJTLU's Department of Architecture and Design, Department of Urban Planning and Design, and School of Film and Television Arts