China's Ministry of Education recently recognised two undergraduate programmes of Xi'an Jiaotong-Liverpool University's International Business School Suzhou as National Top-Ranking University Programmes.
"This national-level recognition indicates that our efforts to provide innovative, forward-looking programmes are on target," said Dr Ellen Touchstone, programme director of one of the programmes: BA International Business with a Language.
"I'm particularly proud of how both of these programmes are interdisciplinary – no silos here."
Dr. Szu-way Shu, programme director of BSc Information Management and Information Systems, the other programme recognised, also emphasised how the cross-disciplinary benefits of the programmes are exceptional.
"Traditional management information systems (MIS) programmes in business schools focus mostly on the management aspects, while computer sciences programmes in engineering schools focus on programming and algorithms," he said.
"There are very few examples of integrating MIS and computer sciences into one programme."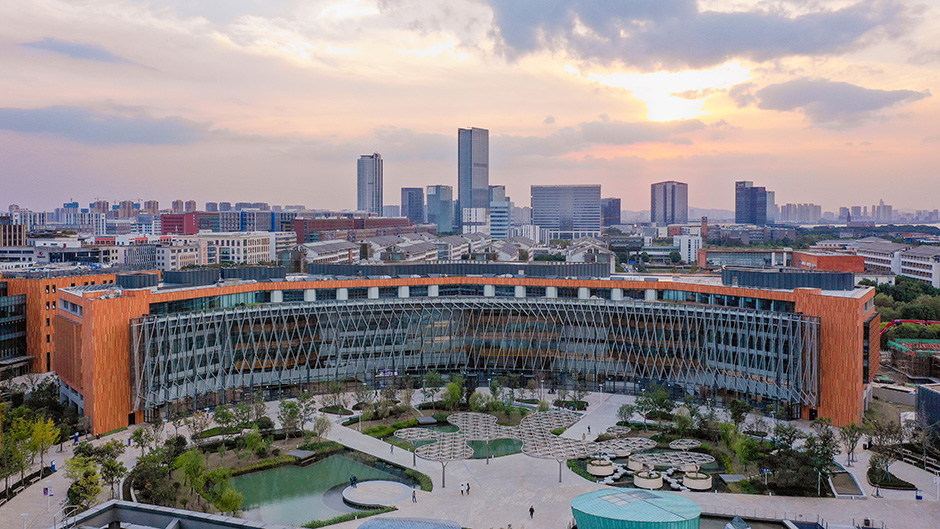 Students who enrol in the BA International Business with a Language programme study modules from different departments in IBSS, which provides a broad international business background, Dr Touchstone said.
"Experiencing different business disciplines helps students decide in which field they would like to work or study in the future. They can then engage with the IBSS Employability Team to arrange work placements and internships in those more specific fields," she said.
In addition, this programme enables students to gain business contacts important to their future careers, Dr Touchstone said.
"As one of the most popular programmes with our international students, this programme and its community provides students with their first business network," she said.
"I explain to our students that they need to be developing these relationships now as they don't know who from among their classmates will be an important business contact in the future."
A third advantage of the BA International Business with a Language programme is that it teaches students one or more languages outside of their native languages, Dr Touchstone said.
"The language portion of this programme is provided by the Modern Language Centre in XJTLU's School of Languages," she noted.
"This programme develops Chinese students' proficiency in a third language – Spanish or Japanese – in addition to their Academic English courses. These language and cultural skills open up additional job markets and employment possibilities with Chinese companies operating in Spain, the U.S., Central and South America and Japan.
"We've even had a few students continue their postgraduate studies at prestigious business schools in Spain, such as ESADE.
"International students in the programme move beyond the beginning Chinese classes required of all foreign students studying in China to develop a more sophisticated ability to communicate in a Chinese business environment."
Professor Chris Harris, dean of the School of Languages also noted the advantages of the programme for its graduates.
"XJTLU's BA International Business with a Language graduates are already ideal multilingual and intercultural ambassadors for any company or organisation they join at the start of their chosen careers," he said.
"This is in part because they can speak their mother tongue plus at least two other languages fluently. Many have a different first language too, and so their multilingualism as an attribute is highlighted even more.
"These same graduates also understand multiple cultural differences and values when travelling and working globally.
"Their impressive linguistic and intercultural skills are additional to their business knowledge and acumen. So we can see easily see that such graduate employees are perfectly positioned to become tomorrow's influential leaders in a rapidly-changing business world at the time of the fourth industrial revolution.
"XJTLU's graduates from this programme are amongst today's top new talents."
In the BSc Information Management and Information Systems programme, students learn the core concepts of information technology, financial management and economics and understand the interconnectedness of these disciplines, said Dr Shu.
Enroling in this programme helps students both gain employment and earn advancement once employed, he said.
"According to my years of experience in helping students find job placements, MIS is one of the most promising field in business schools," Dr Shu said.
"Not only does an MIS focus help students get the jobs they want and successfully enter top companies, but also it increases their ability to obtain future promotions compared to other fields."
Professor Eng Gee Lim, dean of the School of Advanced Technology which provides the computer sciences part of the programme, agrees.
"This integration is a trend and a new mode of training future talents," he said. "Students will have more options when job-hunting."
The successful integration of MIS and computer sciences in the BSc Information Management and Information Systems programme could be extended, said Dr Shu.
"This successful experience can be extended to allow University-wide integration," he said.
"For me, a resilient MIS program should not only be the integration of management and computer sciences, but also emphasise innovation, economics, and even history."
According to Dr Shu, for students studying in China, XJTLU's IBSS programmes offer distinct advantages.
"IBSS is one of the few English-language business schools," he said. "This gives students more opportunities to explore international markets."
China's Double Ten Thousand Plan under which the XJTLU programmes were recognised seeks to promote the quality of undergraduate education in China.
It aims to list 10,000 leading undergraduate degree programmes at the national level and 10,000 leading undergraduate degree programmes at provincial level from 2019 to 2021. So far, 4,054 programmes nationwide have been included.
By Wei Zhang, edited by Tamara Kaup