A team of Xi'an Jiaotong-Liverpool University Year 2 students took the championship of an international business competition for undergraduates recently. The XJTLU students surpassed eight other elite teams to win the online North Asian Finals, the top rung of the CGMA Global Business Challenge (GBC).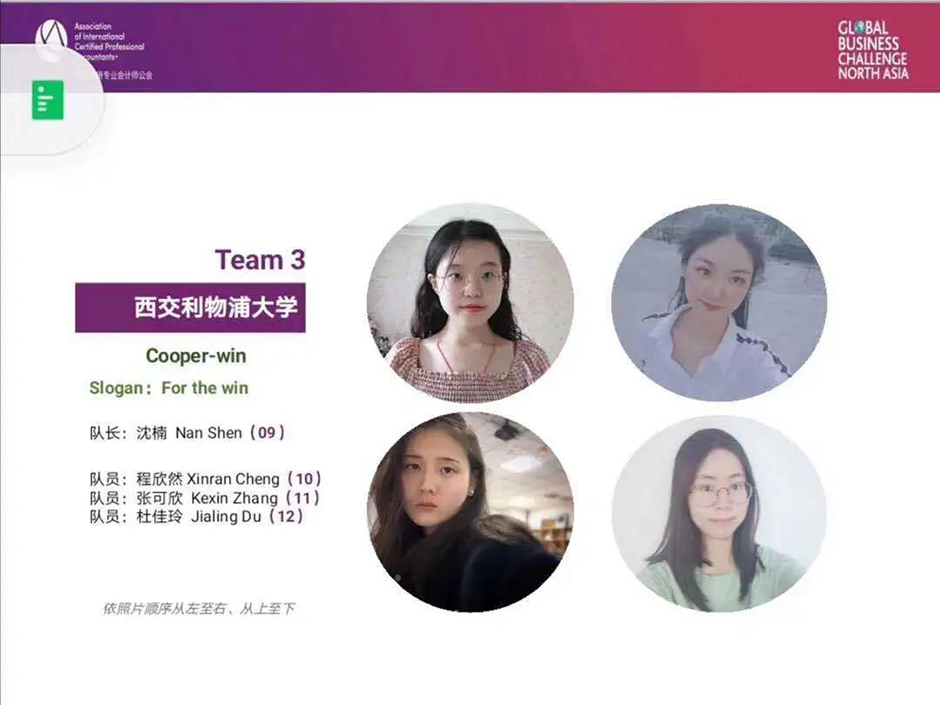 The competition, organized by the Chartered Institute of Management Accountants (CIMA), asks college students to compete in business scenarios, putting classroom knowledge to practice, preparing students for the workplace and identifying tomorrow's international business leaders. CIMA is the largest professional body of management accountants in the world.
Working against the clock, the XJTLU team, called Cooper-win, was challenged to act in the role of a hotel financial manager, finding solutions and overcoming business difficulties in a comprehensive framework including hotel market background analysis, feasibility study, cost management and supply chain management.
XJTLU's award-winning student team was composed of Nan Shen, Xinran Cheng, Kexin Zhang and Jialing Du, all in the Accounting programme at XJTLU's International Business School Suzhou. They formed a team for the finals after earning the right through preliminary individual competitions.
The students said that support of IBSS instructors, including Dr Lingyan Zuo and Dr Xiaoming Ding, was invaluable in their preparation.
The competition was about taking ideas from book-learning to the real world and practicing teamwork and critical thinking, Dr Ding said.
"As their instructor, from the very beginning, I emphasised that competition's main purpose was to allow them to learn how to apply the knowledge and skills learned in school in a real business environment," he said.
"The purpose of competing was not about students learning 'correct' answers, but to guide them to sort out the context of the case and encourage them to work together to fully explore the case and its connotations."
The judge panel was composed of Chartered Global Management Accountant designation holders, who are experts in finance. Its chair, Dr. Aidan Goddard, FCMA, CGMA, VP and Director of Finance, Kaercher Investment Co., Ltd commented: "The world of business is fast changing and requires people with strong commercial and financial acumen. Participants in the competition showed us they have the skills to become both good business leaders and management accountants. It was encouraging to see strong evidence that these universities are producing a strong pipeline of talent ready for a career in business."
XJTLU student Nan Shen said: "GBC provides us with opportunities to communicate with excellent undergraduates of Chinese or even North Asia universities, and gains suggestions from financial professionals. We learned how to apply the theoretical knowledge to practice during the competition. Thanks to CIMA and GBC, and we will keep on working hard towards our career aims."
Professor Jorg Bley, Dean of IBSS, and Dr Peng Cheng, head of the Department of Accounting and Finance, congratulated the award-winning students and advisors.
"The brilliant achievements of our Accounting and Finance students in this competition testify to the success of XJTLU's research orientation and focus on combining theory with practice. I am inspired by our classmates and teachers. I am very proud of the results achieved." Dr Cheng said.
Besides XJTLU, students participating in the North Asia Final 2020 were from City University of Hong Kong, Guangdong University of Foreign Studies, Hubei University of Economics, Jiangxi University of Finance and Economics, National Chengchi University, Tianjin University of Finance and Economics University of Macau, and University of Finance and Economics in Mongolia.
By XJTLU IBSS
Edited by Yunji Tao and Tamara Kaup