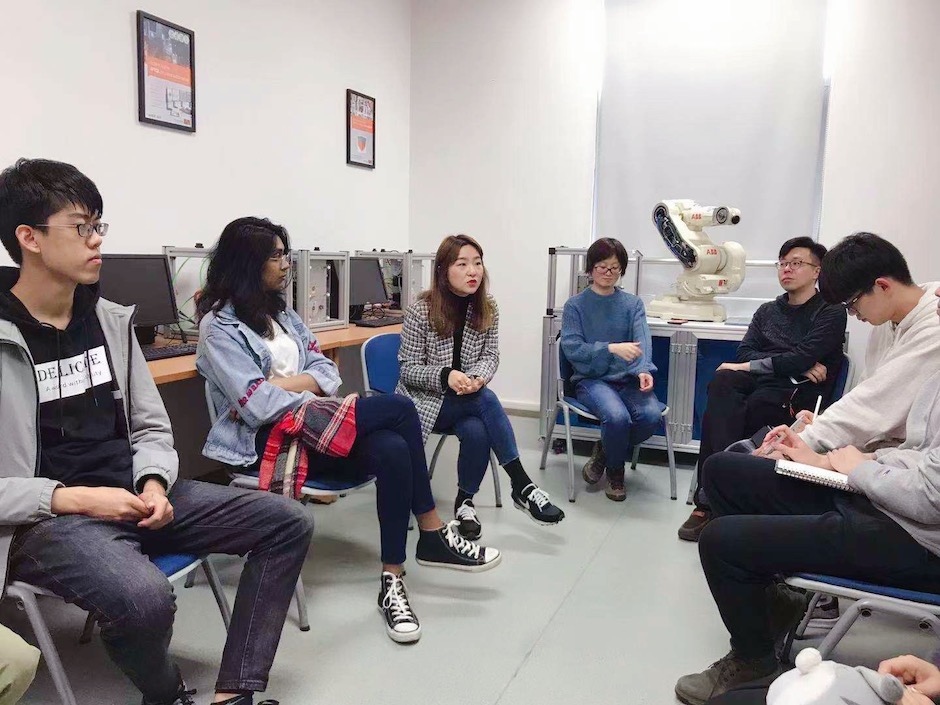 Dr. Yujia Zhai from the Department of Mechatronics and Robotics at XJTLU invited Ms Xin Jin and Ms Xiaolin Ren to share their working experience at ABB B&R with the senior students majored in Mechatronics and Robotic Systems.
Q1:How do students participate in ABB B&R National Competitions?
The competition is held every two years. Based on ABB's hardware and software platform, the tasks of the competition are extracted from specific industrial projects. By participating in the competition our students can apply the knowledge to practice and broaden their horizons.
XJTLU is a member of the ABB B&R Scholastic Union. Please sign up with the teachers from the Department of MEC if you are interested, the next competition will be held in 2022. Our teachers will be responsible for selecting the team members and supporting you to achieve tasks.
Q2:What are the recruitment criteria for your company to the graduates from universities? What is the difference with the social recruitment?
ABB B&R provides internship for students with excellent grades and experience in ABB B&R National Competitions. If the students have excellent performance during the internship, they can become regular employees.
For social recruitment, the requirements for candidates are more stringent. Candidates must have relevant work experience and be able to work directly on projects to create value for the company.
Q3:How should a girl majoring in electromechanical engineering make her career plan? What are the specific positions in the industry that are more suitable for female?
Traditionally, the electromechanical engineering and automation industry has been monopolized by men. However, with the development of technology, we can see that the proportion of female employees in the company is gradually increasing.
For female engineers, long-term travel and on-site technical services are tiring. But with the distribution of functions within the company is refined, there are many positions that are more suitable for women in addition to office clerks.
I have been working at ABB B&R for 10 years and I am mainly responsible for technical training. Knowledge and experience are necessary; besides that, the patience, communication and language skills of female engineers give them a competitive advantage in this position.
We have a research institute in Shanghai. More than half of the staff are women, including the chief researcher. So as a girl, you should have confidence in your choice that you will have a promising future.
Q4:How can young engineers find the right position for themselves?
Usually, engineers who have just joined the company cannot create value immediately and the company need to organize vocational trainings. At the beginning of your career, I hope you can believe in your own choice, set a five-year self-improvement goal, and then learn with an open mind, do not care about the temporary gains and losses.
After around 3 years, you will have the opportunity to get to know other related departments in the company, and through practice, you will have a clear understanding of your capability. After that, you can work in a position that suits your development by negotiating with the management team.
Of course, companies have their own goals and needs; the development of employees should be in line with the company's development goals and benefits.
Q5:How can I interact with enterprise engineers and researchers as a student?
First, students can apply for ABB B&R engineers as external mentors and then they can communicate with the engineers from time to time about their study and career plan.
Secondly, students with good grades can participate in ABB B&R National Competitions to compete with other students in the Academy and communicate directly with the engineers who organize the competitions.
Thirdly, there is a joint laboratory between XJTLU and ABB B&R, based on the experimental platform, students' creative projects can get the technical support from our company and we can even work together in educational products. In fact, some of the university's experimental platforms are the result of cooperation with university students and teachers.
After the workshop, Dr. Quan Zhang from the Department of MEC also shared his ideas:
We have always emphasized that students should combine theory with practice, which is especially important in nowadays. In engineering industry, many new technologies and equipment are constantly emerging and may become the mainstream of industry applications at any time. Therefore the knowledge in traditional textbooks has certain limitations, which requires students to be aware of the latest trends in the industry consciously, and to think about how to connect these trends to the knowledge they have learned in the classroom.
Secondly, while studying at university, students need to discover their interests, characteristics and abilities, and then have a clear idea of their future career. In this way, you will be able to organize your study plan and other activities, such as participating in research projects, competitions and internships, also communicating with teachers, and peers, which will help you to grasp the your future chance.
For myself, it is a great opportunity to work with ABB B&R. I am honored to participate in develop the joint laboratory and guide students in ABB B&R National Competitions. I also gained a lot of inspiration in teaching and research from ABB B&R: we should lead deep integration of theory, innovation and practice. In the future, I will continue to work together with my colleagues to promote cooperation with related companies. Hope we can provide better learning and research environment and experiences for students.
Edited by Huatian Jin
Photos provided by Yujia Zhai