Since July 2020, central government has called for the integration of green community in the five years campaign of upgrading of dilaplated neighbourhoods, aiming for better environment and better life at the same time. In the Department of Urban Planning and Design at XJTLU, 116 sophomore students from UPD110 module have used their innovation to contribute to the green community marking in a national level pilot project of the old neighborhoods of Luxiang Second and Third Village Neighbourhoods in Wujiang, Suzhou.
On April 22, the 52nd World Earth Day, at the Liverpool Pavilion on North Campus, the students exibited their group works for ecological restoration, and presented the value of each project to students and teachers.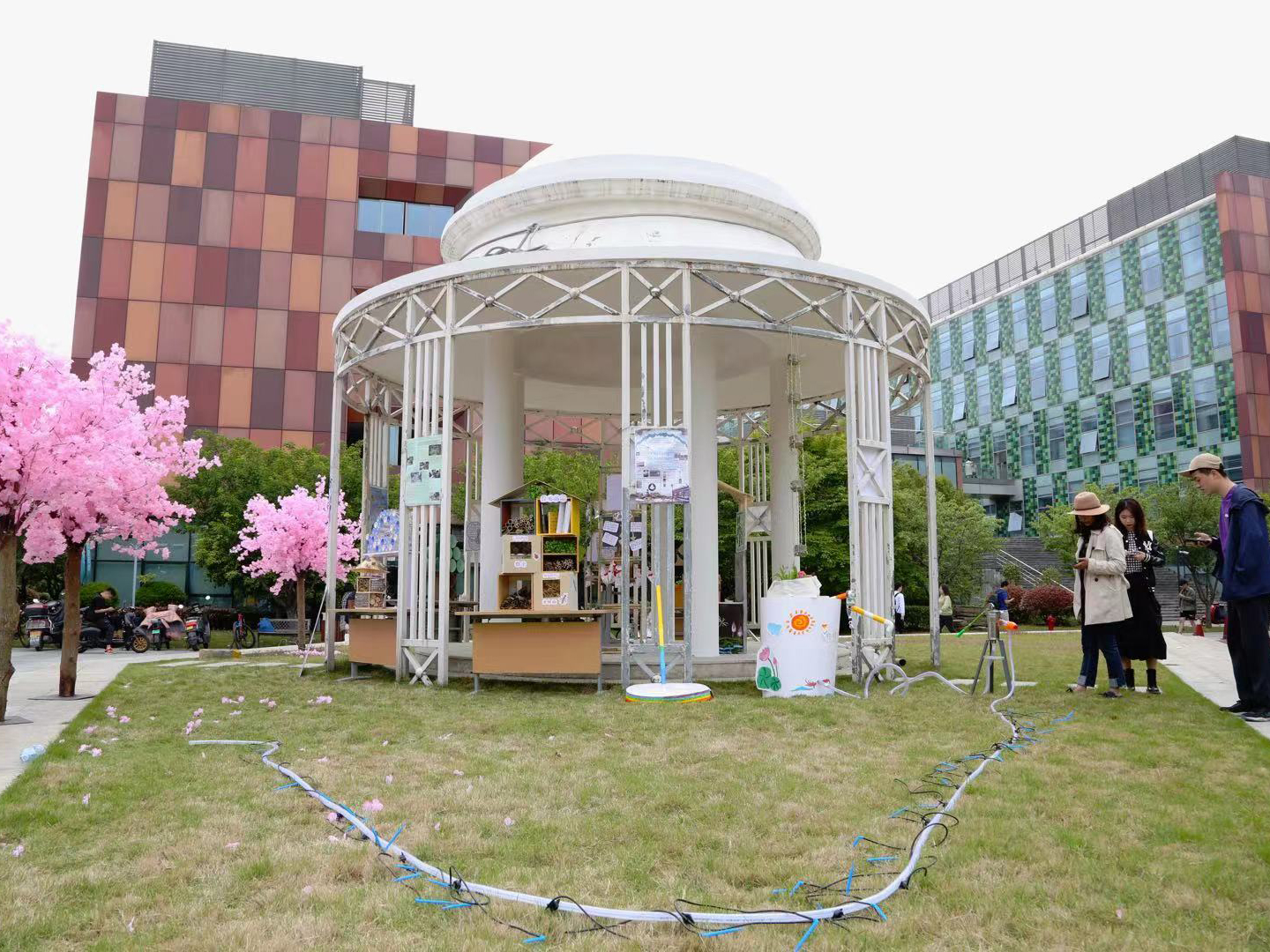 These design work for community garden also echoed the theme of this Earth Day: "Restoring Our Earth". Following the campus exhibition, some selective works will also be displayed in local communities and schools.
Spiral Garden
The students in the Spiral Garden project group were the first ones to apply their vision in real world. Dalu Feng's group built their spiral garden in the centre square of the neighborhood and named it "Twin-moon Garden", which comprise two terraced brick arcs, resembling the moon.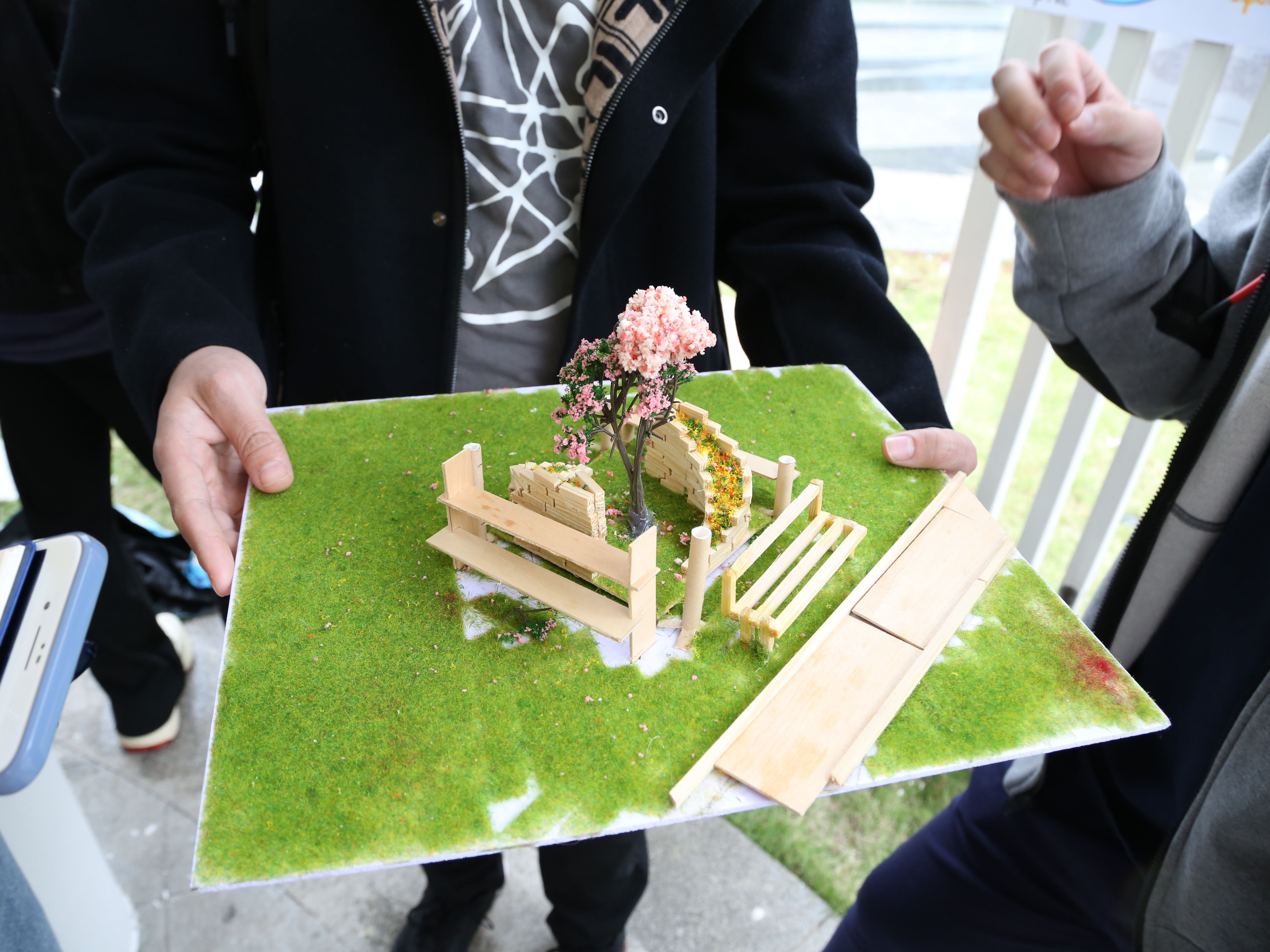 For "Twin-moon Garden" team members, spiral gardens are much more than greening. "The spiral garden is built from high to low, with different orientations. The closer to the top, the more the light is and less moisture there is; the closer to the bottom, the less the light is and more moisture there is, so plants with different demands can find their best location in the garden." Feng introduced. They also chose edible vegatation to plant so that the residents in the neighborhood would be more willing to maintain the garden.
The work of Yuchen Lu's group "Waterside Garden" also has a spiral structure. In order to respond to the surrounding environment, his team has chosen natural stone as the main material. Meanwhile, the thick soil cultivation method they use is also a mean measure to restore ecological environment. By piling up layers of food waste, soil, and tree leaves, the fermentation effect increases soil nutrients effectively and naturally.
Dr Ying Chang, who's the module leader of UPD110, said that the spiral garden concept comes from the Permaculture Philosophy, a development of agricultural ecosystems intended to be sustainable and self-sufficient.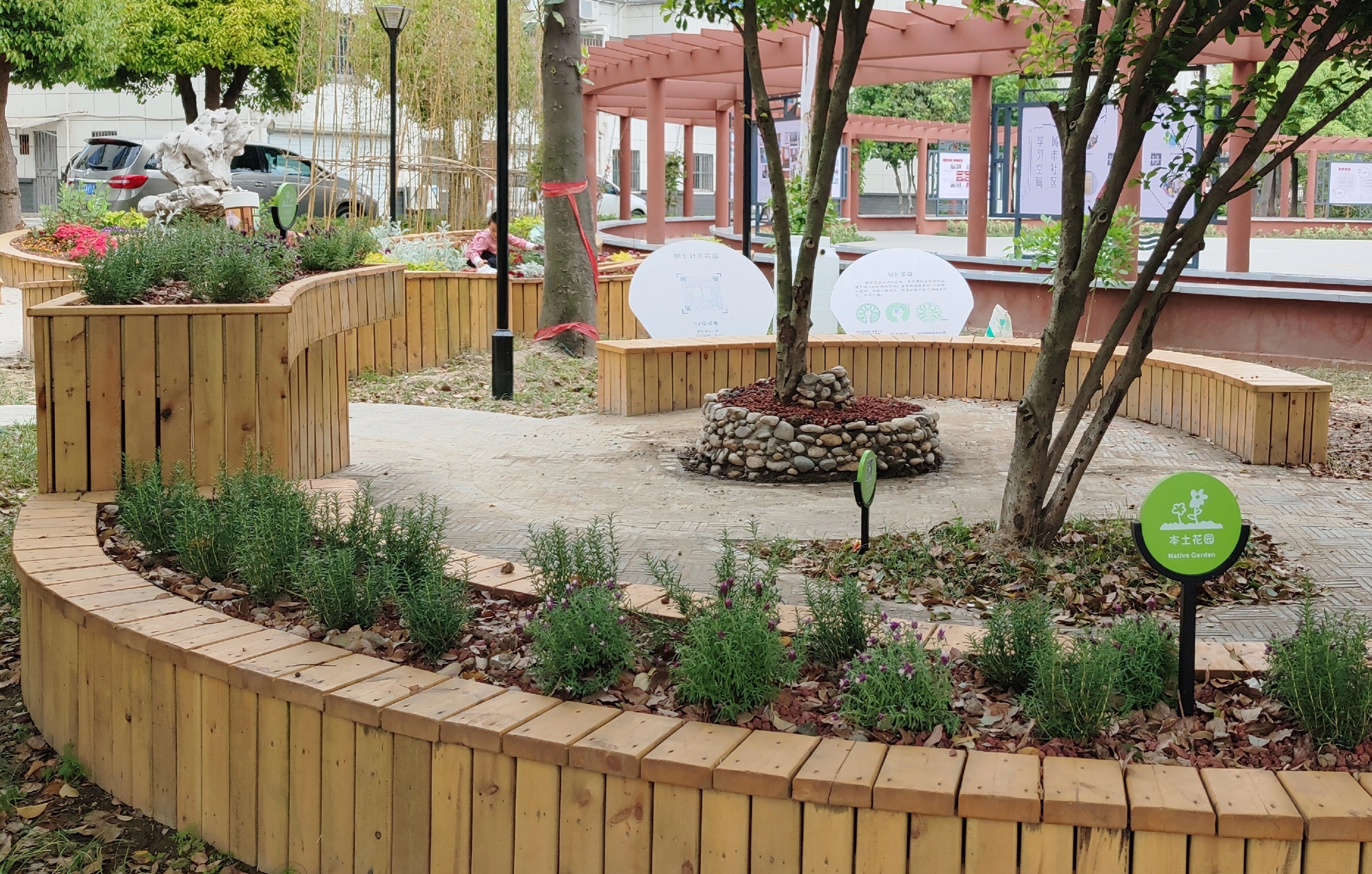 "Moreover, water and nutrients can flow naturally from higher to lower place while keeping tempreture and water, which can optimise plant diversity and biodiversity on the smallest land. When paired with other ecological techniques such as thick-soil cultivation, insect houses, earthworm towers, and rainwater harvesting, it can be a sustainable model of mini green infrastructure for efficient land use for effective ecological restoration" she said.
Insect house

Insects play a vital part in the entire ecosystem, who can help pollinate plants and promote biodiversity. Ningrong Yu's group designed an insect house called the "Insect Wonderland" and all the materails were reused from local environment " We used different materials to create zones to attract different kinds of insects, so different spieces can breed here," she said.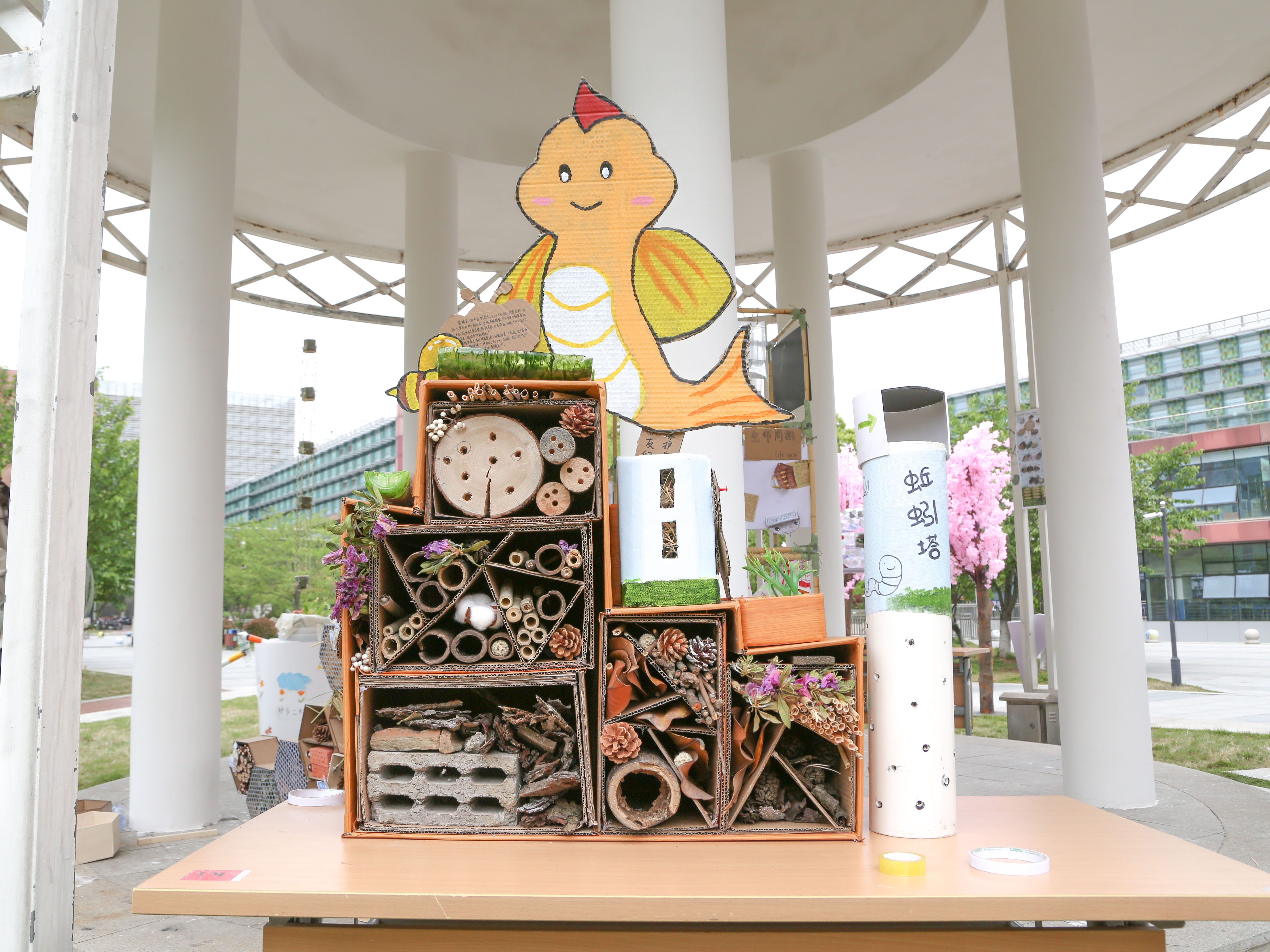 They also put some interactive display boards on the side of the insect house to introduce the habits of different insects. "We hope to attract more young children in the community to learn more about insects, interact with them and cherish them," Xiaoning Zhu, another team member added.
Hanyu Zeng's group also made an insect house called "Insect No Bug" for the lock-hole garden of Luxiang 2nd village neighbourhood. Their work is made entirely of discardible bamboo products. According to Hanyu, insects can contribute to pest control and balance biodiversity net.
Wenkang Tian, who also chose the insect house for group work, is very proud of the interactive design of their work. "Honey Comb, a portable hotel", he said, "We used wooden boards nested on top of each other to form a honeycomb-like hexagon, and each hexagon can be combined with magnets in pairs. When it is applied, residents can design the assembling method by themselves."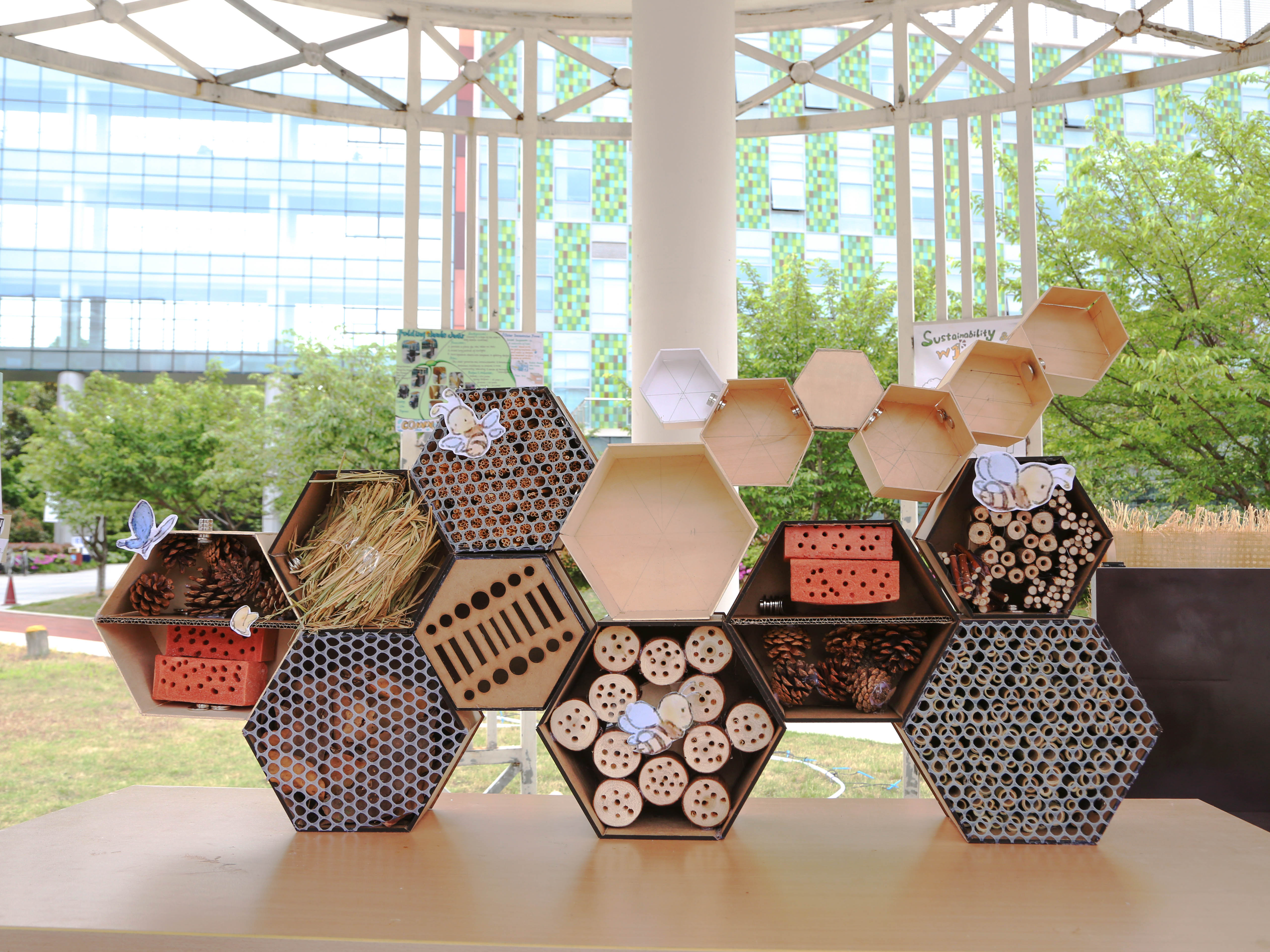 This research by design process help students reflect critically on their own work. "Although the magnet can make the whole project more interactive, it may have adverse effects on insects such as bees. At the end, we founda more balanced solution by using screws instead of magnets."
Sustainable Rainwater Collection Device
There were also four groups of students who collaborated on the design of a rainwater collection device. The reuse of rainwater is important for the conservation of water resources, and is an important technique of the sustainable drainage system. "The rain chain we desgined is made of bamboo tubes filled with carbon particles, which is environment-friendlyl and easy to maintain and replace" said Zixi Qin.
"We used three layers of environmental friendly materials for the initial filtration, and the filtering device is operable," said Yunqing Li, who's in charge of filtering rainwater.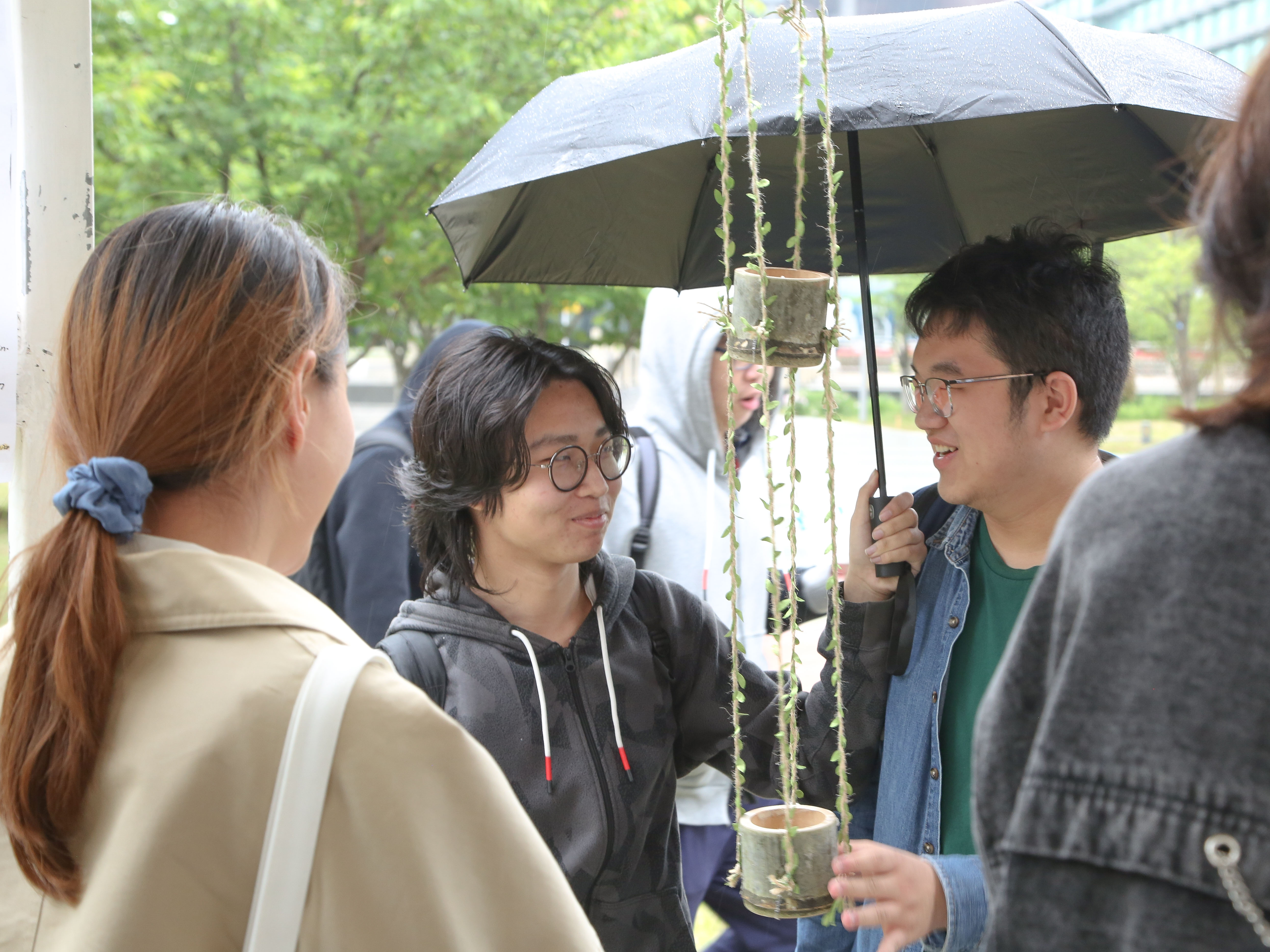 Dr. Chang Ying has praised the students' positive attitude and hands-on abilities. According to her, the course is an exploration of the university-government cooperation model and an application of syntegrative education to serve local community.
"Our students' innovation can motivate local residents to participate in space production, and this can drive the grassroots governance of communities. The four components of learning hub placemaking, frequent interaction, stakeholders mobilisation and local empowerment interact with each other, and form a community for green development," she explained.
By Keyu Lu and Xuechen Lu
Edited by Yi Qian
Translated by Yi Qian
Photos by Yalan Wang