For students doing practical scientific degrees while still in their home countries, a lack of in-person lab time poses a problem.
However, with a blend of online tools, frequent feedback, and a partner on the ground, lecturers at Xi'an Jiaotong-Liverpool University are working hard to give their students the best experience possible.
"There are many things in education that can be done remotely," says Dr Graham Dawson from the Department of Chemistry. "But applied chemistry is such a practical subject, so we had to find a way to give the online students what they needed."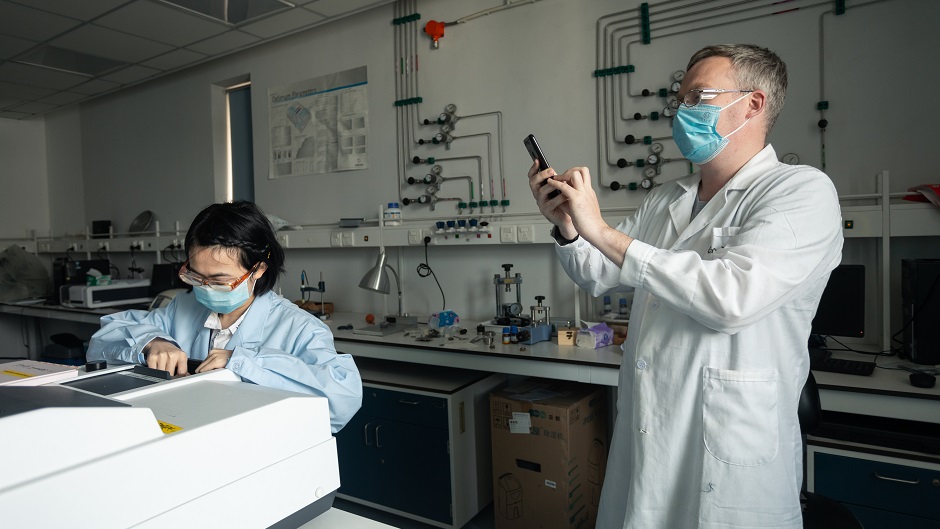 Dr Dawson records an experiment
The groundwork

Dr Dawson says luckily, for many second-year modules in the BSc Applied Chemistry programme, there's a lot of work to be done prior to going into the lab.
"Even before the pandemic, we had a series of short videos to help the students get to know the lab and its equipment. This was to help them feel more comfortable before starting their practical work," he says.
"Then, during the lockdown in 2020, my lab assistants and I made more videos of ourselves conducting specific experiments. These videos help the students see how the experiment should be done, and they can view them over and over again at their leisure so that when they get back into the lab, they're comfortable."
The online videos, which are accessible to all students, have received good feedback, and Dr Dawson says he plans to continue doing them.
Participation

Dr Ferdinand Kappes, from the Department of Biological Sciences, agrees that high-quality videos of each experiment are indispensable. One important thing when planning the videos, he explains, is to make the students feel as included as possible.
"For the experiment videos, we made sure to do things like printing out easy-to-read labels for the different chemicals so they'd be more visible on a video. It's a small thing, but it helps make the experiments more accessible."
For his lectures, Dr Dawson found that pre-recording them worked better for online students, as they had a hard time participating when it was live. The recorded videos were also more streamlined, he explains.
Unfortunately, recorded lectures led to a problem of lack of real-time feedback for online students. Dr Dawson scheduled sessions with onlythose students to ensure they had an opportunity to have any questions answered.
Kathryn Koh, a Singapore-based student who just completed her second year of BSc Applied Chemistry, appreciates the smaller online-only sessions.
She says: "When you're in a smaller group, your questions are more likely to be answered, and sometimes to greater clarity. I felt like the lecturers gave us plenty of support to make sure that we understood everything."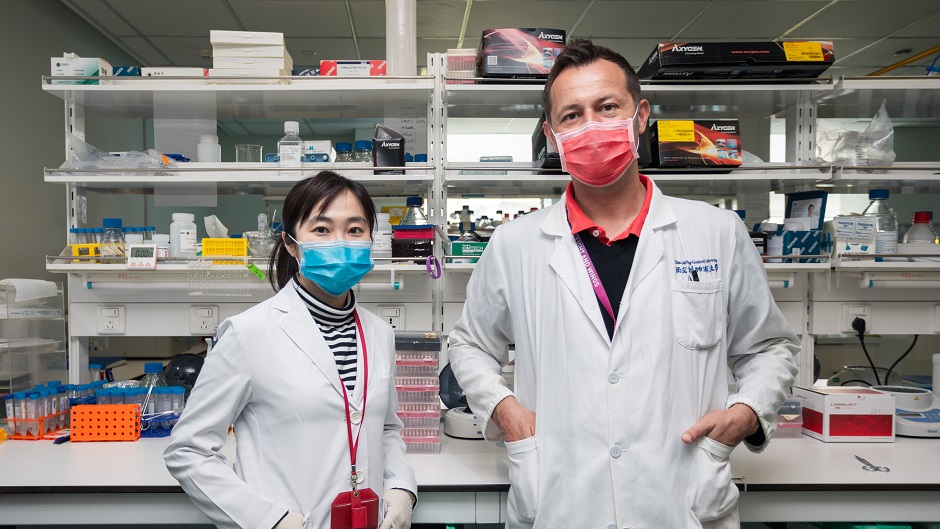 Dr Kappes in the lab
Virtual learning
Dr Kappes and Dr Dawson also encouraged students to use various online tools, such as the Harvard LabXchange videos on the XJTLU Learning Mall and a lab simulator called Labster.
"Online tools like Labster are a fun way to reinforce the theory," says Dr Dawson. "It's something we can apply to all students whether they're onsite or offsite, international or local – it's not just about not being in the lab."
Dr Kappes says the many online tools greatly help reinforce theory, but they can be a double-edged sword.
"For students, having all these resources allows for a more tailored learning approach, but it should be well-curated. It's not something to just throw at the students. If you do that, some of them may get overwhelmed because they think they need to watch everything."
Dr Kappes believes the best way to use online tools is to give a foundation to all students and then have an additional list of resources for students who want to do further research.
Partners for success
While there's no substitute for lab work, the assessment for Dr Dawson's second-year module is based on a lab report, not the experiments themselves.
The students weren't able to do the experiments themselves, so lecturers paired them with on-campus students who were tasked with collecting and sharing data from lab-based experiments.
Andrew Chung, who is currently in Indonesia and just completed his second year of BSc Applied Chemistry, says: "Working with my onsite partner was such a good experience. He was responsive and shared his lab results openly – we worked together really closely."
In addition, Dr Dawson says he allowed online students to submit drafts of their lab reports and worked with them to discuss the concepts.
"This was just for the first few. After that, the students knew what they were doing. Having read the reports, I feel like there's no drop in the quality of their work compared to previous years, which is encouraging," he says.
By Patricia Pieterse