OPEN YOUR WORLD TO UNLIMITED POSSIBILITIES
Dear undergraduates, postgraduates, colleagues, our distinguished parents and friends:
Welcome to the 2021 opening ceremony! My warm congratulations to our 7,000 incoming undergraduate and postgraduate students. Congratulations on successfully enrolling in XJTLU to begin a new chapter of your life, even amidst the pandemic.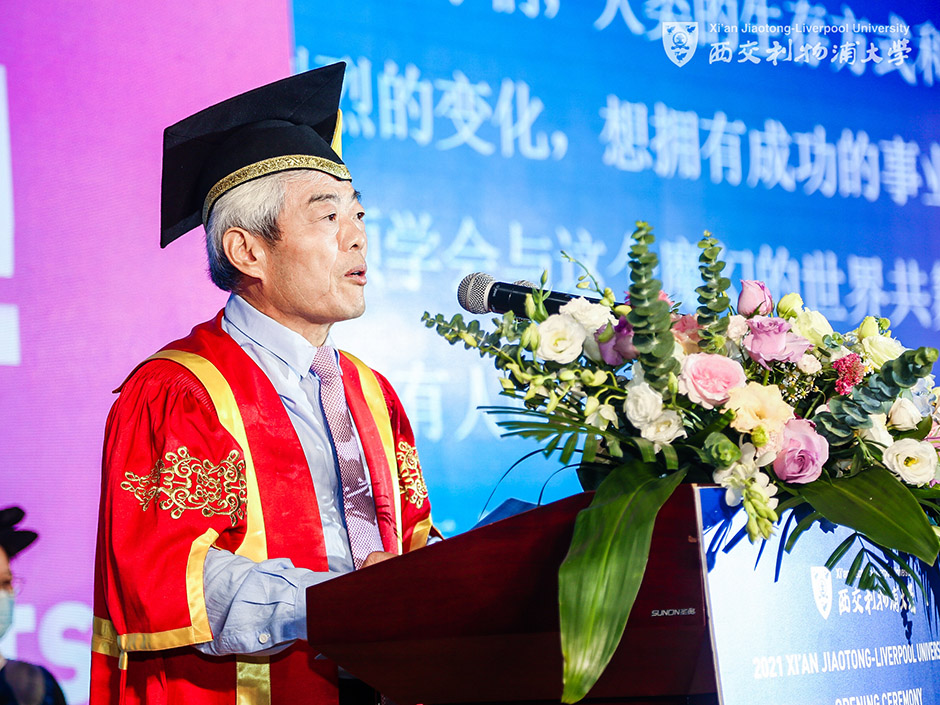 Whilst you enter a new life stage, a second wave of the coronavirus has hit China. The ever-mutating virus seems to have brought us back into darkness. Wildfires, floods – all natural disasters never come singly. Meanwhile, international ideological and geopolitical conflicts and ethnic tensions are also escalating. These occurrences have halted our normal life and people have had to rearrange their plans. Unfortunately, this might become part of the "new normal" we live in.
Dear students, our life is undergoing drastic changes. In order to build a successful career and lead a happy life, we must learn to coexist with whatever happens around us. When confronted with challenges, some people, unfortunately, complain behind closed doors. But the good news is that the remainder are positive about change, always looking for new opportunities. I hope that, at XJTLU, you will fall into the latter category. You will develop a "HeXie (Harmony) Mindset", adapting your behaviours under the philosophy of "thinking globally, understand locally and act internationally". XJTLU will help you become highly capable, future-ready global citizens.
I very much agree with Drew Gilpin Faust, the former president of Harvard University, who said "A university is not about results in the next quarter; it is not even about who a student has become by graduation. It is about learning that molds a lifetime." This is a good summary of the XJTLU experience. Many students have found their passions at the University, unleashed their full potential and accomplished things they have never dreamed of. This transformation stems from how XJTLU's education helps you upgrade your mindset and make positive behavioural changes. Such fundamental change is not destined to happen in a comfortable environment. You must step out of your comfort zone, step out of the exam-oriented education, stop learning through spoon-feeding, and adapt to XJTLU's "student-centred, interest-driven and research-led education" as early as possible. It may cause discomfort, frustration, self-doubt or even grievance. But trust me, these challenges will become your opportunities and breakthroughs.
I know you are already tired of "parents' talk", but I still want to give some advice at this critical stage of your life. I hope you will keep overcoming obstacles while working towards your dreams.
Step One: Be Independent
As you begin your journey into adulthood, I hope you will become more independent and take more responsibilities. XJTLU has built a "Five Star" education model, integrating Eastern and Western wisdom and cultural and educational philosophies. This model provides you with an international learning environment and a comprehensive support network. Together they will help you become confident, independent, proactive, responsible and honest, and you will gain a competitive edge in a global job market. At XJTLU, you will have many firsts: your first English presentation; debate with your teacher; collaboration with team members from different cultural backgrounds; experience seeking help from the University; project development opportunity. Through all these experiences, you will get to know yourselves, embrace challenges, respect differences; you will solve problems by continuous exploration and adaptation. Such study and thinking skills will build a strong foundation for your lifelong learning and personal development.
Some students may say they have wanted to be independent but haven't been given the space to do so. I tend to agree that some parents still treat university students like children, unconsciously depriving them of growth opportunities and age-appropriate responsibilities. Therefore, I would like to encourage our parents to be understanding and supportive. Don't impose your will. Let them explore; let them go. As Franklin D. Roosevelt said: "A smooth sea never made a skillful sailor." And students, remember that independence and freedom are earned; you need to convince your parents with your mature behaviours. In other words, please make the most of the University's support system, enrich your experience, and improve your mindset to gain your independence. The University's support system, for example, the support network consisting of academic advisors, development advisors, external mentors, buddy programmes, and many other platforms, such as our one-stop student service centre, student counselling centre, and career development office.
Step Two: Adapt to the Research-Led and Interest-Driven Learning Model
Education today seems to have become a competitive race. Students, teachers and parents are gripped by the idea of finding a fast track to success. This actually veers away from the essence of education. Here at XJTLU, we don't spoon-feed knowledge; our goal is to help students develop all-around. At first, students who are used to exam-oriented education might complain that instructors don't teach the concepts thoroughly. However, once you understand the nature of education and how it inspires and changes people, you will appreciate the true values of a university: to equip students with independent learning and critical thinking abilities, to help students discover their passions, and to encourage students to pursue their dreams. Diplomas and degrees are merely by-products of this process.
Therefore, XJTLU advocates a research-led model that encourages students to search for information, integrate knowledge and solve real-life problems. In this way, students will improve their communication, cooperation, implementation and innovation skillsets. XJTLU also promotes interest-driven learning, which helps students understand themselves and follow their passions. Through self-study, classroom interaction, teamwork, research experiments, and innovations, students start to build their knowledge in subjects of their interest. The University also advocates lifelong learning to help students get ahead in the constantly evolving world and to make significant achievements in areas they are passionate about.
To support this educational model, the XJTLU Learning Mall is gathering global online resources to create a more expansive integration between education and industry, both on-campus and off-campus, online and offline. With the help of the Learning Mall, students can enjoy the international on-campus education offered by XJTLU and the world's best education resources while simultaneously receiving personalised guidance from course consultants. Students will be connected to a wide individual and corporate network, achieving lifelong learning goals and creating entrepreneurial innovations through a personalised, interest-driven approach.
Step Three: Dare to Be Different
The previous 12 cohorts of graduates have proven that if you dream big and take chances, the sky is the limit. What kind of campus life do you want? Student clubs, volunteer opportunities, competitions, high grades, research, internships, hobbies or dreams? You might be overwhelmed if you haven't found your passion when your peers are working towards their goals. However, my point is, if you dare to be different, ignore the noise around you, and become committed to exploring your interests, you are on the right track. This path celebrates your uniqueness and benefits society.
Our 15 years of development is a perfect example of "dare to be different". We are different and creative in our own ways in a complex and uncertain environment. From research-led education for cultivating specialised professionals and leaders (XJTLU 1.0), to Syntegrative Education cultivating leaders for new industries (XJTLU 2.0), and a technology-enabled, symbiotic education and innovation ecosystem (XJTLU 3.0), we have managed to formulate a new blueprint for identifying and training future talents and creating a new system of higher education.
Step Four: Build the Right Mindset for the Future
Students, I don't know if you have noticed, but my speech today aims to challenge your thinking and to remove your constraints. All of your future anxiety, conflict, and confusion will ultimately be the result of misconceptions and behavioural biases. A change of mindset could change the course of your life.
XJTLU is committed to educating global citizens who can change the future. To change the world, first, we need to adapt to the disruptive technologies that have reshaped our social norms – how we study, work and live. Second, we need to establish a correct mindset in a style befitting the new era, which is the HeXie (Harmony) mindset. This mindset can help you navigate through an increasingly complex world and an uncertain future. The HeXie (Harmony) mindset, which combines Eastern and Western wisdom, allows you to identify a goal or task and move forward confidently.
So, students, what is the HeXie (Harmony) mindset? How would you define your future, identify your passion, establish an appropriate attitude and behaviour, acquire lifelong learning, and develop the tenacity to forge ahead? I hope you will perform well in your first mandatory assignment at XJTLU!
XJTLU is a platform that offers you unlimited possibilities if you dare to think and act. And youth has so much to offer. Let's set the sail and begin the exciting journey of a lifetime.
Thank you, everyone!
Professor Youmin Xi
Executive President, XJTLU