A research team from XJTLU's School of Advanced Technology have used the latest fourth-generation semiconductor materials to build a cutting-edge AI chip that mimics human vision. They have also developed algorithms that can recognise CT images of patients' lungs and quickly assess whether they are infected with COVID-19.
The study's first author is Dr Qihan Liu, who completed his undergraduate studies and PhD programme at XJTLU. He was co-supervised by Dr Chun Zhao at the Department of Electrical and Electronic Engineering and Professor Eng Gee Lim, Dean of the School of Advanced Technology. Dr Liu now works at Fudan University, Shanghai, as a postdoctoral research fellow.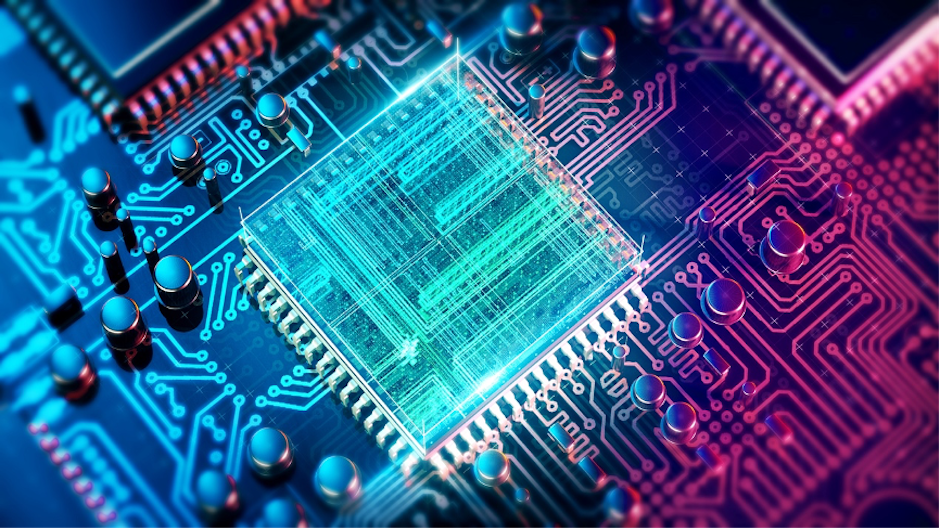 According to Dr Zhao, if we zoom in on a chip, we will see that it is made up of many tiny components which are integral to the chip's system. The researchers have used low-dimensional metal oxide to build new components that have biomimetic visual sensory and learning abilities, simulating the synapses in human brains.
Dr Zhao says that advanced AI algorithms rely upon advanced AI chips: "If we liken chips to the trunk of a tree, then algorithms are its leaves and flowers whose health is determined by the growth of the trunk. Therefore, when researchers develop chips, they need to design their potential applications simultaneously to test and prove that the chips can support these applications.
"Using the chip, we developed algorithms that recognise COVID patients' CT images and highlight unusual characteristics of their lungs, which can facilitate a diagnosis. Our chip can also support algorithms that detect visible light and categorise objects. All of these applications have yielded promising results, and in the future, the chip may contribute to the development of driverless cars and manufacturing," says Dr Liu.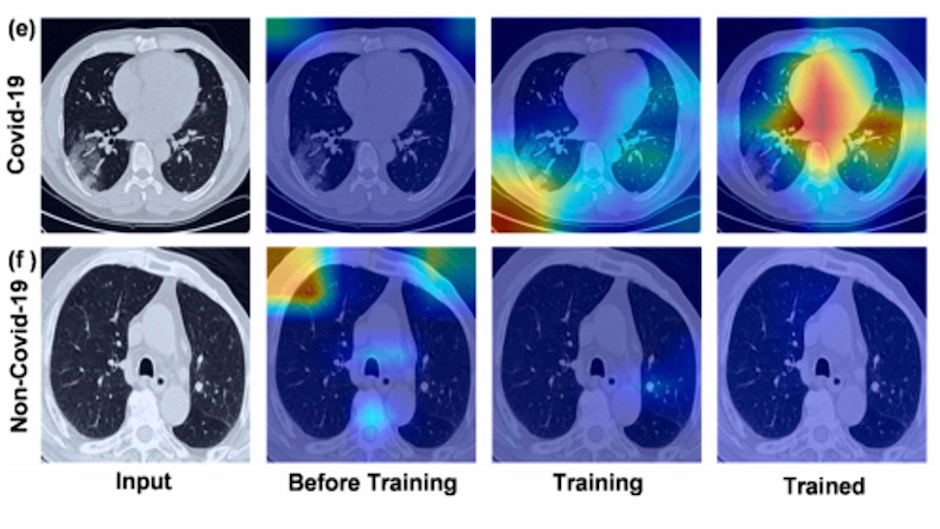 The chip can identify regions of interest in Covid-19 and non-covid-19 CT chest images. (Photo courtesy Dr Qihan Liu)
He points out that AI is based on the analysis of big data, which requires huge computing power. AI is being used for the information detection and recognition systems that are common in our daily lives. However, traditional computing structures are no longer sufficient to support our growing demand for computing power. This is a challenge for AI experts and a problem that the research team would like to tackle.
"High computing power always means high energy consumption. The well-known AlphaGO, for example, takes up a lot of floor space and consumes a considerable amount of electricity. But the component we built mimics the human brain, which operates efficiently while consuming little energy and can process multiple kinds of information, such as thoughts, languages and images, at the same time. It is also highly tolerant of error, so it can continue to operate in the event of a component's failure. This is what we are aiming for with future chips, and the reason why our chip is promising both academically and industrially—it is highly efficient and has low energy consumption," summarises Dr Zhao.
Professor Lim says: "The School has remained committed to XJTLU's vision for future education. To achieve our goal—healthy development of our students—we guide them to study proactively and independently with critical thinking, and encourage them to do research based on their interests, so that they can become lifelong learners.
"As mentors, we are honoured to witness the students' fast growth and assist them in realising their future-oriented ideas. It's also our pleasure to see them carry out quality, meaningful research projects at other high-quality institutes."
Professor Lim initiated the research project, which was included in the 2022 Suzhou Intellectual Property Operation Programme. The programme aims to increase the conversion rate and commercial value of research projects to transfer cutting-edge technologies to industry.
The study, All-in-one metal-oxide heterojunction artificial synapses for visual sensory and neuromorphic computing systems, is published in Nano Energy, a top journal for engineering technologies and material science (impact factor 19.07).
By Huatian Jin
Translated by Xiangyin Han
Edited by Catherine Diamond