At the 2022 XJTLU Student Research-led Learning Symposium, nearly 200 undergraduate and postgraduate students shared research-led learning experiences and insights.
The Learning Institute for Future Excellence (LIFE) at Xi'an Jiaotong-Liverpool University's Academy of Future Education sponsored the event, which included student forum discussions about examples of student-submitted learning projects. The submissions were based on real work done in XJTLU coursework or extra-study curriculum.
Submissions were to reflect key aspects of research-led learning, including the identification of real-world problems, teamwork or coordination of sources and partners, information collection via multiple channels, and creation of a solution or project. As in the past, submissions were entered in a contest. However, the overall format for this year's event was a symposium, says Dr Juming Shen, Head of LIFE.
"Instead of only selecting the best student projects for recognition and prizes, we wanted to also give students more opportunities to share insights with their fellow students working in the same field," he says. "We hope the symposium can deepen students' understanding of research-led learning. In turn we hope students will reflect this understanding through taking initiative in the learning process, which will contribute to the teaching practices in different disciplines."
At the symposium's forums for different study fields and for postgraduates, students presented and defended their research-led learning projects to the onsite judges and the other attendees.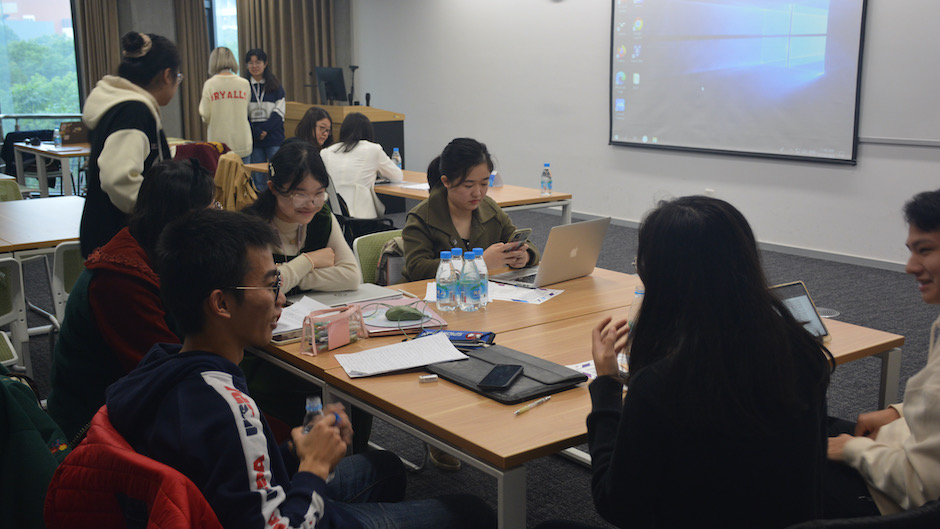 Students from XJTLU's International Business School Suzhou (IBSS) and School of Advanced Technology won the grand prize for designing an app that helps people find study partners. "It's more motivating to study with someone else, but it's not easy to find a suitable partner," says Jeongyeong Park, the team leader and a Year Four student majoring in Information and Computing Science.
The design would take advantage of a user rating system, visual design, and basic algorithms like "sort", "list search", and "categorisation" to solve key issues found in other study group apps, such as those related to user behaviour, categorisation, and privacy.
If developed, the app would help its users make study plans based on their personal study habits and then search an online database for users with similar plans so that like users can be paired.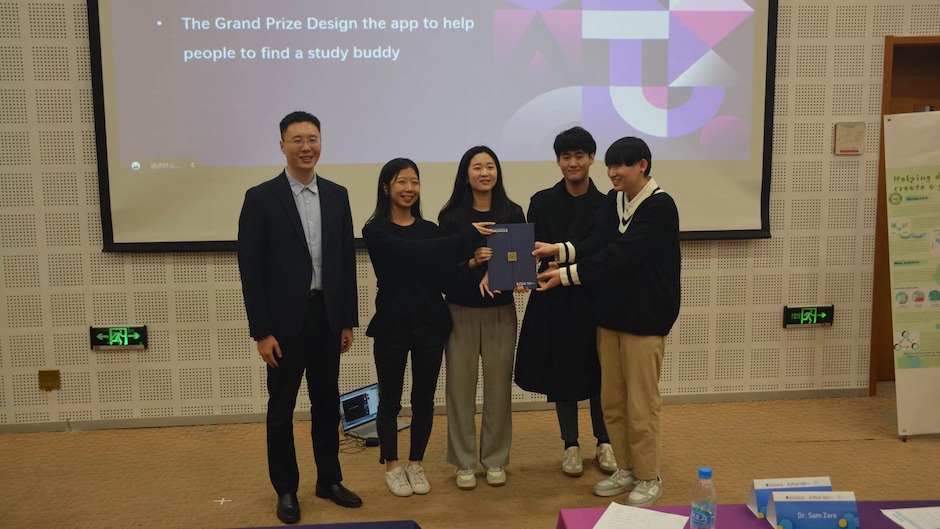 The grand prize winners
Another project presented at the symposium was related to pervasive anxiety over appearance in society today, especially among university students. The team members' research found that anxiety over appearance is closely linked to the widespread notion among young people that those with good looks are somehow superior to others. The group's research also found that as the anxiety builds up, psychological problems may occur. In view of the psychological, physical and social factors connected with the problem, the team offered solutions from three perspectives, which included coping with stress, staying healthy and avoiding harmful comparisons.
Dr Xiaojun Zhang, Executive Dean of the Academy of Future Education, says: "Each academic discipline and programme have specific talent development goals, but across the board, research-led teaching can improve students' abilities in problem-solving, independent learning, critical thinking, and cooperation and communication. We hope that by showcasing students' successful practices, we can encourage more teachers to enhance their development of research-led curricula."
By Xiaoyan Jin and Jueying Chen
Edited by Luyun Shi and Tamara Kaup
Photo by ILearn