XJTLU-CHINA, a team of Xi'an Jiaotong-Liverpool University undergraduates, was recently awarded a Gold Prize and nominated for the Best Environment Project in the 2022 International Genetically Engineered Machine Competition (iGEM). The students, from the programmes Biological Sciences, Bioinformatics, Biostatistics, and Applied Mathematics, put forward their project named Application of new biofilm in industrial wastewater treatment.
This is the fourth time since 2015 that students from XJTLU have won a gold medal in the competition, and the first time a project from XJTLU was nominated for the Best Environment Project award.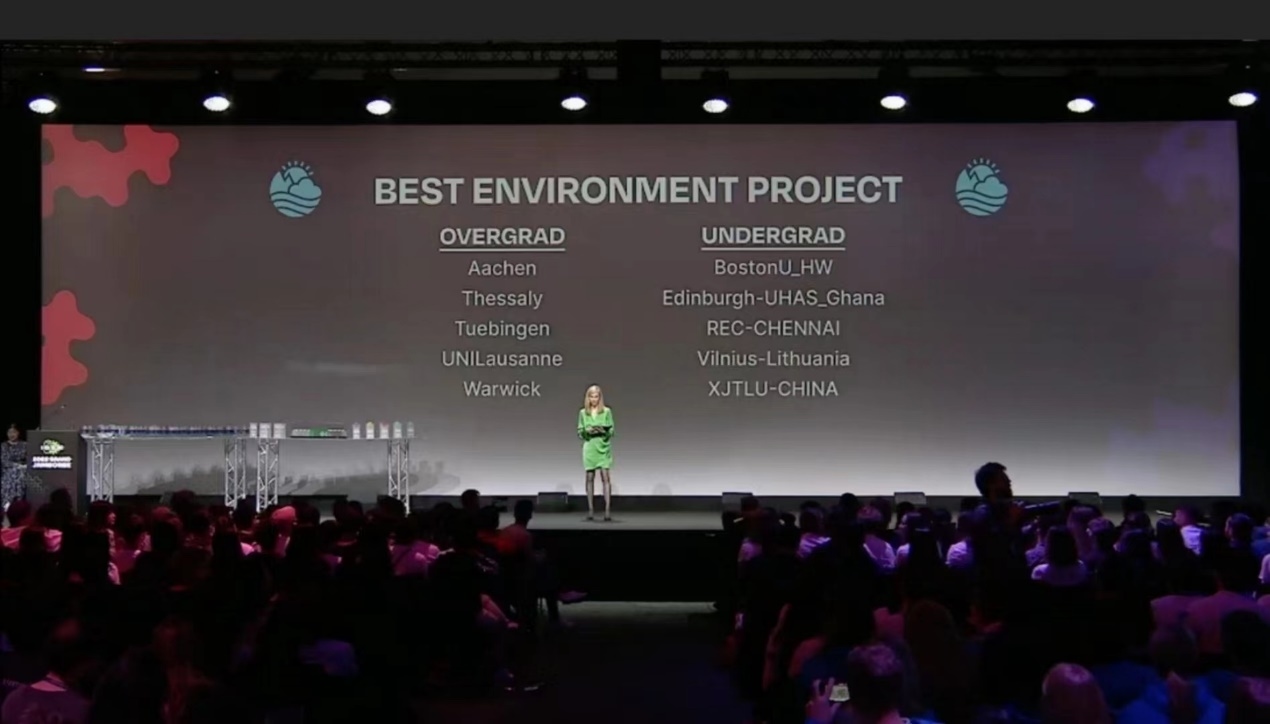 The nominees for Best Environment Project at the iGEM awards ceremony
iGEM is a synthetic biology competition launched by the Massachusetts Institute of Technology, USA, in 2003. This year, it was held in Paris, and 346 teams from 45 countries participated.
Boosting bacteria
Using synthetic biology technologies, the team designed a water filter by modifying E. coli biofilms to absorb a variety of heavy metal ions, which can reduce heavy metal pollution in wastewater.
The team leader Weizhuo Chen, a Year Three student in BSc Biological Sciences, says:  "iGEM inspires us to find problems in our daily lives and collaborate with others to seek solutions. We worked together as friends to explore solutions to the issue of heavy metal pollution in wastewater."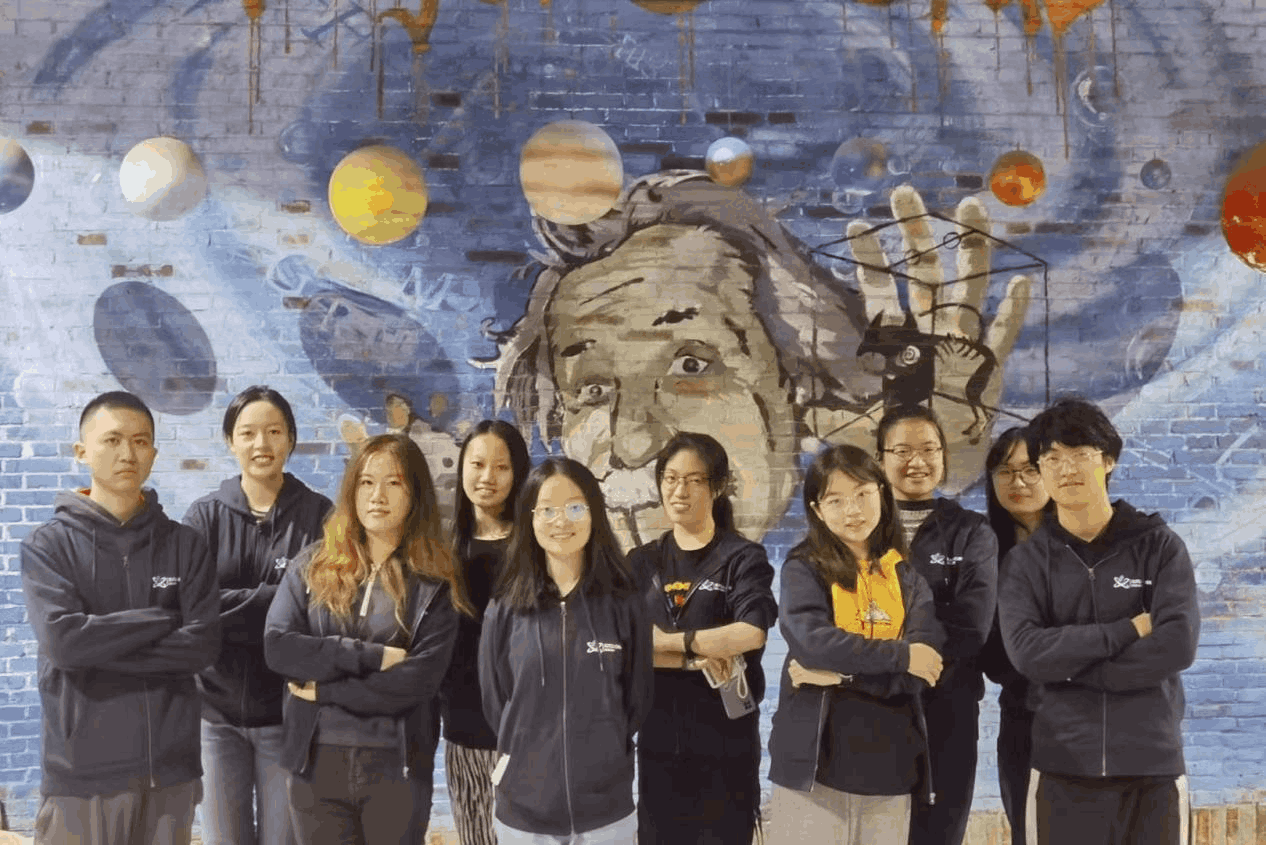 Team members (from left to right): An Huang, Fengyi Guo, Qiaowa Gong, Jiayi Liu, Wen Li, Jiayi Li, Xingshen Li, Weizhuo Chen, Qiayi Zha, and Baiding Chen
"There have been lots of commercially available methods for treating wastewater polluted by heavy metals, which include ion replacement, membrane filtration, and chemical precipitation. These methods, however, are flawed as they may introduce problems such as secondary pollution during treatment due to the toxicity of the compounds used," Weizhuo Chen explains.
"We designed a water filtration system where the engineered bacteria were coated in biofilm that blocked, assimilated, and recycled the heavy metal ions in industrial wastewater. With molecular dynamics simulations, biological pathways, and bacterial growth models, we evaluated the modified bacteria's capacity to absorb heavy metals," she says. "Utilising knowledge of synthetic biology, we proposed a new approach for wastewater treatment."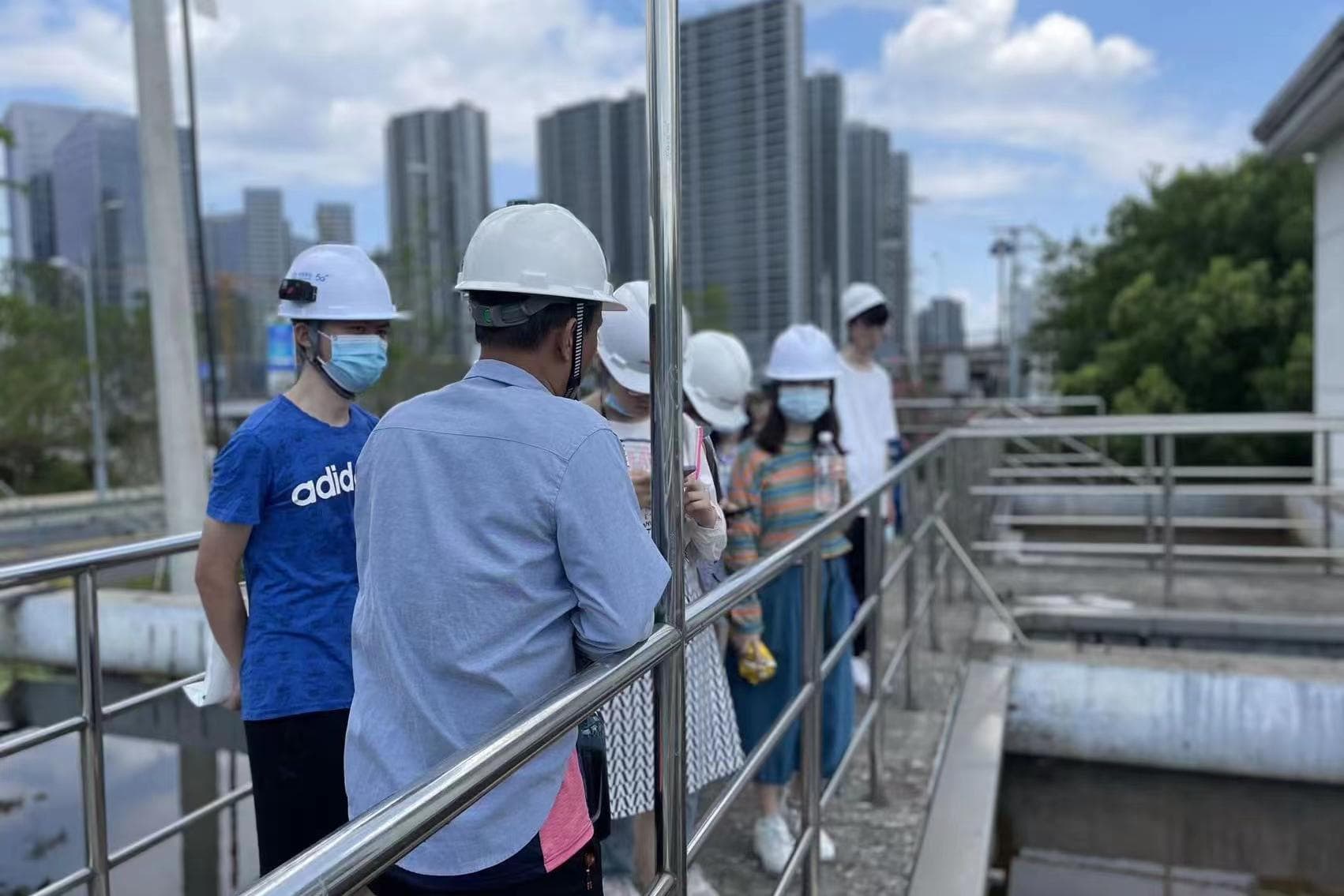 The students having a tour of a wastewater facility
More than a competition
Qiayi Zha, who was responsible for social research during the competition, says science education and communication are also important parts of iGEM.
"With content specially designed for different age groups, we offered lectures on synthetic biology at Suzhou Industrial Park Hanlin Primary School, XJTLU Affiliated High School, and also at XJTLU, hoping to spread knowledge about synthetic biology," Zha says.
"When we introduced the concept of synthetic biology, we were glad to see how inquisitive and creative the students were. For us, iGEM is more than a global competition. It arouses students' interest in biological sciences and gives them further goals."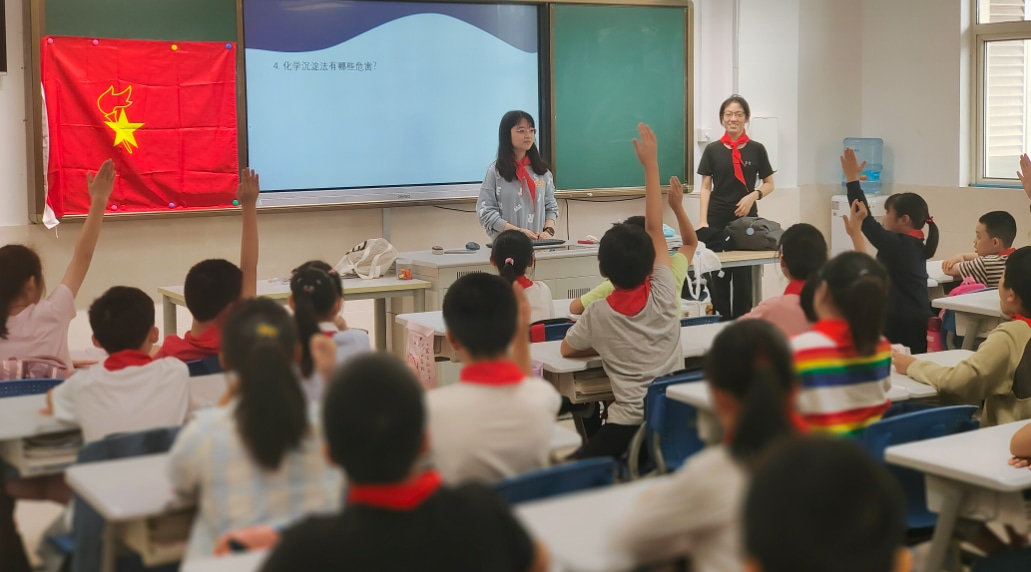 Education in Hanlin Primary School
Fengyi Guo, a member of the group, says: "Following the establishment of the team, we gathered together every day to exchange ideas about how the experiment and the modeling would work, to jointly promote the progress of the project."
Weizhuo Chen concludes: "We benefited significantly from previous iGEM XJTLU-CHINA teams. We hope to pass on the spirit of unity and mutual support of XJTLU iGEM and share our valuable experience with the next XJTLU iGEM teams."
By Luyao Wang
Edited by Wei Zhang and Patricia Pieterse
Photos courtesy of XJTLU-CHINA
Translator Xueqi Wang