Luxizi Meng stands on the bright green tennis court, gripping her racquet. The ball approaches. She bends her knees and swoosh! She strikes the ball with a smooth motion, and it bounces over the net. Her opponent sighs and says she is tired. "Just a few more drills and then you're done," Meng says.
Meng, a new tennis coach at Xi'an Jiaotong-Liverpool University, has many achievements under her belt – she was a member of China's National Tennis Team, and a National Collegiate Athletic Association (NCAA) Division One Student Athelete in the US. She has played in international-level competitions and toured around the US.
Now, she's using her talents to coach a new group of players to improve their skills at XJTLU's Physical Education Centre.
Excelling on the court
Beijing-born Meng has been playing tennis since the age of seven. As she grew up, she showcased her skills in numerous competitions, including the International Tennis Federation (ITF) World Tennis Tour Juniors.
In 2014, at the age of 16, she joined China's national team and was awarded the highest sports accolade in China in 2016.
She was ranked 450th on World Tennis Tour Juniors Rankings. "As a teenager, I wanted nothing more than to be a professional tennis player," she says.
Rising swiftly through the world rankings, Meng caught the attention of US-based coaches.
"I began to receive emails from American universities asking if I'd like to join and play for their team with a full scholarship," she says. "Before college, my life was all about tennis, but I was also interested in graphic design. So I decided to study advertising while playing tennis."
Her starting point was at the University of Texas at Arlington. She then transferred to California State University, Fullerton (Cal State Fullerton).
In addition to excelling on the court, Meng achieved a bachelor's degree in Advertising and Communication at Cal State Fullerton in 2019, and a master's in Sports Management at California State University, Long Beach, in 2021.
She says her best moment at Cal State Fullerton was playing at the 2018 Big West Conference in Hawaii.
"Playing against Division One teams was tough. The players are at the top of the competition in the US. Many of them will go on to become professional tennis players  after graduation.
"Every victory – no matter how small – was earned. You can feel the tension in the air through the competition. But we tried our best and played as a team.
"We made it to the finals and won second place. It was the best record of our university!"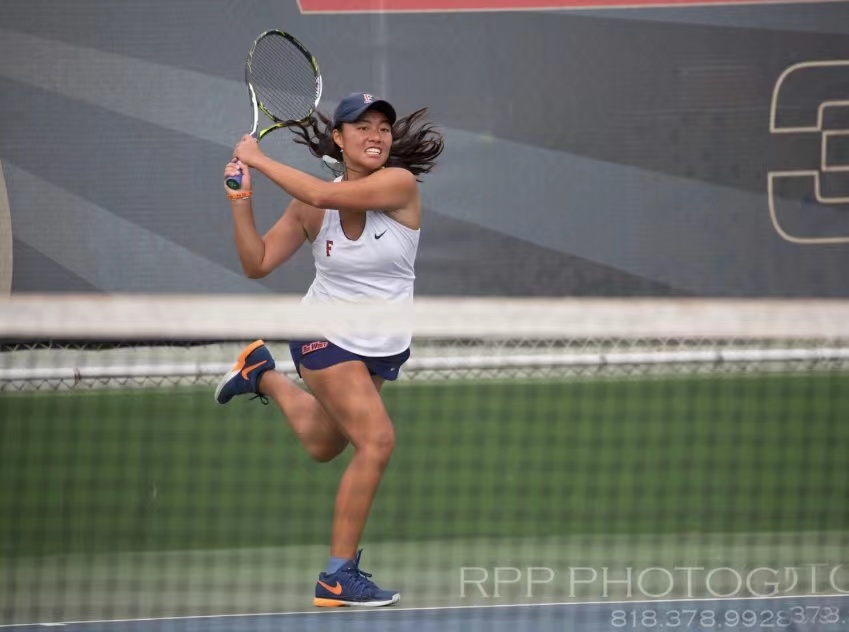 Meng playing in NCAA Division 1 Big West Conference Tournament in 2018
The power of role models 
Meng says her former coach at Cal State Fullerton, Dianne Matias, has been a significant influence on her. Matias won the 2016 Woman's Tennis Big West Conference Coach of the Year.
"Dianne is a tennis pro with a high world ranking and leads by example.
"In Year Four, sometimes I needed to wake up at 5am for training. When I arrived at the court, she'd be there already. The training sessions were exhausting but worthwhile. I improved so much at the time.
"She cares about her players and wants the best for them. She's like family to me, and we are still in touch," Meng says. "Now that I'm a coach myself, I can appreciate her leadership, character and coaching style even more.
"She sets high standards for herself and her players. As head coach, she never stops practising and always makes sure she's at the top of her game. This is also what I'm working towards."
Meng's favourite tennis player is Li Na, the first Chinese woman to win the World Tennis Association (WTA) tour title in 2004 and two Grand Slam singles in 2011 and 2014.
"I first met her when I was training in the national team. I was very nervous and excited! The second time I watched her playing tennis in Paris, France.
"I admire Li Na because she knows what she wants and will go for it. She's very determined, not only in her tennis career but also in other aspects of her life, such as female leadership and charity work."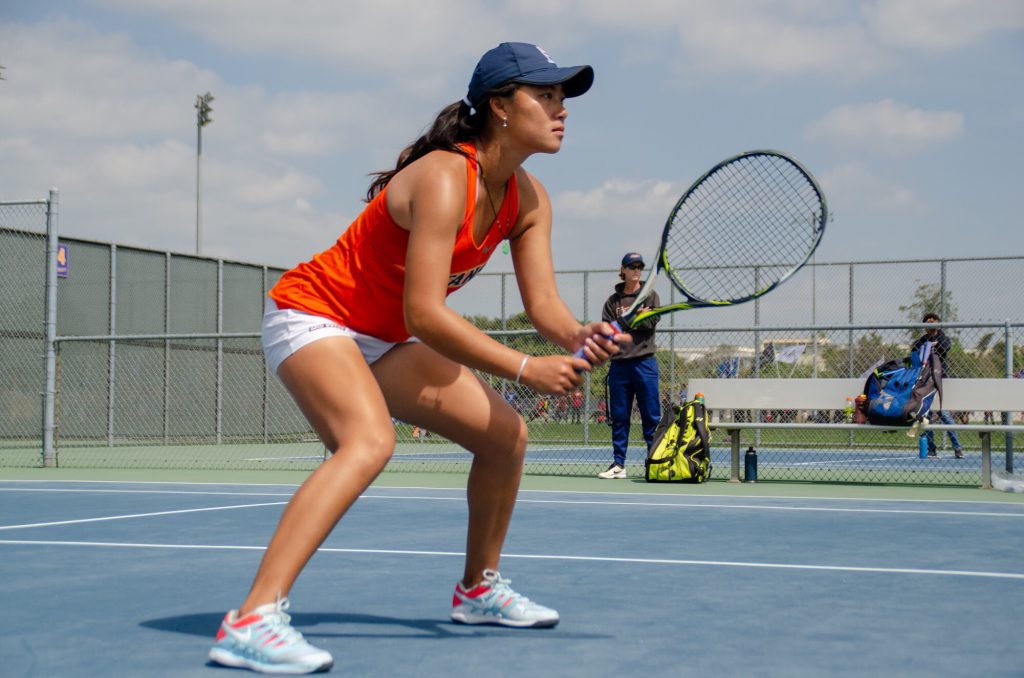 Meng playing in NCAA Division 1 Big West Conference Tournament in 2019
Sharing the knowledge
Before joining XJTLU, Meng worked as an assistant coach at Cal State Fullerton and national team manager at China Golf Association.
"In 2021, when I was looking for coaching opportunities, a friend of mine in the US recommended XJTLU.
"I was immediately interested because I'd be able to coach in English and Chinese. XJTLU was a great fit because it's a university where my international background and bilingual skills would be valued."
Meng says her first impression of XJTLU is one of diversity.
"Most of the faculty and staff have studied abroad, and students have many extracurricular activities they can join.
"The work environment at XJTLU is very welcoming. My colleagues are fun to hang out with. We are about the same age and all have expriences in sports, so we have a lot to talk about.
"I think Suzhou is a beautiful city. My colleagues and I have visited many places, such as Tianping Mountain. The scenery in Suzhou is very different from that in Beijing."
Meng says she enjoys coaching and wants to start her own tennis club someday.
"I'm so grateful for what tennis has given me. It taught me self-discipline, perseverance, team spirit, and much more. It's an indispensable part of my life. I want to share my passion for tennis and the strategies and techniques I've learned."
By Xinmin Han
Edited by Patricia Pieterse
Photos courtesy of Luxizi Meng