THRIVE IN THE FUTURE THROUGH SELF-DEVELOPMENT
XJTLU Executive President's Postgraduate Commencement Speech 2023
Dear students, colleagues, parents and friends,
Today we are gathered to celebrate the graduation of our masters and PhD students. I propose that we send our most sincere recognition and best wishes to those at the centre of today's event, the Class of 2023, congratulating them on achieving another milestone in their life journey!
Dear Class of 2023, please rise, turn and take a deep bow to your families and friends, as well as to the teachers and staff of XJTLU, to express your gratitude for their support, dedication and guidance that helped you stand in the spotlight today!
This significant moment will be recorded as part of the XJTLU story, and the confidence and determined look on your faces and in your eyes will be stored in our memories. I suggest that you all take this opportunity to applaud yourselves and appreciate all your hard work; for the many times you took a deep breath when facing a challenge in your studies; for the many occasions you struggled to find a balance between studies, work, and life. Knowing all the efforts you have made increases the joy of this special moment, which you fully deserve.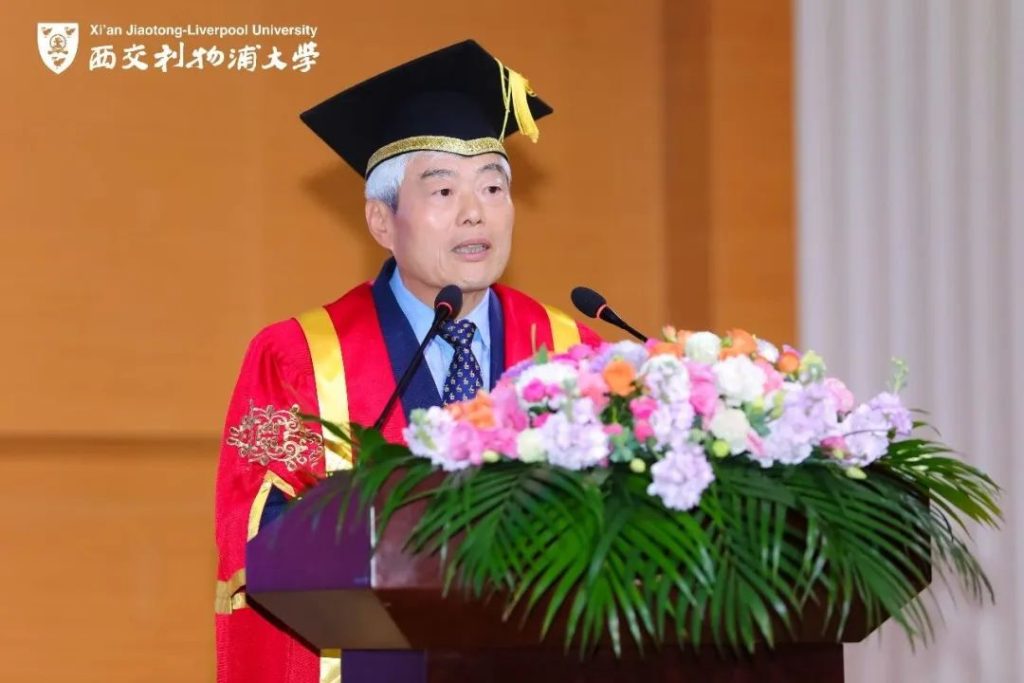 I am honoured to have been able to accompany you on this journey at XJTLU. Today, standing here, facing all of you, who are full of vitality, words are too limited to express my good wishes and expectations for your future.
We often talk about "the future", but what exactly is "the future"? When you were in primary school, you must have written essays about your imagined future. Back then, the future typically was defined as 20 or 30 years ahead. Later on, as the world developed rapidly, people realised that the future seemed less far off – that it would be here in five or six years, not 20 or 30. Today, while the 'multi-talented' ChatGPT has surprised us so much that some people still haven't managed to close their mouths yet, GPT-4's functions have again made our jaws drop. Google, Microsoft, Baidu and other Internet giants have also presented us with new "magic" tools. Today, it appears that the future is only a matter of minutes and seconds away; perhaps the future is just the next second.
In the face of a world that can surprise us at any time, all of you, who are ready to set off for the future, will encounter unprecedented challenges, and even employment crises. However, if development is a coin, challenges and opportunities are always its head and the tail. If you can see through the surface of a crisis to the potential opportunities underlying it, and if you can choose and take those opportunities wisely, you will increase the possibilities of further development. You may come from different countries and different cities, and be at different stages of your lives, but the choice you made a few years ago is what brought you here together at XJTLU, so that you can be here today to celebrate your graduation together. Tomorrow, you will set off again and face the rapidly changing world of the future.
Everyone has different life experiences and different expectations for the future. Your study path may have taken you all the way through to your graduation at XJTLU without a gap, and you may still be looking for direction, not yet knowing where to go. You may follow your interests and studied part time with a full-time job. Now that your studies are completed, you may need to return to work that is not quite related to what you studied, or you may have decided to switch jobs. Or, perhaps the plan for a project has been brewing in your mind and you look forward to making it a reality. Whatever your situation, I hope you can be proactive and unafraid of making choices, and that you will walk into the future with a bright mind, positive attitude and passion. An adventurous choice will create the opportunity for you to discover and release your true self, increasing the possibilities you will gain a colourful life.
When I completed my undergraduate degree, the achievements from four years of physics and maths studies led to an offer to study in the famous Lee Cheng-Dao physics class in the United States. However, at the same time, a new postgraduate programme in System Engineering Management had been developed as part of the then-emerging reforms in China. I prepared for both opportunities for two months until I had to make a choice between the former, which was more sensible, and the latter, which was full of uncertainties but which had room for imagination. Now when I look back, the so-called "risky" choice brought me the opportunity to become the first PhD of management engineering in China, leading to my involvement in decision-making for a few epoch-making ventures in China, such as the Three Gorges Project. Later, it enabled me to contribute to XJTLU's birth, so that we can be here today to celebrate our joyful moment. Dear graduates, when you make choices, most of the time you will find that a degree certificate is far less helpful than the international perspective, cross-cultural leadership, continuous learning ability, entrepreneurship and complexity (HeXie) mindset that you gained during your studies and research at XJTLU. Looking back at the choices I've made, it was not my degree in physics that helped me overcome a tough competition that had only a 4% pass rate. Instead, the competencies I gained from my university training contributed to my competitiveness – especially the accumulated confidence, cultivation of a scientific spirit, and the rational thinking, which have also benefitted me my entire life.
To make a courageous choice is only the first step. In an era where technology is continually upgraded, information is explosively spread and knowledge is created like a flood, how do you move forward in your chosen field or on your chosen path? You need to understand that the future world demands more of us than to simply "know everything". Instead, the following will contribute more to your development in the future: the ability to identify trajectories, the ability to continuously learn, the vision to be selective with knowledge, the wisdom to be boldly creative, and the power to persevere. I hope that you will continue exploring the XJTLU philosophy of "growth-oriented, interest-driven, and research-led learning" so that you can persist in lifelong learning and deeply explore your area of interest and your development pathway. To ensure that your pursuit and development in life are in the right direction, please remember to constantly fine-tune your course of exploration with critical thinking, continuous re-thinking and reflection. As long as you are committed and persistent in your chosen field, by maximising your efforts in its development, you will achieve a unique career and a happy life.
In addition, no matter what kind of life you choose, I would like to remind you that, as human beings, we travel around the sun together. The only way to survive is to return to the basic logic of nature's ecological system and learn to develop together and win together. Human beings have entered the era of digital intelligence, and its basic paradigm is about sharing and symbiosis. This is in line with the foundational elements of XJTLU values: "diversity, rules, freedom, innovation and trust" (Dr Fit). I have always instinctively followed these concepts in my life journey, no matter what stage I am in, what kind of people I am with, and what line of work I am doing. I also benefit from respecting diversity, trusting and collaborating with principles, pursuing liberty of will and continuous innovation. With faith in the idea that "everyone has some merits that we lack, so we should always be humble enough to learn from others", I have different mentors who can guide my development through life.
Dear graduates, you are fortunate to live in this ever-changing era. As you create a wonderful new chapter of your life, I hope that you will keep in mind the responsibilities of global citizenship that XJTLU has instilled in you. By making bold choices, persevering in your choices with wisdom, and collaborating with others, you will be able to make your own unique contributions to society!
Finally, I wish you all the best! If you encounter difficulties and challenges, learn to embrace them. With the variety of life elements, your life will be richer, more interesting and more colourful!
Professor Youmin Xi
Executive President, XJTLU
Pro-vice-chancellor, University of Liverpool