On May 15, students of the MSc Digital Education programme at XTLU's Academy of Future Education had an unprecedented final exam in the vibrant form of a "speed date". Students from the MA Child Development and Family Education programme were invited as judges.
"Considering AI's impact on the exams and assessments, this brand-new form is novel and interesting, and can effectively avoid potential academic misconducts. It is also an innovation of digital game-based learning (DGBL)." said Dr Na Li, director of XJTLU's MSc Digital Education programme.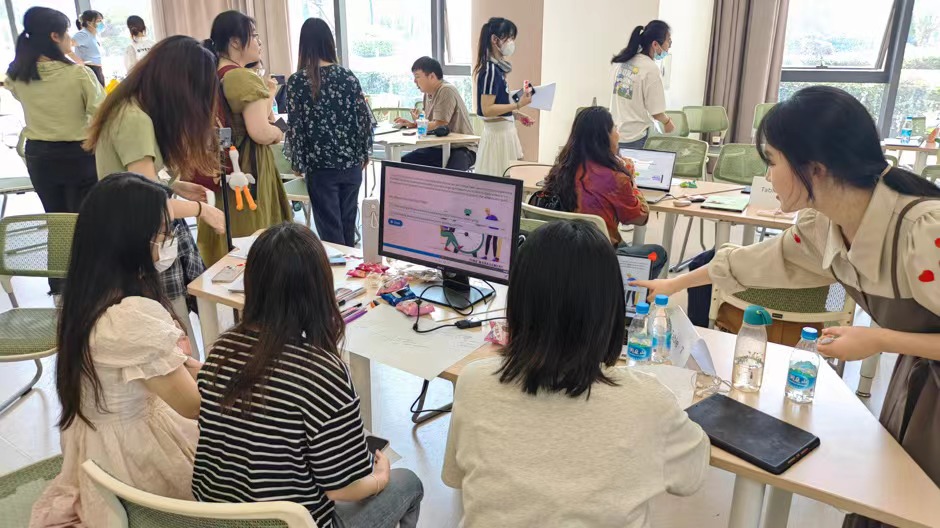 At the exam site, 10 booths were carefully arranged by Dr Na Li, Dr Jinjin Lu, Yuchen Lu (TA), and Yuan Gao (TA), as well as students of the MSc Digital Education programme. At each booth, there were 2 students presenting digital education products. Judges went to all the booths to participate in the interactive product display, and gave heart stickers to show their appeaciation based on the standards listed on the evaluation forms given. Each student had 15 minutes to show their products and interact with the judges in front of them, and then welcomed a new group of judges.
Dr Jinjin Lu, lecturer of the Child Development and Family Education programme, said: "Traditional presentation is all about student talking and judges listening, which is distant both physically and psychologically, and inconducive to in-depth learning and communication. The "speed date" presentation not only enhances the interaction and communication between the students and the judges, but also gives students more opportunities to improve and express. At the same time, the student judges can also examine and reflect on their own learning experience and thoughts about future education from a new perspective. "
Liping Xu from the Digital Education programme said: "The exam is like a simulation exhibition, where we can see and feel the participants' interests and reactions. Such instant feedback is important to us as it provides valuable opportunities to improve our presentation skills. By interacting with the student judges, we get to understand the needs and expectations of the audience, thus better communicating our views and knowledge. This is a precious opportunity for us to learn and improve, also to face challenges and express ourselves."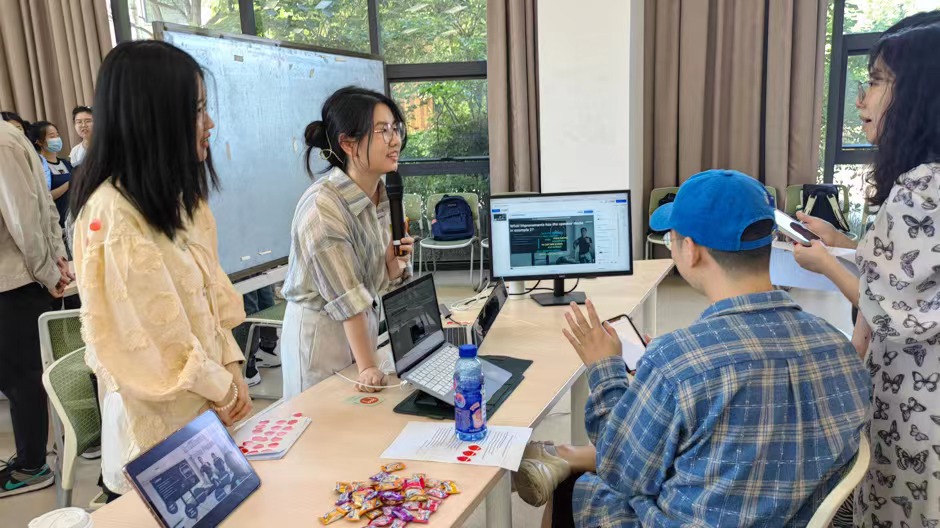 The digital education products displayed by the students included the application of AI in teaching, VR game-based teaching, digital programming game-based teaching, H5P interactive mixed teaching, information security and anti-fraud education. The fields of preschool education, child education, vocational education, higher education and life-long education were all covered. The students were allowed to use cards they had got by learning in the online digital escape room to aid their presentation. For example, a "stay card" could make a judge stay at the booth for another ten minutes, and an "expert card" could earn the student help from an expert. These cards were obtained in the course and activities throughout the semester.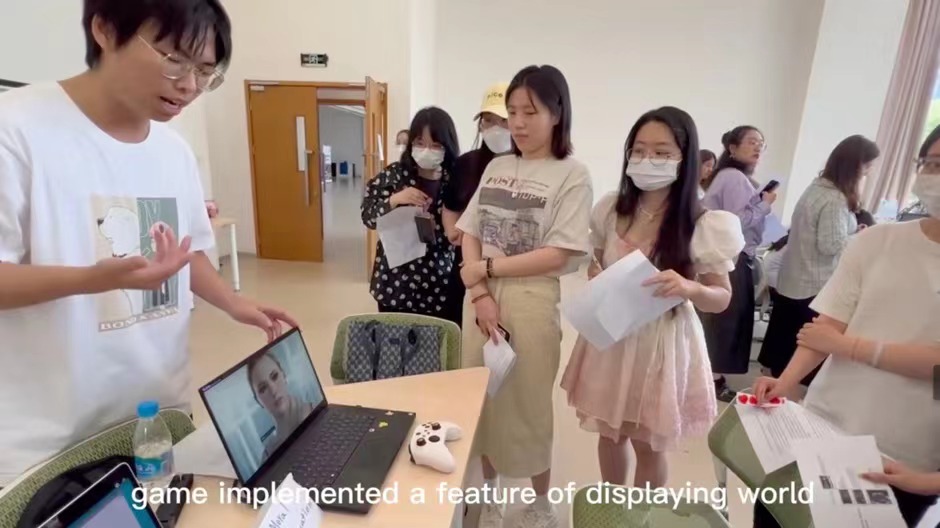 Dr Tingting Tay, lecturer of the Child Development and Family Education programme, said: "This examination promotes the exchange between students of the two programmes so that they can learn from each other's experience and insights to improve their professional capabilities and teaching skills. By using digital products in education, students of the Digital Education programme can better understand users' needs thus improve the quality of their teaching. At the same time, by evaluating others' teaching, students of the Child Development and Family Education programme get to reflect on their own teaching methods and knowledge."
Dr Qing Zhang, lecturer of the Digital Education programme, and Dr Xinrong Xue from XJTLU Learning Mall, were impressed by the students' performance and believed that this kind of exam and teaching method would stimulate students' interests in learning and improve their participation and learning effects. They looked forward to the students' future achievements in education and encouraged them to continue to explore innovative ways of education in their future study and career.
By Yichang Wang
Edited by Xiaoyan Jin
Translated by Xiangyin Han