Luning Yang, a BSc Bioinformatics student at Xi'an Jiaotong-Liverpool University, is among the many outstanding graduates of the class of 2023 set to embark on a new journey. Recently, she received an offer from Yale University, a testament to her hard work and research potential.
She shares with us how she took advantage of XJTLU's undergraduate research opportunities and the courses that gave her insight into uses for AI in drug discovery. 
A student researcher
As a BSc Bioinformatics student, Yang was able to take courses in both biology and computer science.
In Year Three, she joined a research project supervised by Dr Xin Liu from the Academy of Pharmacy. The project focuses on computer-aided drug design, which involves using computer simulations and software to help discover and develop new drugs.
Before joining the project, Yang only had a rudimentary understanding of AI. However, her involvement in the project, along with Dr Liu's guidance and the support of postgraduate students, enabled her to delve deeper into computer-based virtual screening, a key application of AI in drug discovery.
"By using computers, scientists can screen millions of molecules and predict which ones are most likely to work as drugs, saving a lot of time and resources," she says.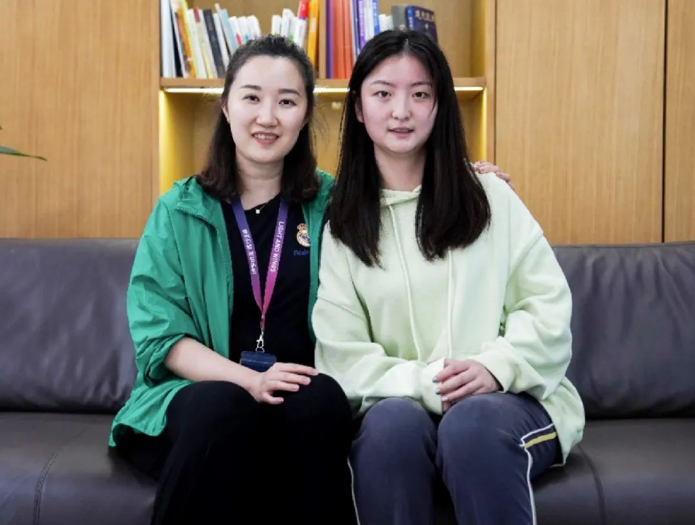 Dr Liu Xin (left) and Luning Yang (right)
The three-month research experience ignited Yang's curiosity about computational biology.
In Year Four, motivated by her passion, she took three modules offered by the School of Advanced Technology: Bio-Computation, Machine Learning, and Big Data Analytics.
"The modules are challenging but highly valuable, and I approached them with a serious and diligent mindset. Given my strong interest, I found they weren't as difficult as I had expected."
Through the courses, Yang gained valuable insights into the use of AI; in particular, an approach called few-shot learning, to identify and optimise potential drug candidates, caught her interest. Yang describes what few-shot learning is and how it works:
"In traditional machine learning, models typically require tens of thousands of examples to learn a given task. However, few-shot learning methods allow models to learn a task using just a few examples, rather than a large dataset," she says.
"This approach can help reduce the amount of data required to train a model, making it more efficient and effective."
In her final year thesis, she used few-shot learning to try to identify new treatments for idiopathic pulmonary fibrosis, a progressive disease that can cause scarring in the lungs and make it difficult to breathe.
Through her efforts, she achieved promising results in the experiment, paving the way for her further research.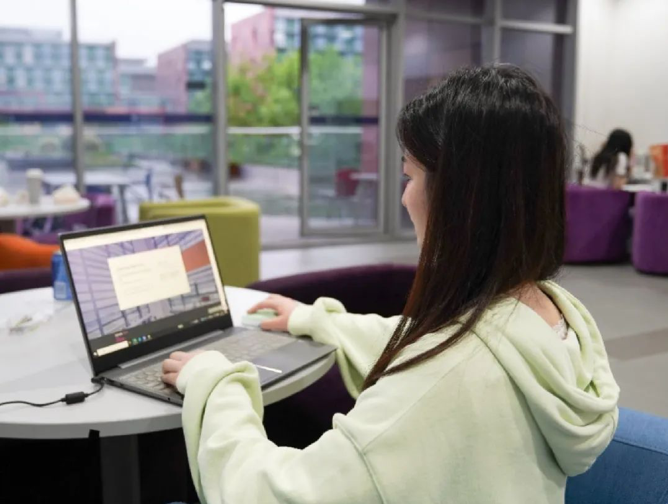 Luning Yang working on her laptop
 A self-directed learner
Yang says the biggest shift she experienced at XJTLU was transitioning from passive learning to active learning.
"Before university, my teachers provided direction and evaluated progress for me. This helped to develop my diligent study habits, but I was relying more on others in the learning process," she says.
After entering XJTLU, Yang experienced freedom in a variety of ways, from being able to choose her own courses of interest to having the opportunity to pursue research and extracurricular activities that align with her interests and goals.
"This freedom allowed me to take responsibility for my own learning and become a self-directed learner. I realise I have a strong interest in bioinformatics, and I want to pursue further education in the related field."
Looking ahead
While her time at XJTLU has been marked by research projects and active learning, Yang is now preparing to pursue an MS Health Informatics degree at Yale University.
"Since I was young, I have aspired to become a well-rounded individual," she says. "Yale University values both natural sciences and humanities, and promotes a mindset of innovation. It aligns with my interests, and I think I will have greater personal and academic growth."
Yang also looks forward to seeing where her academic pursuits will take her next.
During her teenage years, she enjoyed reading magazines and even considered pursuing a career as a literary editor. After starting college, she became aware of a different type of editor - the academic journal editor.
"I'm not driven by a desire for money or material possessions. I want to seek knowledge and explore new ideas instead. That's what I hope to do for as long as I can," Yang says.
"Perhaps one day I'd become a journal editor, leveraging my academic background and editorial skills."
Yang is one of six BSc Bioinformatics students from XJTLU who received offers from Yale University this year.
Dr Zhen Wei, Assistant Professor from the Department of Biological Sciences, comments: "XJTLU's BSc Bioinformatics programme has an equal balance of computer science and life science courses. Not many universities can provide sufficient training in both disciplines.
"Some prestigious universities in the US now offer master's programmes in computational biology," he continues, "and our programme aligns with their curriculum."
By Xinmin Han
Edited by Tamara Kaup
Photos by Jingrui Duan