Xi'an Jiaotong Liverpool University (XJTLU) recently signed an agreement with Baosheng Energy Technology (BET), an electrode production company based in Suzhou, and established a Municipal Key Laboratory for Collaboration. This partnership aims to develop advanced materials for energy storage devices.
The agreement signing ceremony was held on 17 May during BET's exhibition at the 15th China International Battery Fair in Shenzhen. Professor John Moraros, Dean of the School of Science, and Professor Li Yang, Associate Dean of Research and Impact, attended the event.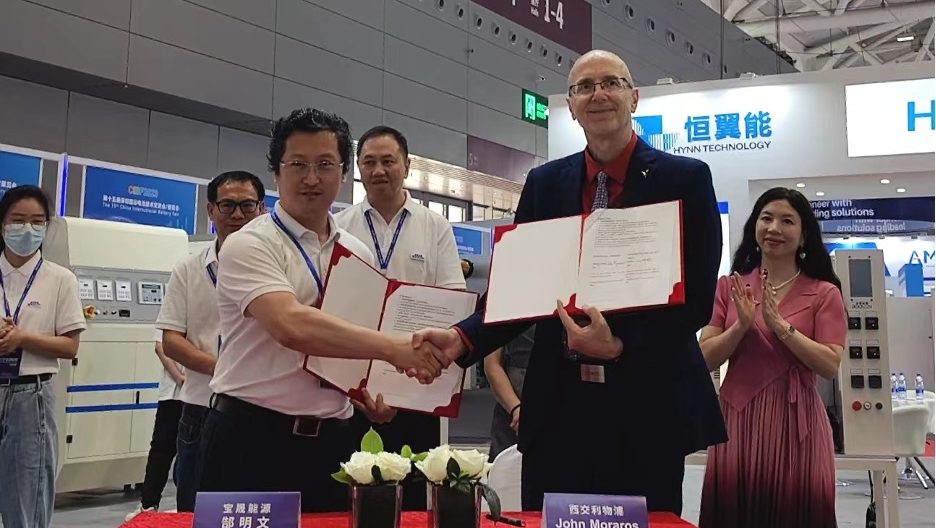 Dr Mingwen Gao (left) and Professor John Moraros (right) at the agreement signing ceremony
Another milestone
BET, established in June 2019, mainly focuses on researching and developing electrode materials, electrode manufacturing processes, and industrial equipment. Its independently developed dry electrode manufacturing technology is highly promising. Since 2021, BET has been collaborating with Professor Yang's research team to develop carbon materials for lithium-ion capacitors.
Building on the success of their previous collaboration, the establishment of the laboratory marks another significant milestone in the partnership between XJTLU and BET.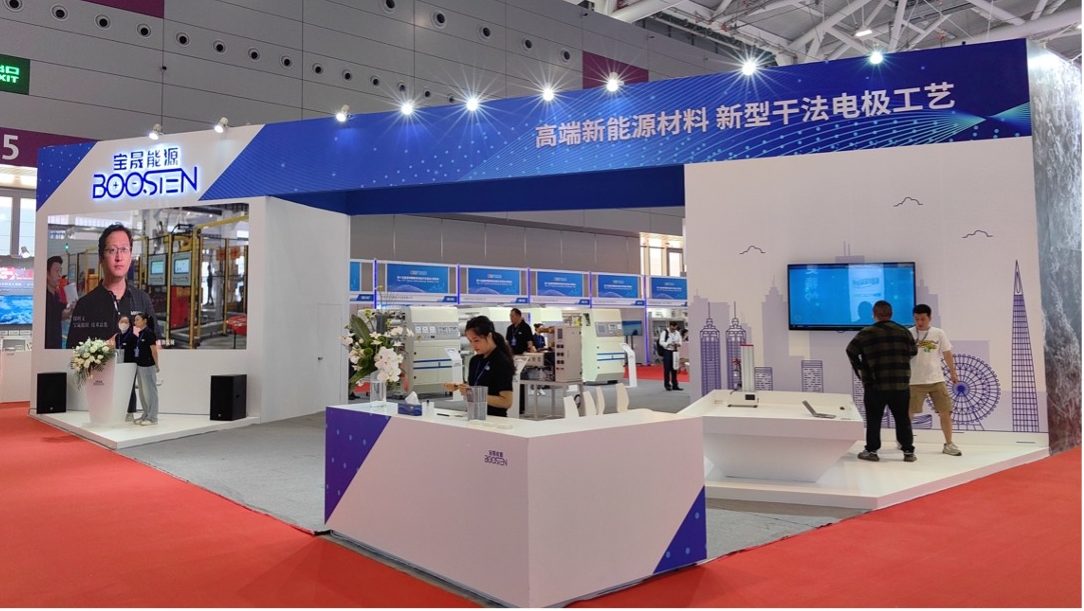 Baosheng Energy Technology's exhibition booth
Dr Mingwen Gao, General Manager of Baosheng, expressed his dedication to promoting a creative and cooperative environment.
He said: "The establishment of this key laboratory symbolises our commitment to fostering an environment of innovation and collaboration. It provides a dedicated space where leading researchers and experts from both BET and XJTLU can come together to exchange knowledge, share ideas, and drive groundbreaking research in the field of new energy.
"By joining forces with universities like XJTLU, we can combine our industrial expertise with academic rigour to accelerate the development of polymer materials. I'm confident that we will pave the way for more efficient, sustainable, and high-performance energy storage solutions."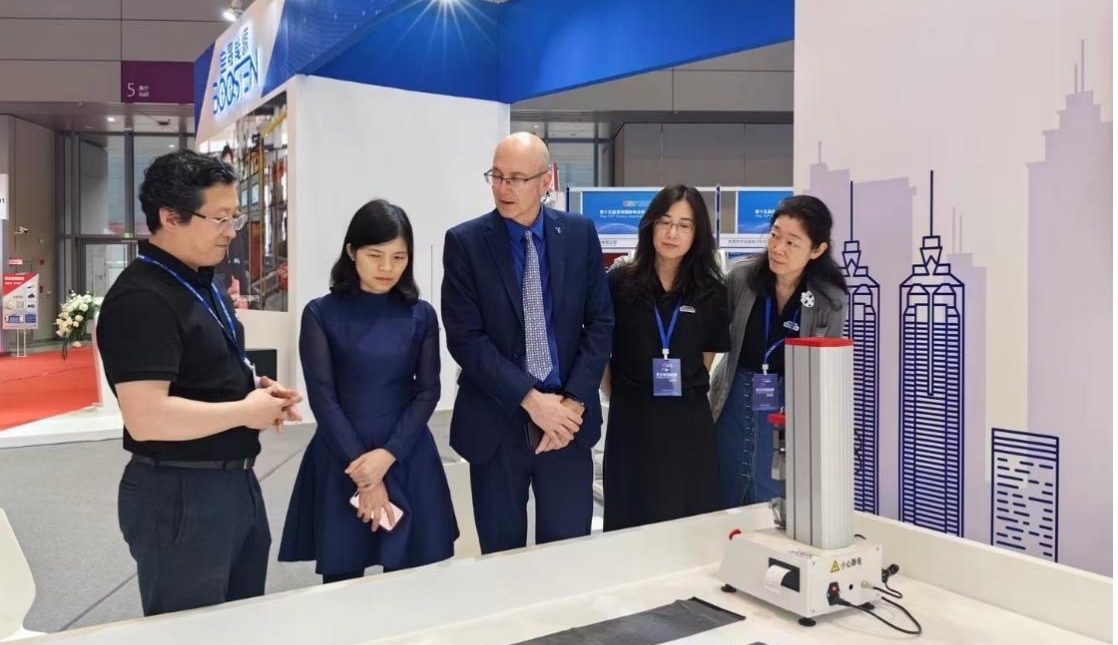 Dr Gao introducing Baosheng Energy Technology's equipment to Professor Moraros
Before signing the contract, Professor Moraros delivered a speech on this partnership.
He said: "It's very important for the School and industry to build strong synergistic relationships and work with each other to address the biggest challenges that we face today.
"I'm most appreciative of Dr Gao for his assistance in creating collaboration opportunities for our academic staff, especially Professor Yang and her team. They are trying to conduct research that will have a real-life impact. Most importantly, they  provide our students with opportunities to gain practical experiences and to better prepare themselves for future careers."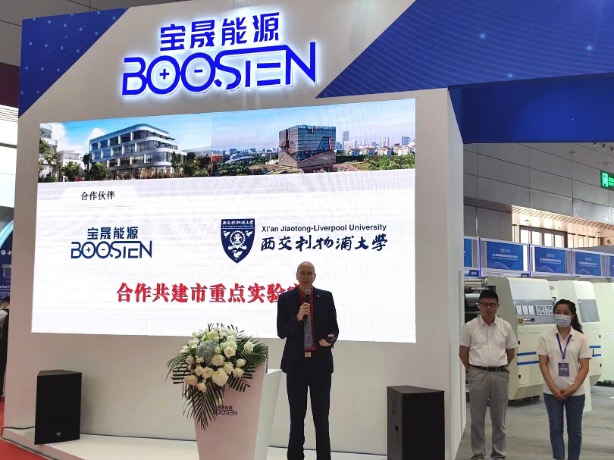 Professor Moraros giving a speech
Professor Yang also expressed her gratitude to BET.
She said: "The Municipal Key Laboratory for Collaboration signifies our shared commitment to driving innovation and making meaningful contributions to the new energy industry. The laboratory will provide us with state-of-the-art facilities and an environment conducive to groundbreaking research and development.
"I'd like to express my sincere appreciation to BET for their continued support and belief in the potential of our collaboration. I'm confident that the establishment of the laboratory will further strengthen our partnership and enable us to achieve even greater success in the field of new energy."
Collaborative support
Professor Yang's team recently received research and development funding of 500,000 RMB from BET. The funding will support the team's ongoing efforts to develop advanced lithium-ion capacitors.
The collaboration will leverage the team's innovative carbon materials and BET's patented technology for manufacturing electrode materials. It also aims to bridge the gap between innovative research results with practical applications, thus promoting industry cooperation.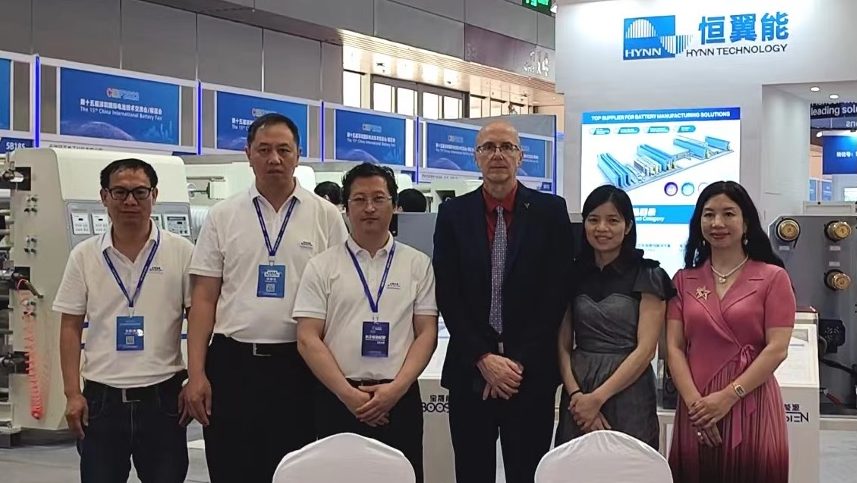 The representatives from Baosheng Energy Technology and XJTLU
Professor Yang says: "With fossil fuel sources rapidly depleting, the demand for renewable and clean energy is on the rise. It is urgent to develop suitable energy storage devices that can alleviate the pressure on energy supply and improve energy efficiency.
"Lithium-ion capacitors have higher power density and a longer life cycle than lithium-ion batteries, and they also outperform supercapacitors in terms of energy density. These unique properties make lithium-ion capacitors one of the most promising energy storage systems today."
Going forward, Professor Yang's team will focus on identifying suitable biomass precursors and optimising the activation parameters for making electrode materials. Once the ideal materials have been developed, they will be applied to the production of lithium-ion capacitors, helping to achieve their optimal performance.
By Professor Li Yang
Edited by Xinmin Han and Catherine Diamond
Photos courtesy of Professor Li Yang