Emerging Stronger: Navigating a Turbulent Journey and Thriving Amid Chaos
-XJTLU Executive President's Commencement Speech (July 2023)
Dear students, colleagues, parents and friends,
While scorching outside, the July sun's golden rays add a bright glow to today's graduation ceremony at Xi'an Jiaotong-Liverpool University (XJTLU).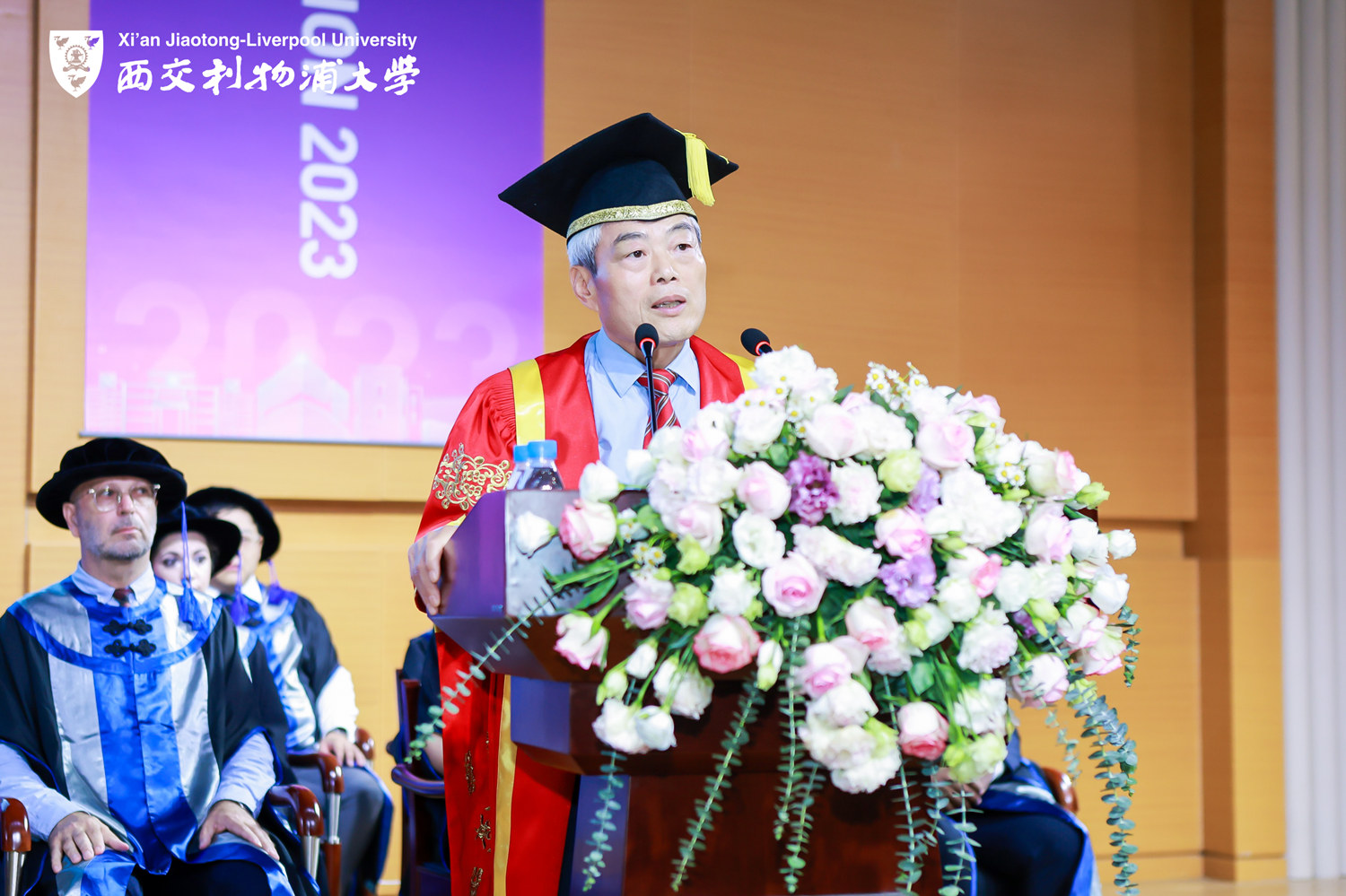 Congratulations, dear students, on achieving another significant milestone in your lives. And thank you for your pursuit of excellence, which adds another reason for us to be proud of XJTLU—the years we have gone through together further enhanced the remarkable story and vibrant culture of this University. Let us applaud the stars of today's event: the XJTLU class of 2023!
Today's stage radiates with your presence. The flashing cameras capture not only your confident faces and determined eyes but also the joyous smiles of your teachers, families, and friends. Their eyes shimmer with tears brighter than diamonds, for they are witnessing not only your triumphant moment but also the courageous individuals who faced challenges head-on, the diligent souls who refused to be defeated, and the resilient hearts that never surrendered. I suggest all of you, the Class of 2023, rise and bow to your teachers, families, and friends, acknowledging their unwavering companionship, guidance, and support throughout these years.
Your journey with XJTLU began a few years ago, on a late summer day transitioning into early autumn. However, we never made it to the romantic spring. On 23 January 2020, fate cast its spell and froze us all in time. The beautiful cherry blossoms that adorned our campus prepared for your appreciation, only to be disappointed. Until this spring, the XJTLU campus once again exuded extraordinary beauty, understanding that this moment marks both a reunion and a farewell. Dear students, reflecting on the ups and downs of the past few years, all the trials, challenges, hardships, and experiences have become treasures of life. Each adjustment, adaptation, growth, and transformation represents a gift. As a result, you have elevated your perspectives and embarked on a new voyage with a fresh vision of the world!
When the three-year-long pandemic is mentioned, many shake their heads and sigh, lamenting its severe impact. The global ravages of Covid-19 presented a turbulence and a survival test unprecedented in human history. Yet, as the poet Byron once said, the advantage of a curve is that it is more conducive to more opportunities than a straight line. The question remains: Have you discovered and seized the opportunities? During the pandemic, the world pressed the pause button, but it allowed me to embark on a divine flight of fancy. I not only completed the book "What Management Could Be and Do", a project I had planned for after retirement but also conceived and implemented a series of strategic actions for XJTLU to defy the odds. Looking back, the unexpected pandemic also brought XJTLU the opportunity to reap a harvest. For instance, when offline learning was disrupted entirely, the budding Learning Mall received a rare opportunity to "boost the seedling". From passively supporting online education, it gradually matured and upgraded, proactively seizing the possibilities of the digitalisation and AI era. It integrated global education resources, constructed an international learning community, and fostered an educational ecosystem aligned with the future society's needs. This ecosystem encourages interest-driven lifelong learning, innovation, and entrepreneurship. All these achievements trace their origins to the seemingly insurmountable pandemic era. Class of 2023, you have weathered the entire pandemic era alongside XJTLU. In the years to come, you will realise that, in a world where change is the only constant, your lives and careers will benefit greatly from the growth you acquired during this challenging journey.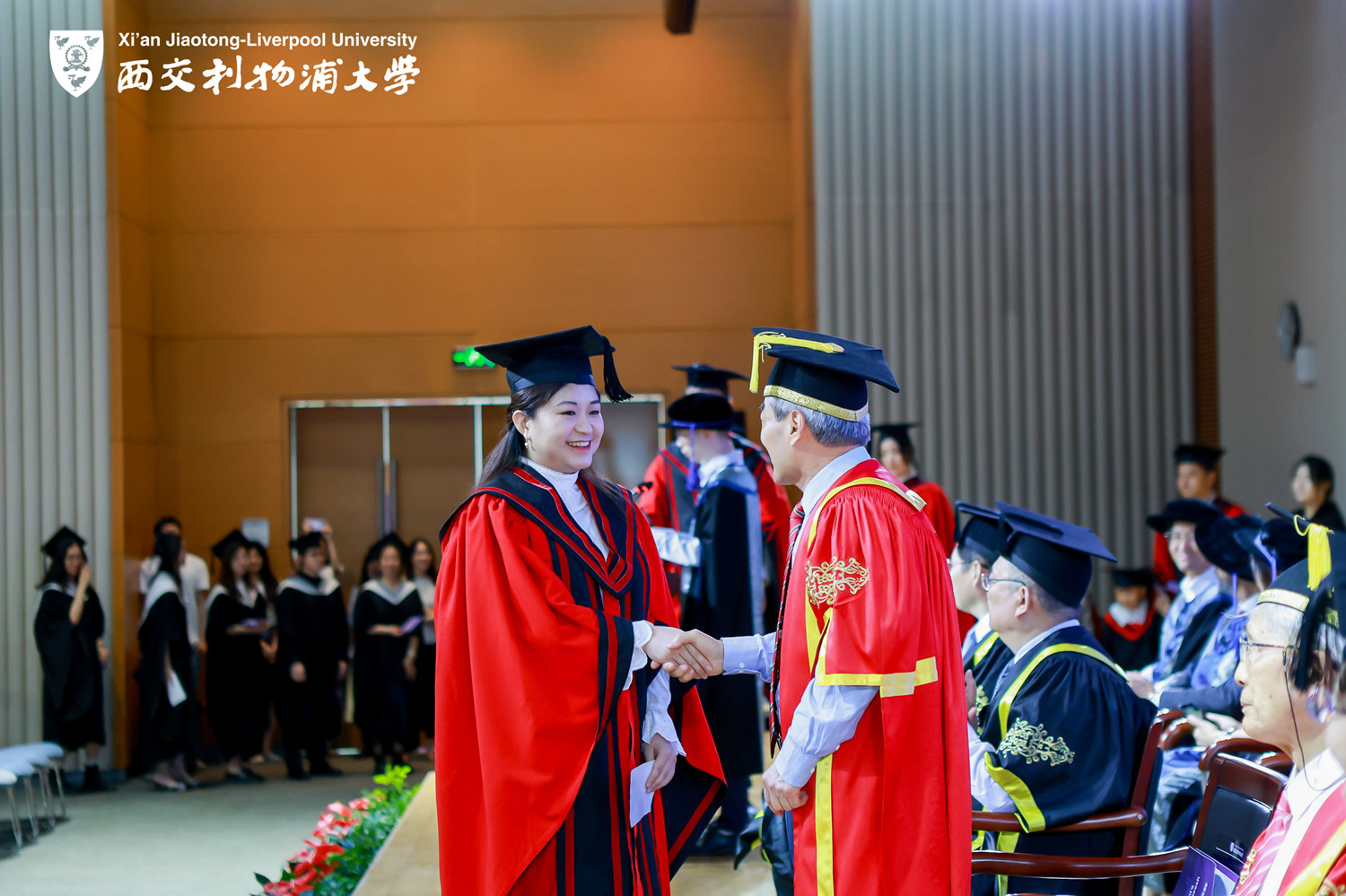 According to the principle of "entropy increase" in physics, everything tends to move towards disorder in the absence of human intervention. The very nature of the world may be one of chaos and unpredictability. Particularly in today's times, change permeates every aspect of our lives — from climate change, competing conceptual systems, the reshaping of international relations, and the iterative development of AI and other technologies, to the encounters we have with people in our daily lives and the unforeseen circumstances that arise. Most individuals prefer certainty and to seek insight into the future. Unfortunately, we lack a crystal ball capable of unveiling the mysteries that await us. However, education equips us to confront the future with resilience, navigate objective uncertainties through our creative capabilities (subjective uncertainties), and lead lives and careers with a sense of relative certainty and peace. Today, I seize this opportunity to share some certainties that reside beneath an uncertain future.
During my time at university, information resources were scarce. We would pass around the only available newspaper until it fell to pieces. Today, information floods our lives. These two contrasting situations have presented different dimensions of annoyance and challenge, both to me in the past and to you in the present. While we used to have to seek out information to enrich our learning, you must now learn to discern and reject the incessant stream of tweets and short videos that fight for your attention. It is essential to filter out the "auto-play noise" and discern truth through the deceptive veil of appearances. I urge you to retain the critical thinking and research-led learning abilities you cultivated at XJTLU. Embrace the art of selecting authentic information, filtering out the noise, exercising independent thought, rejecting superficiality, grasping the essence of matters, and living and working with confidence.
In this era of so-called "know-it-all" or even "know-it-all fools", one of the buzzwords is "involution". People initially respond to "involution" with occasional complaints, then with helpless sighs, and eventually become even more fervently engaged in the race. However, upon reflection, it becomes apparent that the issue lies not in the existence of the "involution" as a competitive mechanism, but rather in the misalignment of its metrics, evaluation mechanisms, and the direction of the race itself. The emergence and upgrade of ChatGPT have extended the "involution" into the field of machines. Questions like "Will generative AI replace me in my work?" now arise. I pose this question to all of you: How have you recently engaged with ChatGPT? If your interaction involved submitting an assignment by putting the question into ChatGPT, generating an answer, and merely copying and pasting it, then regrettably, you will be the first to be outpaced, as you have become a slave to AI. With the availability of AI tools for similar tasks, individuals can attain very different levels of proficiency. The difference lies in the level of engagement and mastery demonstrated by the person interacting with these tools. Consequently, navigating "involution", including the challenges posed by robots, requires more than competition or replacement. It requires collaborating with them from a higher perspective to create new things or businesses that transcend the limitations of the "involution" and steer development. To achieve this, your extraordinary imagination, higher-order thinking skills, creative behaviour, interdisciplinary aptitude, virtual and real-world collaboration abilities, continuous self-reflection, and above all, the wisdom embodied in an ever-evolving mindset will serve as keys to navigating the chaotic world and finding order within disorder.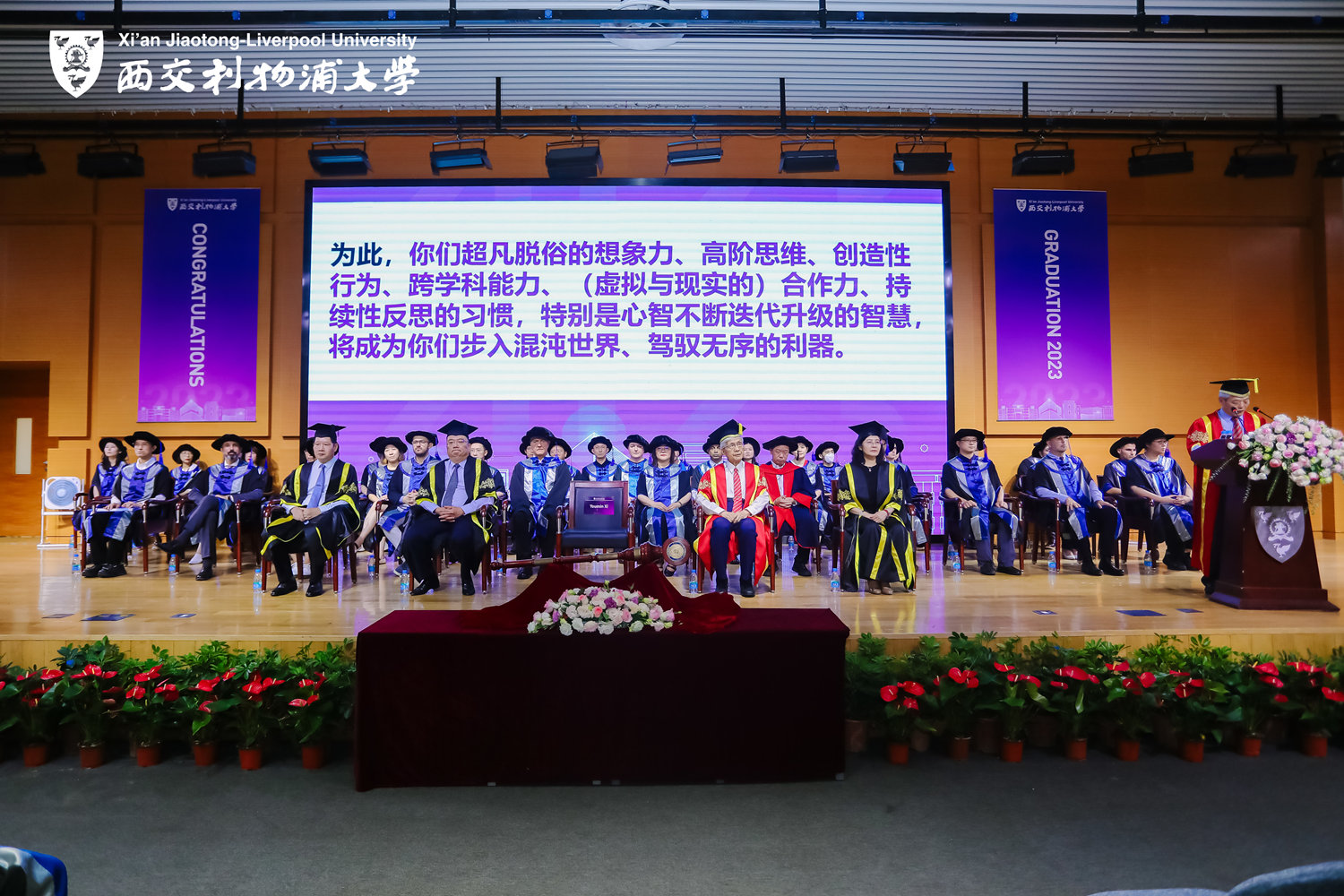 All forms of thought are time-stamped, and every journey leaves behind imprints worth revisiting. Good ideas, without implementation, hold little value. Had Columbus not taken that first step, he would have remained lost in the words of "The Travels of Marco Polo", forever unaware of the New World. Without innovative thinking, the design for XJTLU Entrepreneur College (Taicang) would have remained a mere concept, lacking the awe-inspiring beauty it possesses today. Without action, the vision of the breathtaking "social media-worthy" location would have stayed on paper. We would not be here to celebrate the first graduating class of XJTLU Entrepreneur College (Taicang). I have often said that a degree certificate is a by-product of personal growth, merely a ticket to enter society. The actual test lies in whether you can apply the growth you experienced during the pandemic to navigate the chaotic world. This hinges upon the education you received at XJTLU and the knowledge and wisdom you continue to acquire through further social learning. Central to this process is the cultivation of robust self-management skills in a complex, ambiguous, uncertain, and rapidly changing world. These skills encompass time management, effective organisational abilities, collaboration, continuous innovation, constant improvement, and value creation.
The path that lies ahead will not be a straight one. In addition to your analytical and critical thinking skills, action-oriented mindset, and self-management abilities, I hope that XJTLU's international vision and the wisdom of East-West integration will help you forge a life orientation that allows you to maintain calm in turmoil, to distinguish direction in chaos, to stay confident in setbacks, to be optimistic and determined when entangled, to be hopeful when helpless. To achieve this, I implore you to embrace different perspectives, cultivate tolerance, seek understanding, and respect the diversity of our increasingly complex and multifaceted world. Remain true to your original aspirations, uphold integrity, defend your principles, and lead a life of respect that truly reflects your authentic self.
This graduation speech is specially crafted for the special you, as we invited the Class of 2023 to suggest themes and received over 200 responses. After three years of experiencing the pandemic, you have had your first taste of the world's uncertainties and the complexities of society. I hope you will carry with you the knowledge and skills you have gained at XJTLU as you embark on even more incredible adventures in the future. When you return as XJTLU alumni, please share your captivating stories of engagement with the world.
In conclusion, please accept our best wishes and heartfelt congratulations, XJTLU Class of 2023!
Professor Youmin Xi
Executive President, XJTLU
Pro-vice-chancellor, University of Liverpool