Passive architecture design, which focuses on using environmental resources for heating, cooling, ventilation, and lighting of a building, is widely accepted as a more sustainable approach to building design.
However, when designing the general shape and size of a building – also called "massing" – most architects primarily base their plans on experience and empirical analyses, which is difficult to sufficient leverage the environmental resources to improve the energy efficiency of the building.
In a paper recently published by academics from Xi'an Jiaotong-Liverpool University (XJTLU) and Nanjing University, the researchers suggest using a "reverse passive" design approach.
By using building optimisation software before creating the initial passive design strategy of a building, rather than optimising a pre-determined strategy, architects can make the most of the climate, surroundings, and materials available.
An innovative reverse approach
According to Dr Likai Wang, corresponding author of the paper and Assistant Professor at XJTLU's Department of Architecture, this approach reverses the traditional design process where the optimisation usually comes after the strategy, to one where the strategy can emerge from the result of computational optimisation.
He says: "We aim to overcome the limitations of the manual trial-and-error exploration process which takes longer and often makes the design process inefficient and ineffective.
"Architects can screen out promising passive design strategies according to how well each optimisation result fits the purpose, which is very helpful in the early stage of building design."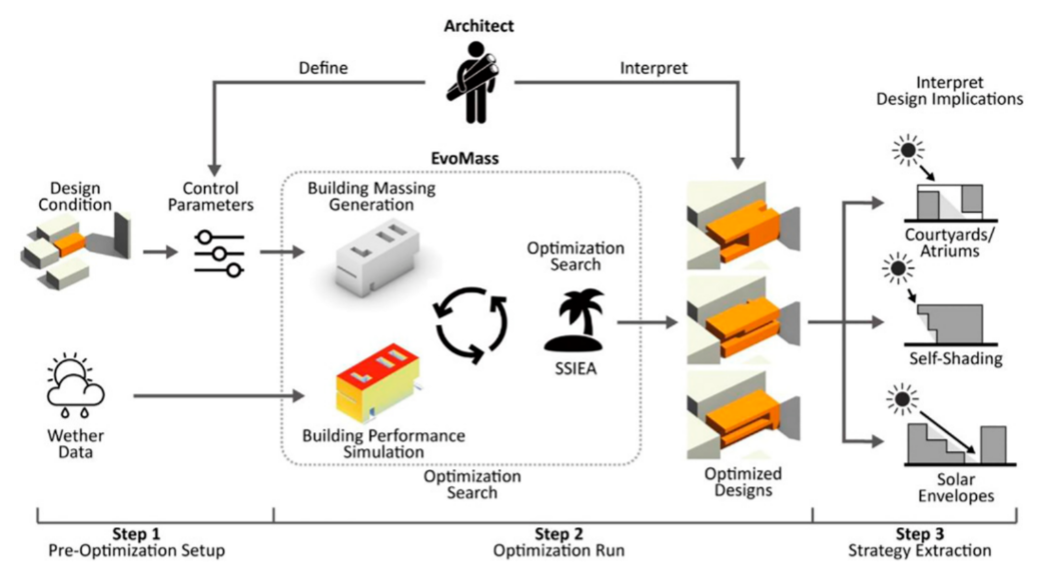 The proposed design optimisation and exploration workflow
In the paper, the researchers use EvoMass, a plugin for the popular 3D modelling software Rhino-Grasshopper, to generate and optimise building design.
"EvoMass can be configured according to the designer's massing requirements such as maximum building height and gross floor area limit, and performance goals like daylighting and solar exposure.
"Unlike the conventional computational optimisation method where the optimised design is typically the final result, in our workflow, it serves as a medium for design exploration and reflection," says Dr Wang.
EvoMass is a tool for optimisation-based design exploration and was previously developed by Dr Wang himself during his doctoral study in Nanjing University. Up to now, it has received over 12,000 downloads.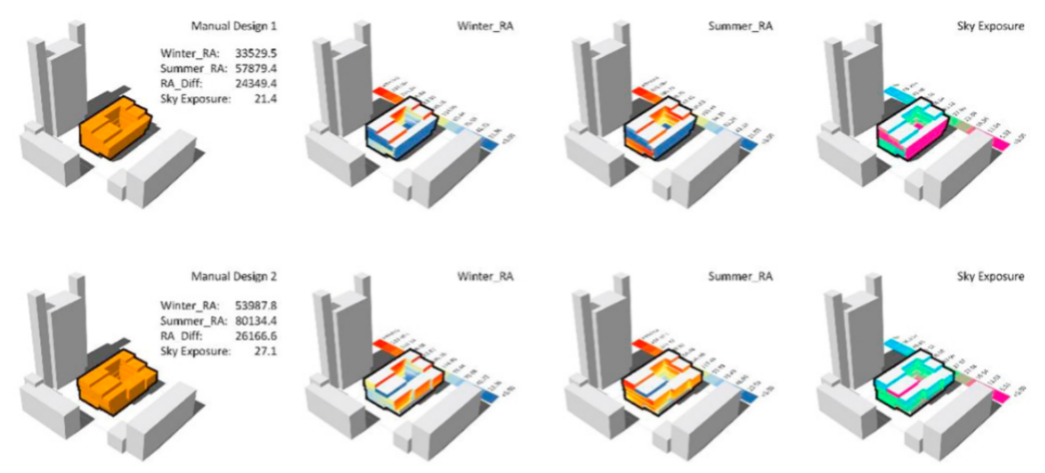 Designs created using the extracted information and passive strategies
Future exploration
The intention of this study is to bridge the gap between the practical need from architects and research of design optimisation for improving a building's performance, as well as apply computational optimisation to current sustainability practices in architecture, says Dr Wang.
"The proposed approach produces relatively abstract information rather than specific designs related to passive design strategies, which gives architects sufficient freedom to combine it with other performance factors and design considerations, and may further mobilise their creative thinking for novel solutions.
"Currently, we're developing a design platform that combines EvoMass with an evaluation server connected to the internet, aiming to provide architects with a more user-friendly and integrated design environment in real-world design scenarios," he says.
Other authors of the paper include Professor Guohua Ji, Ting Luo, and Tong Shao from Nanjing University. The paper, "Reverse passive strategy exploration for building massing design-An optimization-aided approach", can be accessed online here.
By Yi Qian
Edited by Patricia Pieterse
Images courtesy of Dr Likai Wang