Michael Fortune, from Indonesia, is a Year Four student in BEng Mechatronics and Robotic Systems at the School of Advanced Technology. He shares with us his learning experience at Xi'an Jiaotong-Liverpool University (XJTLU), his internships and volunteer work, and how these opportunities have not only honed his skills but also broadened his perspectives.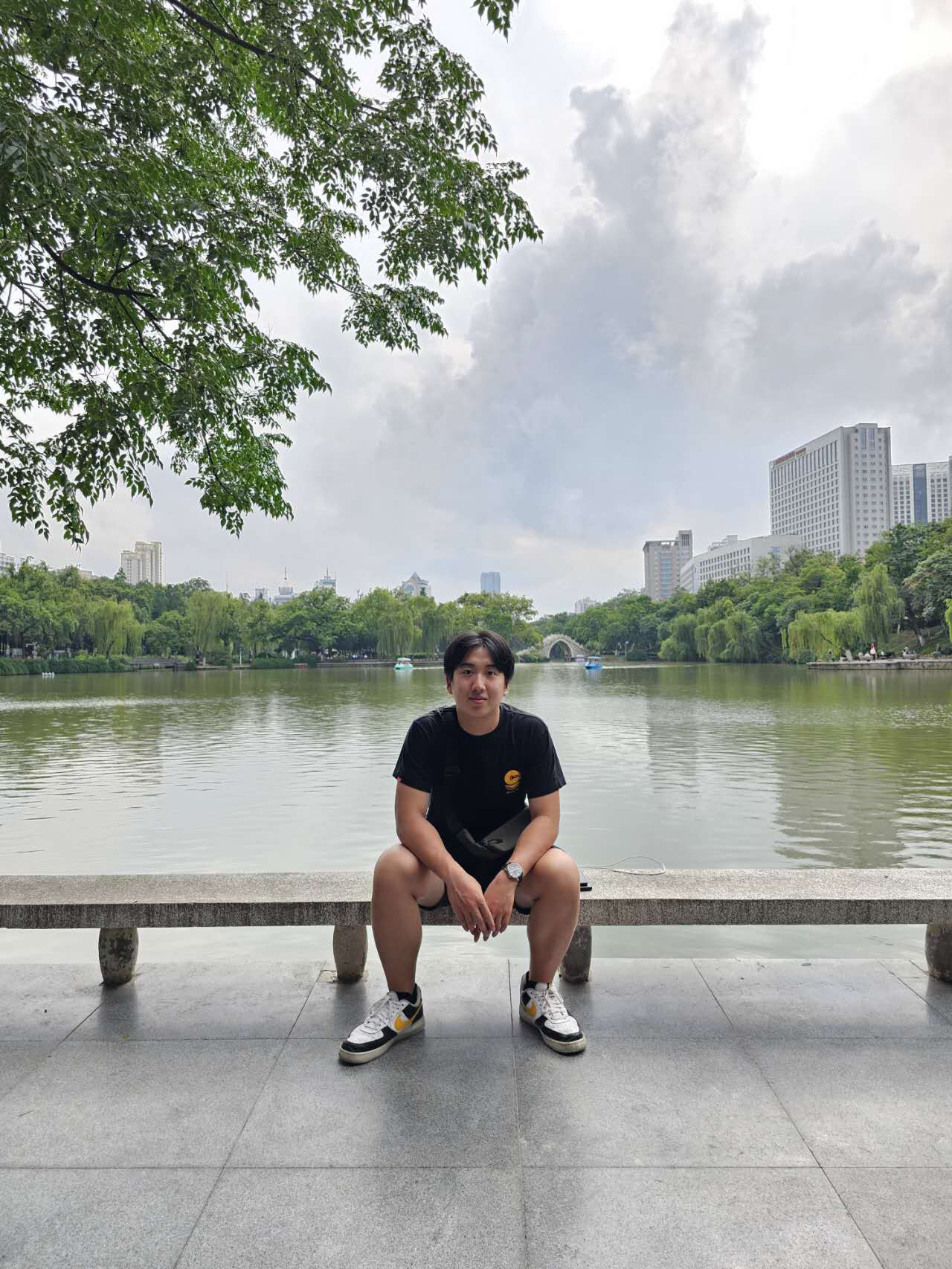 Michael Fortune
Q:Could you tell us a little bit about yourself?
My name is Michael Fortune. I was born in Bandung, a city in Indonesia, and is the oldest of two siblings. Ever since I was small, I was interested in learning how stuff and machines operate, which led me to my current situation, a Year Four student completing a BEng Mechatronics and Robotic Systems. Although it may seem I am the academic type, it is quite the opposite. My hobbies are playing tennis, watching movies, and participating in various volunteering and internship opportunities I can come across, as I believe that the working world cannot be studied through a book.
Q:Why did you choose to study at XJTLU?
I have always been interested in taking my undergraduate degree in China, mainly because China has one of the biggest economic and technological advantages. However, I was confused about which university to take my undergraduate degree at until I met XJTLU. The idea was to find a university which focuses on practical implementation as well as prioritisation in research, which led me to my destination at XJTLU. The list of well-established professors, various cultural differences and beautiful architectural design further increased my interest. Finally, the opportunity to receive a double degree from two prestigious universities helped me finalise my choice. 
Q:Why did you decide to choose your programme?
This may be surprising, but mechatronics was not my first choice, and it was mechanical engineering that I wanted to take. Little did I know that my whole life would change from a little visit to an educational fair. It was back in high school when I was searching for universities to apply for my bachelor's degree. I entered an educational fair where someone introduced me to mechatronics. He told me that I would only learn the hardware in mechanical engineering, whereas I could learn both software and hardware in mechatronics. He also told me that robotics was the future, as everything is now turning autonomous. Further research led me to finalise my decision to choose my programme.
Q:Could you tell us a bit more about your internship experience?
I have joined two internships at Toyota (Indonesia), an automobile manufacturing company, and Bank CIMB Niaga throughout my university years.
At Toyota (Indonesia), I was placed under the Press and Tooling Engineering division. I learned various types of machinery used in car manufacturing and was tasked to create a proposal for improving the manufacturing line. On the contrary, I took a data engineering position during my internship at Bank CIMB Niaga, where my daily job was fixing a code using a programming language I had not previously worked with.
Although both positions were different, on both occasions, I was forced to step out of my comfort zone and learn something new by myself. I also learned to be able to quickly adapt to various situations as well as the responsibility of completing one's duties. Apart from the technical knowledge I got from my internship, the experience and opportunity to talk with experts in the field of work broadened my mind. It is not possible just by studying a book. Overall, it was a very pleasurable experience, and I would recommend everyone to participate in internships as many as they can.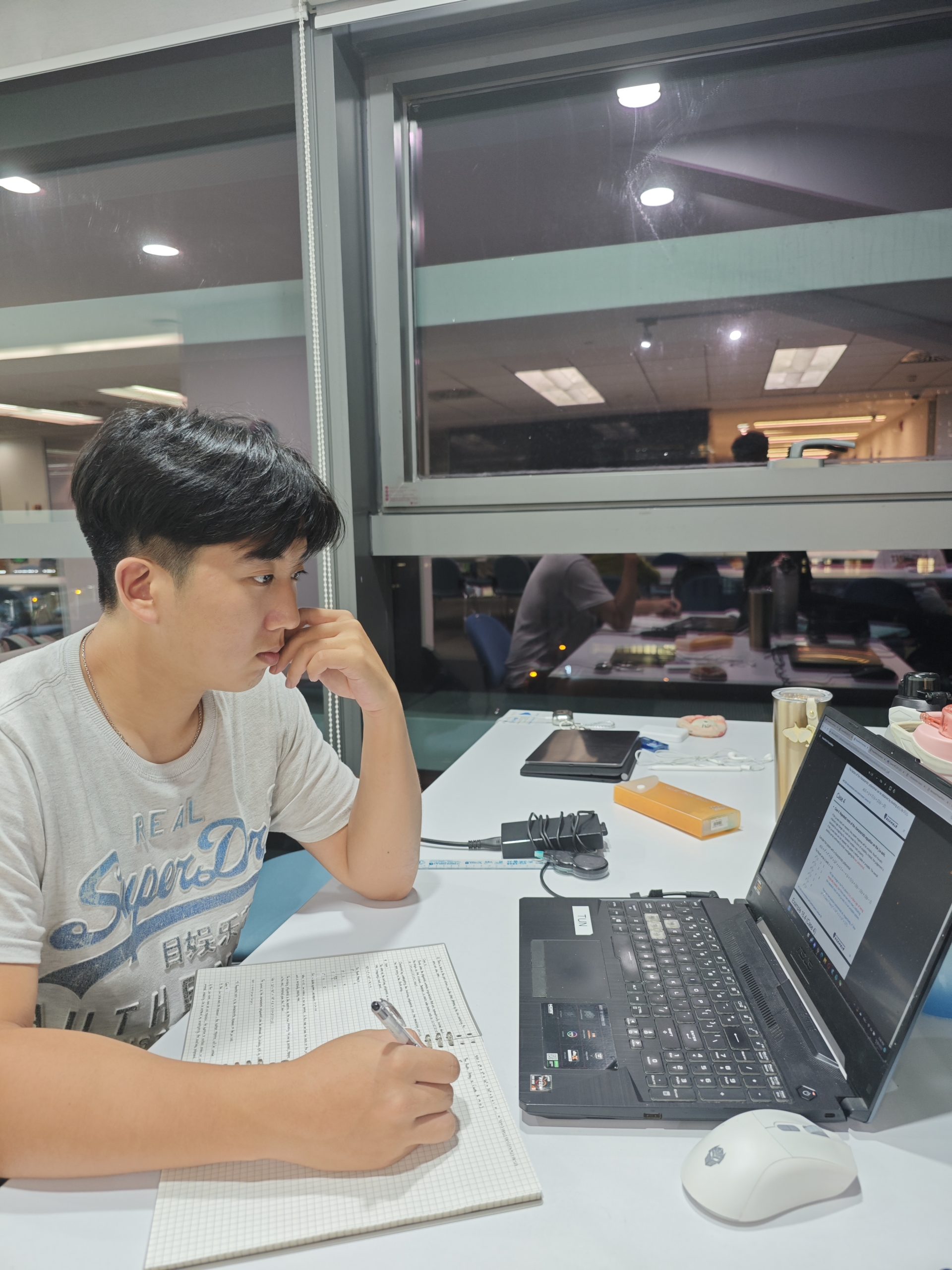 Michael Fortune studying in the library
Q:I heard you joined and volunteered for Suzhou Indonesian Student Community and Mandareer, could you tell us a bit more about the organisations? How they assist Indonesian students adapt to the life in China?
The Suzhou Indonesian Student Community is a non-profit organisation with the purpose of assisting Indonesian students currently living in Suzhou.  I was lucky to be appointed Vice-President during the 2022-2023 cabinet. We did a lot of things during that time, such as getting new students to know each other, helping them settle down, and answering all questions related to school, visa and daily life. We also arrange events for all Indonesians to enjoy.
If before we were only helping students who live in Suzhou, Mandareer is an organisation that helps every Indonesian student graduating from China to get a job. I was again lucky enough to be appointed the Chief Executive Officer (CEO) of Mandareer during the 2022-2023 period. We worked hard to assist Indonesian students who have graduated or are graduating in China to find a job by partnering ourselves with various companies and sharing job opportunities through the social media platforms we own. Although both organisations differ greatly from each other, my main purpose is to help students like me as best as I can.
Q:Can you tell us about your experience of studying on-site at XJTLU?
Studying on-site at XJTLU is a very pleasant and new experience. This year was the first time I stepped foot at XJTLU, and was amazed by how huge the campus was. The design of the buildings, the lecture halls, the sports centre and the food in the canteen were all great. I especially liked the Central Building due to its unique square design. The staff and teachers were also friendly whenever we needed assistance.
My most memorable experience would be staying at the Foundation Building for the whole night preparing for an exam with my friends as you could meet with many locals who are experiencing the same stress and sometimes talk to them too.
Apart from the University, the city of Suzhou is beautiful, peaceful and safe. The old town and the gardens are amazing. The food is delicious, and the night food markets give that little sense of fun after a whole day of studying. Hundred per cent would I recommend anyone to study on-site at XJTLU.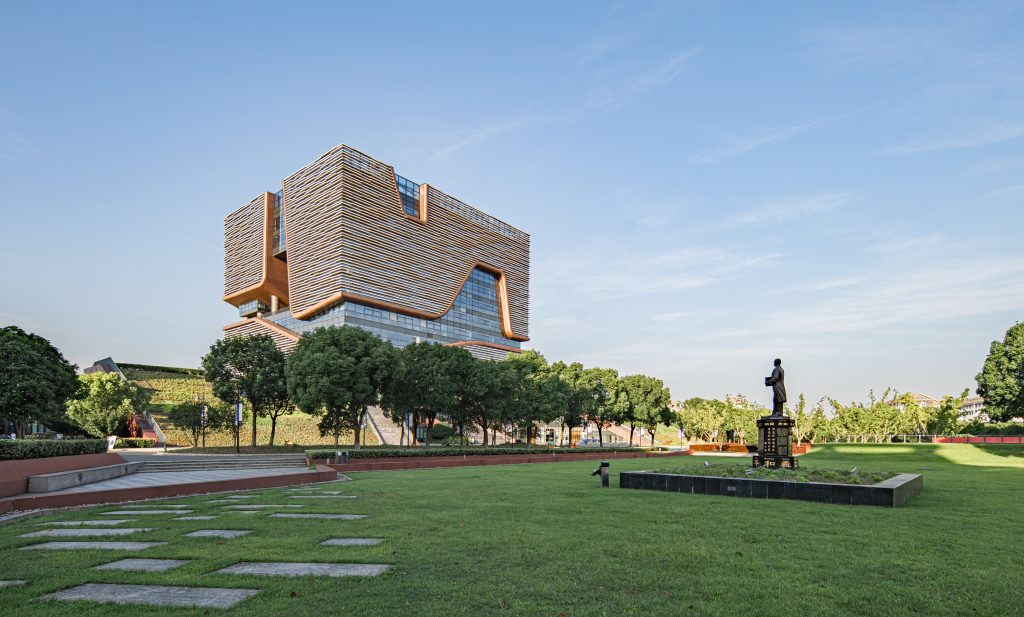 XJTLU Central Building
Q:Overall, how did your studies at XJTLU help to develop you, professionally and/or personally?
XJTLU equips me with the knowledge, experience, and confidence I need. My studies at XJTLU deeply influenced me academically, personally, and culturally. Studying at XJTLU is not only about getting good marks but also having the ability and opportunity to meet people from various countries and experience other cultures. The University taught me to be responsible, punctual, disciplined and, above all, never to give up no matter how hard the tasks, coursework or exams may be. It also showed me the proper way to do experiments, research, work in teams, and other skills I would only have known by going there. Additionally, studying at XJTLU developed me into a more professional individual who is capable and confident enough to participate in the working world.
Q:What advice would you give to prospective students thinking about studying your course at XJTLU?
Firstly, make sure you are truly passionate about this programme because it will take work, especially if you do not enjoy it. Secondly, be bold and ask questions since having a solid understanding of the basics will be helpful. It's also extremely important to seize every internship opportunity that comes your way. Lastly, always spare some time to have fun and rest yourself.
By Michael Fortune
Edited by Huatian Jin and Xinmin Han
Photos by Michael Fortune