This month, Dr. Cheng Xu's research paper was published in the Business Strategy and the Environment (ABCD-A, IF=10.801). The title of the research paper is Digitalization Transformation and ESG Performance: Evidence from China. The Business Strategy and the Environment (BSE) is the leading academic journal in its field with peer-reviewed contributions of a high quality. It seeks to provide original contributions that add to the understanding of business strategies for improving the natural (green) environment. It seeks to publish research into systems and standards, environmental performance, disclosure, eco-innovation, corporate environmental management tools, organizations and management, supply chains, circular economy, governance, green finance, particular industry sectors and responses of business to climate change and other contemporary environmental issues.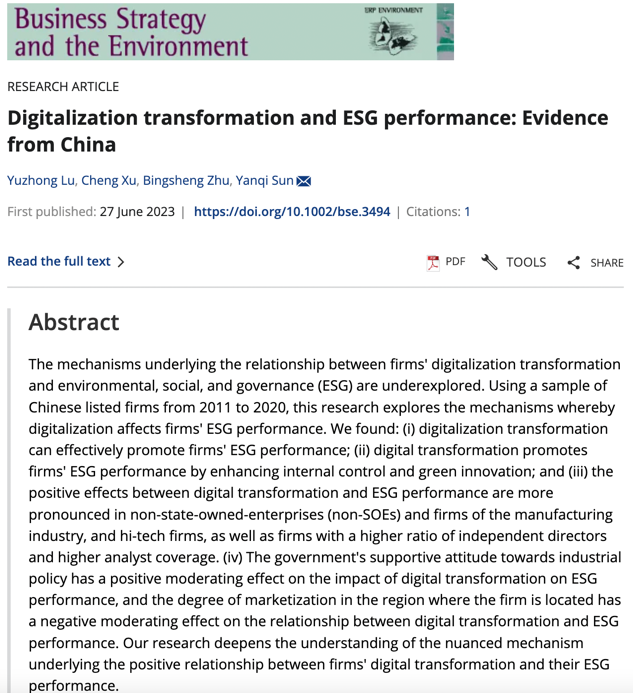 The other paper published by Dr. Cheng Xu was titled How does technological opportunism affect firm performance? The mediating role of resource orchestration. This paper was published in the Journal of Business Research (ABS3, IF=11.3). The Journal of Business Research aims to publish research that is rigorous, relevant, and potentially impactful. Recognizing the intricate relationships between the many areas of business activity, JBR examines a wide variety of business decision contexts, processes and activities, developing insights that are meaningful for theory, practice, and/or society at large. Its research is intended to generate meaningful debates in academia and practice, that are thought provoking and have the potential to make a difference to conceptual thinking and/or practice. Published for a broad range of stakeholders, including scholars, researchers, executives, and policy makers, the Journal aids the application of its research to practical situations and theoretical findings to the reality of the business world as well as to society.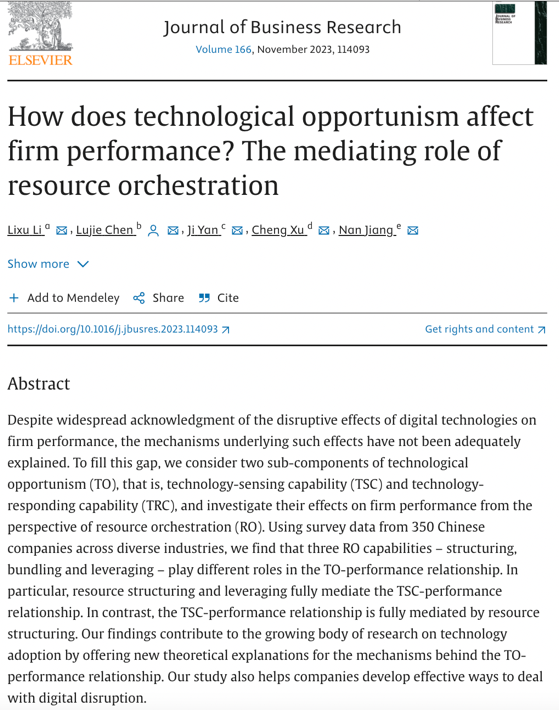 Dr. Cheng Xu specializes in Business Ethics, addressing both traditional topics like CSR and ESG, as well as modern ethical challenges in technologies such as AI and the metaverse. His research has been featured in leading journals across both business and computer science fields. These include the Journal of Business Research, International Journal of Human-Computer Interaction, Business Strategy and the Environment, Finance Research Letters, Pacific-Basin Finance Journal, Computational Economics, Journal of Innovation and Knowledge, Global Finance Journal, and Journal of Economic Psychology, among others. He has also presented his research at top-tier conferences, including the ACM (Association of Computing Machinery) CHI Conference on Human Factors in Computing Systems. In addition to his research, Dr. Xu serves as the Section Editor for Business Ethics at the Humanities & Social Sciences Communications (Nature sub-journal, JCR Q1).