October 2, 2023,  Dr. Giovanni Santini, XR Artist, Composer and Assistant Professor at the School of Cultural Technology, XJTLU Entrepreneur College (Taicang), was invited by the Hong Kong New Music Ensemble to present an immersive VR/AR performance titled Teatro dei Portali in Multimedia Theatre, Run Run Shaw Creative Media Centre, City University of Hong Kong. The performance brought the audience into a deep experience between the virtual and real world, pushing the boundaries of art in an innovative and experimental way.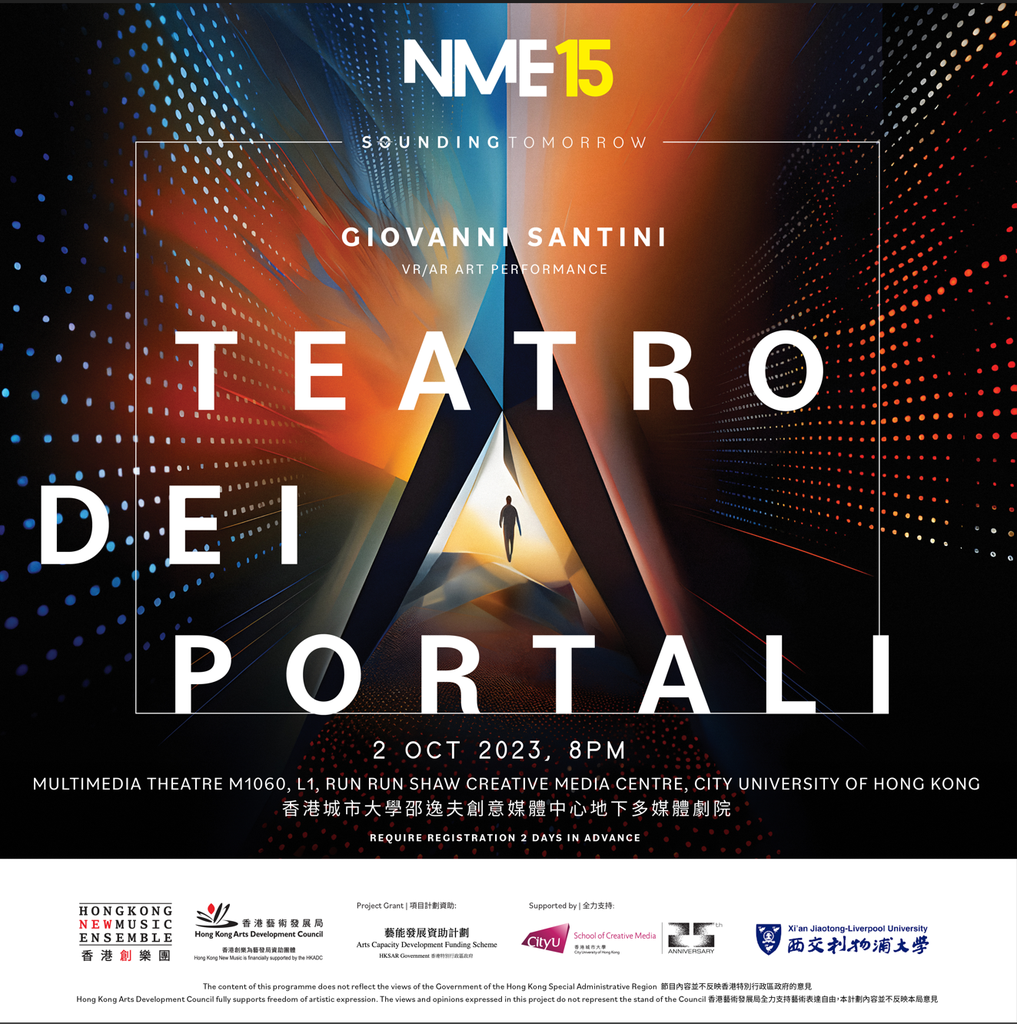 Immersive VR Performance:  Art and Technology
Professor Giovanni Santini utilized five projectors to create a spectacular stage effect. The audience sits in the auditorium and can see different contents through different screens. He himself, as a VR performer, also appears in different corners of the room, allowing the audience to experience the performance from multiple angles. In one of these scenes, the audience is taken into a virtual forest and the emotion of the forest changes depending on the audience's location. This effect of spatial replication allows the audience to see fantastic locations from different perspectives.
In addition, the show included musical performances and technical elements, with Prof. Giovanni Santini using a variety of technologies to control sound, projections, and other visual and audio effects.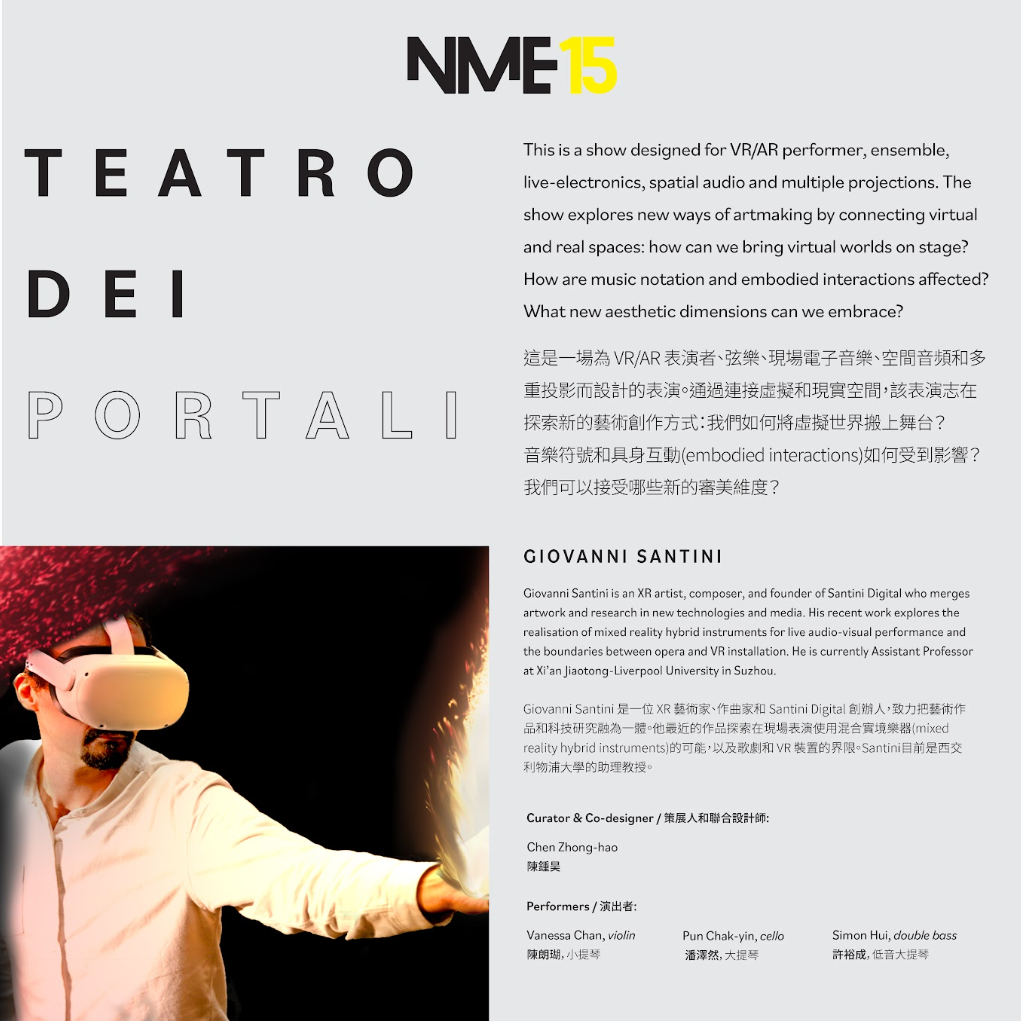 Professor Giovanni Santini is the only invited guest of the Hong Kong New Music Ensemble in this special performance. At the same time, the performance is part of the Sounding Tomorrow project. During the performance, he worked with three professional musicians, who performed his score, alternating with improvisative parts based on exploratory, graphic musical notation.
Sounding Tomorrow is a project of great significance, aiming to create opportunities for young artists commissioned to work in Hong Kong or elsewhere in relation to new media and technology. The project is part of the 15th-anniversary celebrations of the Hong Kong New Music Ensemble and is dedicated to breaking new ground in the areas of education, outreach, research and performance.
A Glimpse into the Future
The show Teatro dei Portali can be adapted to different venues and circumstances. For example, it will be adapted for the single big screen in M-building, Taicang campus. He addresses each location differently and can adapt it to the portable equipment available, whether it is a large venue or just a single screen, to transmit the desired effect.
He said in the interview, "This is an experimental endeavour that requires constant trial and improvement." He believes that virtual reality technology will be the trend of the future and will bring new possibilities for artistic creation. In addition, Prof. Giovanni Santini has expressed his interest in combining art and technology, believing that this fusion can create entirely new forms of art. He will continue exploring mixed reality and VR technology to push the boundaries of wide art. He said that, if conditions permit, the project is expected to be exhibited at the School of Cultural Technology, XJTLU Entrepreneur College (Taicang), in November or December this year.
(Text| Yuling Chen, Ruinan Shi,Giovanni Santini; Interview| Yuling Chen, Ruinan Shi)