Mr. Ni Zhenren, Dean of Wu School Chinese Painting Research Institute, was recently invited by Xi'an Jiaotong-Liverpool University (XJTLU) Museum to attend XJTLU Museum's Culture Lecture series and deliver a lecture entitled "Mr. Ni Zhenren's Painting Life". In his lecture last Friday, Mr Ni shared his extensive knowledge about Wu Men paintings historical origins and artistic characteristics, as well providing the audience with his fascinating insight into the inheritance and development of Wu School.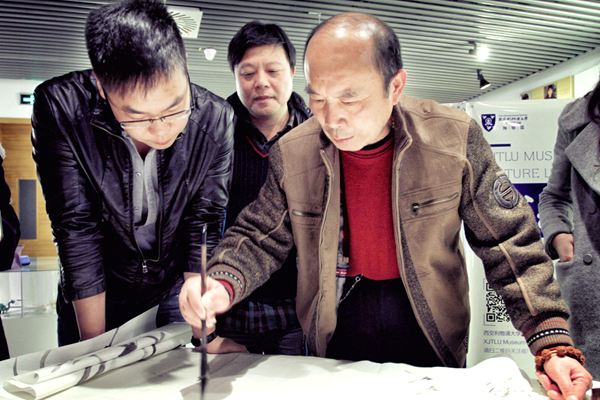 Mr. Wu firstly noted that your parents give you your life; and your teachers provide you with future direction and guidance. One must therefore have respect for parents and teachers.
He then provided a brief history of Wu Men Painting, sharing with the audience that Suzhou, known as "the land of fish and rice and the home of silk" has also become famous for calligraphy and painting from ancient times. Since Gu Kaizhi in the eastern Jin dynasty, Suzhou has been the hometown of artists and painters for many dynasties. In the early Ming Dynasty, Wu Men painting flourished and later experienced approximately 600 years inheritance and development.
Mr. Ni said Wu School was founded by the Suzhou painters group, representing "four masters in Ming dynasty", namely, Shen Zhou, Wen Zhengming, Tang Yin and Chou Ying, famous for the extremely high level of painting produced during that historical period.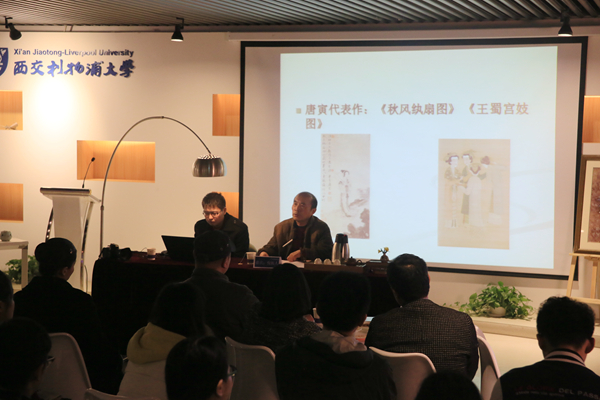 Wu Men Painting is one of the oldest, most widely-known genres and shares one of the longest histories in Chinese Art. Its regional features follow the tradition of elegance and delicacy in landscape, bird and flower portrait painting.
Mr. Ni also shared with audience that Wu Men Painting promoted the successful progression of Suzhou's art evolution from past to present and emphasised how crucial it is to keep pace with society; absorbing what is quintessentially foreign and creating paintings combining Chinese traditional customs with western painting skills. Moreover, Suzhou's Wu Men Painting has also gained global interest, for example, Maria, a painter from France, recently visited China specifically to learn Wu Men Painting traditional techniques, which she has now proudly adopted into her own painting.
Of course, Wu Men Painting has also faced its share of challenges and contemporary problems – most notably the lack of family inheritors, leading Mr. Ni to appeal for those interested in the painting form to also become skillful practitioners and help the art pass from generation to generation. He also called for the government's support for Wu Men Painting's future progress.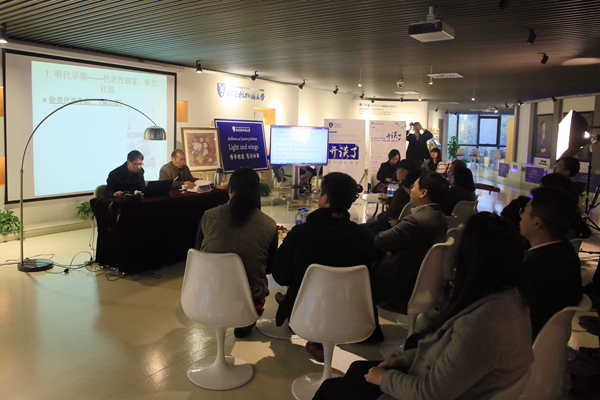 Mr. Ni projected a painting about pottery in the 1990s providing a perfect example of Western and Chinese painting skills combining together to embody wealth and harmony. Interestingly, the Lily in the painting represents eternity.
When asked about his expectations of Wu Men painting for the future, Mr. Ni commented that the characteristics of Wu Men Painting should be retained rather than replaced by others and emphasised the importance of keeping alive its traditional essence while merging and incorporating western painting techniques. He also pointed out that "it is not wise to just follow the common practice of the day or become completely westernized. We should always bear in mind the importance of maintaining Chinese tradition in everything we endeavor to do."
XJTLU Librarian Mr. Xin Bi hoped that through the lecture, XJTLU students will now have a better understanding of Suzhou's rich and diverse Local Culture.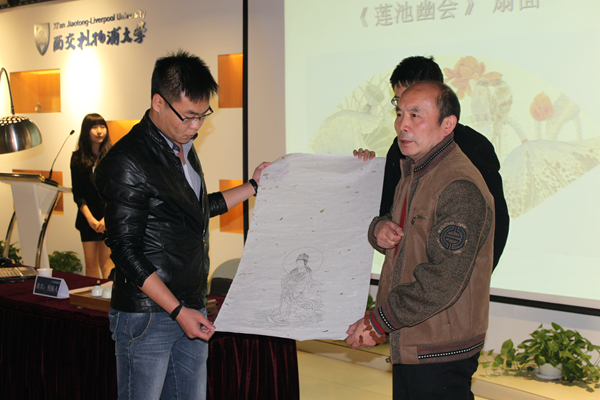 Wu School Chinese Painting Research Institute was founded in 2004. It maintains the tradition of calligraphers and painters from Suzhou and Chinese traditional culture and attracts painting experts from all over the world, elevating the Wu School Chinese Painting to higher and higher levels.
Proudly, Mr. Ni Zhenren, Dean of Wu School Chinese Painting Research Institute is a Suzhou native. An outstanding painter mastering portraiture, flower and bird painting, especially in maidservants and Buddha, his masterpieces are beautifully created with a lively spirit and charm and can be found in museums, art galleries and amongst private collections domestically and all over the world.