A team from Xi'an Jiaotong-Liverpool University has been shortlisted in an architectural design competition for co-working spaces.
The team were shortlisted from 120 teams across the world for the competition, which is organised by Architects in Mission and aims to promote high-quality design among young professionals and provide a stage for designers to demonstrate their abilities.
The XJTLU team is made up of Theodoros Dounas, associate professor in the Department of Architecture, recent XJTLU architecture graduate Chitraj Bissoonauth, Year Four architecture student Li Zhaohan and Year Four marketing student Maria Christoforidou.
They designed a co-working space that evokes the bustling streets of Shanghai, and is inspired by the idea of an ancient Greek market.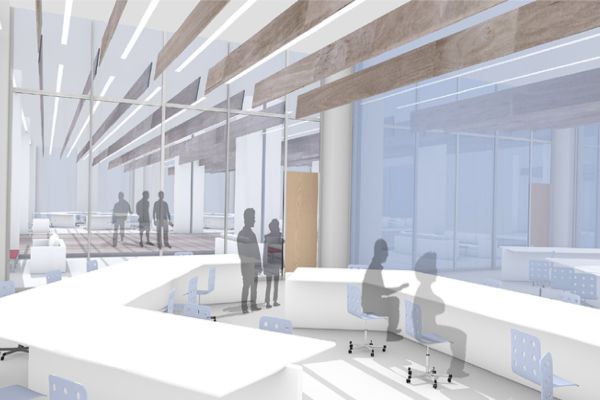 Co-working is a style of work that involves a shared working environment, often an office, and independent activity. Unlike in a typical office environment, those co-working are usually not employed by the same organisation.
The team's design features seven zones organised according to function, while an events and gallery space in the middle creates the backbone of the design. Shared and private working areas surround the events space, with zones for informal meetings and relaxed work. A support area including a mini restaurant and coffee bar, a gym and a sleeping area for power naps is placed at the far end of the space. The idea of an encompassing shelter for the exchange of innovative ideas is expressed in the roof which is features large softwood lathes hanging from the ceiling to create a curve. Linear lighting along the lathes ensures uniform light for best working conditions, while the timber lathes shield from the glare.
Chitraj Bissoonauth, who graduated from XJTLU in July and is working at an architecture company in Shenzhen during his year out between undergraduate and masters study, said: "The whole design process oscillated between sketches as well as physical models which helped us to not only better understand the opportunities and constraints but also aided us in the generation of a human-scale design, one of the most fundamental features of this proposal."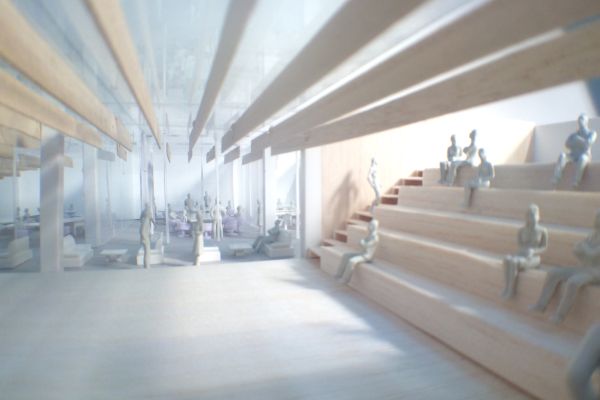 Year Four student Li Zhaohan added: "Our design started from the simple concept of providing a public sharing space in the middle and private working space around it with zones where people can have conversations. The main gallery in the middle could be shared with different working teams."
The jury for this year's AIM competition includes Alexandro Zaera-Polo, a professor in the School of Architecture at Princeton University, Weimin Zhuang, Dean of the School of Architecture at Tsinghua University, and Rosanna Hu, a partner at design office Neri Hu.
The second round of judging will include a public vote. To support the XJTLU team you can register and vote online until 30 September.