Three PhD students at Xi'an Jiaotong-Liverpool University took part in a two-week industry internship to build their skills in making rechargeable lithium ion batteries and support them in their research work.
Ruowei Yi, from the Department of Chemistry, and Ziyi Zhao and Chenguang Liu, from the Department of Electrical and Electronic Engineering, (all pictured below) travelled to Dongguan in China's Guangdong province for the internship at Dongguan Hongde Battery Co. Ltd.
The internship included detailed training on the process for making individual batteries, as well as the opportunity to make button batteries themselves, crucial skills needed for their research at XJTLU.
Lithium ion batteries are one of the most common rechargeable batteries in portable electronics, with electrodes that are typically made of lightweight lithium and graphite.
The three students are working on PhDs focused on the mass fabrication of graphene in order to incorporate it into electrodes that can be used to create batteries with exceptionally high storage capabilities.
Their work is part of a wider research project at Xi'an Jiaotong-Liverpool University that is developing a method to apply graphene in nanoscale level as an alternative electrode materials for conducting electricity. The project has already identified that graphene, which was only experimentally discovered in 2004, delivers higher power and energy density compared to conventional lithium ion batteries.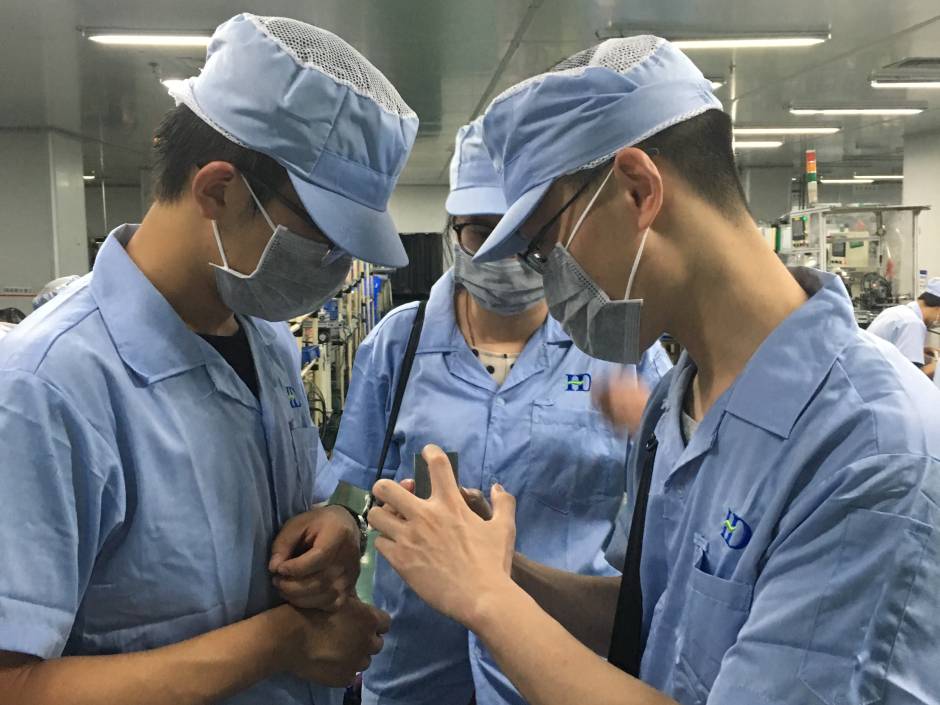 "This internship was a great chance for them to relate their theoretical knowledge with practical field work and to experience a real industrial environment." said Dr Li Yang, from the Department of Chemistry, who co-organised the internship with Professor Cezhou Zhao, from the electrical and electronic engineering department at XJTLU.
"The knowledge they gained can be transferred to XJTLU and help us design our research more practically. The PhD work they are doing is a crucial part of our overall project."
During the internship Ruowei, Ziyi and Chenguang worked side by side with the R&D engineers at the company to acquire knowledge about various types of batteries, as well as the charging and discharging, manufacturing and testing process of lithium ion batteries.
They also took part in a tour of the facilities, taking in sites that included the research and development centre, and the areas for raw materials preparation, electrode-making and final assembly. They were welcomed and supported by Yinqin Li, chief technology officer at Hongde (pictured in first photograph).
Ruowei said the internship was a really important experience, helping him build an overall image of battery manufacturing, including raw material preparation, battery assembling and performance testing.
"I have just begun my PhD and the lithium ion battery is a new field for me. Through this internship I was able to quickly acquire the practical skills and knowledge I need for my research. All these are fundamental skills for my future study," he said.
The internship was possible thanks to a partnership between XJTLU and Hongde that was developed following by RMB 2 million grant (entitled "Graphene-based Lithium Ion Batteries"), led by Professor Zhao and Dr Yang, towards the development of the Suzhou Municipal Key Lab for New Energy Techniques.
The Suzhou Municipal Key Lab for New Energy Techniques was established in 2008, mainly focusing on the research and development of the latest renewable energy technologies in response to the global energy crisis and with an aim to find clean and renewable energy power sources. The grant from the Suzhou Industrial Park Initiative, under the platform development of the Suzhou Municipal Key Lab, is supporting the three-year graphene research project.
More practical internships are available through the partnership, something that Ruowei believes is very important to PhD students and their research: "Close contact with an industrial environment gives students more opportunities to find out problems or details they may not think of in the laboratory, inspiring them with novel ideas and innovation.
"Internships build the bridge between theories and industrial production, accelerating the industrialisation of laboratory results. For students who have just begun their PhD work, internships let them seize the key point of their research in a relatively short time," he said.
A well-known brand supplier in China, China Dongguan Hongde Battery Co., Ltd. was established in 2005. The company's main product is high-capacity lithium-ion batteries which are used in nearly 100 types of products related to the use of cellular phones. Their products have been sold to Southeast Asia, Africa, Eastern Europe and other dozens of other countries and regions.