Students presented their Summer Undergraduate Research Fellowships projects at this year's SURF Poster Day.
The Summer Undergraduate Research Fellowships programme offers undergraduate students the chance to work on research projects in collaboration with academic supervisors during the summer holidays.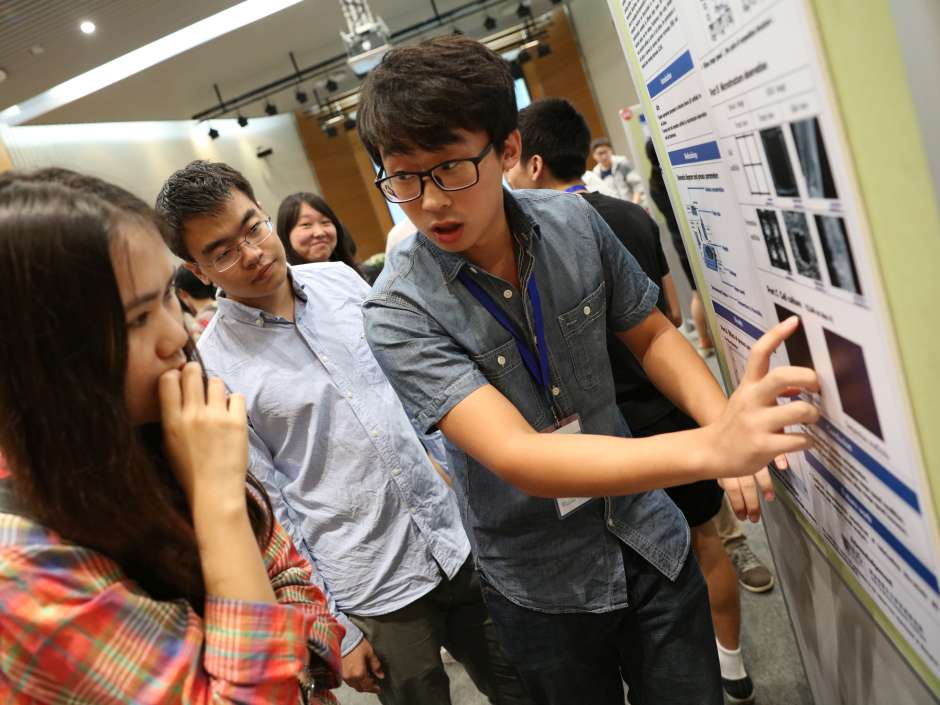 The programme is coordinated and funded by the Academic Enhancement Centre at XJTLU.
Dr James Wilson, director of the AEC, said there had been some positive developments over the past five years: "The quality of the posters has definitely improved this year, as well as the depth of the research itself," he said. "We're also seeing greater collaboration between students with more teams of two or three rather than individual projects, which is very encouraging."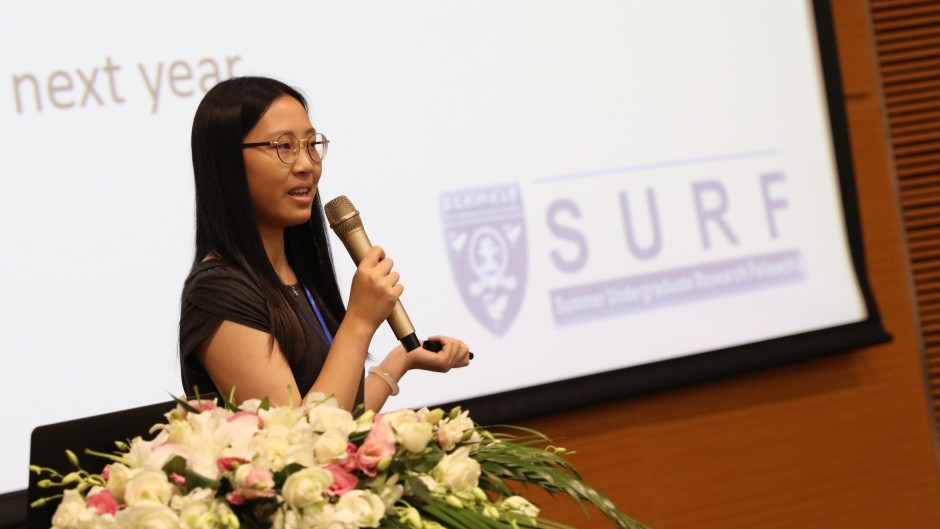 At the event, guest speaker Chenxia Gu (pictured above), who did a SURF project last year on heat diffusion, spoke about how doing a research project improved her communication skills: "I learned to use different words for different audiences, and to use analogies from the everyday world to explain complex scientific phenomena."
She also said that she had learned more about teamwork and stressed that the SURF experience can be used on applications for graduate programmes, as she herself did on her successful application to study a masters at the University of Cambridge in the United Kingdom.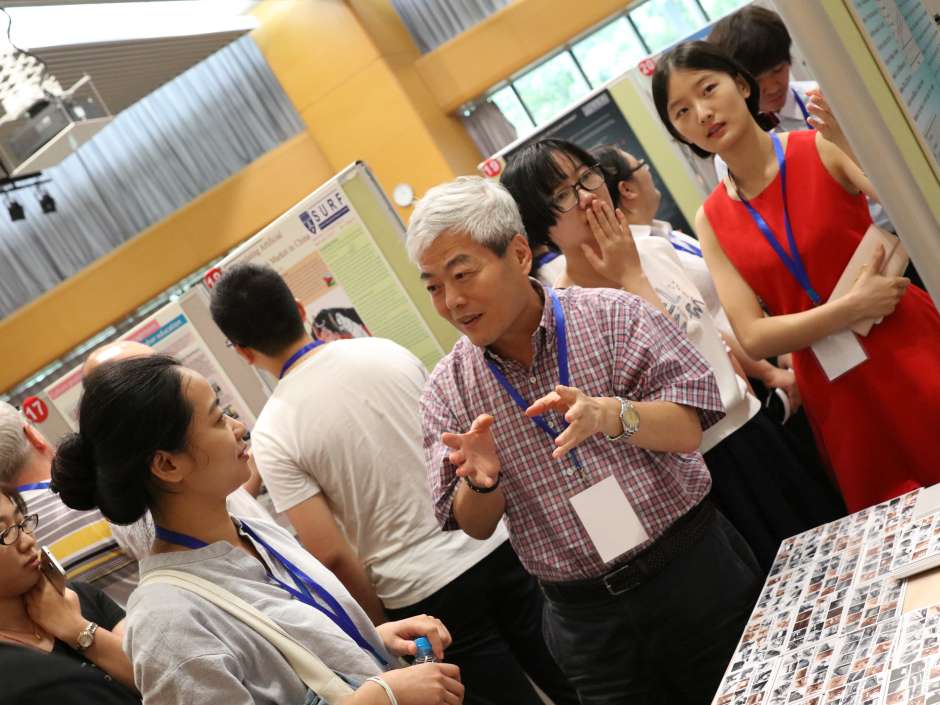 At the welcome address, Professor Youmin Xi, executive president of XJTLU (pictured above, centre) thanked the students and academics for their hard work over the summer, and explained that SURF had a dual purpose of allowing students to gain valuable research experience while also offering academics assistance in completing their research.
The winning projects from each academic cluster, selected by the judging panel, were: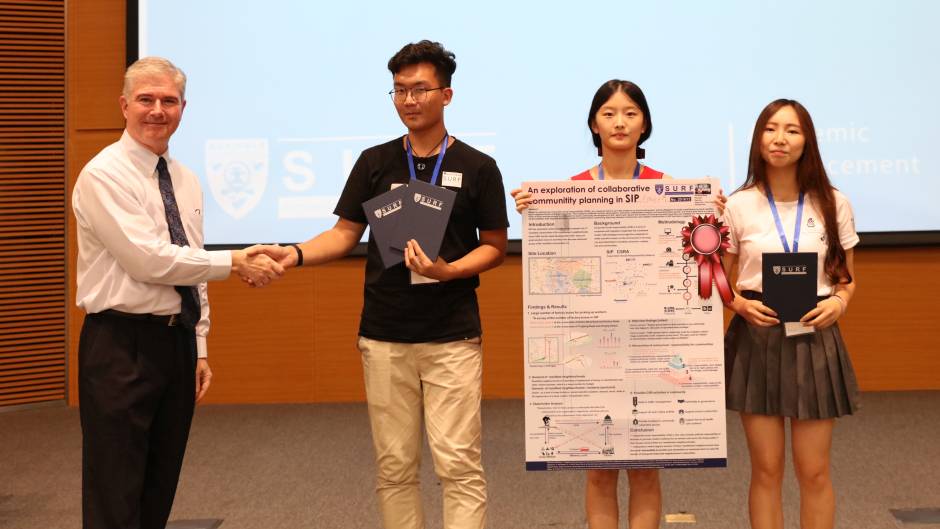 Built environment – Rong Zhu, Zhao Wu, Jiacheng Wang (pictured above) 'An exploration of collaborative community planning in SIP'. Supervised by Ying Chang and Xuanwei Cao. This project was also voted the overall institutional winner.
Humanities and social sciences – Laihua Yang, Xiao Yang, Wenjing Xue: 'Between propaganda and entertainment: The marketing of the Chinese 'main melody' films', supervised by Laura Sava.
Business – Yihao Li: 'Manipulating artificial stock market in China', supervised by Jie Zhang and Qing Ye.
Industrial technology – Fangyu Wu, Suhaila Mohamed: 'Scene recognition by deep convolutional neural network', supervised by Wenjin Lu and Bailing Zhang.
Mathematics – Hao Xue, Shuhan Yang: 'An intelligent system for tongue diagnosis in traditional Chinese medicine', supervised by Jionglong Su.
Science – Nerissa Arviana Tannuwidjaja, Ruoxuan Shi: 'A new approach to prepare BDT based polymer', supervised by Yi Lin.
The favourite project of student voters was from the business cluster – Yutong Wu, Ruiying Chen, and Xiaomeng Wang: 'How Chinese innovative enterprises are digitising their value chain', supervised by Roberto Dona. A total of 664 votes were cast.
Yuwen Wang (pictured above, right) and Chunjing Zhang (left), undergraduate students studying BA Accounting and BSc Economics at International Business School Suzhou, spoke about their project, 'Culture profile and performance management: An integrative model in higher education', supervised by Jean Yves Le Corre: "This project was related to my major," said Yuwen. "And I really enjoyed putting some of the theory we learned into practice."
As part of their study they attended the 22nd International Conference of the International Association for International Communication Studies at Shanghai International Studies University in July.
"The most important thing for us was not the specific topic, but learning how to do research, and I think we learned a lot," added Chunjing.
Professor David O'Connor, dean of research and graduate studies at XJTLU, hosted the event and presented the prizes. He was very positive about the work done: "I think our students' work matches anything going on at the top international universities around the world. To look at the posters, you wouldn't guess that they were made by undergraduates and not established researchers."
Download a full list of the projects presented in the 2016 SURF Poster Day Abstract Book.