Thirty-six large shelter structures made from cardboard were exhibited and reviewed on the South Campus of Xi'an Jiaotong-Liverpool University on the afternoon of 9 November.
As part of the Department of Architecture module 'ARC104 Structures and Materials' teams of six Year Two BEng Architecture students were tasked to design and build small shelters made from cardboard, without the use of glue or tape.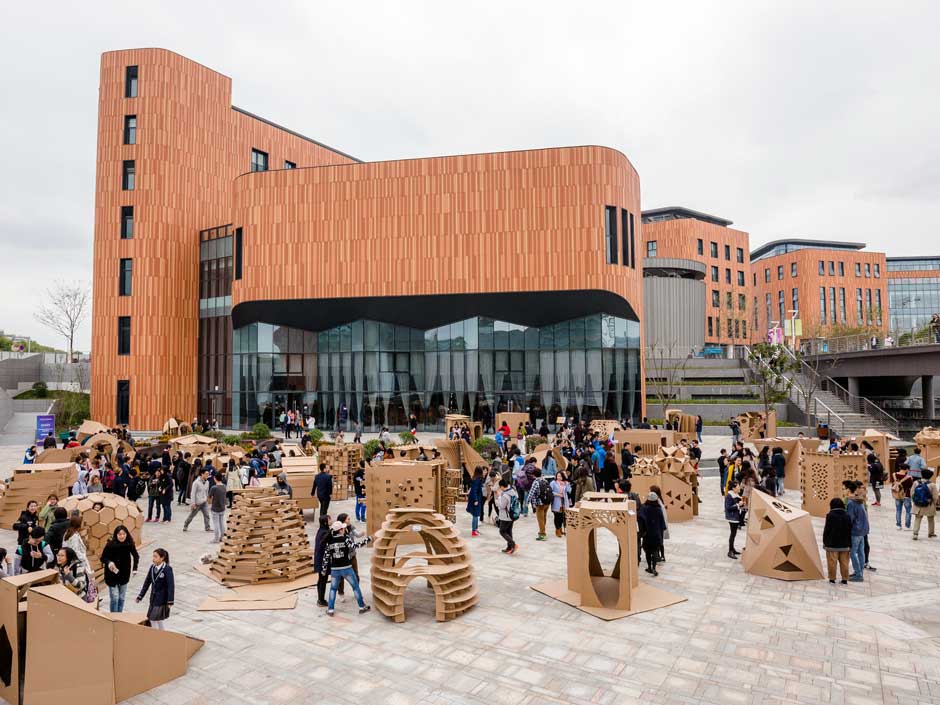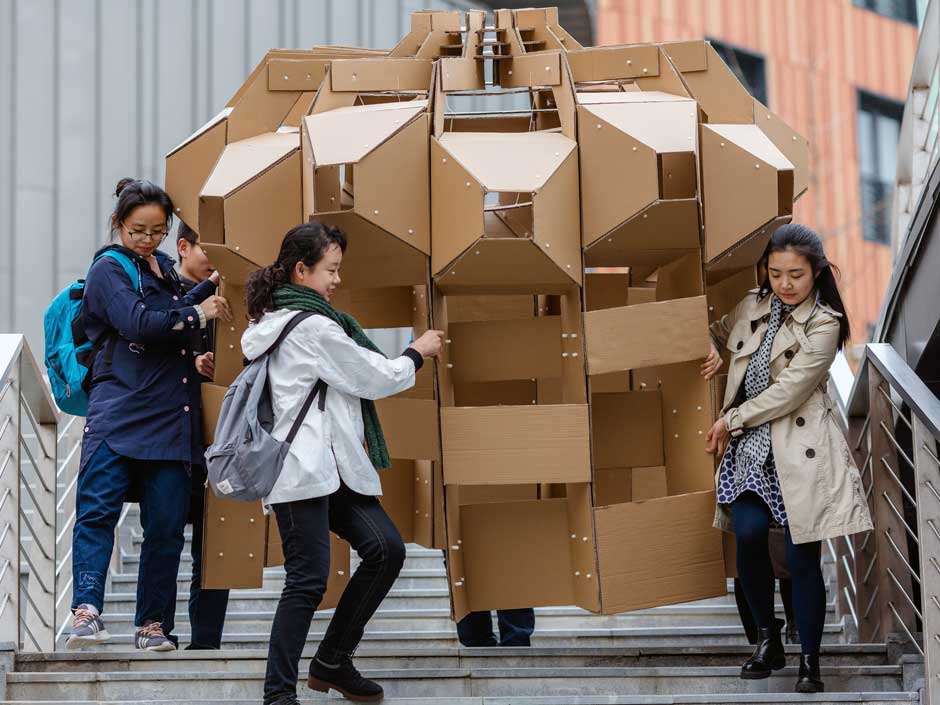 "The cardboard shelter project is the first larger-scale design exercise for students of architecture, who have to resolve challenges resulting from the use of a relatively soft material, structural challenges and teamwork coordination," said Dr Christiane Margerita Herr from the department.
"Students also learn about architecture, structures and materials through giving physical shape to their ideas," she continued.
Designing the cardboard shelters
The shelters were designed for primary school children aged 10 and 11, who acted as 'clients' for the project. The children, who were from Suzhou Industrial Park Foreign Languages School (SIPFLS), were invited to draw their 'dream house', which was shown to XJTLU architecture students as an initial inspiration.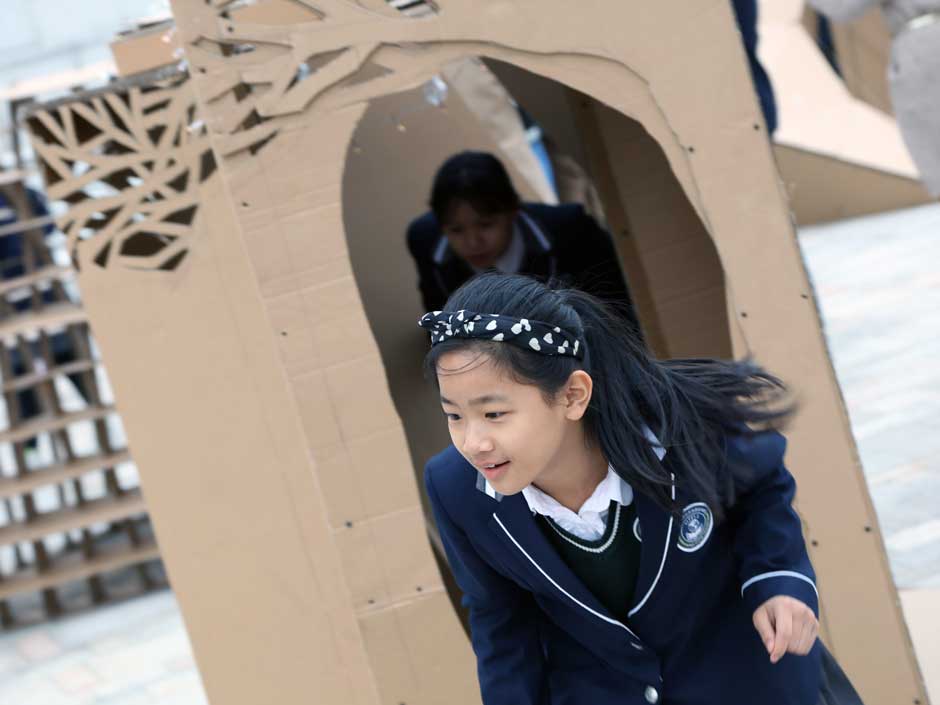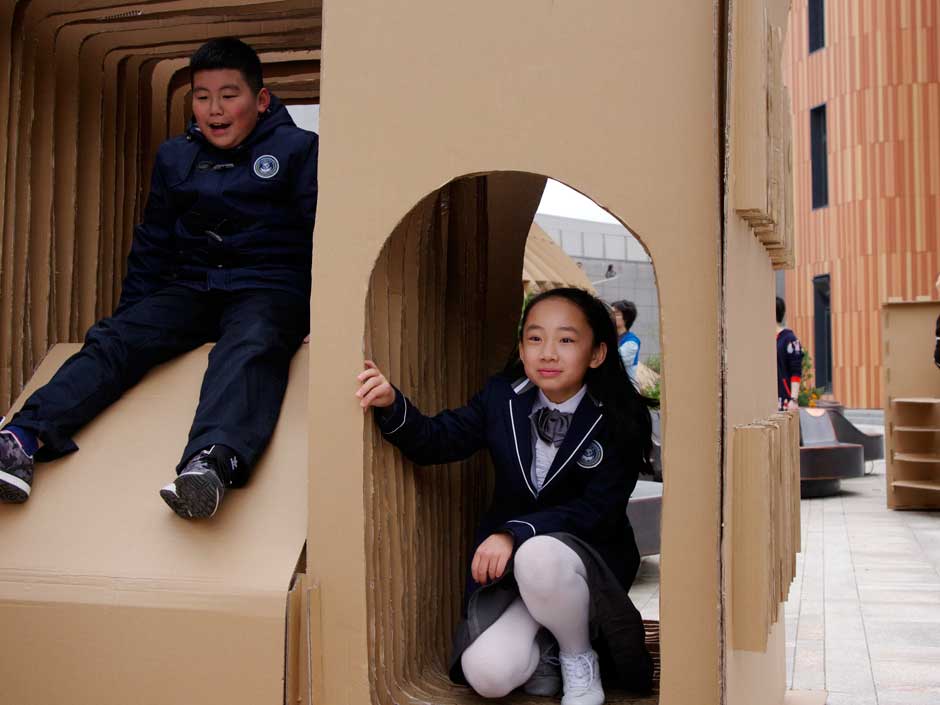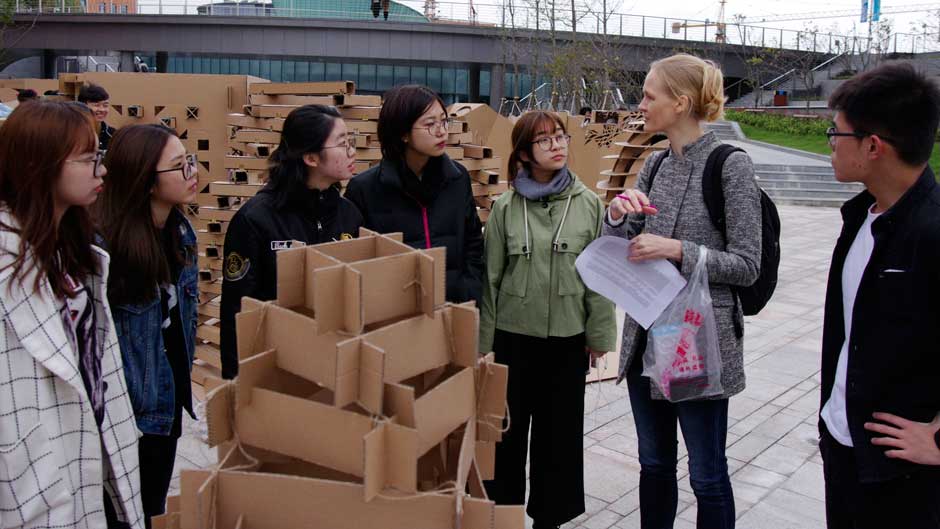 An intense session testing and discussing half-scale shelter models at the school was then carried out and the pupils were invited to attend a one hour onsite test and evaluation of the full-scale shelter models at XJTLU campus at the final stage.
Dr Herr said: "Architecture students need to understand they don't design sculptures, but environments for people. Moreover, they are working with and for clients that may have different or unique preferences compared to their own."
Hongmeng Wang, leader of team three, said: "We needed to consider some essential elements when designing the shelter. It should be able to withstand wind and rain and needs to be interesting and stable, as it is designed for children.
"During the design, we found that true architecture is not only about the appearance, but that the structure and material are also very important. Based on the material, we tried lots of structures and finally chose the one with a very stable structure."
Onsite testing and evaluation
Besides academic staff from the Department of Architecture giving comments to each team, around 52 Year Five pupils from SIPFLS were also invited to XJTLU campus to select their favourite shelter.
Through a sticker-based voting process, Hongmeng Wang's team (pictured below) finally won the Children's Choice 2016: Best Cardboard Shelter Award.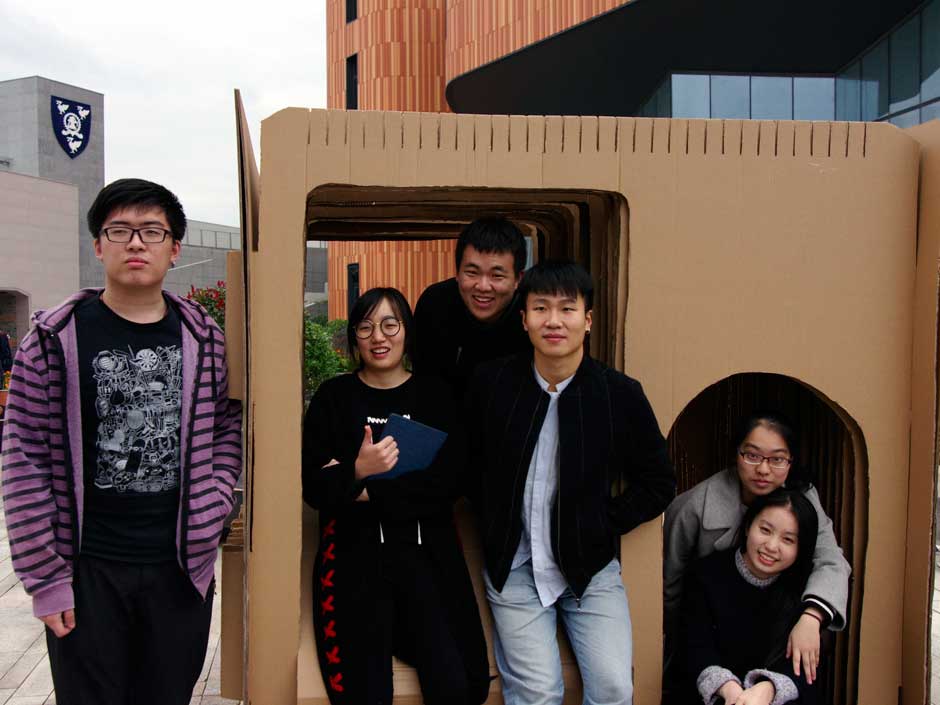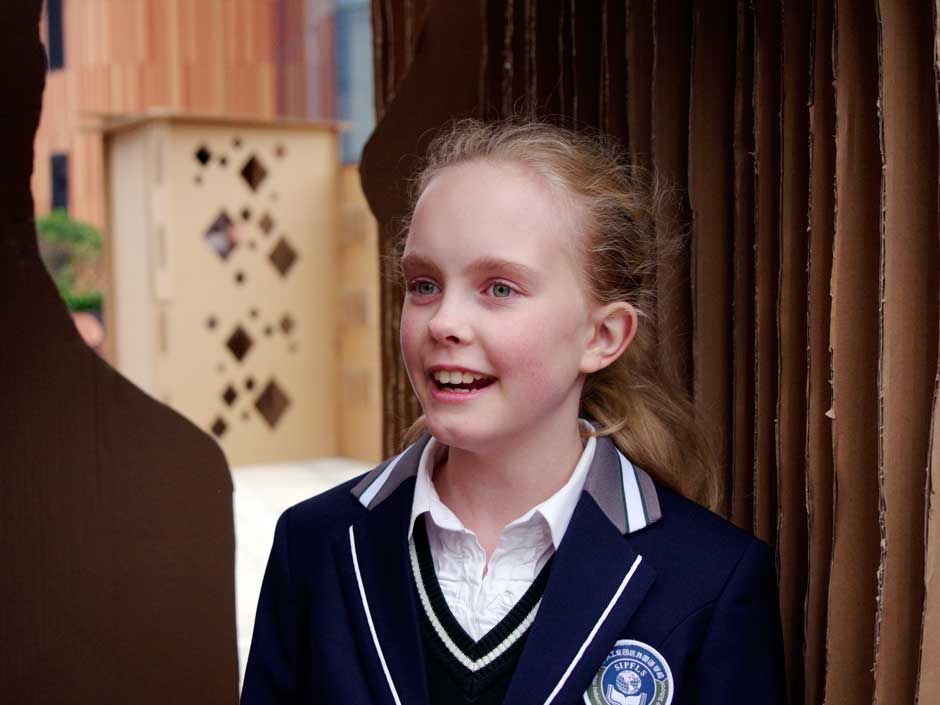 Lily, one of the pupils who voted for team three, said: "Most of these shelters' floor structures cannot hold people, it will break down if you stand on it. But this one is better and doesn't break down. I think the slide is also a cool idea and none of the other teams thought about this."
She also preferred the structure of team three's shelter, which she thought was convenient for both short and tall people to get in or out.
Dr Herr emphasised that architects are responsible for the safety and well-being of the people they design for, with the collaboration with school children making students aware of the safety, usability and load-bearing capacity of their shelters. They also become aware that end users do not always behave in an expected way she said.
"In terms of structural design thinking, students learn that structures and engineering principles are a core part of architectural thinking, and may productively shape architectural spaces. We aim to educate architects who are able to integrate and collaborate across disciplinary boundaries in their professional futures," she continued.
Research-led teaching
The cardboard structures event has been held annually from the Department of Architecture's establishment in 2011, with students designing various structures including shelters, bridges and chairs.
Dr Herr said it was important for architecture students to learn basic professional values of designing spaces for others, taking care of stability and safety while at the same time engaging their clients with cleverly designed shapes, interesting spaces and impressing them with good craftsmanship.
"This event has been developed as part of a carefully designed educational approach, fostered by XJTLU's focus on research-led teaching. Instead of the conventional 'transfer model' of knowledge where teachers transmit their knowledge to students through lectures, teaching in this module is understood as supporting students in learning directly from their actions and their environments.
"To this end, learning opportunities are offered that allow for experiments including failure, negotiation, learning from and with peers, analysis of observations and personal reflection. Students accustomed to this way of learning will be well-prepared to take on the challenges of professional architectural work in their future careers," she said.
The winning shelter, as well as a selection of other shelters, are currently exhibited throughout XJTLU's Design Building, until the end of November 2016.