Staff and students from the Department of Architecture at Xi'an Jiaotong-Liverpool University are celebrating winning a number of prizes at an architectural education competition for universities in China.
Submissions from the department won the 'Outstanding Design Brief' and 'Outstanding Design Studio Coursework' at the 2016 National Architectural Education Annual Symposium in Hefei, China.
Schools and departments of architecture around China were required to submit architectural design studio briefs and related resulting students' work.
Design studio modules form the central core of architectural degree programmes. In a design studio module, students are asked to respond creatively and responsibly to questions posed by a design brief. Students' projects are typically developed in a studio space in which they all work, and they are encouraged to discuss and think critically as a baseline for collaborative learning.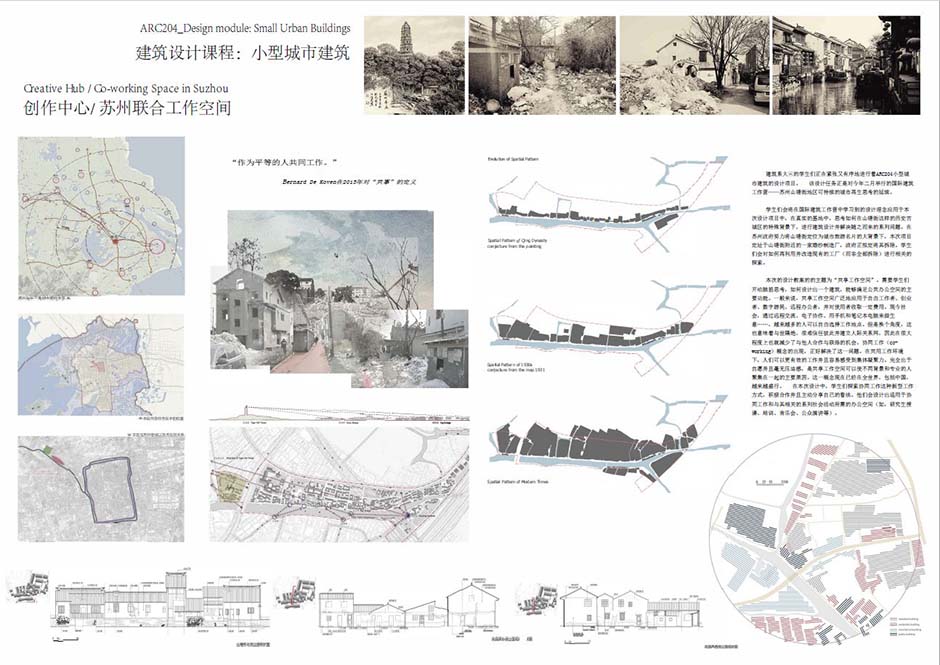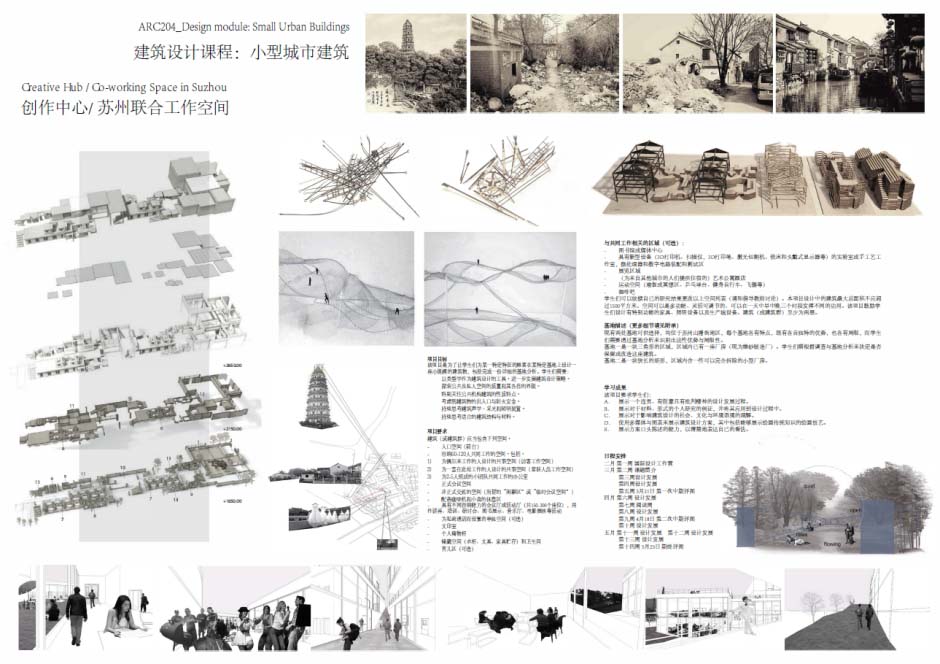 A teaching team of five tutors, including Ganna Andrianova, Aleksandra Raonic, Austin Williams, Lina Stergiou and Jose Angel Hidalgo Arellano, led by module coordinator Ganna, won in the 'Outstanding Design Brief' category for their brief 'Creative Hub/Co-working Space in Suzhou' in the Shantang Street area of Suzhou (brief pictured above).
The brief was given to Year Three students as part of the ARC204 design studio module on the BEng Architecture programme at XJTLU. They were asked to respond to the questions of the brief with original creative design solutions, developing architecture for co-working, while reacting to the specific real-life scenario in the context of the old city of Suzhou.
Lecturer Ganna developed the brief as a continuation of efforts made by the Department of Architecture to equip students with methods and tools that would enable them to act creatively in response to the question of urban regeneration, in the local Chinese context, as well as to locations that are not familiar to them.
The ARC204 brief asked students to consider the historical background of the well-known Shantang Street area in Suzhou and challenged them to come up with designs and ideas that would be appropriate to the questions of what co-working could mean today in China but also address the issues that development in the old city of Suzhou poses.
"The studio environment supports students in developing innovative design approaches and novel methods of inquiry and experimentation, helps them find their own individual creative voices and prepares them for their contribution to the discipline in the future," Ganna said.
Two individual XJTLU students' work won prizes in the 'Outstanding Design Studio Coursework' category for their designs that were developed within the ARC204 design studio module.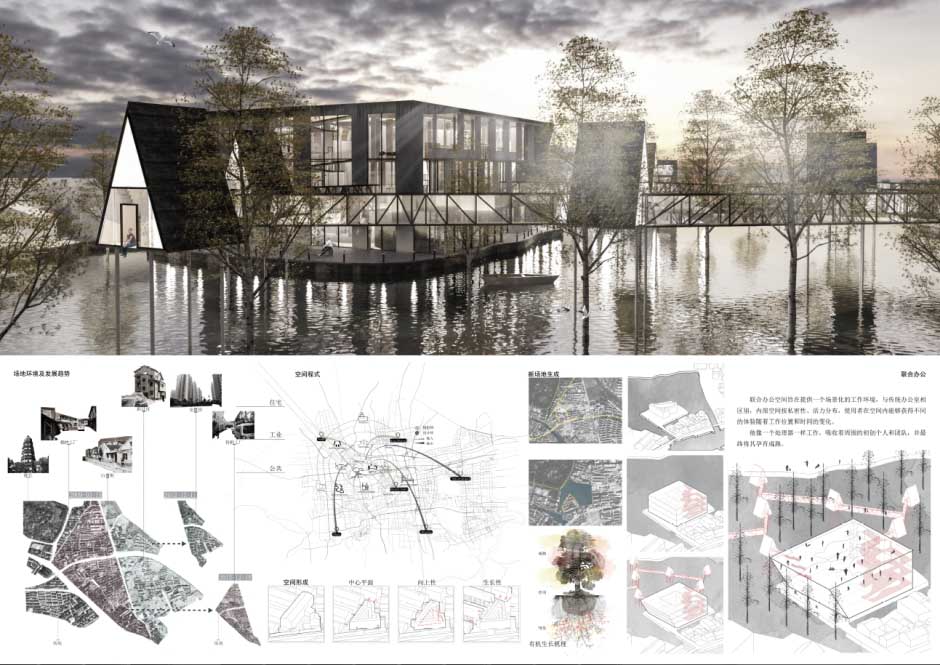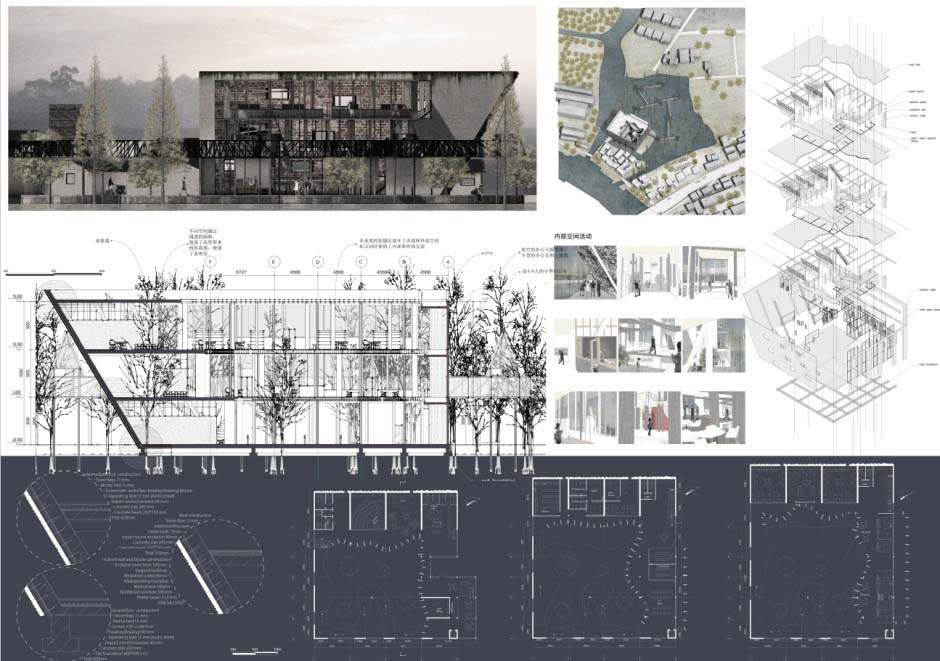 Fuwei Shao, supervised by Ganna, won for his 'vibrant' joint office environment design concept that was informed by research he did on biological processes and the growth of plants (pictured above). Shaokang Li's winning design, which was supervised by Aleksandra Raonic, reflected on processes in the human body to create a space around which creativity is allowed to flow, in the same way as oxygen circulates around the body (pictured below).
"We're very proud that the work that went into creating this brief and the resulting designs has been recognised at a competition that featured architecture schools from across China," said Ganna.
"It shows that the work being carried out at XJTLU is among the best being produced by architecture schools in the country."