Xi'an Jiaotong-Liverpool University has signed a significant agreement for substantial external funding from construction company Innostrux, following internationally significant research developments in the area of fibre-reinforced concrete.
The funding will go towards the creation of a new research centre: XJTLU-Innostrux Centre for Advanced Fibre-Reinforced Concrete Technology, focussed on the highly innovative work of developing and optimising steel and macro-synthetic fibres for concrete.
Funding from Innostrux will also enable the creation of the first Chair Professor at XJTLU, a post that will be granted to Dr Chee Seong Chin as the initiator and leader of the University's research in this area.
Dr Chin, Associate Professor in the Department of Civil Engineering and Dean of Learning and Teaching at XJTLU, explained the advantages of fibre-reinforced concrete:
"Concrete is brittle when the confining pressure is low and contains numerous 'microcracks'," said Dr Chin (pictured below, next to the Department's new structural testing machine).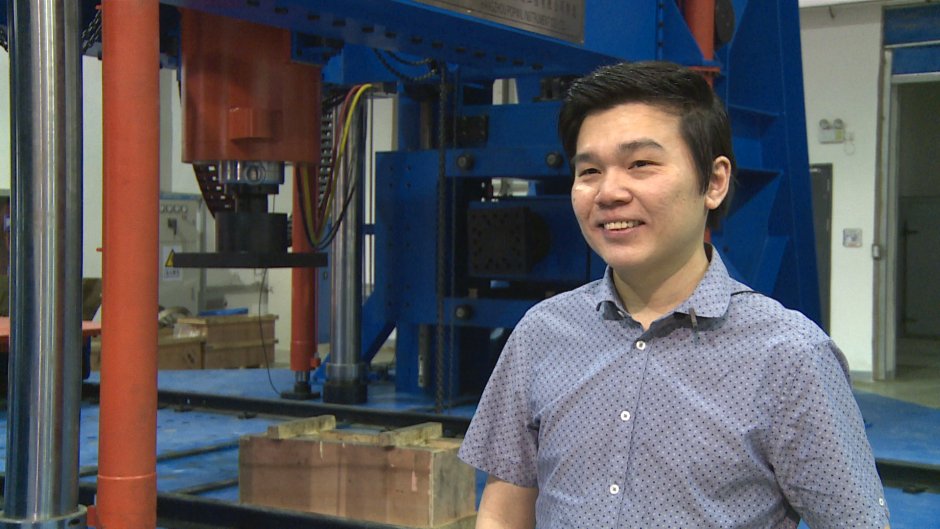 "Rapid propagation of these cracks under applied loads is considered responsible for its weakness in tension. Fibres can be adopted to bridge the onset of the cracks and consequently enhance the tensile strength and ductility of the material," he explained.
Dr Chin explained that this outstanding new material enables the reduction or elimination of construction joins, efficient repair and restoration, and reduces the weight and cost of traditional concrete structures.
Professor André Brown, Vice President for Academic Affairs at XJTLU, congratulated Dr Chin on his appointment as Chair Professor and on 'the very significant success and impact of the research [he has] undertaken in this field so far.'
"I feel privileged regarding the appointment," said Dr Chin, "and I would like to express my sincere thanks to XJTLU and Innostrux for granting me the unique opportunity to create a powerful research-enterprise partnership to further strengthen the research and development in advanced fibre-reinforced concrete technology."
Dr Chin added that he looks forward to playing his part in contributing to the continuous development of the University to become internationally recognised as a first-class and dynamic institution highly committed to research as well as to learning and teaching excellence.