Academic and support staff from Xi'an Jiaotong-Liverpool University involved in the China Railway Rolling Stock Corporation (CRRC) International Talent Development Overseas Education Programme visited CRRC Qingdao Sifang Rolling Stock Research Institute Co., Ltd. and CRRC Qingdao Sifang Locomotive & Rolling Stock Co., Ltd.
The visit enabled XJTLU staff to build a deeper understanding of CRRC, its corporate culture, and manufacturing processes, which will allow for more efficient planning of customised training in the future.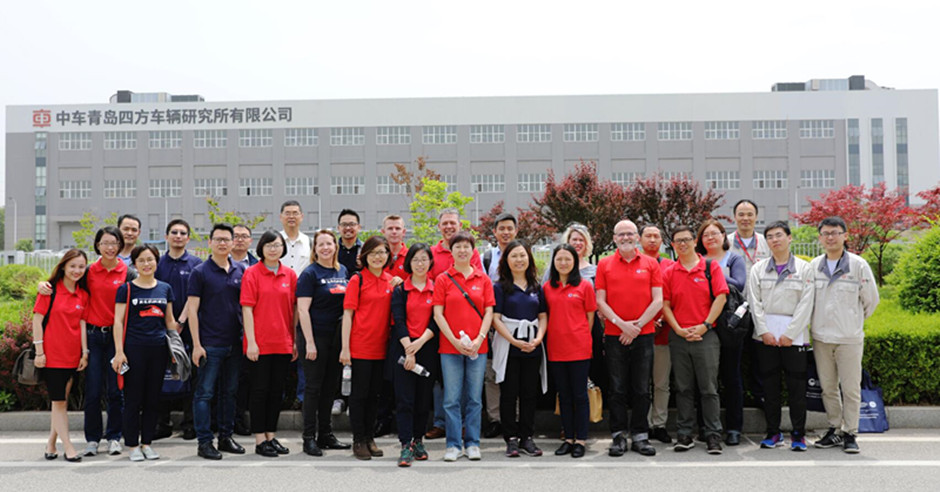 Led by Professor Jean Chen, dean of International Business School Suzhou (IBSS) at XJTLU, over 20 staff from IBSS, the School of Film and TV Arts and the departments of Industrial Design and Urban Planning and Design attended.
On the first day, the group visited CRRC Qingdao Sifang Rolling Stock Research Institute Co., Ltd. (SRSRI). After a brief introduction of SRSRI from Xudong Meng, head of Human Resources, Professor Chen introduced XJTLU and IBSS, and emphasised the developments and changes at the XJTLU and IBSS since the first cohort of students graduated from the training programme.
Hui Liu, head of the department of R&D in couplers and draft gears of SRSRI, and Hongguang Song, head of the department of R&D in shock absorbers, were among the first cohort of graduates from the programme. They recalled the days when they were studying at XJTLU:
"I look back fondly on the time when I was studying at XJTLU," said Hongguang. "It's great to hear good news about the development of the University, and even though time flies, I will never forget the knowledge I gained and the friendships I made during my time at XJTLU."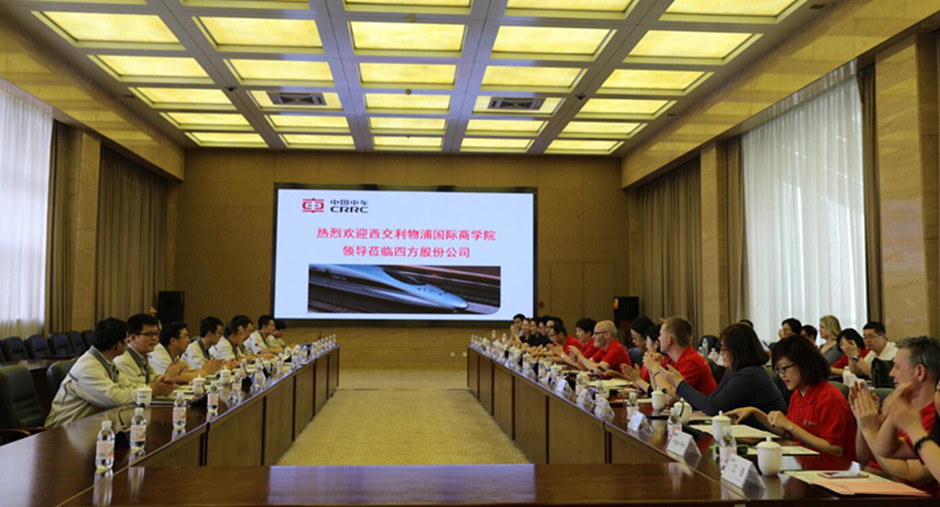 Following the welcoming speeches, XJTLU staff had a guided tour of the work sites of the department of R&D in couplers and draft gears, the department of electrical production, and the laboratory in the 'tech center'. Since it was the first time for academic staff to take a close look at components of multiple unit trains, they had questions regarding their operation and production.
In the afternoon, XJTLU staff visited CRRC Qingdao Sifang Co., Ltd. Chenglong Wang, deputy general manager, extended a warm welcome to the delegation on behalf of the company. He also spoke highly of the training programme, saying:
"Since China implemented the Go Out policy, CRRC has devoted itself to it and to the Belt and Road Initiative and the company has sought to develop its talent together with colleges and universities with international backgrounds," he said.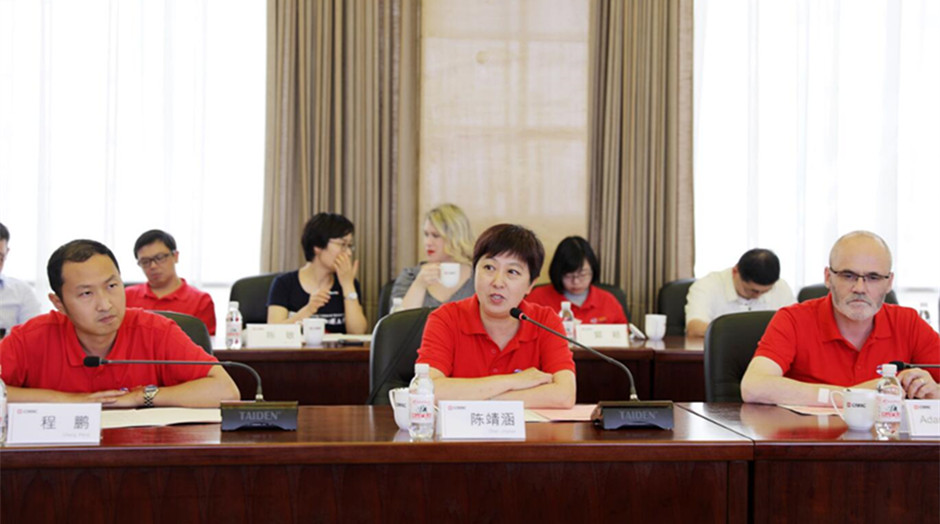 "XJTLU is a leading figure in international education in China, and it provided highly customised training for CRRC staff," he continued. "It's obvious that they gained knowledge and global perspectives and are performing better than before. We would like to extend and deepen cooperation with IBSS at XJTLU for future talent training."
Professor Chen expressed her anticipation for better cooperation in the future, saying: "The new building of IBBS on XJTLU's South Campus will be completed soon, providing a learning environment for senior executives in business that will be connected to the world on a larger scale."
"We warmly invite you to visit our campus," she continued, "and to experience XJTLU's educational philosophy and model for training global citizens which was established and is advocated by our executive president Professor Youmin Xi. I am sure this will enhance our plan for carrying out strong cooperation."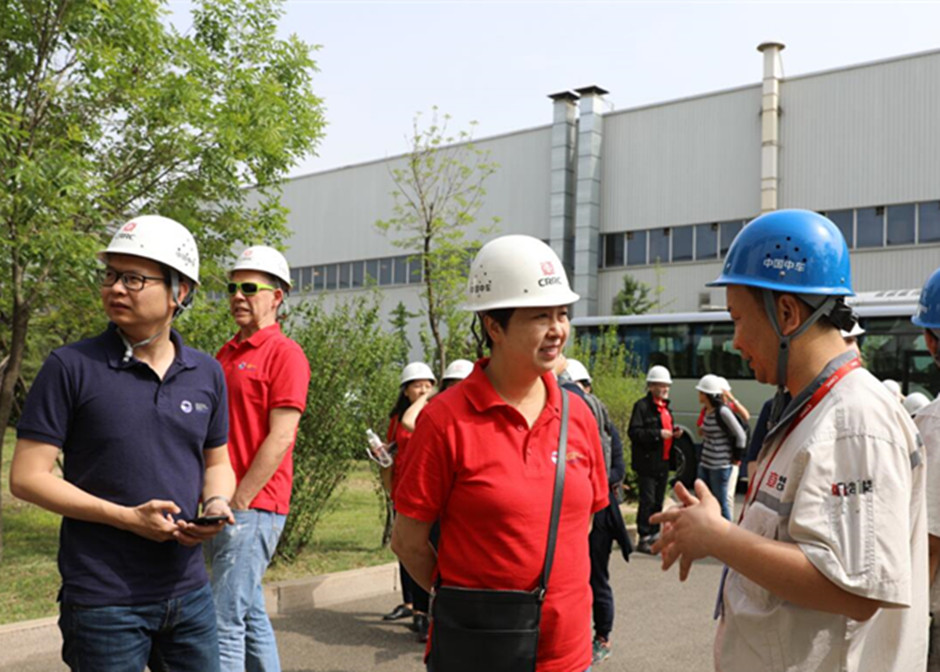 "In supporting the Belt and Road Initiative, the globalisation of Chinese enterprises should have good knowledge and understanding of international business practice as well as social and the cultural dimensions of different countries in which they operate their branches. Talent training provides a key contribution to Chinese enterpises going abroad. We hope to continue to cooperate with Sifang Co., Ltd. and other subsidiary companies of CRRC in the future and to provide help and support for CRRC's ongoing globalisation process," she added.
During the meeting, four graduates of the training programme presented their impressions and insights about the training programme in English which is the language of instruction at XJTLU.
Shaoyu Liu was appointed as the chief engineer of the CRRC Department of Overseas Business after he completed his study at XJTLU and he expressed that this had a lot to do with the internationalised courses he studied at the University.
"I kept in touch with staff from IBSS and often discussed with them about issues at my work. My days at IBSS were valuable and I will never forget the international atmosphere, learning environment and friendly staff," he said.
He added that he continues to be inspired by his time at XJTLU and that he will work even harder in future to become a 'global player'.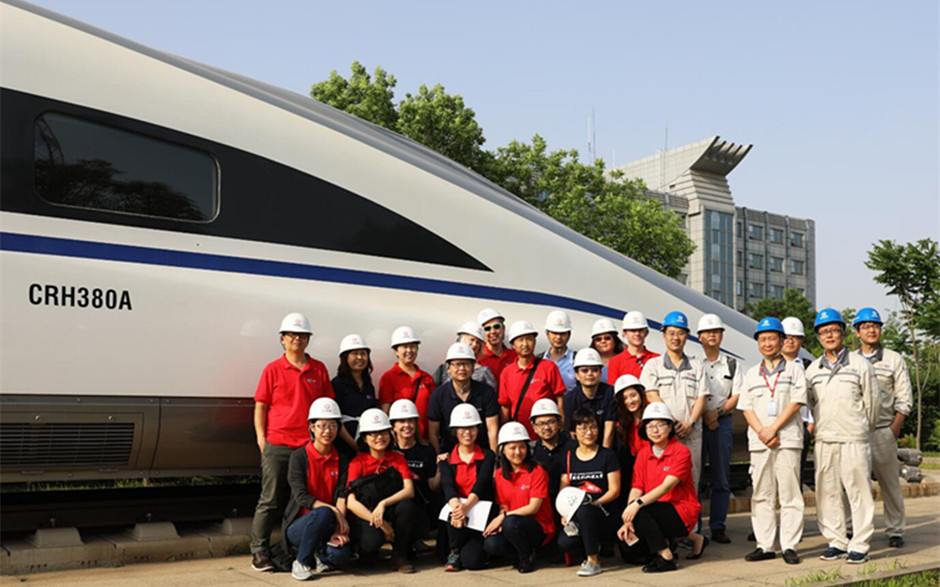 After the meeting, XJTLU staff visited the laboratory for national projects, the factory for aluminium multiple-unit train carriages, the factory for bogie processing and assembly, and the factory for whole assembly.
In the laboratory for national projects XJTLU staff were introduced to the most advanced technologies used by CRRC. In the aluminium factory they were shown the frames of high-speed trains and the way they are produced. In the factory for whole assembly, XJTLU staff were amazed by the number of high-speed trains and metro trains on the assembly line and expressed their respect for the development and accomplishments of CRRC.
"XJTLU is dedicated to establishing a new model of symbiotic relationship with business, industry, and local community circles," said Professor Chen. "In addition, IBSS has increased its industry and social impact via its internationalisation and innovation in teaching, research, and cooperation with enterprise."
"The XJTLU-CRRC talent training programme is one of the most successful joint programmes that XJTLU has ever had with an enterprise," she continued. "This programme also marks a successful exploration in educating technical and managerial professionals with international perspectives and competitive capabilities."
CRRC Qingdao Sifang Co., Ltd. is an important product vendor and technology provider for China's rail transit system, as well as a national-level research institute. Established in 1900, Sifang Co., Ltd. is the core corporation within CRRC, serving as the base for the industrialisation of China's high-speed trains and the design and manufacturing hub for the high-quality train carriages. The company is also a significant base for the export of metro trains and rail transit-related equipment and products.
In 2016, XJTLU and CRRC signed a five-year contract for a global talent training programme. After the first successful cooperation in 2016, the second training programme started in February 2017 with participant numbers increasing from 76 to 108. In mid-June, the current cohort will further their study in the UK, US and Germany for one month after completing their on-campus training.